Day 4 of 5 Days of Dinner Salads and this one is always a big hit in this house!! We usually have beef but changed it up to chicken for this recipe. Why not?? I love variety, that is what we thrive on here and they say that it is the spice of life!! Never the same old, same old here!! Why would you with all the wonderful recipes now available at your finger tips. Change some things up and you will be oh so happy you did.
Chicken or turkey is a good alternative to beef, don't get me wrong I do love my Alberta Beef!!! I love how easy and yummy this salad. Dinner salads are a great weekday meal because you can have them done up in no time, with very few dishes too and they are a healthy meal for your whole family. Give this one a try. I used Epicure's Taco Seasoning for our salad. I like that it is so much lower in sodium than the store bought packages are.
And here is our nice big Chicken Taco Salad. Enjoy!!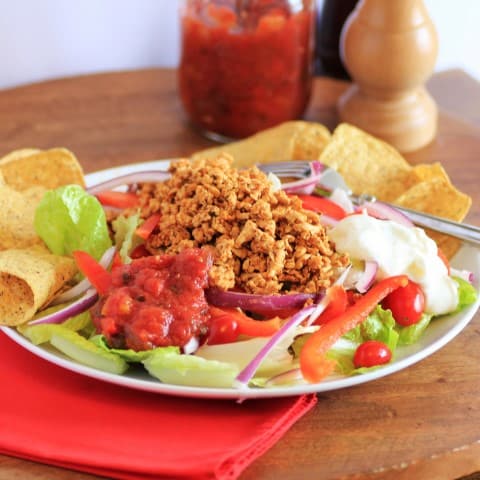 Chicken Taco Salad
A healthy and fresh Chicken Taco Salad
Ingredients
1 lb. lean ground chicken
Epicure Taco Seasoning to taste
⅓ cup water
Salad
Romaine, red onion, cherry tomatoes, red peppers
Multigrain tortilla chips
Light sour cream
Salsa
Instructions
Toss the salad ingredients together and set aside.
In a medium fry pan sprayed with cooking oil. Saute chicken until cooked through. Add the water and seasoning to taste. Cook stirring until the water has evaporated.
Serve salad up on individual plates with tortilla chips, salsa, sour cream and top with the chicken.