Chicken Tacos/Salad/Cups, 3 in 1 Meal
by Momma's Meals
Tammi was gracious enough to lend me a hand with this Chicken Tacos/Salad/Cups, 3 in 1 Meal today and brought over this delicious recipe, actually a 3 in 1 recipe. While I was posting this I had to stop and go have lunch, it was killing me. I will have to make this for sure, we are big taco lovers here.Check out her site Momma's Meals for lots of great recipes. And now I give you Tammi.
Hello!
My name is Tammi and I blog over at Momma's Meals. Just about my daily life as a SAHM to my two year old daughter, the ups and downs of parenthood, and a little bit of everything in between! I'm so happy to be guest posting for Tara today! I met Tara through our #SundaySupper group and when I heard she was in a crunch, I was more than happy to help her out. She is such an inspiration, doing what she loves everyday, that's my goal!! So today I'm going to share with you three fabulous dishes in one, well not one, but I'm going to show you how one crock pot meal can turn into three! Ready???
This is by far the easiest dish to make and the best part of it is you make the original taco's on a Sunday night (or any night) and you instantly have the makings for 2 other dishes throughout that week! How great is that??!! Here is a shopping list for you just so you can make a quick trip and have 3 meals planned for the week.
Shopping List:
2 lbs of chicken breast
Pkg of taco seasoning
19 oz can of diced tomatoes, seasoned is always good
4 oz can of green chili's
14 oz can of black beans
14 oz can of corn
1 pkg of small flour tortilla's
1 pkg of reduced fat Mexican cheese blend (you'll only use a cup or so)
Reduced fat sour cream
1 pkg of wonton wrappers
2 cups of shredded lettuce
Chicken Taco's:
Place the chicken breasts in the bottom of the crock and sprinkle the taco seasoning on top.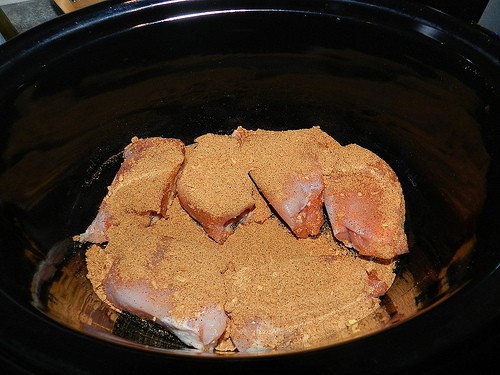 Pour in the diced tomatoes and green chili's.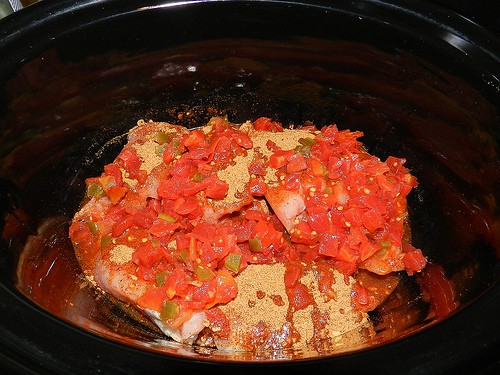 Cook on low for 7 hours. Take out the chicken and shred it. At this point it will pretty much fall apart, don't worry if it's not right on the 7th hour, it's not going anywhere 🙂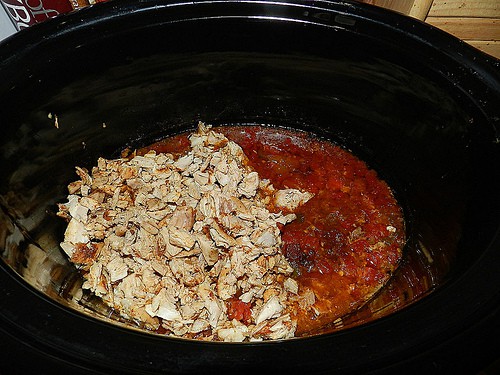 Place the shredded chicken back in the crock, stir it to combine and let it heat through for 20-30 min or so.
Place some in the middle of a tortilla and wrap. Dip in sour cream if you'd like! Place the leftovers in a microwave safe dish and store in your fridge for another night.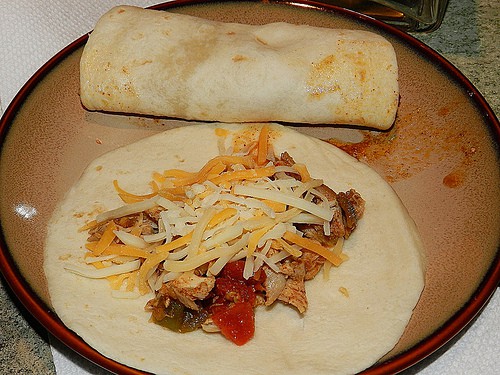 Chicken Taco Salad:
I craved a taco salad a few days later and I had heard of this trick once to make your own tortilla bowls. So I gave it a shot!
Preheat oven to 350F. Add the can of corn and beans to the chicken mixture and heat through in the microwave.
While that is heating up grease the bottom of a muffin tin and manouver two tortilla's in the middle of the cups. Maybe it'll help to show you.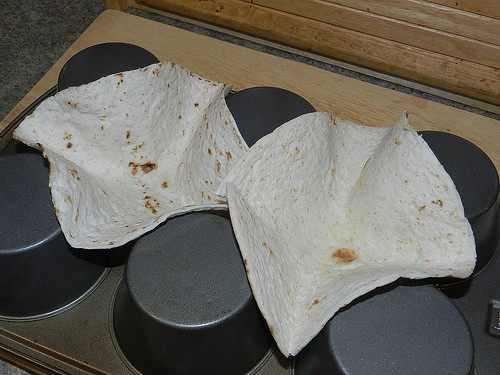 Place in the oven and heat for 5 minutes or until it's crispy, be careful they burn fast! Add the shredded lettuce to the tortilla cup, scoop the chicken, corn and bean mixture on top of the lettuce and dollop with sour cream! Wala lunch! I loved eating the cup!! Place the leftovers back into the fridge for another night! I know I know there is no lettuce in this picture, when I went to go chop it up I realized it had gone bad 🙁 I was bummed, but ate this anyways!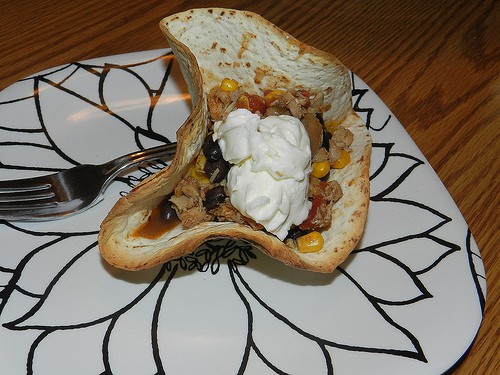 Chicken Taco Cups:
Preheat oven to 350F. Grease muffin tins with cooking spray (I used a large muffin tin). Depending on the size of the cups you use, please wonton wrappers around muffin cup to form it's own cup. I used three for mine, making 4 points in the cup.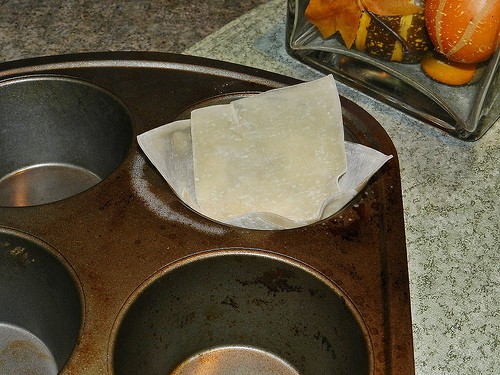 Place the chicken mixture in each cup and top with shredded cheese.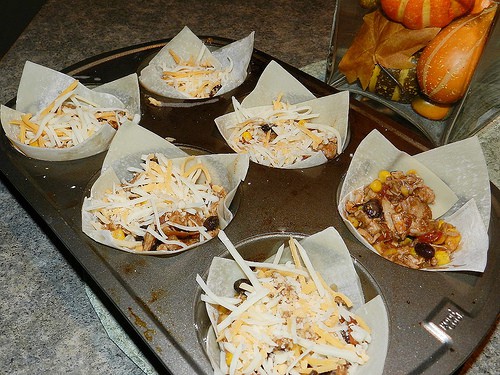 Bake for 10-15 min, really depends on your oven on this one, when the edges start turning brown they are done! These were my little masterpieces. Hubs and I each had two! Next time I want to make more so I can freeze them!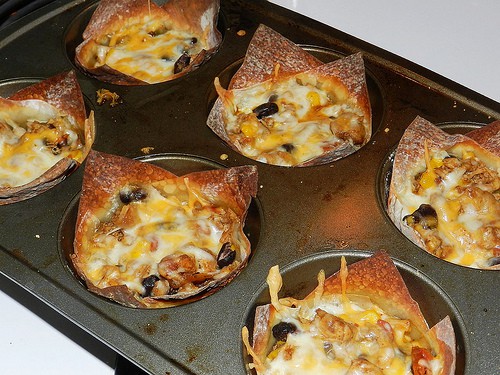 I'm a little proud of these puppies.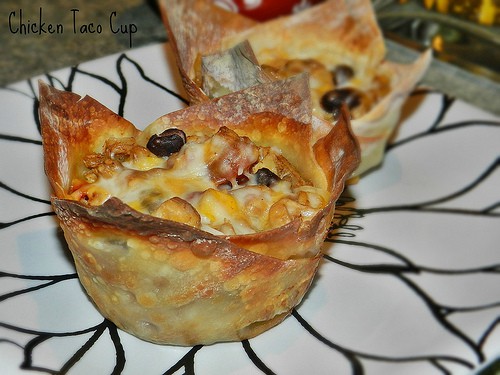 I hope you enjoy these recipes as much as my family did. Thank you so much Tara for allowing me to guest post for Noshing with the Noland's!