Chiocciole with Creamy Roasted Tomatoes and Mushrooms by Soni's Food
Today I introduce to you Chiocciole with Creamy Roasted Tomatoes and Mushrooms by Soni's Food. I met Soni through #SundaySupper and I am thrilled that she is here today. She has a wonderful site that gives you recipes with a healthy Indian Twist. Come and follow Soni on Facebook or Google+. You will love to see what she is up to all the time. With no further chit chat from me I give you Soni!!
Today I'm very excited to be guest posting here on Tara's Blog. Tara and I met through our SundaySupper group and its been a great pleasure getting to know her. She has an amazing blog and every time I visit I'm hooked to her breathtaking pictures and recipes that she posts. For this post I thought of making something very simple with fresh spring flavors and a recipe that has been with me for the past nine years came to mind!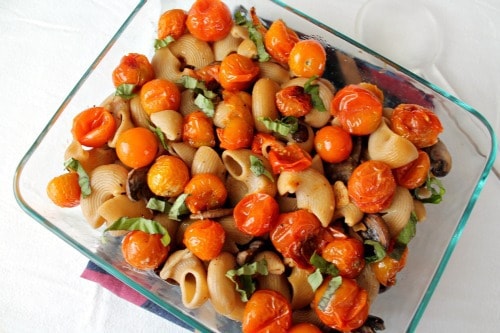 I got the recipe from…
Its a recipe card that I picked up at my local Waitrose in Canary Wharf while we were living in London and all this time I'd never tried this dish :)I pulled out my recipe card to make this dish and I'm so glad I did, since its absolutely amazing! Although I've changed the original recipe in some ways, the main flavors are still intact.
The simple combination of Cherry Tomatoes with the Basil and a splash of cream is pure magic! The recipe calls for Creme Fraiche but I didn't have it on hand and I just used Light Cream.I also added some Baby Bella Mushrooms and cooked it with the cream to make a sauce.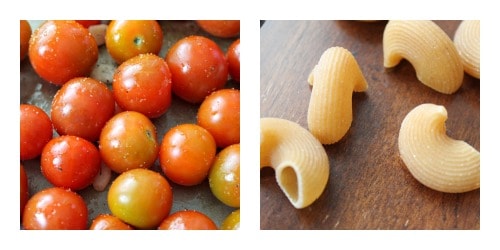 The sweet juicy cherry tomatoes are the star of this dish and they burst with juices in every bite .The fresh flavors of basil just brightens it up and I just love the simple flavors that come together to complete this dish. I've used Whole Wheat Chiocciole available at my local Whole Foods.It looks like a larger elbow shaped pasta and has a nice texture and bite to it! A healthy wholesome dish that takes no time at all!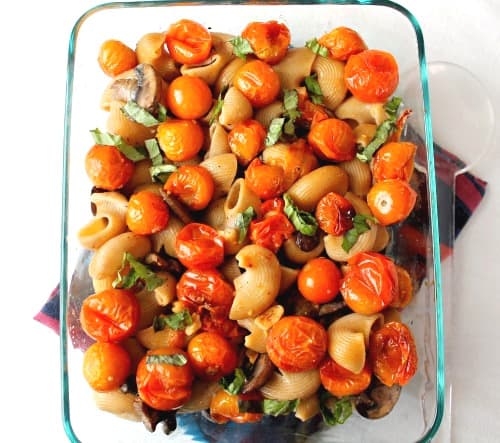 Chiocciole with Creamy Roasted Tomatoes and Mushrooms
Ingredients:
Whole Wheat Chiocciole Pasta-500 gms
Cherry Tomatoes-500 gms
Extra Virgin Olive Oil-2 tbsp
3 Cloves Garlic-sliced
Sliced Baby Bella Mushrooms-10 oz
Light Cream-1/2 cup
Fresh Basil leaves-20 g
Process:
Preheat the oven to 350 degrees.
Place the cherry tomatoes,1 tbsp olive oil,garlic and salt in a baking sheet and mix well to coat in oil.Bake for 30 minutes until the tomatoes burst, but still hold their shape.
Cook the pasta according to the instructions and drain.
Tip the cooked pasta into a large serving dish.Add the roasted tomatoes into it.
In a skillet heat 1 tbsp of olive oil and saute the mushrooms until golden.Season and add the cream.Pour on top of the pasta and toss everything together.Season to taste.
Roughly shred the basil by rolling the leaves up together in a small bundles and slice thinly.Stir into the pasta and serve immediately!