Chocolate Cake with Hippie Flakes
I love to review cookbooks, I seem to go on spurts and get a bunch in to review at once. They completely supply my addiction. This cookbook Goodness, I actually purchased at an event where I met one of the authors, Peter Neal. From the cookbook, I selected a few recipes to try and decided to show you this amazing, Chocolate Cake with Hippie Flakes. Are you familiar with Hippie Flakes? They are quite expensive but wonderfully indulgent large flakes of coconut. They go exquisitely on top of this cake as the crowning glory. Toasted up just slightly it gives them even more flavor.
Come and indulge in this cake with me and see what the cookbook Goodness by Peter and Chris Neal is all about.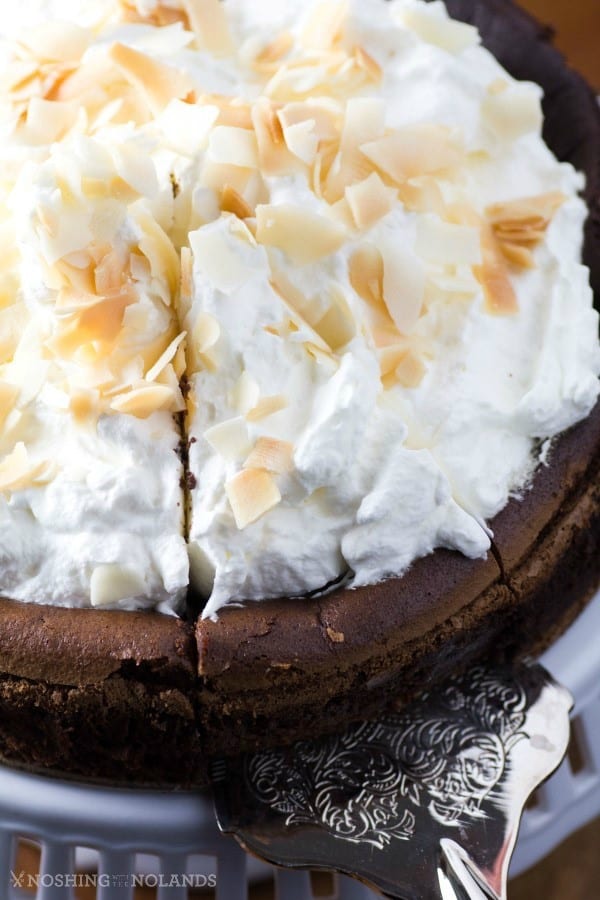 This cake was pretty amazing and totally gluten-free, with that it is so moist and wonderful. The recipe is by Ian Walker, President at Left Coast Naturals in Vancouver, B.C. I was thrilled when Peter Neal said I could share one of the recipes with you.
The cake sinks in the middle creating a perfect center for a big mound of lovely whipped cream and of course the toasted hippie flakes too!!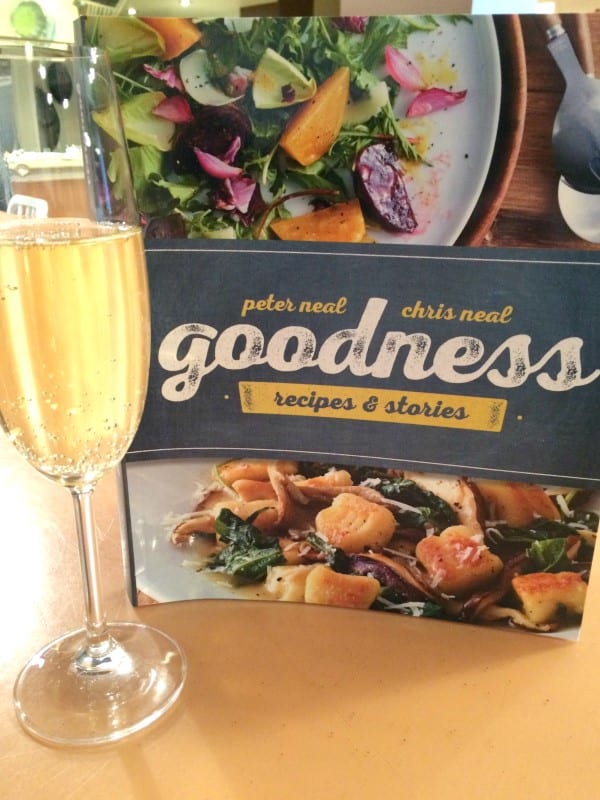 I had a lovely chat with one of the brothers, Peter Neal when he was touring with his cookbook at The Cookbook Co. Some prosecco was also enjoyed as you can see. I have tried a few of the delicious recipes besides this Chocolate Cake with Hippie Flakes. Butter Chicken Schnitzel by Vikram Vy was one and it was sublime. Crispy schnitzel with wonderful homestyle butter sauce for dipping, well I am sure you can only imagine how good that was.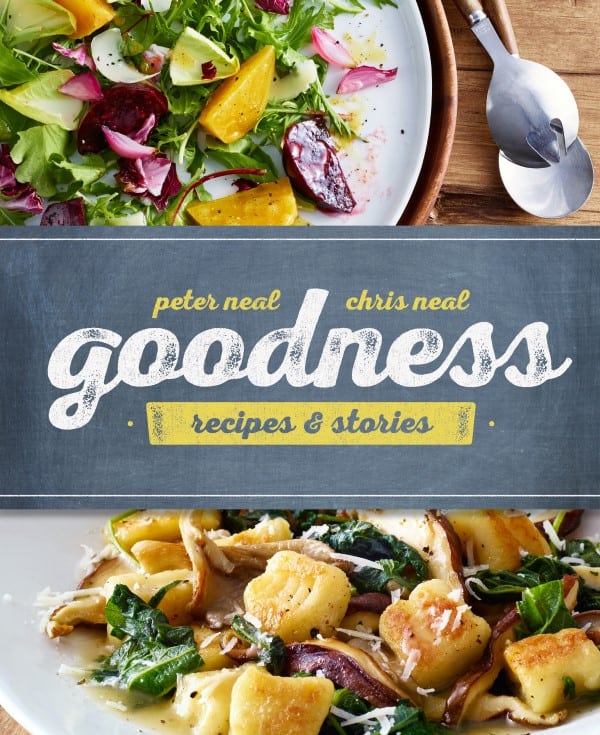 Goodness is a celebration of 37 chefs, entrepreneurs, growers, and food activists from all across Canada that came together to create this one of a kind extraordinary cookbook. There are over 75 recipes and wonderful photography plus magical stories included with each contributor. A page-turning indulgence with recipes like Salted Caramel Millefeuille with Pears and Creme Anglaise, Wild Mushroom, and Stinging Nettle Gnocchi, Cauliflower Kale Gratin, Caramel Apple Butter Rugelach, and Chicken Creole with Ancient Grains. So very many wonderful choices to choose from.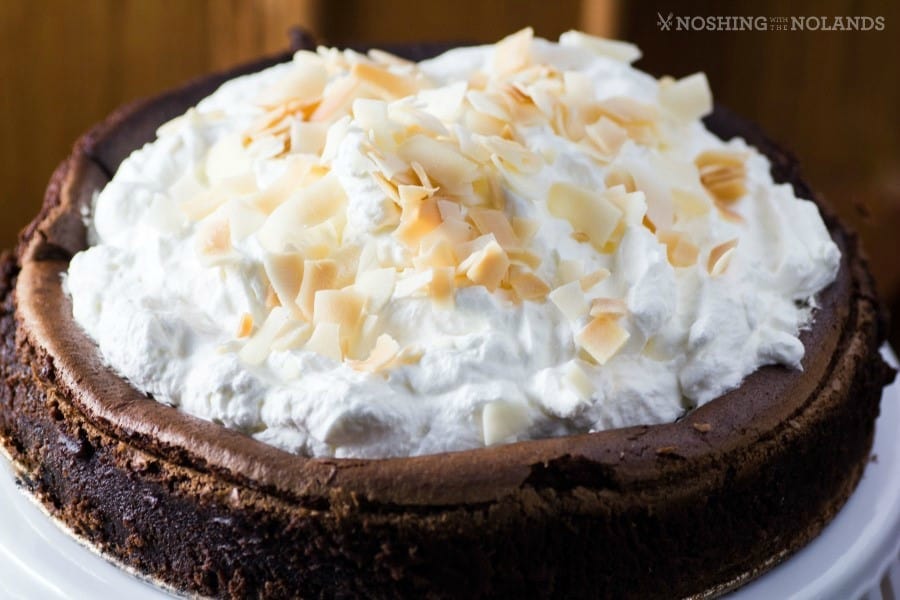 I love the rustic charm of this cake, simple, easy but over the top divine too! Ken was the force behind this cake for me. He really does such a magnificent job. Wonderful rich chocolate is a hit for any celebration. This would make the best cake for a birthday party or for a holiday like Valentine's Day, Easter, Thanksgiving, Christmas, and more. Or just any day that you feel a little indulgent! Enjoy!!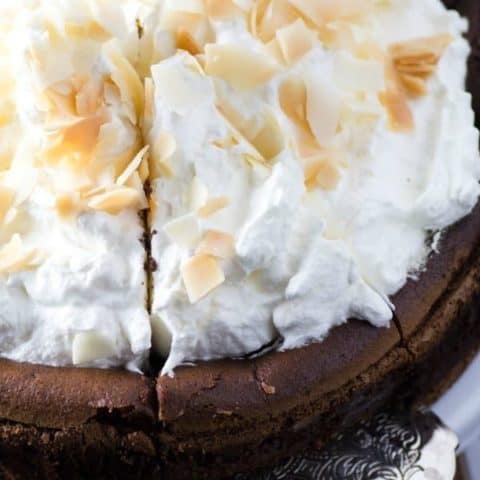 Chocolate Cake with Hippie Flakes
Yield: 10 servings
Prep Time: 15 minutes
Cook Time: 40 minutes
Total Time: 55 minutes
This cake is inspired by a recipe by the fantastic chef Richard Sax. The "hippie flakes" is my twist. I prefer to make this using all organic ingredients.
Ingredients
8 oz. semisweet chocolate, coarsely chopped
1/2 cup unsalted butter, cut into pieces
2 large eggs
4 large eggs, separated
1 cup granulated sugar, divided
1/4 cup strong brewed coffee (we prefer fair trade)
1 1/2 cups whipping cream (35%)
1 package (56g) coconut chips (we prefer Hippie Foods Brand) smashed into small pieces, see tip
Instructions
Preheat oven to 350F. LIne the bottom of an 8-inch springform pan with parchment paper (no need to butter the pan or the paper).
In a bowl, using a double boiler or microwave, melt chocolate (microwave chocolate on High for 15-second increments until melted).
Whisk in butter until melted and well combined. Set aside.
In another bowl, whisk together whole eggs, egg yolks, and 1/2 cup sugar just until combined. Slowly whisk in melted chocolate mixture. Whisk in coffee.
Using an electric mixer on medium speed, beat egg whites until foamy. Slowly add remaining 1/2 cup sugar and beat until soft peaks form. Gently fold beaten egg whites into chocolate mixture. Pour batter into the prepared pan and, using a rubber spatula, smooth top.
Bake in the preheated oven for 35 to 40 minutes, until puffed up and cracked and no longer jiggly in the center (be careful not to overbake).
Remove from the oven and let cool completely in the pan on a wire rack. (Don't worry: the cake will fall as it cools and makes a sort of crater in the center. That's for the whipped cream.)
To unmold cake, run the tip of a knife around the cake edge and then carefully remove the sides of the pan.
When ready to serve, whip cream. Fill cake crater with whipped cream. Top with coconut flakes.
Nutrition Information:
Yield: 10
Serving Size: 1
Amount Per Serving:
Calories: 432
Total Fat: 32g
Saturated Fat: 19g
Trans Fat: 0g
Unsaturated Fat: 11g
Cholesterol: 176mg
Sodium: 56mg
Carbohydrates: 36g
Fiber: 1g
Sugar: 33g
Protein: 6g
Recipe calculation was provided by Nutritionix and is estimation only. If you need nutritional calculations for medical reasons, please use a source that you trust.