I have Becca here for you today from It's Yummi. I know Becca from a lot of different places and have known her for a long time now. Becca is now my VA (vitutal assistant) and I am thrilled to have her helping me out. Here she is again lending a hand with this gorgeous recipe for Chocolate Chip Banana Bread wth Chocolate Ganache. One of my all time favorites but she bumped it way up with the Chocolate Ganache. I love this idea!! A banana bread is always a hit in this household and I now have a new recipe to try, can't wait. You can follow Becca for more great recipes on Facebook, Pinterest, Twitter, Google + and Instagram.
This banana bread recipe takes a moist, tender banana bread with semi sweet chocolate chips stuffed on the inside and pairs it up with a layer of 3-ingredient chocolate ganache for a yummi delicious snack or dessert that your family will go bananas for!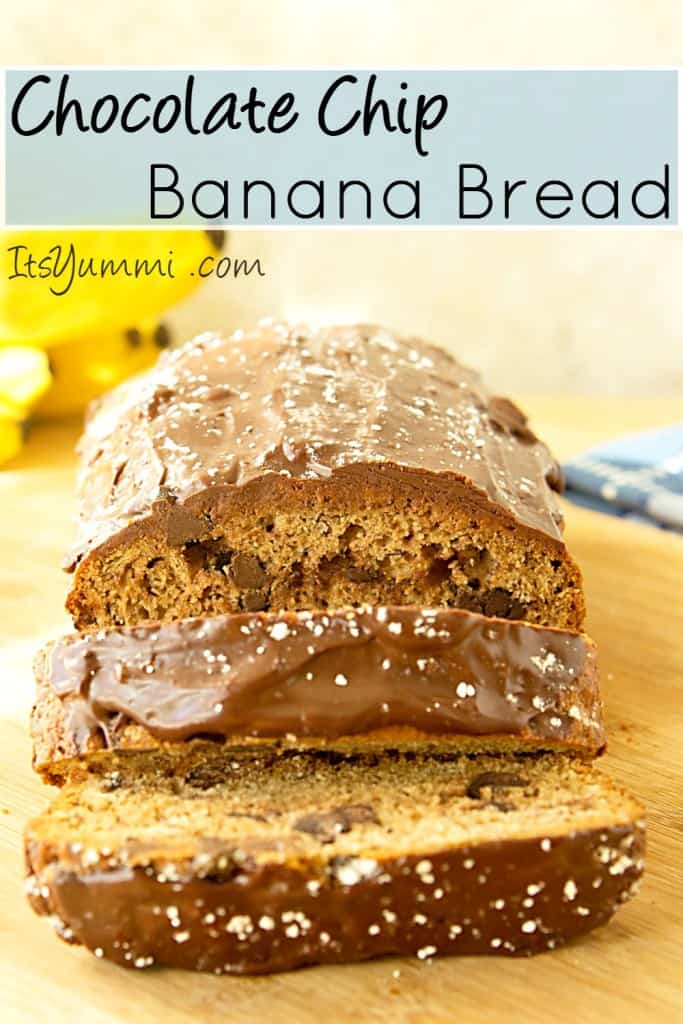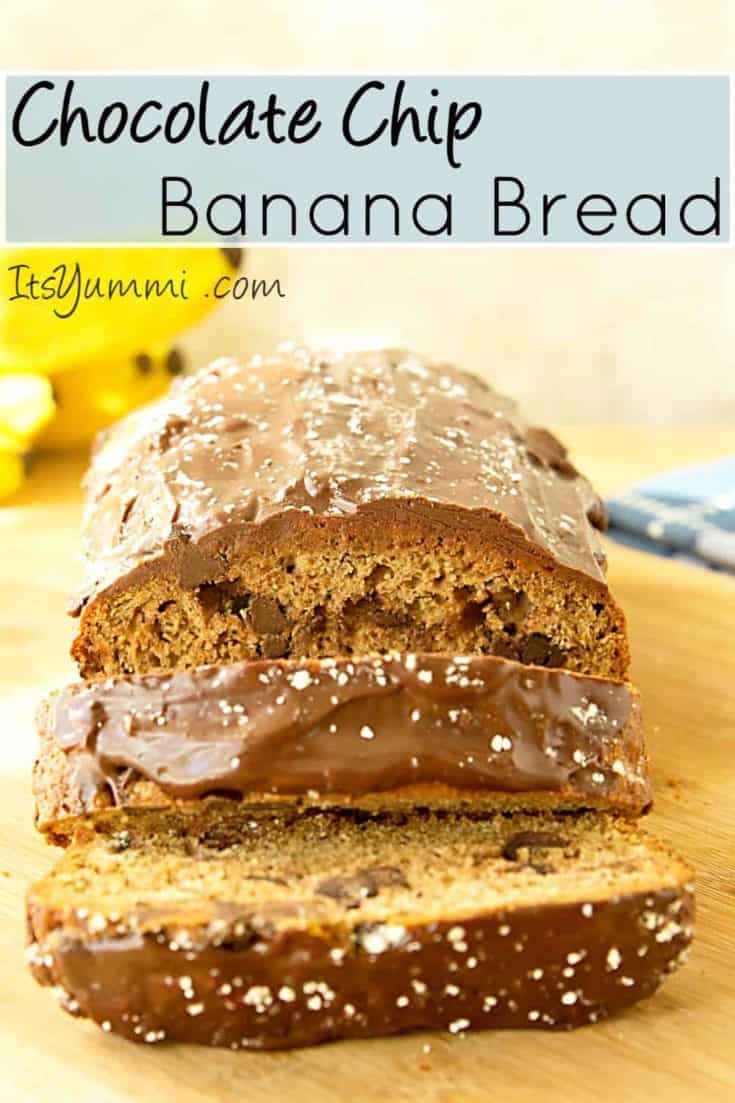 I'm so glad that Tara is taking some time away from work to relax with her family. I miss her, but I believe in my heart that she'll come back renewed and ready to fill our stomachs with more of her delicious recipes! Thanks so much to those of you reading this for allowing me to share a recipe with you today.
My name is Becca and I'm a chef, recipe developer, and virtual assistant at It's Yummi!
In my book, there's no such thing as too much love for banana bread. Truth be told, I currently have 7 banana bread themed recipes in my recipe database. They all use similar banana bread ingredients as a base, but they're all uniquely their own.
In some cases, I've added extra ingredients, like in this peanut butter chocolate chip banana bread recipe, or I've made the bread healthier, like in my low carb banana bread bites, or I've morphed them into a complete different dish, like I did when I made banana bread waffles.
For a few specific reasons, this banana bread recipe ranks right near the top of the list as one of my favorite recipes, though.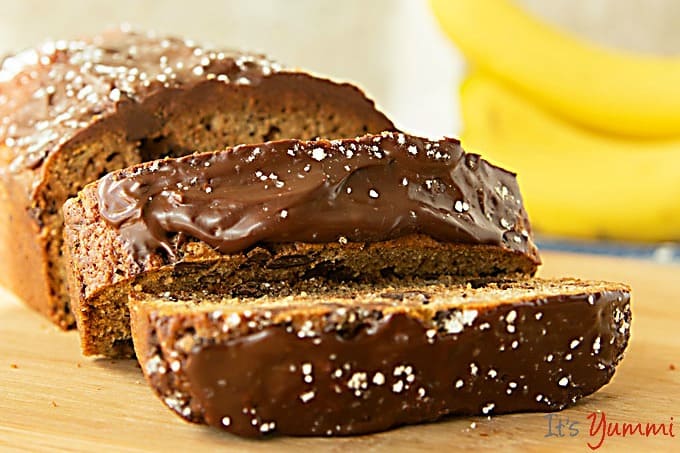 Why I love this banana bread recipe
First of all, it's made in one bowl. Minimal dishes to wash after baking always makes me a happy girl.
Secondly, I love this bread because it has a layer of chocolate on top of it. I'll never understand how adding chocolate to banana bread could ever be considered a bad thing!
When I was deciding how to top the bread off, I chose my 3-ingredient chocolate ganache recipe because it doesn't require any heavy whipping cream (which is super expensive right now), and because I love the way it sets up on top of the bread. It creates a nice thick layer of chocolate for your teeth to sink into. I'm talking yummi goodness, here.
One more reason that I love this recipe so much is because it disappears to quickly, that I never have to worry about where I'll store the leftovers!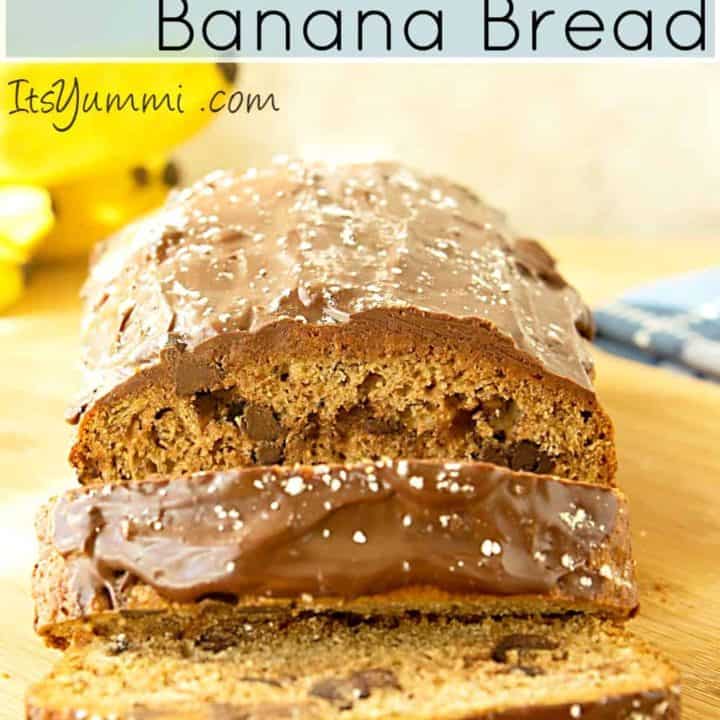 Chocolate Chip Banana Bread Recipe
Yield: 10
Prep Time: 10 minutes
Cook Time: 45 minutes
Total Time: 55 minutes
This banana bread recipe is made in one bowl and makes for a delicious snack or dessert.
Ingredients
3 or 4 ripe bananas, smashed
1/3 cup unsalted butter, melted and cooled slightly
1/3 cup creamy peanut butter
3/4 cup granulated sugar
1 egg
1 teaspoon vanilla
1 teaspoon baking soda
Pinch of salt
1 1/2 cups of all-purpose flour
3/4 cup semi-sweet or bittersweet chocolate chips
Instructions
Heat the oven to 350°F (175°C).
In a large mixing bowl, using a wooden spoon or whisk, mix butter into the mashed bananas.
Add peanut butter and stir until combined.
Mix in the sugar, egg, and vanilla.
Sprinkle the baking soda and salt over the mixture.
Add the flour and chocolate chips, mixing just until combined (all lumps of flour should be incorporated)
Pour mixture into a buttered 4-inch x 8-inch loaf pan.
Bake for 45-55 minutes, or until a toothpick or wooden skewer inserted into the center of the loaf comes out clean.
Transfer pan to a wire rack to cool for 15 minutes. Remove from pan and cool completely.
Use an offset spatula to apply as much chocolate ganache to the top of the bread as you'd like, then slice and serve.
Notes
The chocolate ganache will be liquid when you apply it, but it will set up and become more solid as it dries. Once the ganache has dried onto the bread, you can wrap any leftovers in plastic wrap or store them in an airtight container for up to 4 days.