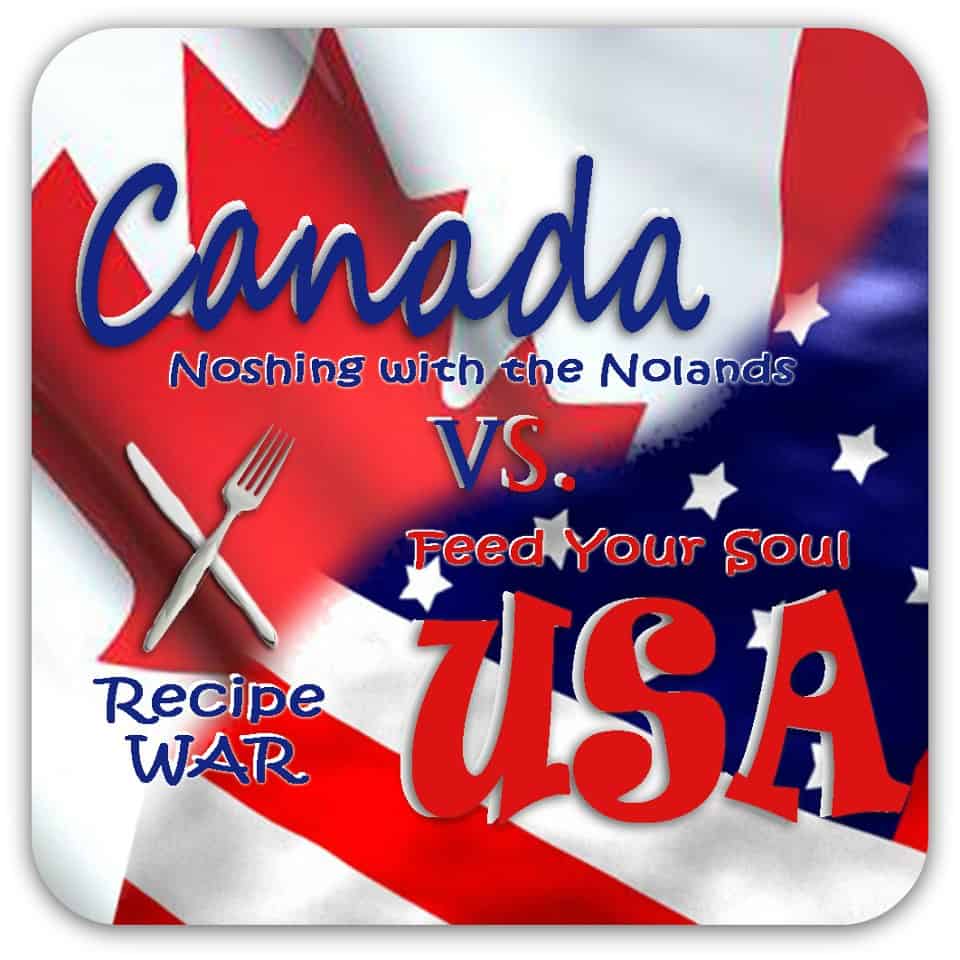 The war is on!! Canada vs. the USA!! Noshing With The Nolands vs. Feed Your Soul Too!! Peter from Feed Your Soul has been a friend of mine since the beginning of blogging.
We have supported one another all along. So this is a friendly war of sorts but I still want your vote!!! So please vote for Chocolate Chip Cookie Dough Truffles for #RecipeWars #CanadavsUSA
Our first challenge is Chocolate Chip Cookies. For me, that seemed too simple. Needed to bump it up a notch. I was thinking and thinking this one through.
Then I thought of the cookie dough craze and how so many people looooove cookie dough.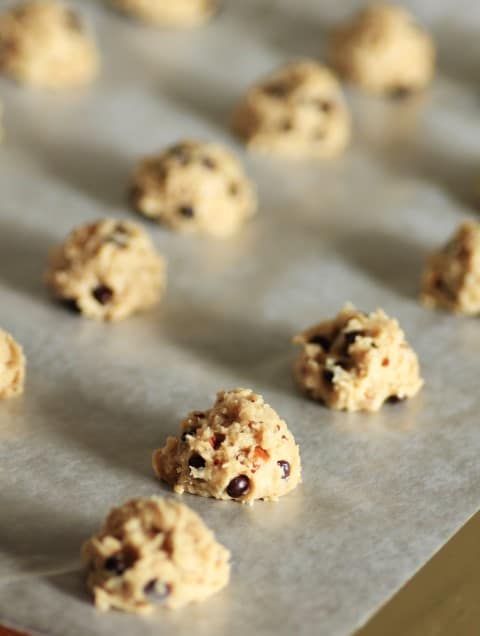 That sealed the deal for me. It is also hot, hot here, and thinking of turning the oven on was not appealing to me. I started to search out some recipes, I was thinking, of course, it couldn't have eggs in it.
I saw a few on the internet and then settled on one from The Food Network. As I worked with the dough I changed it up a bit, making it in my mind better.
Challenge Accepted
These turned out to be so fabulous!! Nutty, chocolatey with really good milk chocolate on the outside!! To give it that extra special Canadian edge I added really good Maple Syrup, it adds more flavor to the dough!!
These just melt in your mouth, a decadent truffle that can be enjoyed at any time of the year. Let the kid come out in you. Who hasn't pinched off a little of that cookie dough and taken a nibble?
I have to say I have never gotten sick from eating cookie dough, even with raw eggs in it. This recipe allows you to have it all and not worry about the eggs!! You know you can't resist it anymore!! You have to try these, they are so good. ENJOY!!!
COME NOW AND VOTE IN THIS WAR FOR GREAT CANADIAN GOODNESS. VOTE FOR NOSHING WITH THE NOLANDS!!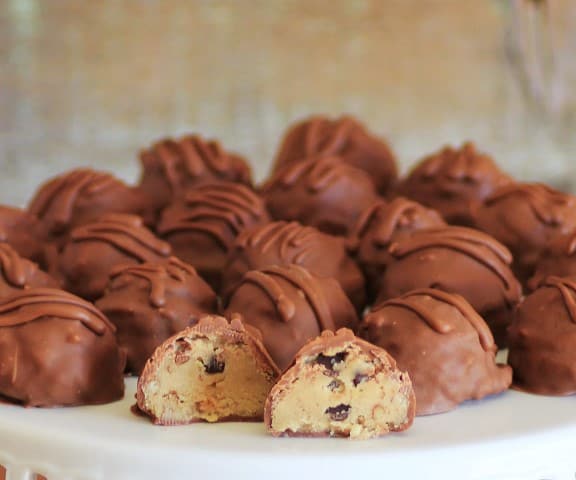 Look at how gorgeous these are, melt in your mouth goodness!!!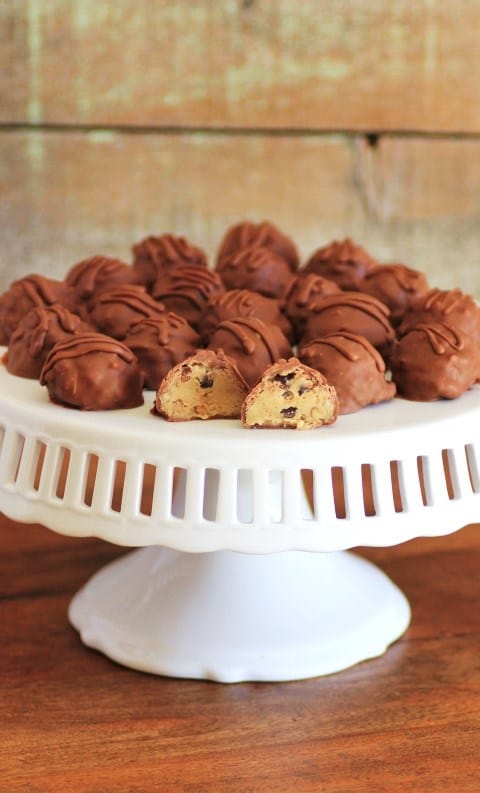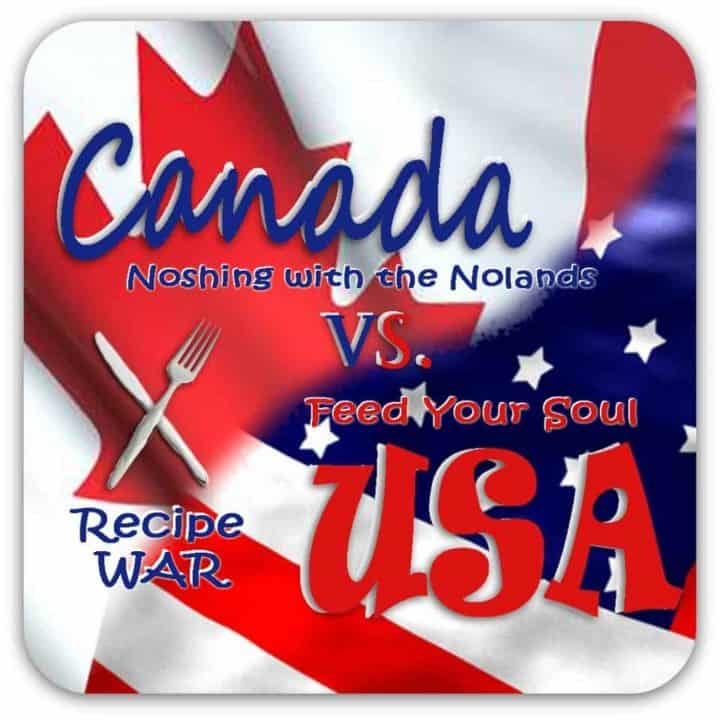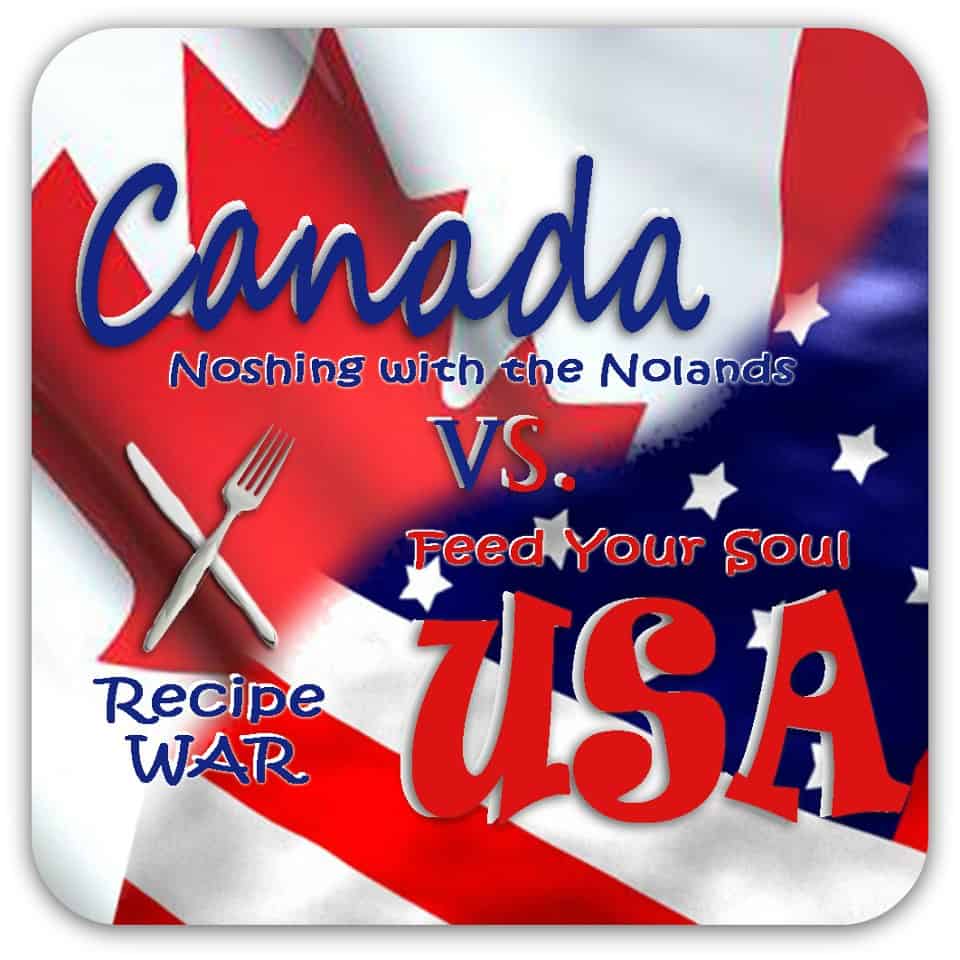 Chocolate Chip Cookie Dough Truffles for #RecipeWars #CanadavsUSA
Yield: 5 dozen
Prep Time: 25 minutes
Inactive Time: 4 hours
Total Time: 4 hours 25 minutes
The most decadent truffle you will ever have!!
Ingredients
1/2 cup butter, softened
3/4 cup brown sugar, firmly packed
1 tsp. vanilla extract
2 1/2 cups flour
10 oz. can sweetened condensed milk
4 Tbsp. maple syrup
1/2 cup, heaping of semi-sweet mini chocolate chips
1 cup finely chopped pecans
20 oz. good quality milk chocolate chips
Instructions
In a large bowl of a stand-up mixer with a paddle attachment, cream the butter and sugar together. Add the vanilla. Gradually beat in the flour and milk alternatively.
Add the maple syrup and mix well. Add the pecans and mix well. Remove the bowl from the mixer and fold in the mini semi-sweet chocolate chips. Chill the dough for 30 min.
Line three cookie trays with waxed paper and scoop out balls using a 1 1/4" cookie scoop or by rolling them in your hands. You may want to flour your hands to keep the dough from sticking.
Place on prepared cookie sheets and chill for 2 hours.
Melt the milk chocolate chips in the microwave or in a double boiler reserving a small amount for drizzling. Using two forks dip the balls in the chocolate shaking off excess.
Return them to the cookie sheets. Chill for 1 hour. Melt the reserved chocolate and place it in a small plastic bag. Snip off a very small corner of the bag.
Quickly drizzle each ball with the chocolate and return to the refrigerator until completely set. Store in a sealed container in the refrigerator until ready to serve.
Recipe adapted from The Food Network
Here is what Peter made from Feed Your Soul. Looking yummy!!
Chocolate Chip Cookie Bars with Heath Bar Crunch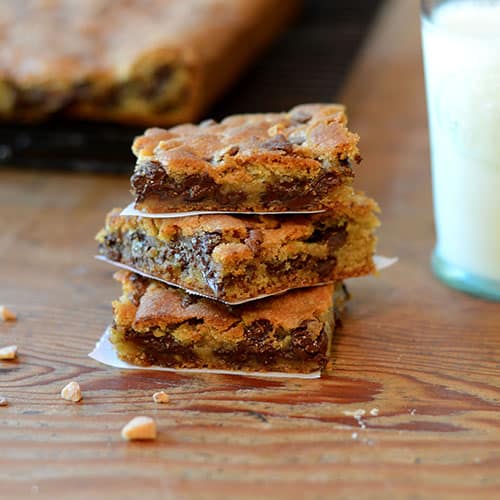 So vote here for this incredible truffle, vote for NOSHING WITH THE NOLANDS!!!