Chocolate Ice Cream Pecan Balls with Salted Caramel Sauce
I was trying to come up with an ice cream idea and I was on my friend Peter's site from Feed Your Soul. He had made truffles so I thought up ice cream balls. They turned out great and so easy. Then I wanted to up it even more with a salted caramel sauce that I thought would go great with the chocolate and pecans and I was not wrong. The kids went crazy for these Chocolate Ice Cream Pecan Balls with Salted Caramel Sauce. Loving every scoop!!
Recipe
Good quality chocolate ice cream
Toasted pecans, chopped
Salted Caramel Sauce
1/2 cup butter
1 cup brown sugar
1/2 cup half-and-half cream
1 tsp. vanilla
1/2 Tbsp. good quality sea salt
Prepare a sided cookie sheet lined with wax paper. With a small 1 1/4″ cookie scoop, spoon out the chocolate ice cream into balls and roll in the nuts. Place on the prepared cookie sheet. Work quickly so the ice cream doesn't start to melt. Make as many balls as you prefer, serving 4-5 balls per person. Place the tray in the freezer until ready to use.
To make the sauce, melt the butter in a saucepan and stir in the brown sugar until incorporated. Slowly stir in the cream. Bring the sauce up to a boil and let boil for 3 min. stirring constantly. Remove from heat and stir in the vanilla and the salt. Let cool. Pour into a jar and store in the refrigerator until ready to serve. Yikes is this good!!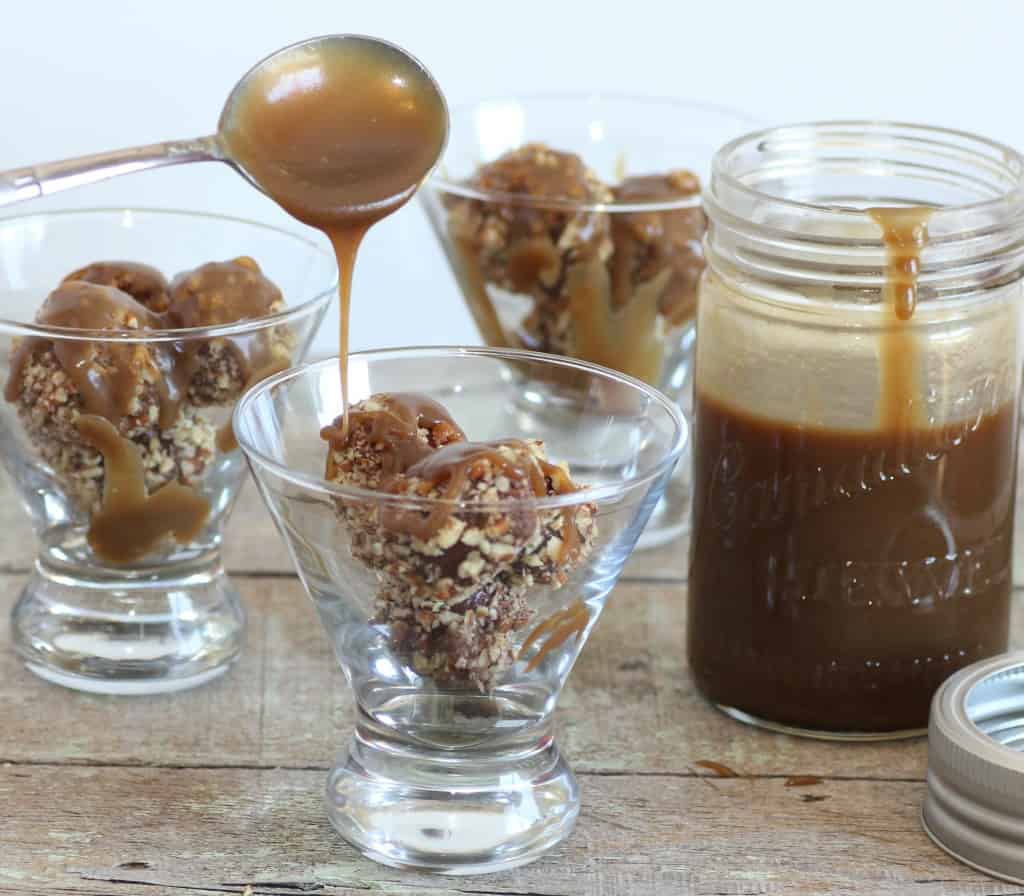 Caramel Sauce adapted from The Best of Bridge, "The Rest of The Best, and more"