Today is a Chopped Steak Salad. I love a big interesting salad filled with tons of crunchy ingredients!! I was inspired by seeing all the wonderful chopped salads over at KC's blog The Kitchen Chopper. KC has loads of fantastic salads and healthy dressings!! An endless supply of delicious chopped recipes!!!!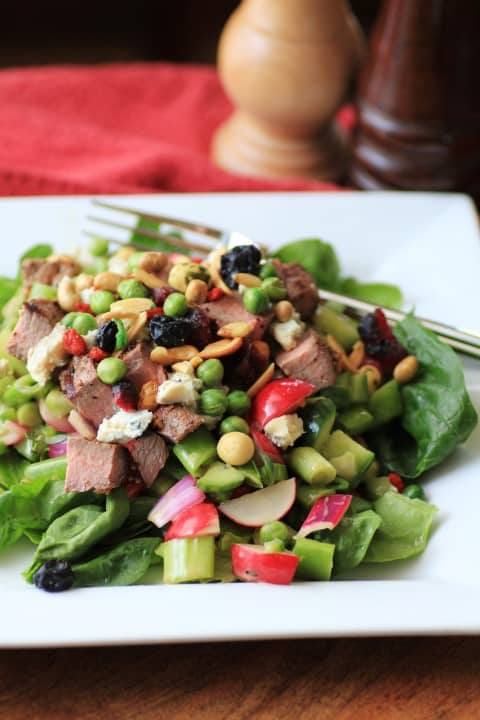 This salad is the full meal deal with steak, cheese, peppers, radish, jalapenos, cucumbers, celery, spinach, lettuce and loads more!! Your jaw will get a good workout eating this gorgeous salad!! I like red onions but most of the time they are too potent for me. I tried a quick marinade in cider vinegar to mellow them out and it worked perfectly.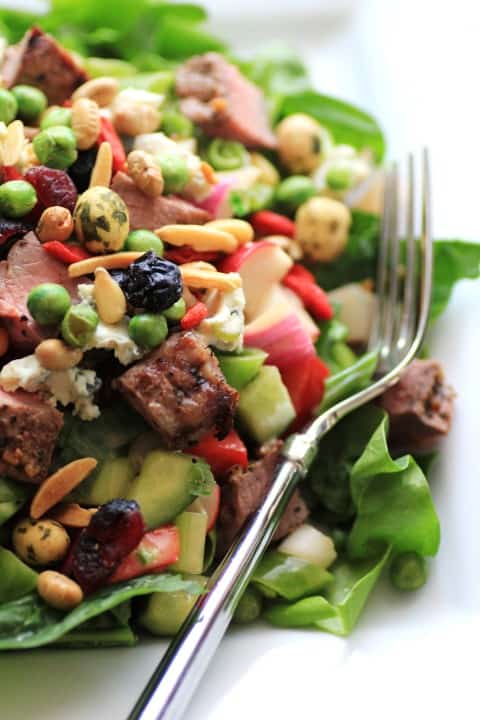 Salad toppers are easy to find now in your grocery store and they add protein, flavor and crunch to any salad!!
Chopped Steak Salad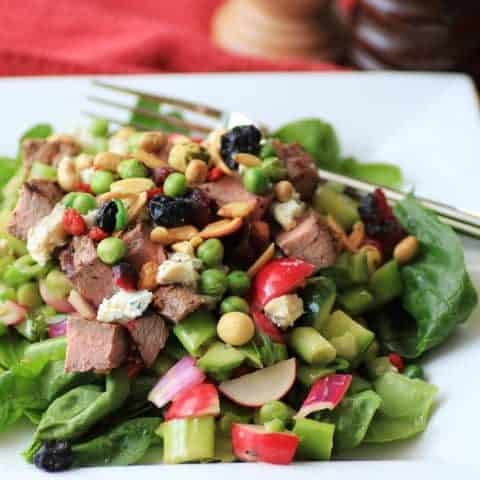 Chopped Steak Salad
Yield: 3-4
Cook Time: 10 minutes
Total Time: 10 minutes
A chopped salad filled with healthy crunchy delicious ingredients!!
Ingredients
1 cup snap peas, chopped
1 Tbsp. fresh tarragon, chopped
1/2 red pepper, diced
2 small cucumbers, diced
1 jalapeno, seeds and veins removed, finely diced
6 large radishes, diced
2 ribs of celery, diced
1 head leaf lettuce
Two cups fresh spinach leaves
Steaks
2 Strip loins
1-2 Tbsp. Worcestershire sauce
Montreal Steak spice
Marinated Onion
1/2 red onion, sliced
1 tsp. Kosher salt
Freshly ground pepper to taste
1 cup apple cider vinegar
Garnish
Blue cheese, crumbled
Salad Topper of peas, nuts, berries
Balsamic Vinegar Dressing
Instructions
Marinate the onions in salt, pepper and vinegar for at least 60 min. in the refrigerator.
Cover steak with Worcestershire sauce and Montreal steak spice. Grill 5 min. aside or until desired doneness. Let rest 10 min.
To assemble salads lay out lettuce and spinach on each plate. Drain the vinegar from the onions and discard. Toss together the onion, snap peas, tarragon, peppers, cucumbers, radish, and celery. Place on top of lettuce leaves.
Dice the steak and top the salad. Add the crumbled cheese and salad topper. Dress with a good quality balsamic vinegar.