Christmas in November in Jasper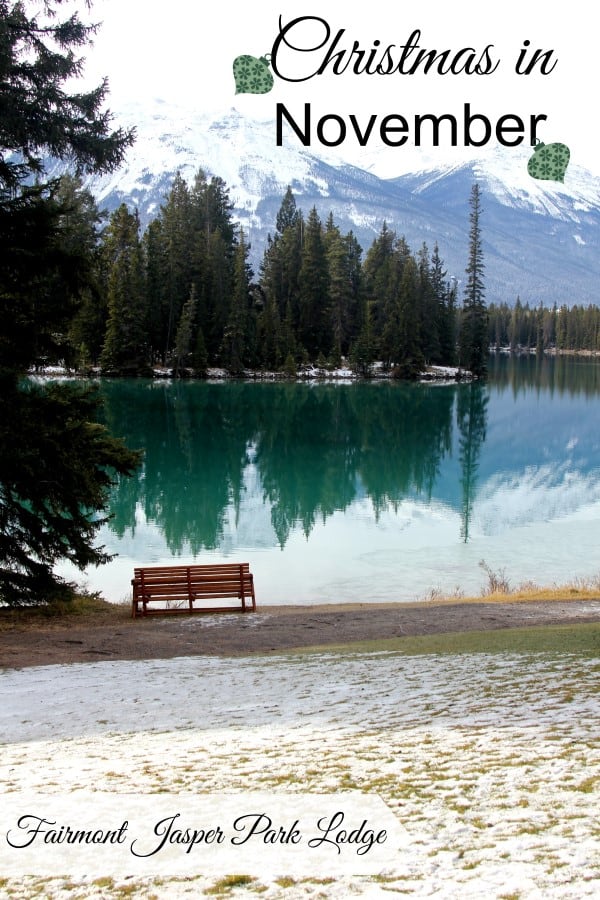 Christmas in November in Jasper, Canada is an annual event held every year for the past 27 years at The Fairmont Jasper Park Lodge. I have heard about this event and how absolutely sublime it is but have never attended. I was more than thrilled to have been invited up to Jasper to partake in this magnificent four-day event. The Christmas-themed extravaganza is filled with celebrity presenters from the culinary world of TV plus local chefs, artisans, and industry experts in home decor, mixology, and Christmas design and crafts. The entire event had me gobsmacked that I was able to join them in all this merriment, in gorgeous festive surroundings.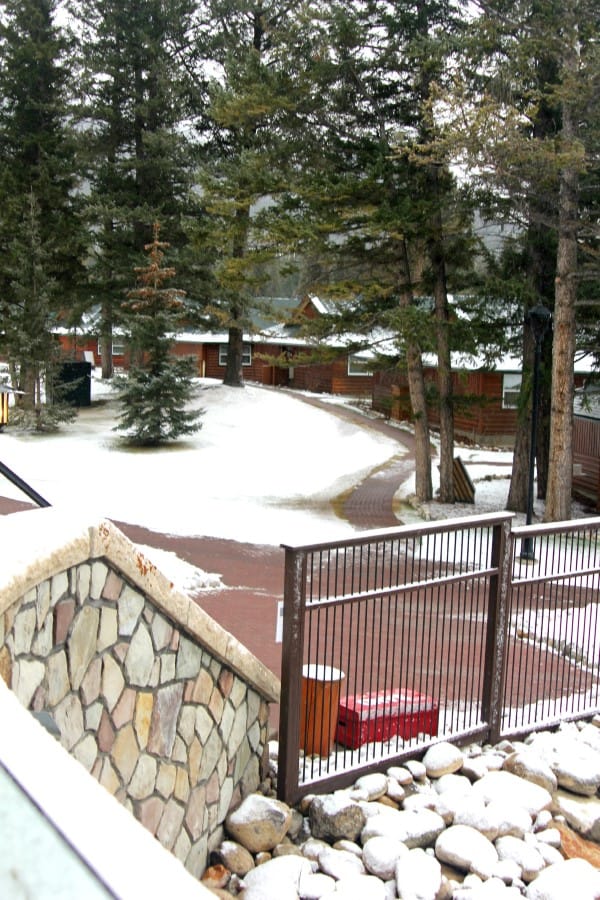 Rooms are available in the main lodge but there are also cottages with fantastic views and wonderful accommodations. Ours was just a short walk from the main lodge and it was nice to breathe in the fresh wonderful mountain air a few times a day. If your truck is longer, very friendly and accommodating staff pick you up at your door and drop you at your desired location, so easy when in heels in the snow!!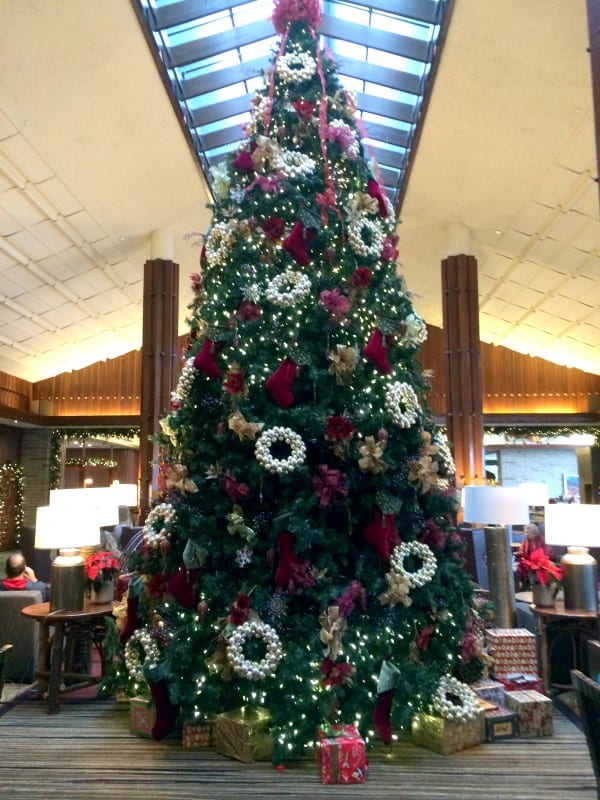 The main lodge was done up to the nines which made you feel very festive. I noticed that there was a section of lights out on the tree and before I knew it, an elf was under the tree fixing it. Nothing is left undone.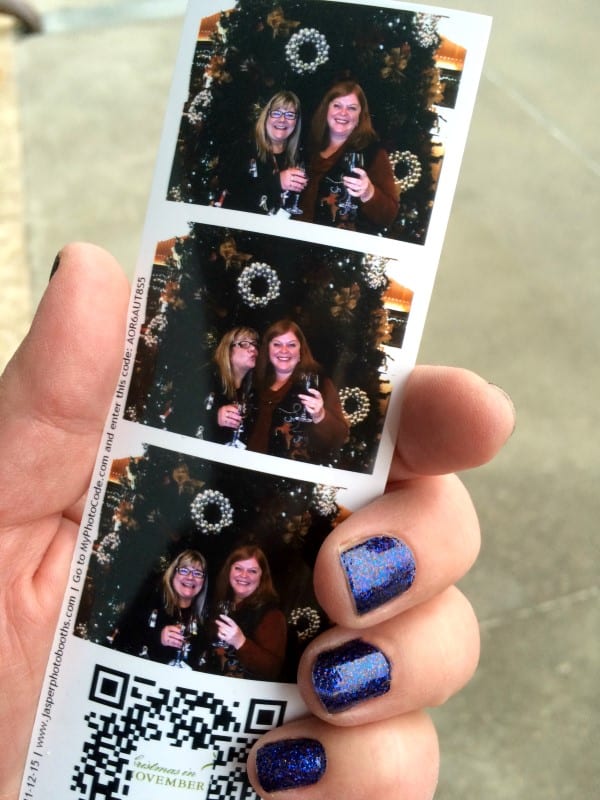 Our first night was so much fun, I loved that they had a photo booth for us to fool around with. After our long journey by coach, it is nice to be moving around and enjoying a cocktail or two. For a fee, you can be taken from the Palliser in downtown Calgary to this event. That starts off the fun right away and leaves the driving to someone else.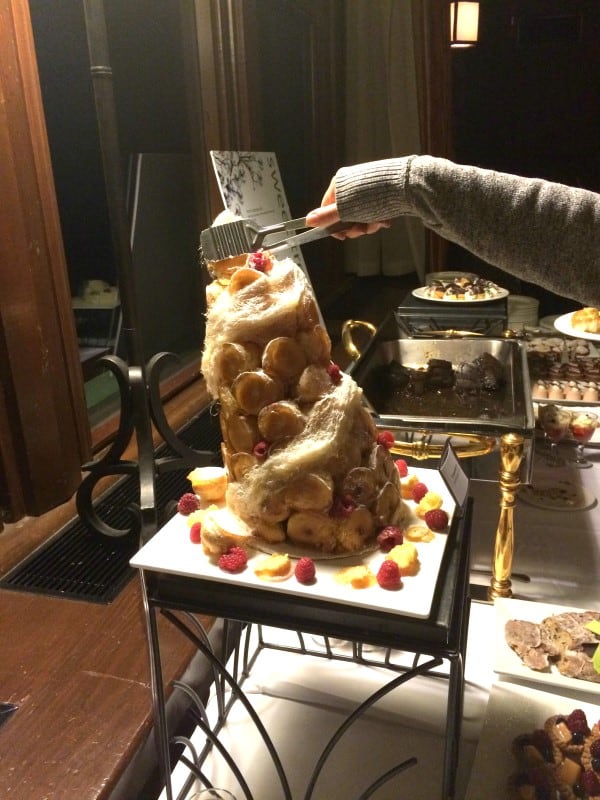 The food, the glorious food. Not a crumb that entered my body wasn't of the finest quality. The first night, Thursday was magical with a buffet like no other. That just started the feasting and it didn't stop until we were back on the bus on Sunday afternoon. Pictured here is a croquembouche like I have never seen, fantastic and fun!!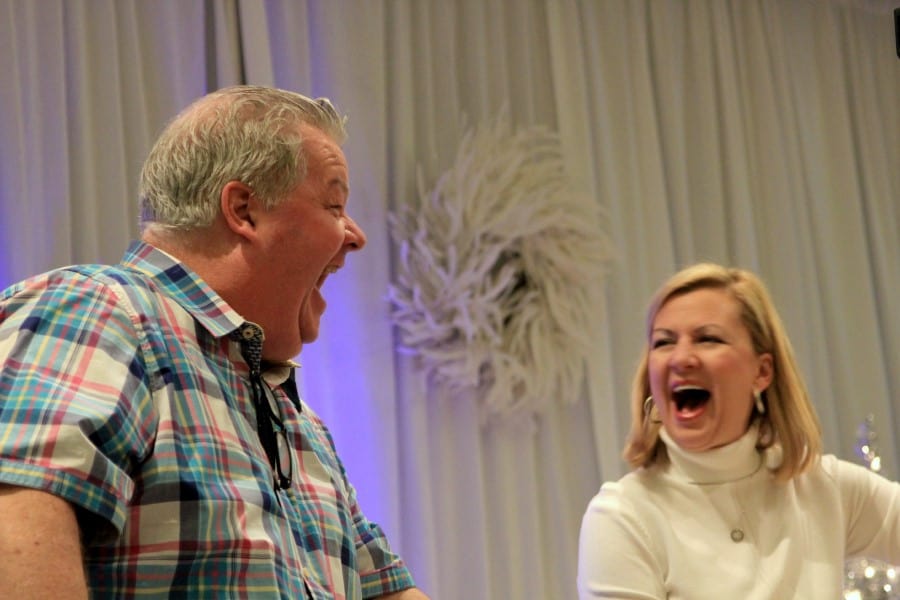 The presenters were so fun to watch and chat with and I loved Michael and Anna Olson kibitzing back and forth during their very engaging event. They made 6 wonderful recipes and later in the post, I have one to share with you!! Anna Olson has had many shows on TV which I have watched like "Sugar" and "Fresh with Anna Olson". She now has a new show called Bake with Anna Olson. Michael continues to teach culinary arts at Niagara College.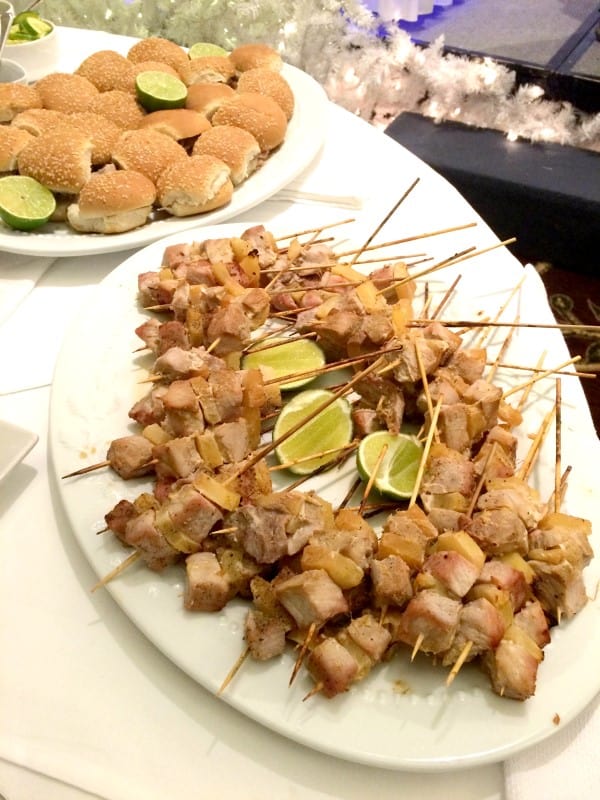 Michael and Anna went a little retro with some of their dishes like these Polynesian Pork and Pineapple Skewers. They also made Vietnamese Pork Belly Sliders, Super Mario Meatballs, Empire Cookies, Pumpkin Spice Cookies, and my favorite, which I will share with you later!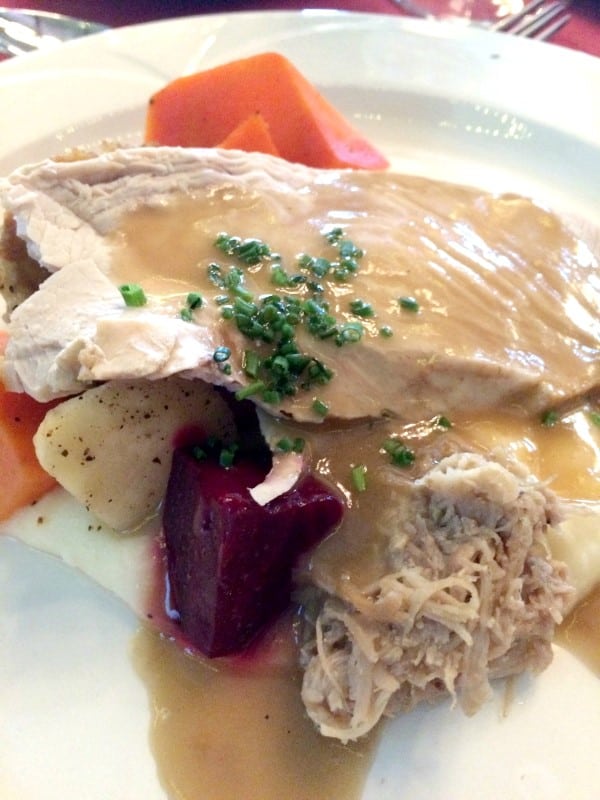 After an amazing traditional turkey dinner LUNCH, we were onto more food, and fun with the headliner for Christmas in November.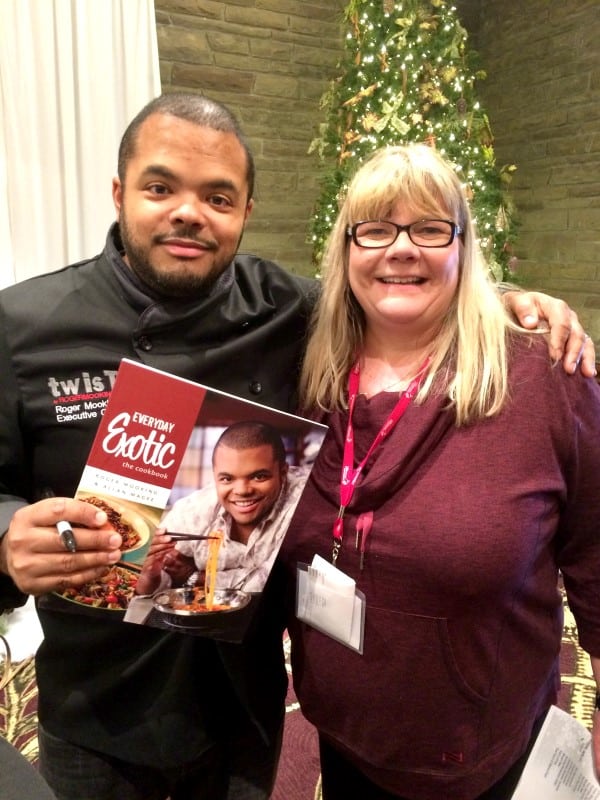 Here is Roger Mooking and myself at a VIP book signing. I am sure you have seen Roger Mooking on Chopped Canada or his show Everyday Exotic. Roger also made a fantastic dish for us!!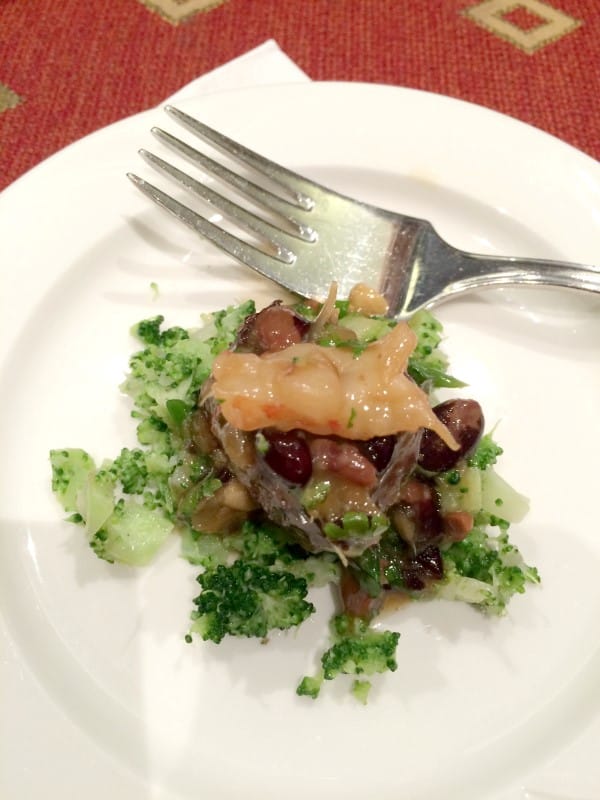 Roger Mooking made for us a Grilled Steak with Black Bean Shrimp and Broccoli Dust. Amazing and full of flavor, I love Roger's wonderful globally-inspired creations.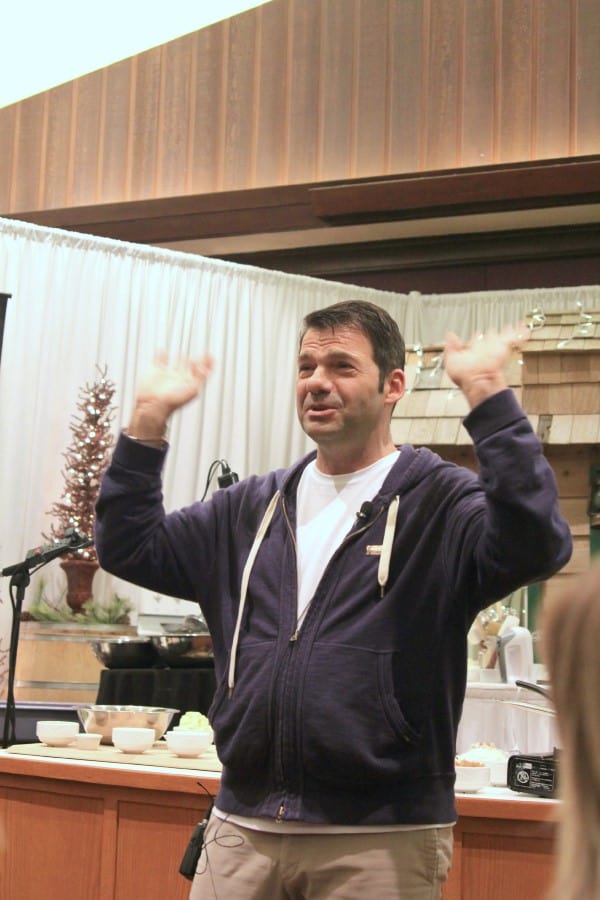 You choose your program of events, your pace, and your schedule. Next for us was Nik Manojlovich whom I had met many, many years ago when he was here in Calgary. Not only was he an amazing presenter but also one of the hosts for the entire 10 days of fun in Jasper. There are three sessions to choose from, two are on the weekends and one midweek.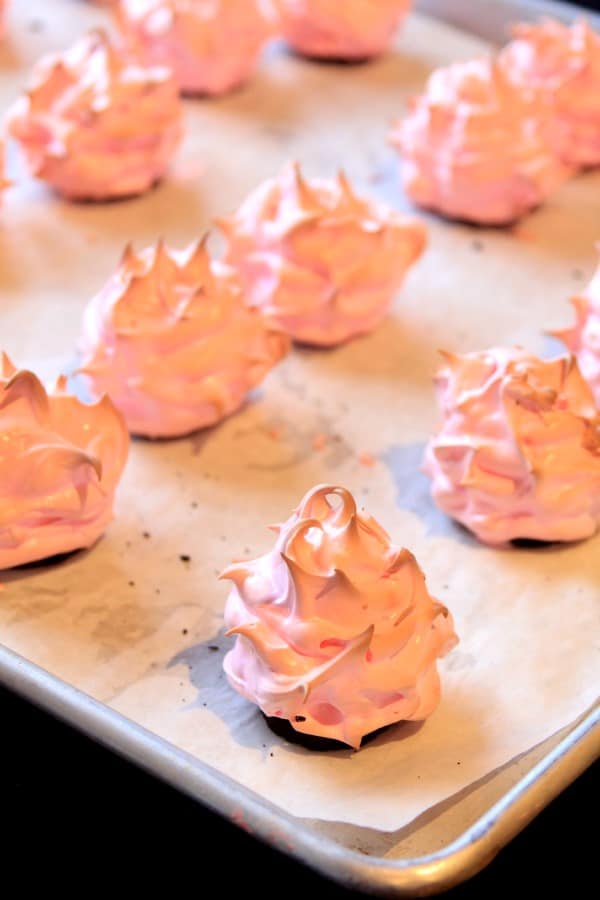 Nik usually does amazing tablescapes and wonderful holiday decor and ideas but this year he decided to cook for us. Nik also had a well-known show, Savoir Faire, that I loved to watch. Nik is now hosting a fabulous website called Weekend at the Cottage. He made three dishes for us, Poached Pear Salad, Turkey Pot Pie, and Individual Baked Jaspers which I have shown you here.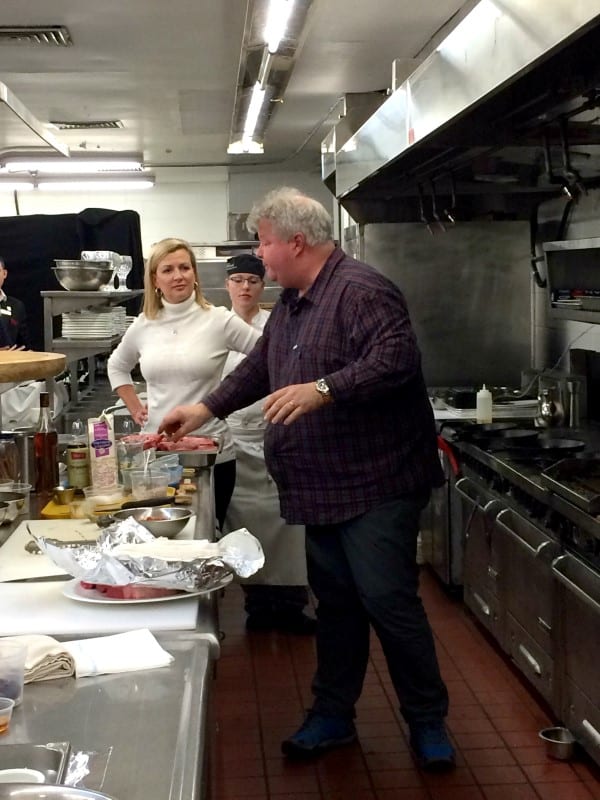 Before the cocktail party started I had a special VIP kitchen party to attend which was so much fun, mingling with the celebs and watching Anna and Michael do their magic!! The place was packed and the bubbly a flowing, it was a great event!!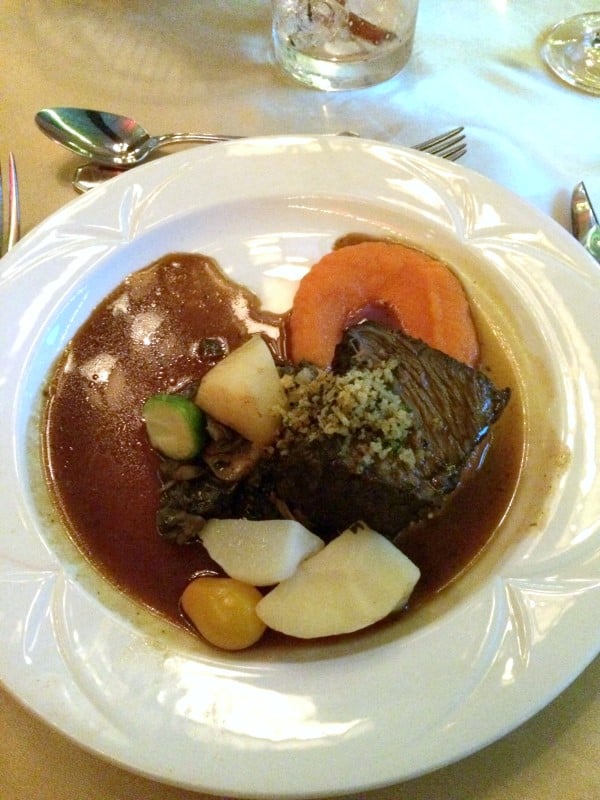 Braised short ribs were the entree for this night, so tender and juicy, I just loved them. The weekend is a carnivore's delight, meal after meal of wonderfully cooked proteins. Lunch and dinner also have starters and desserts. For this meal, we started with a Twin Meadows Potato and Leek Soup and finished with Warm Sticky Toffee Pudding with ice cream.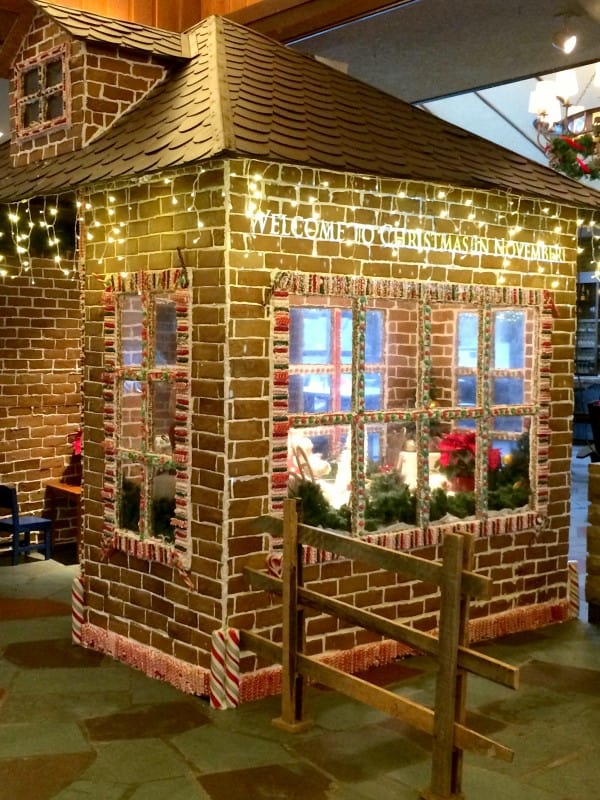 There was a life-size gingerbread house, made with real gingerbread and candies. The hours that must have been put into this are awe-inspiring, so fun, so festive!!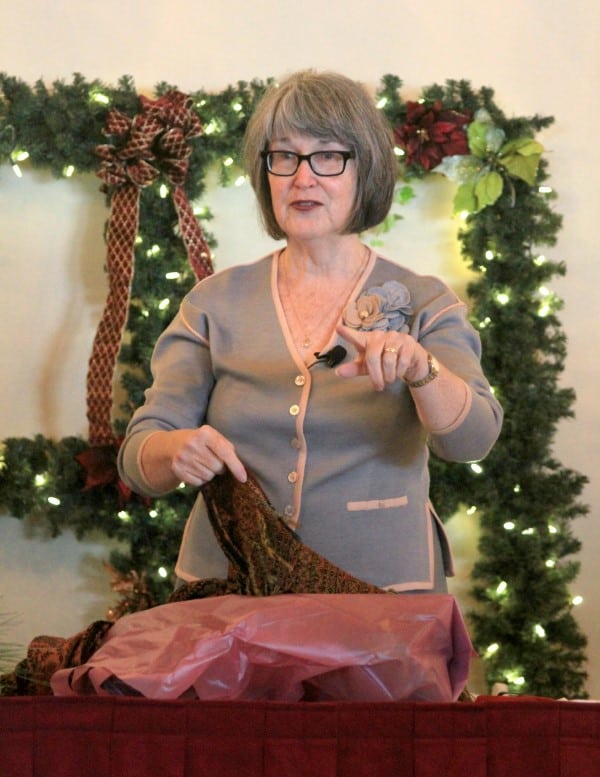 The next morning we took a little time off from eating and did a craft with Chris Standring. Chris was the section editor for the Edmonton Journal for many years. She now works with teachers and young people in a program called Cappies of Greater Edmonton in the arts and encourages young writers. Chris briefly showed us some cool scarf techniques and then went on to her craft for the course.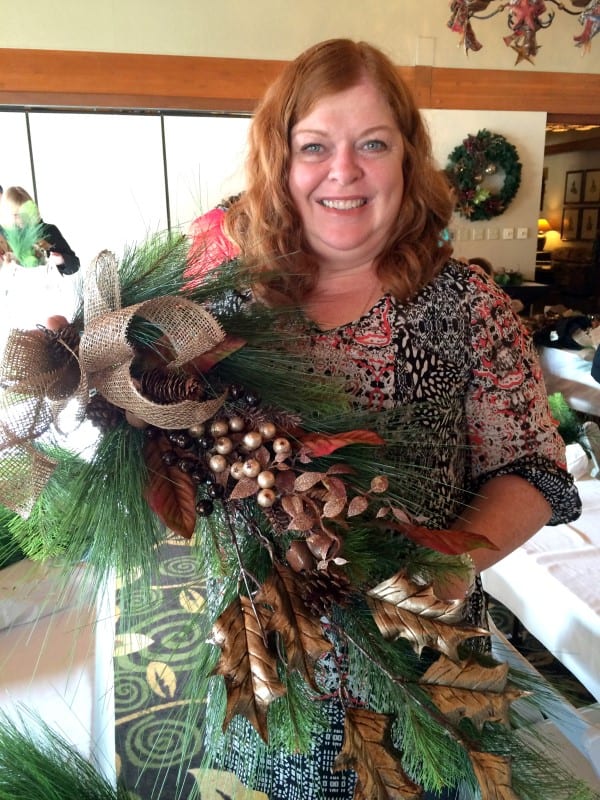 For the class, we got to make these gorgeous swags. I was totally impressed with the quality of materials and quite in awe that we all got to make and take one home, how much fun is that? This is my girlfriend Colleen who accompanied me on this wonderful trip. We had a total blast together, well really, who wouldn't!!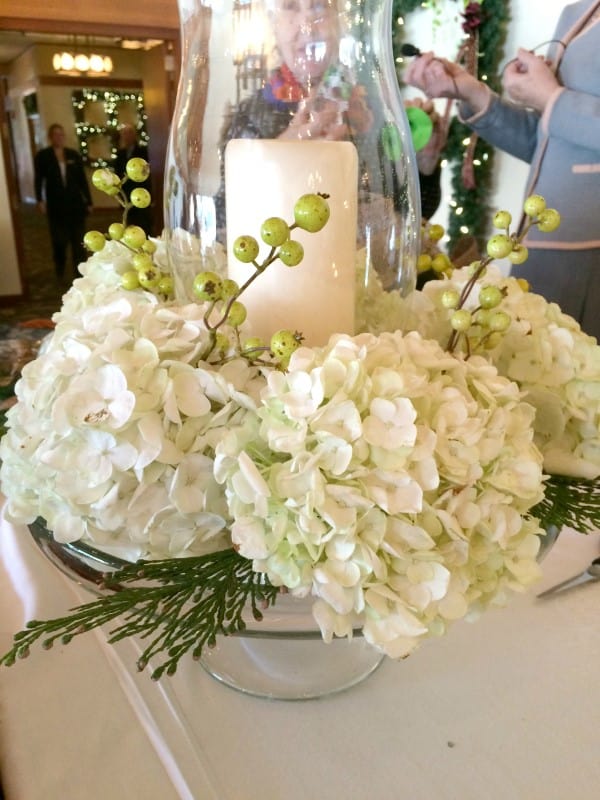 Chris Standring also showed us many flower arrangements for the holidays, one that caught my eye and interest was using hydrangeas as she showed us how to revive them and make them last for weeks. These hydrangeas were four weeks old and they still look fresh!! When they start to look wilted, put the entire blossom in warm water and let sit for a few minutes. Make a fresh cut on the stem, shake off excess water gently, place in water and your hydrangea should be fresh again. I have to try this for sure as I adore hydrangeas!!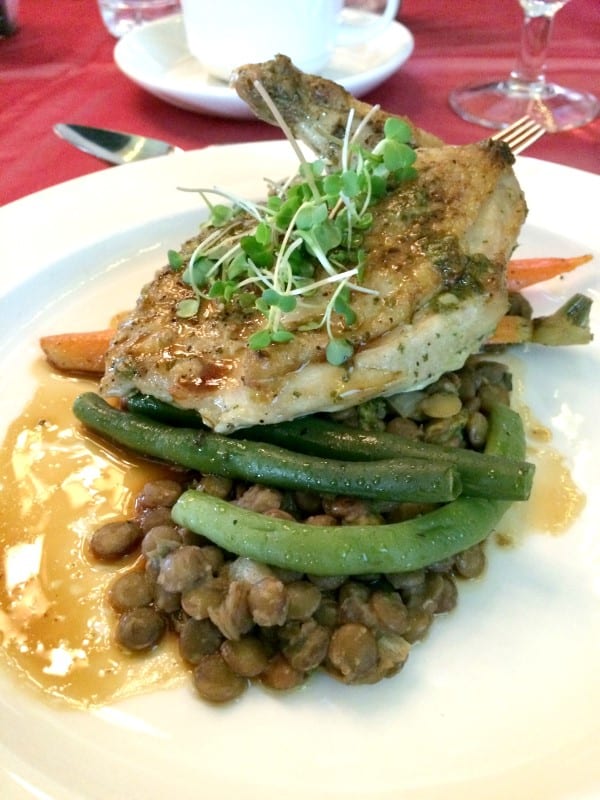 We then stopped for lunch and enjoyed this lovely chicken over lentils and green beans, so fantastic. I am a huge fan of lentils so they were all gone!!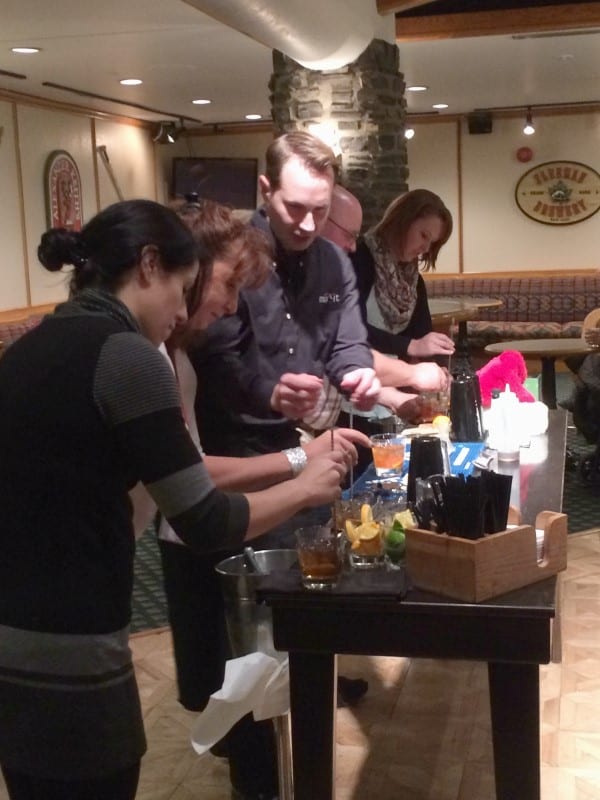 After lunch, we were off to enjoy cocktails with Micah Dew!! Micah is a Flair Bartender and a mixologist and he is fun to watch, talk to and dance with, we had a little conga line thing going on one night!! I was really looking forward to his class, Micah is bursting with great recipes and enthusiasm!!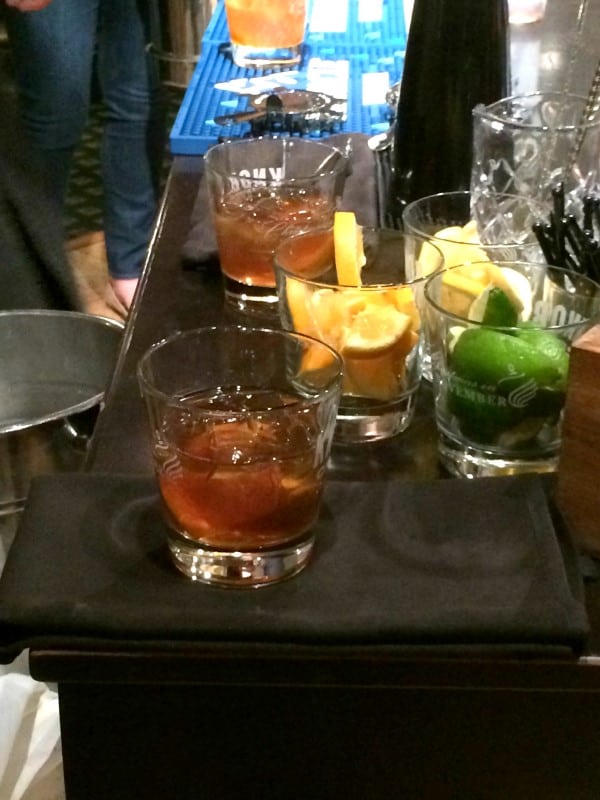 Here is the Old Fashioned Christmas that is 2 oz. Knob Creek 9-Year-Old Bourbon, 2 dashes of Fee Brothers Black Walnut Bitters, 1 oz. Christmas syrup (which is simple syrup with spices like cinnamon, nutmeg, cloves, etc.) and garnish with half a wheel of orange! Wow, it was delightful. We also were sampling Harvey Wallbangers, A Pony for Christmas, and more!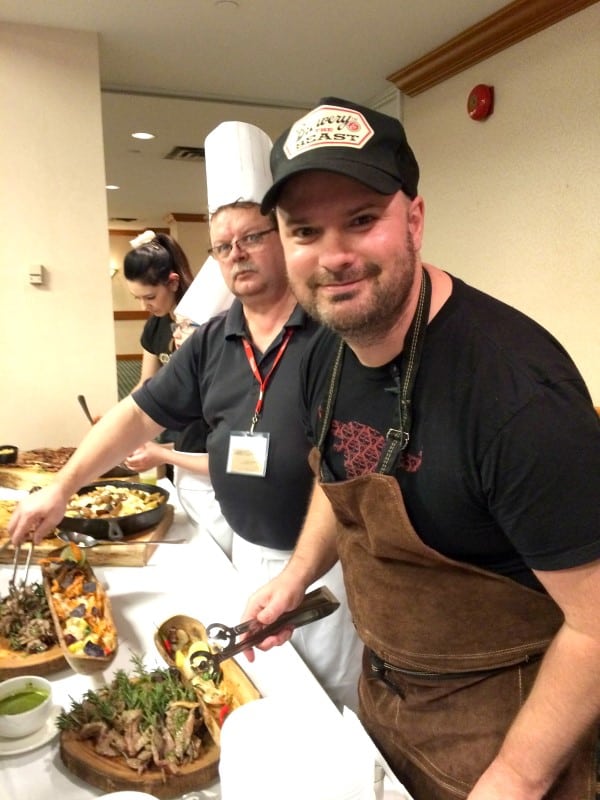 After that Colleen needed a little break but I was onto more fun with Connie DeSousa and John Jackson of Charcut Roast House and Charbar who are here in Calgary. Connie and John have worked together a lot over the years, they are both classically trained but have ventured into fantastic creativity with their restaurants. I recently dined at Charcut and had an amazing meal.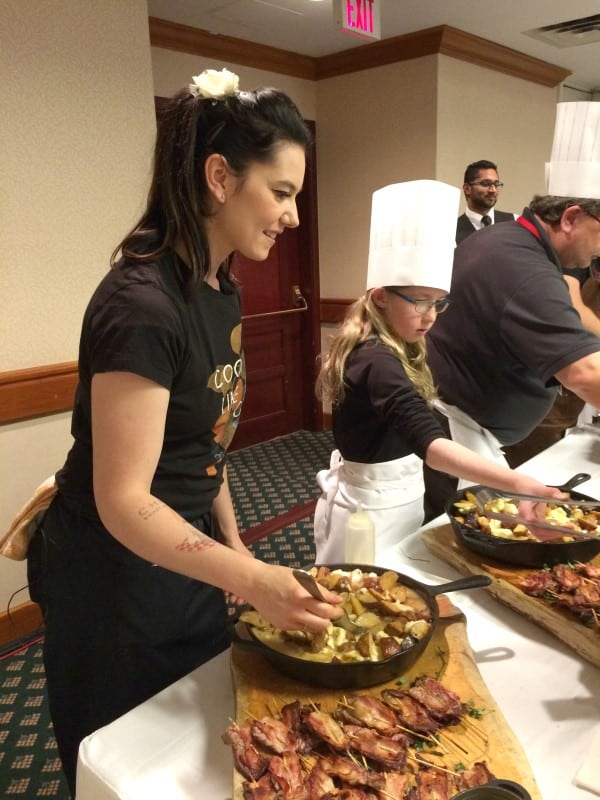 Connie's also claim to fame is that she was one of the finalists on Food Network Top Chef Canada. For their event, they had a Chopped competition pulling members from the audience to help in the preparation. They made the most delicious of meals, Connie made a poutine that was amazing and then beef and bacon skewers with a bleu cheese topping, heavens!!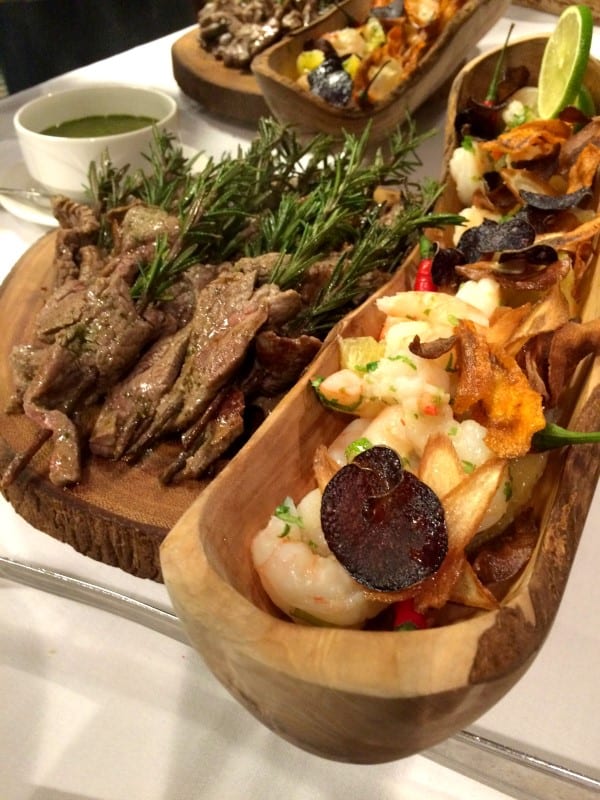 John's contribution was an easy Shrimp Cerviche using cooked shrimp plus beef tenderloin creatively skewered onto rosemary. Who won, I say it was a dead heat tie in deliciousness.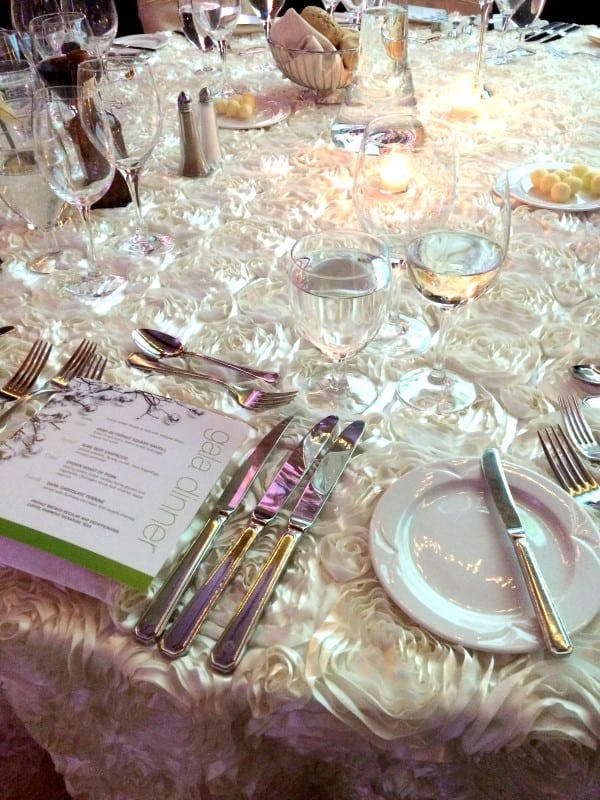 That night was the gala and I didn't think they could outdo themselves with all that we had experienced so far!! Oh was I wrong, the final night was jaw-dropping amazing!!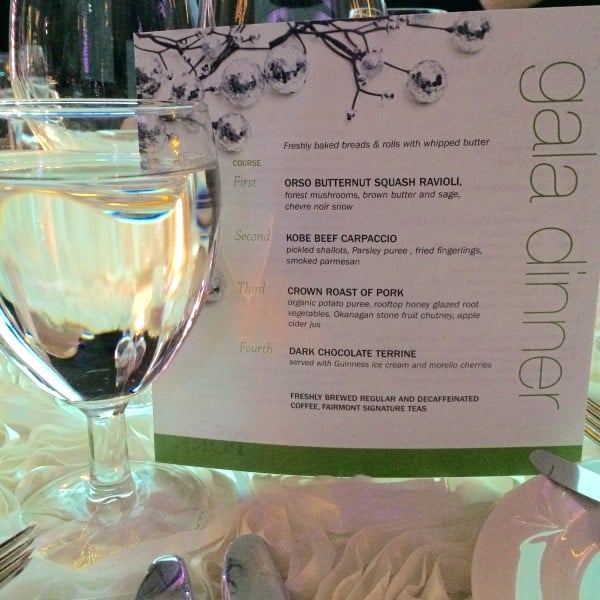 Here is our menu for that night. Each night also had a live band, dancing, never-ending wine, laughter, and fun!!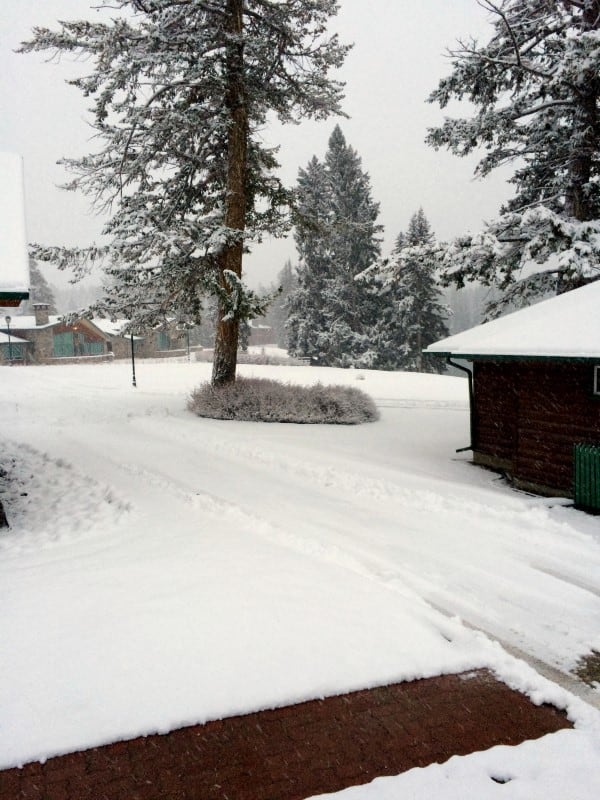 This brings us to our final day, when we opened our eyes and looked outside a gorgeous blanket of snow awaited us. Sure puts you in the Christmas spirit, our last event was with Karl Lohnes so we trucked through the snow to see him. Brunch was awaiting us after this course.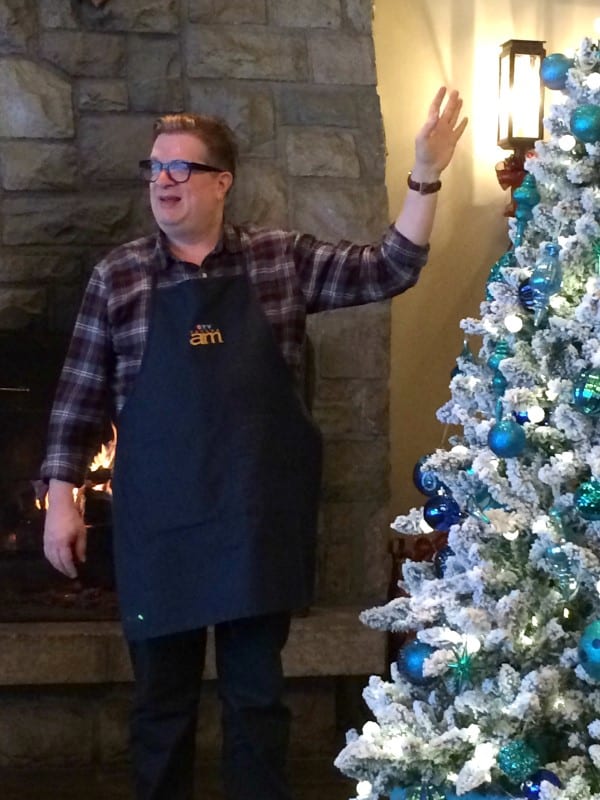 And here is Karl showing us all the wonderful new trends for holiday decorating. Karl is a home and decor expert on CTV's Canada AM plus does a CHUM FM decor report called All About Style with Marilyn Denis. The blues enticed me this year and I have added them to our tree. Oh, I am so trendy!!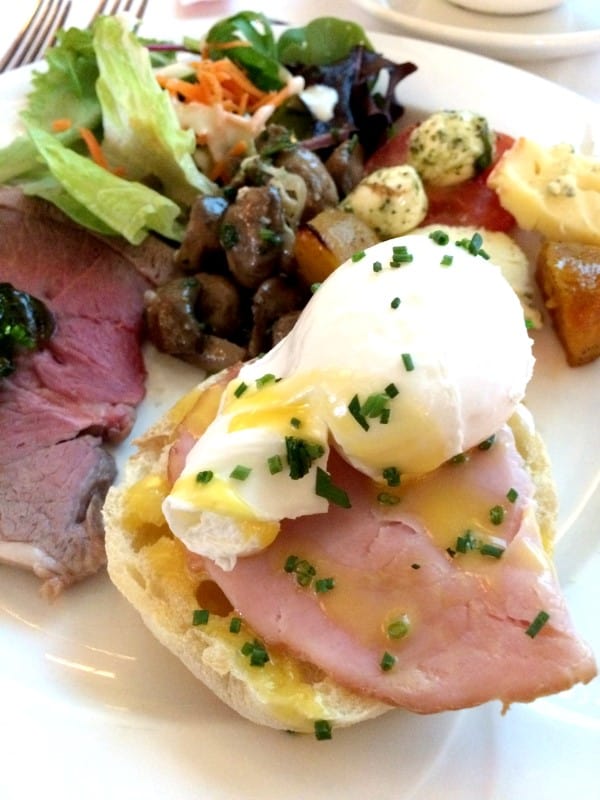 Here is our final meal, a glorious brunch like no other. There were many stations with freshly carved lamb and ham, or made to order omelets, endless salads and breakfast items like this eggs benedict plus a chocolate fountain, cakes and cookies and more!! Truly unbelievable, start to put some cash away now and come to Christmas in November in Jasper next year. I would love to be able to attend again. There were many people that come again and again with family members and friends and they have made it an annual event.
I couldn't make it to all the programs and was sad to miss the following presenters:
Massimo Capra (was at the first two sessions only)
Christine Cushing (I had breakfast with her one morning, she is lovely and I have watched her show forever, Christine Cushing Live)
Rostizado by Tres Carnales (Mexican classics with a twist)
Julie Van Rosendaal (I have been to classes of Julie's before plus see her at many events and always enjoy her and her cookbooks very much)
Pierre A. Lamielle (Winner of Food Network "Chopped Canada")
Dale MacKay and Nathan Guggenheimer (Ayden Kitchen and Bar)
Giselle Courteau (Duchess Bakeshop Owner and Woman of Vision)
Andre Whiteside (ORSO Trattoria)
Elizabeth Baird and Emily Richards (Member of Order of Canada & Professional Home Ecconomist)
Cory Christopher (Named one of the Edmonton Journal's People to Watch 2015)
Marna Praill & Sue Dunn (Fairmont Jasper Park Lodge Gardening Experts)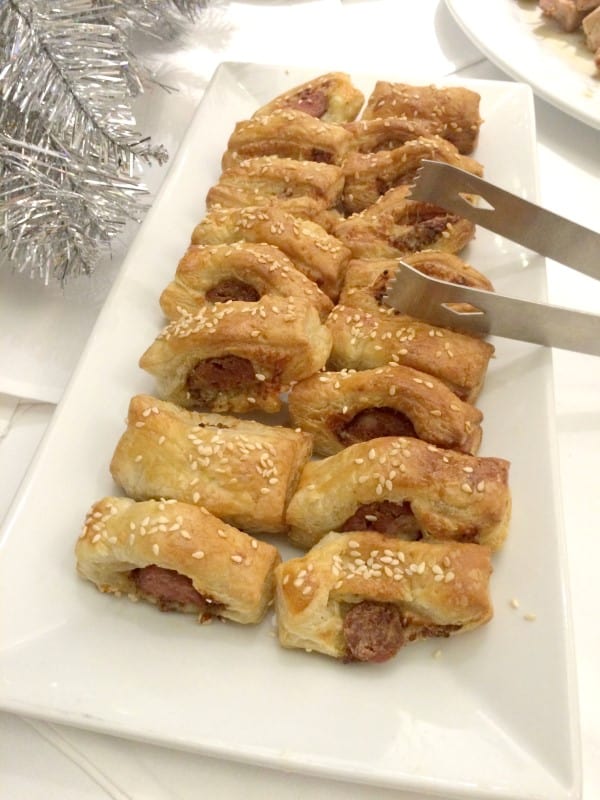 And now, the recipe that I promised you, Cochons au Duvet or what is commonly called Pigs in a Blanket. This is an easy version of this appetizer and was kindly made and shared by Anna Olson!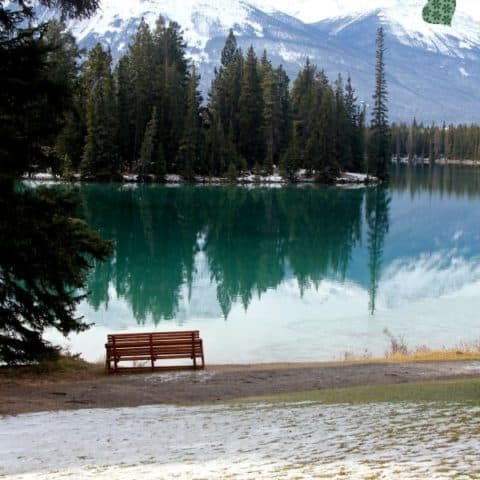 Pigs in a Blanket
Yield: 24
Prep Time: 20 minutes
Cook Time: 20 minutes
Total Time: 40 minutes
A delightfully easy version of pigs in a blanket made more flavourful with Italian sausage, mustard and Swiss cheese.
Ingredients
3-450gm. Italian pork sausages, mild or hot (cooked)
1-450gm. package frozen puff pastry, thawed
1/4 cup grainy mustard
1 cup grated Swiss cheese
1 egg, whisked with 2 Tbsp. (30 ml. cold water) for egg wash
Sesame seeds for sprinkling
Sauce
1/2 cup-125 ml. raspberry jam
1/4 cup-60 ml. balsamic vinegar
1 shallot, minced (or 1/2 small onion)
Ground black pepper
Instructions
Preheat oven to 400F. and line a baking tray with parchment paper.
Cut the cooked sausage in half lengthwise. Lay out a sheet of puff pastry and dock it with a fork. Spread the mustard in 4 rows, evenly spaced on the puff pastry. Sprinkle with the grated cheese over the lines of the mustard, keeping the cheese close to those lines as much as possible. Place the sausage on top of the cheese. Brush the pastry in between the rows with the egg wash.
Dock the second sheet of puff pastry and place this over the first sheet, pressing in between the sausage rows (tucking in the little piggies!) Brush the entire sheet of pastry with egg wash. Cut in between the sausage rows and then cut those sausage lengths into bite-sized pieces. Place these on the baking tray and bake for 20 min. until rich, golden brown. Serve warm with the raspberry balsamic sauce.
For the sauce, heat the jam, balsamic and shallot over medium heat, whisking until the jam has dissolved. Add black pepper to taste and cool to serve with the "Cochons".
Enjoy these over the holidays!! I know we will be!! And Merry Christmas from everyone here at Noshing With The Nolands!!