Here is the third recipe, Cinnamon Bread Puddding, I am offering for the cookbooks that are in our giveaway. Holiday Slow Cooker, is a great book filled with recipes from appetizers to dessert to help you through the holiday season. Nothing better than something cooking in the slow cooker while you are busy shopping, wrapping, baking or some of the other thousand things that need to be done over the holidays.
I chose dessert this time and made this bread pudding. I also added, that wasn't included in the recipe, a rum butter sauce to go with it. It just bumped it over the top. Nothing like a warm dessert to keep the chill out.
Easy Peasie
The recipe called for it to cook for 4-5 hours but it was done in 3. So keep an eye on it later while it is cooking. I may have used too big of a bowl as my slow cooker has three sizes. If you like bread pudding this is a yummy way to go. I also used left over buns from the freezer and just let them sit out for a day to harden up. They worked great.
Come on over and enter our giveaway here for this book and many more prizes!!!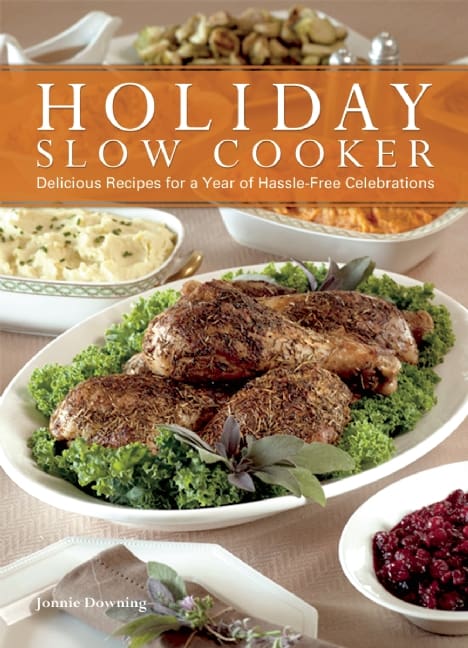 Cinnamon Bread Pudding with Butter Rum Sauce, oh my!!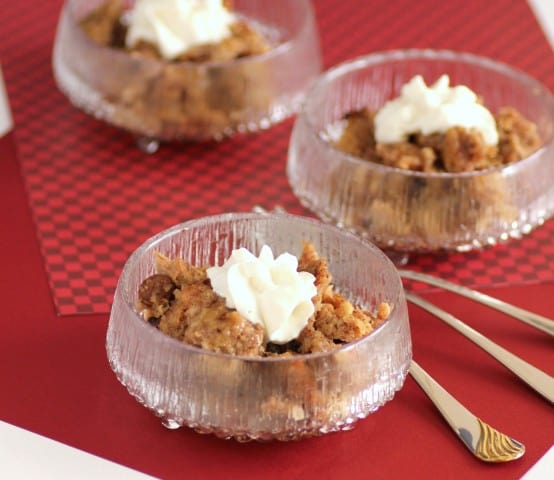 Cinnamon Bread Pudding with Butter Rum Sauce
A delicious holiday dessert!!
Ingredients
Pudding
5 eggs, beaten
3½ cups milk
2 tsp. vanilla extract
½ tsp. salt
2 Tbsp. ground cinnamon
6 cups shredded stale bread
¾ cup firmly packed light brown sugar
1 Tbsp. unsalted butter, melted
½ cup golden raisins
Sauce
½ cup butter
1 cup brown sugar
½ cup dark rum
Pinch of each allspice and cinnamon
Fresh grating of nutmeg
Whipped cream for garnish
Instructions
Spray the slow cooker well with cooking spray. Stir all the ingredients together so that the bread is thoroughly saturated and the mixture resembles oatmeal.
Pour the mixture into the slow cooker and cook on high for 3-4 hours, until a tester comes out clean. Lift the lid and tilt it for the last 30 min. to let the moisture come out.
To make the sauce combine all the ingredients into a medium saucepan and heat over medium heat until simmering. Simmer for 8-10 min. until the sauce coats the back of a wooden spoon.
Serve the warm pudding with the warm sauce and a dollop of whipped cream.
Butter Rum Sauce adapted from Oprah.com