Coffee Mocha Cheesecake Diamonds
It is cookbook review day today and I have for you The 250 Best Brownie Bars and Squares cookbook. Who doesn't love brownies, bars and squares!!! For one thing they are so easy to make. Plus they conjure up childhood memories of what auntie or mom or grandmother used to make.  The ultimate comfort food!!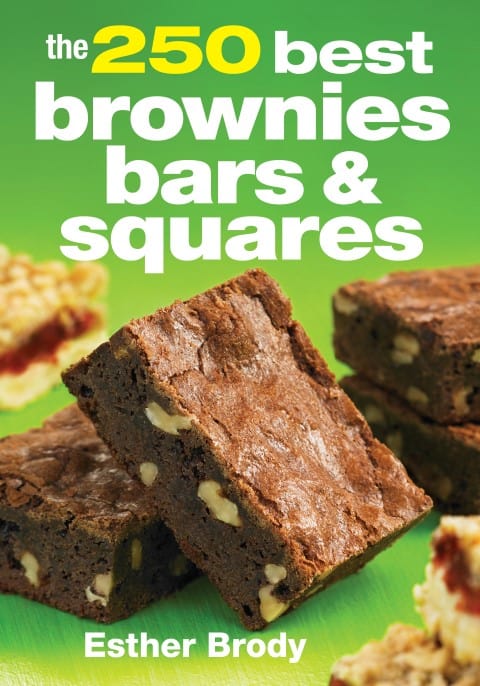 This cookbook is full of wonderful recipes but Ken was the one that chose this lovely looking dessert and it was a sure fire hit at the refreshments for our church. These would be great served over the holidays,  a nice make ahead dessert. They are so cute with the kisses on top!! We loved the mocha chocolate flavor along with the cheesecake, so good. One little triangle and you are satisfied, okay maybe two!!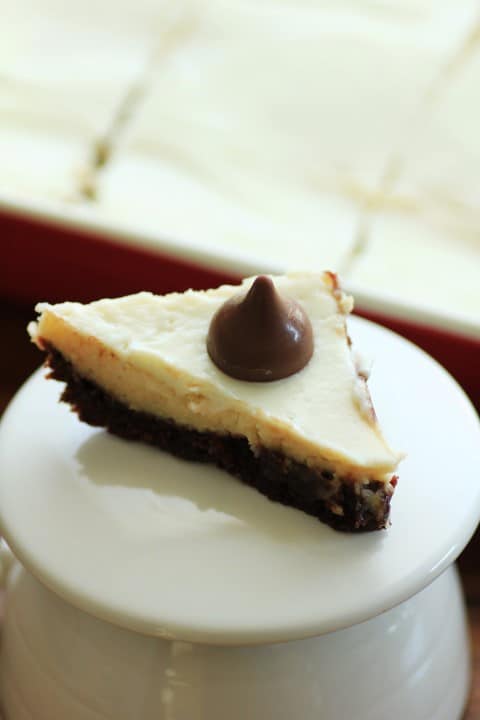 The cookbook has 250 recipes like Classic Chocolate Nut Brownies, Lemon Coconut Squares, Carrot Pumpkin Bars, Banana Cream Walnut Squares and Raspberry Patch Shortcake, plus so much more. All sounding so delicious!!
There are a few pictures throughout the cookbook but it is mainly short and concise recipes. So many of the recipes are so easy, just mix up the dough and put it into a square or rectangular pan, bake and enjoy!! There is even a no bake bars and squares chapter for when you are in a big hurry. The contents is divided down nicely into sections for Brownies, Chocolate Bars and Squares, Coconut Bars and Squares etc. So if you are looking for something in particular you can find it easily.
The author, Ester Brody, has developed thousands of recipes over the years and has written several best selling baking books like The 250 Best Muffin Recipes, 500 Best Muffin Recipes, 1500 Best Bars, Cookies, Cakes and More and 250 Best Cobblers, Custards, Cupcakes, Bread Puddings and More.
I hope you try this recipe and get this book to savor so many more, ENJOY!!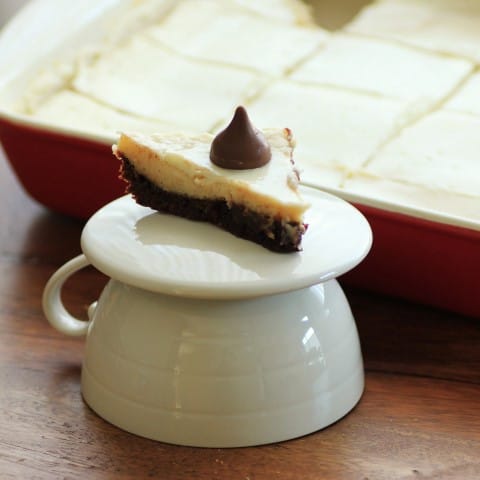 Coffee Mocha Cheesecake Diamonds
A great combination of brownies and cheesecake, you can't go wrong!!!!
Ingredients
Base
6 squares (each 1 oz [28 g]) 6
semi-sweet chocolate
¾ cup butter or margarine 175 mL
1 tbsp instant coffee powder 15 mL
2 eggs 2
¾ cup packed brown sugar 175 mL
¾ cup all-purpose flour 175 mL
½ tsp baking powder 2 mL
Cheesecake Layer
8 oz cream cheese, 250 g
softened
½ cup granulated sugar 125 mL
2 eggs 2
2 tbsp strong coffee or 25 mL
coffee liqueur
2 tbsp all-purpose flour 25 mL
Sour Cream Topping
1½ cups sour cream 375 mL
3 tbsp granulated sugar 45 mL
Chocolate-covered
almonds or espresso
beans (optional)
Instructions
Base: In a saucepan over low heat, melt chocolate and butter, stirring until smooth. Add coffee powder and mix well. Set aside to cool slightly.
In a bowl, beat eggs and brown sugar. Add cooled chocolate mixture and mix well. Blend in flour and baking powder. Spread evenly in prepared pan. Chill for 10 minutes.
Cheesecake layer: In a bowl, beat cream cheese and sugar until smooth. Add eggs, one at a time, beating until incorporated. Stir in coffee until blended. Blend in flour. Spread evenly over base. Bake in preheated oven for 20 minutes or until set.
Sour cream topping: In a bowl mix together sour cream and sugar. Spread over warm cheesecake. Bake 10 minutes longer. Place pan on a rack to cool completely. When cool, cut cake into 6 long strips, cut strips across on diagonal into diamond shapes. If desired, top each with a chocolate covered almond or espresso bean.
Excerpted from The 250 Best Brownies, Bars & Squares by Esther Brody © 2013 Reprinted with publisher permission.