Comforting Lentil Shepherd's Pie
Disclosure: I was compensated for this post by Alberta Pulse Growers. All opinions and experiences are my own.
I am looking for pure comfort dishes now that fall is here. My family also loves them on any night of the week. This Comforting Lentil Shepherd's Pie is all that we look for in a great meal. I got rave reviews for this one!! I thought everyone would love it as it has lots of wonderful lentils in it and we are all big fans of lentils!! And for me it was all made in one pan, so easy!! Well except for the potatoes but that is okay too!
Lentils for us provide an easy vegetarian meal that is still hardy and filling. We like to cook vegetarian at least once or twice a week. Lentils are among a great group of healthy foods called pulses. This group of foods includes beans, field peas, lentils, chickpeas, faba beans and soybeans. Locally these are all brought to us by Alberta Pulse Growers.
Look at that big scoop of yumminess. I used green lentils for this recipe. The green lentils are a little larger than brown lentils. I like them cooked where they are not mushy and just tender. Cooking them for 30 min. was perfect timing for me.
We served up this delicious pie with a Caesar salad, the perfect meal for a Sunday dinner when the family is all together.
The pie is topped off with lots of wonderful garlic mashed potatoes. That is very easy to achieve as you just drop in a couple of cloves of garlic in with your potatoes and let them boil together. Then mash the garlic right in when you are mashing the potatoes. Nothing could be easier to give your potatoes a little boost of flavor!!
Lentils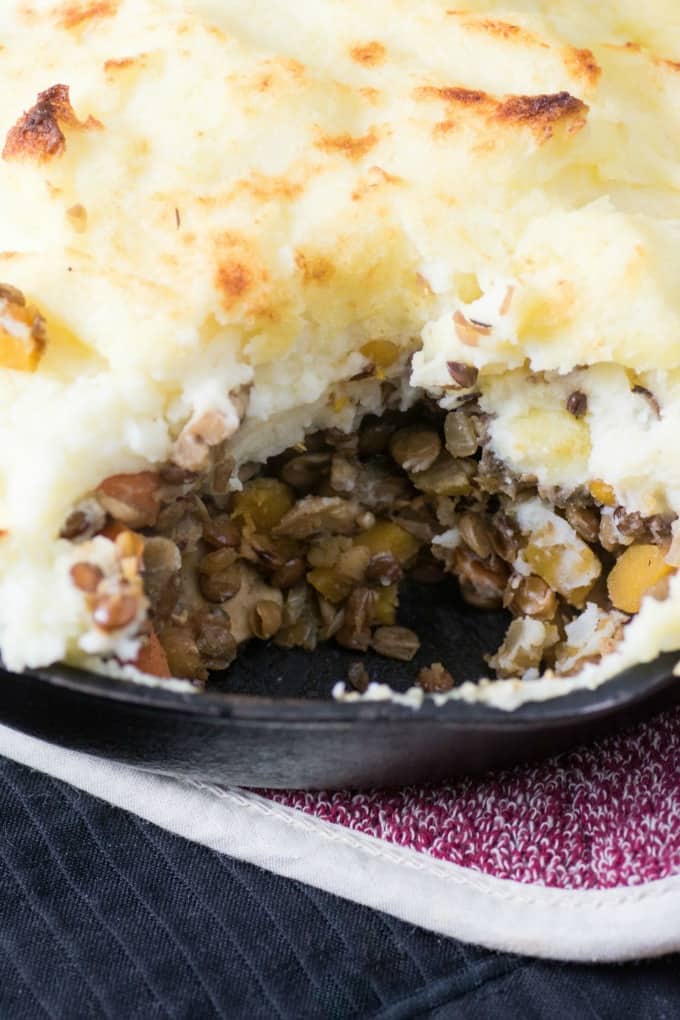 Lentils grown in Alberta come in three varieties, whole red lentils, split red lentils and green lentils and are extremely versatile. Check out all these recipes.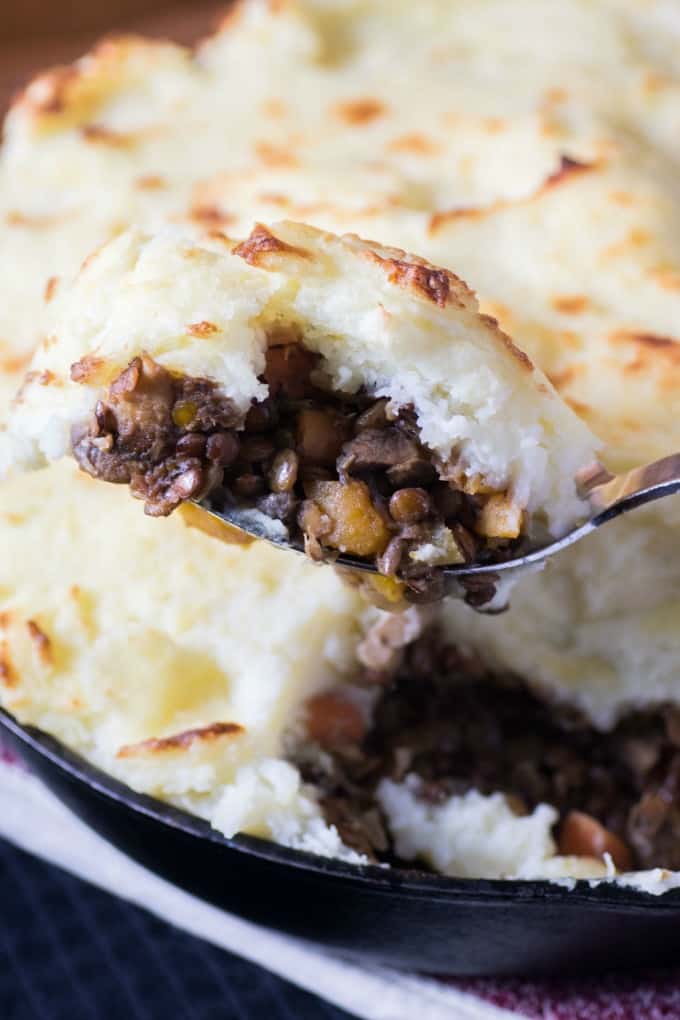 Pulses house a lot of nutrition in a little package, they provide carbohydrates, fibre, B-vitamins, iron, and potassium. They are perfect for a vegan, vegetarian and gluten-free diet.
Want more great recipes including pulses? Try our Easy Bean Chicken Nachos and our Crunchy Chickpea Peanut Thai Salad.
The Recipe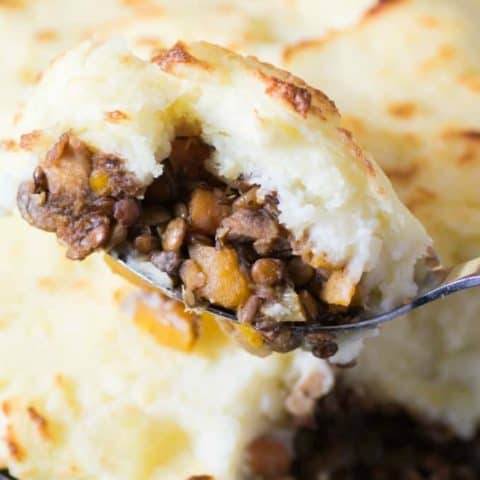 Comforting Lentil Shepherd's Pie
Yield: 8 servings
Prep Time: 20 minutes
Cook Time: 45 minutes
Total Time: 1 hour 5 minutes
This delightful Comforting Lentil Shepherd's Pie is perfect for when the weather starts to cool down. This hearty meal is satisfying and full of flavor.
Ingredients
Lentils
1 Tbsp. olive oil
1 onion, chopped
1 cup baby sweet carrots, chopped
2 celery stalks, diced
1 1/2 cups butternut squash, diced
8 oz. mushrooms, sliced
4 cloves garlic, minced
1 tsp. dried thyme
Salt and pepper to taste
1 1/2 cups green lentils, rinsed and picked through
3 cups vegetable stock
1 Tbsp. soy sauce
1 Tbsp. Worcestershire sauce
1 Tbsp. butter
Mashed Potatoes
3.5-4 lbs potatoes, peeled, cut into large chunks
2 cloves garlic
Salt to taste
2 Tbsp. butter plus more for brushing
1/3 to 1/2 cup light cream (10%) or milk
Instructions
Saute the onions, carrots, celery and squash in the olive oil in a large cast iron pan. Once they start to get soft add the mushrooms and garlic and continue cooking. Add the thyme, salt and pepper to taste. Cook until the carrots are tender crisp. Add in a little water or vegetable stock if needed towards the end to scrape up brown bits and to keep it from burning. Remove the vegetables from the pan.
To the same pan add in the lentils, vegetable stock and salt and cook for 25-30 min. or until just tender and the liquid has evaporated.
Meanwhile boil the potatoes in salted water with the garlic until tender. Mash the potatoes very well with the garlic, butter and cream. Salt to taste if needed.
When the lentils are done add in the soy sauce, butter and worcestershire sauce, adjust seasoning if needed.
Preheat the oven to 425 F.
Place the vegetables back into the pan with the lentils and mix well. Top with the mashed potatoes and brush with butter. Bake for 15- 20 min. or until hot and browning. Finish browning under the broiler and serve immediately.