First off I want to say HAPPY NEW YEAR!!!!
I am so excited for this year to come. Lots of great things in store for us at Noshing With The Nolands. Today is cookbook review day and I have an amazing recipe for you, Corn Pancakes. A cookbook that I have made three dinners from. Two of which never got photographed, so sorry but we ate them before that happened. Hmmm, that is a good sign of a great cookbook for me.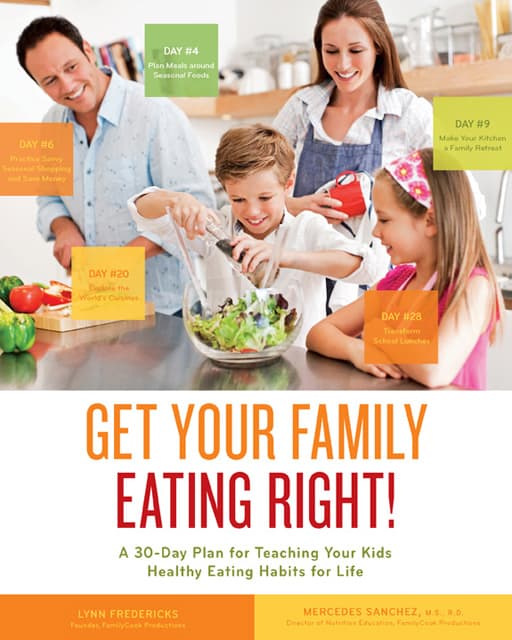 It is also a fun cookbook, one that I have cooked with my daughter for every recipe. It is called Get Your Family Eating Right!!
The cookbook is designed to teach your child how to help in the kitchen. A 30-day Plan to Teaching Your Kids Healthy Eating Habits For Life.
All the instructions are laid out for adults, children or adult and child. A very interactive experience for cooking with your children. We loved it!!
With Amber I made Quick Stuffed Chicken Breasts, Thai Chili and Basil Stir Fry and the one I am sharing with you today, Corn Pancakes. All of them delicious recipes!!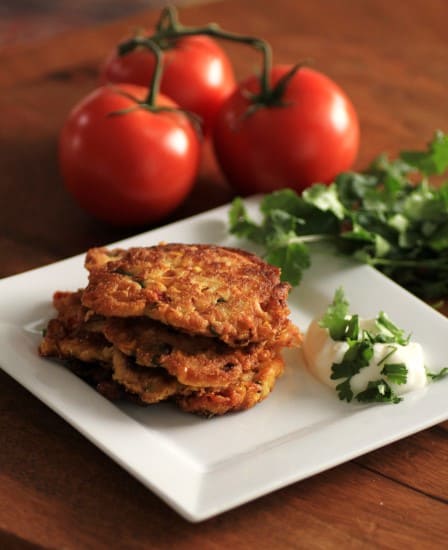 This is a fantastic recipe and a real crowd-pleaser. Hot out of the pan corn pancakes were gobbled up at our house!!
They would be even better in the summer with fresh shucked corn on the cob but are a delicious treat anytime of the year.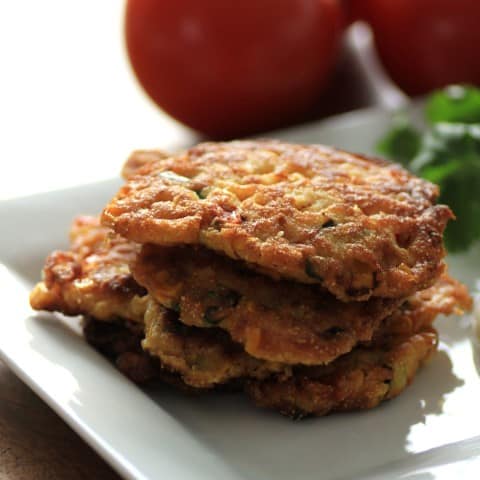 The Cookbook
Is by Lynn Fredericks, founder of FamilyCook Productions, and Mercedes Sanchez, FamilyCook's resident dietician, reveals a framework for success. The approach is practical and includes tactics such as:
-Make your kitchen a family retreat
-Own your role as a nourisher
-Plan meals around seasonal foods
-Explore the world's cuisine
Day by day, each strategy includes mouthwatering, family-friendly recipes!!! This cookbook I will go back to again and again for it's amazing meals like these corn pancakes!!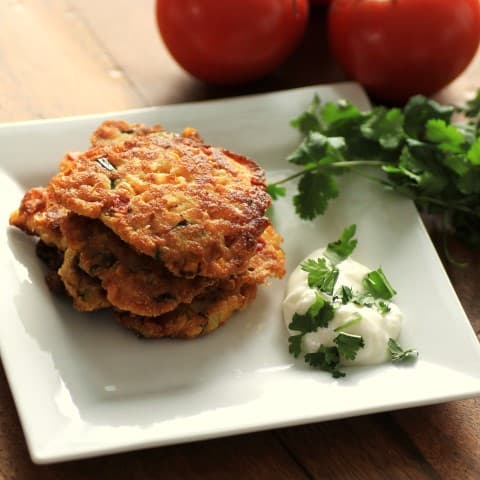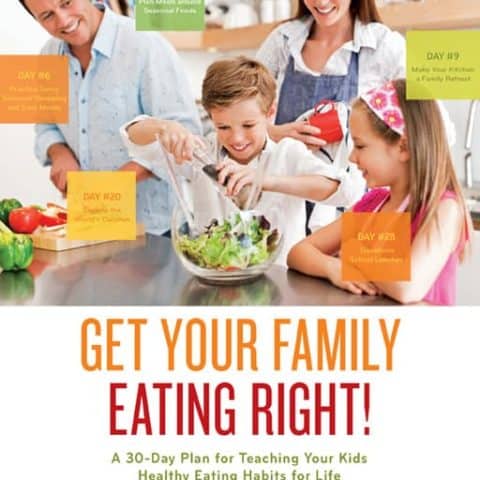 Corn Pancakes
Yield: 6 Servings
Prep Time: 15 minutes
Cook Time: 15 minutes
Total Time: 30 minutes
A delicious and easy corn pancake that the whole family will love!!
Ingredients
2 ears sweet corn, shucked, or 1 can (15 oz.) corn
2 Tbsp. butter
1/3 cup yellow cornmeal
1/2 cup flour
1 tsp. each sugar & salt
1/2 tsp. baking soda
2 scallions
1/2 jalapeno pepper
1/2 red pepper or orange pepper
1 large egg
1/2 cup milk
Peanut or Canola oil for cooking
1/2 cup sour cream
4 Tbsp. cilantro, chopped (optional)
Instructions
Adult - Slice the bottom of the corn off the cob and stand it up on the flat bottom. Slice the corn kernels off the cob and place them into a large mixing bowl. Melt the butter in the microwave and set aside.
Adult & Child - Measure the cornmeal, flour, sugar, salt, and baking soda into the mixing bowl with the corn.
Adult - Slice the bell pepper into strips and then cut the slices into tiny pieces. Add to the corn mixture.
Adult & Child - In a separate bowl, whisk together the egg, milk, and melted butter.
Adult & Child - Pour the egg mixture into the corn mixture and mix well with a spoon.
Adult - Heat about 3 Tbsp. oil in a large skillet over medium-high heat. Spoon a heaping tablespoon of corn batter into the oil and spread the batter to form a pancake about 3 1/2 " across, using oven mitts to protect hands from heat.
Adult - Cook the pancake on one side until set, and then flip and continue cooking until lightly browned, 2-3 min. on each side. Add additional oil if necessary. Drain pancakes on paper towels and keep warm. Continue until you have used all the batter.
Adult & Child - To serve, place 2 or 3 pancakes on each serving plate. If desired, spoon a little sour cream on the center or side of each pancake and top with some cilantro. Serve immediately as a side dish or in lieu of bread.
Nutrition Information:
Yield: 6
Serving Size: 1
Amount Per Serving:
Calories: 216
Total Fat: 12g
Saturated Fat: 5g
Trans Fat: 0g
Unsaturated Fat: 5g
Cholesterol: 54mg
Sodium: 266mg
Carbohydrates: 24g
Fiber: 2g
Sugar: 4g
Protein: 5g
Recipe calculation was provided by Nutritionix and is estimation only. If you need nutritional calculations for medical reasons, please use a source that you trust.