Crab Cakes with Smoky Aioli
I was contacted by Angelina's of Maryland to try their crab cakes and I jumped at the chance. They shipped me four of their very high quality crab cakes that are made locally in Maryland with 100% domestic blue crab. What an amazing treat. These were bar none the best crab cakes I have ever had. All three of us loved them. I added a little smoky aioli to them and it amped up the heat just right.
They preserve the legacy and recipes of Angelina's restaurant – a landmark in Baltimore for over 50 years and winner of nearly every "best of" award in town. They source locally and their crab is certified "True Blue" by the State of Maryland.
Direct from Maryland!
When they arrived all the way from Maryland, and I am in Calgary, AB, they were packed on ice and fresh not frozen. I took out the big mounds of crab and delicately fried them up in a little bit of butter until golden brown on both side. Then added a splash of white wine and let them heat through for 5 min. (are you drooling yet? I sure was). These crab cakes seemed like nothing but crab unlike ones you get in a restaurant that you pick through, trying to locate a piece of crab through the stuffing.
If you enjoy crab cakes you have to give them a try at Angelina's of Maryland. You will fall in love with them like we did. Can't wait to have some more!!!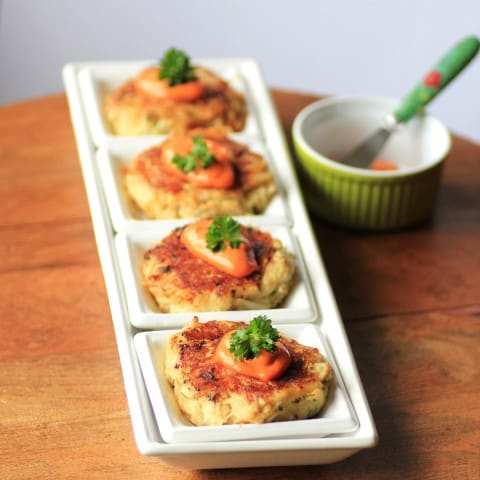 Smoky Aioli
A slightly spicy smoky aioli that goes great with seafood
Ingredients
⅓ cup mayonnaise
½ tsp. smoked sweet paprika
½ tsp. lemon juice
3-4 drops Tabasco or to taste
Instructions
Mix all ingredients together and refrigerate until ready to use. Serve with crab cakes or your favorite seafood.