Happy Boxing Day everyone!! I sure hope you are all having an amazing holiday season and taking time to be with the ones you love!!!
I am so delighted to introduce to you Coleen from The Redhead Baker and her amazing looking yummy Cranberry Crumb Bars!!!
I would be so happy if you followed her on Facebook, Twitter, Goggle + and  Pinterest. She is always baking up a storm for you. I now give to you Coleen!!!
Hello, I'm Coleen, the blogger behind The Redhead Baker. I'm so happy to be guest-posting on Noshing with the Nolands!
Christmas is my favorite time of year, and one of my favorite flavors of the season is cranberry. I love the tartness of cranberries, and the beautiful shade of red they give to any recipe to which they are added.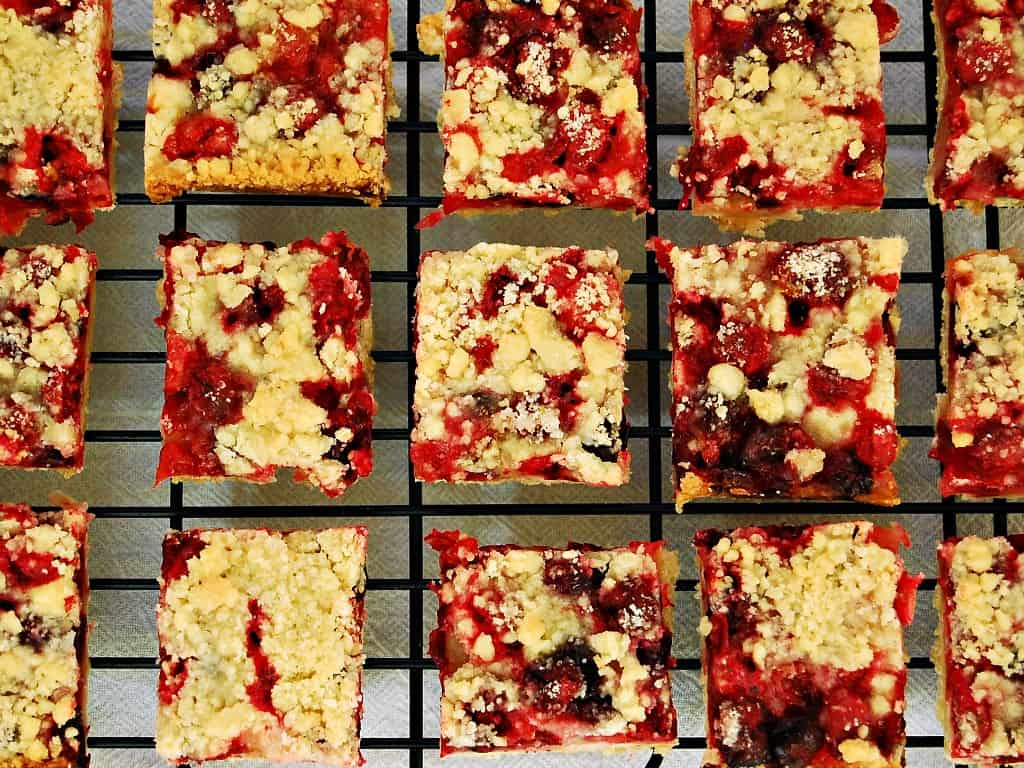 These crumb bars are a great way to show off the flavor of cranberries, with the sweet shortbread crust tempering the tart cranberries.
They are so easy to put together as well, and can be made in advance of any holiday party or meal.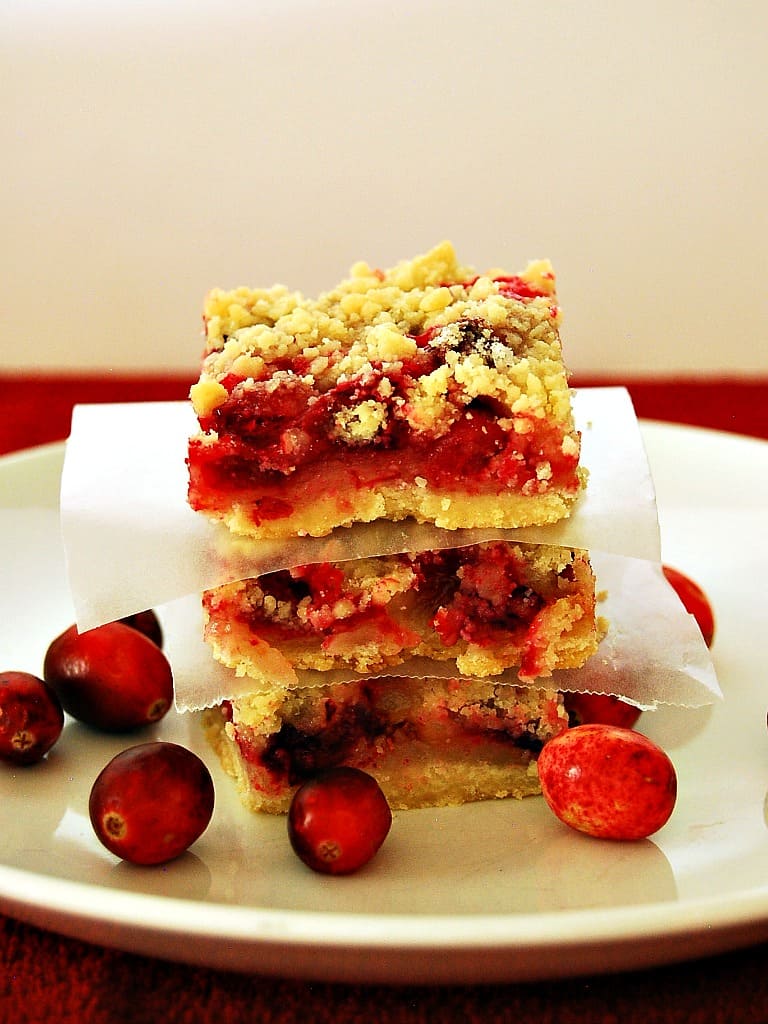 Cranberry Crumb Bars
Ingredients
For the crust/crumb topping
2 sticks (16 tablespoons) unsalted butter, room temperature
½ cup sugar
¼ teaspoon salt
1 teaspoon vanilla extract
2 ½ cups all-purpose flour, divided
For the filling
12 oz fresh cranberries, picked over and stems removed
¾ cup sugar
1 tbsp cornstarch
1 tbsp orange zest
4 tsp orange juice
1 tsp vanilla extract
Directions
Preheat oven to 350 degrees, and line a 9×13 baking pan with parchment paper, letting the ends of the paper hang over the two short ends of the pan.
In the bowl of a stand mixer, cream together the butter, sugar and salt. Add 2 ¼ cups of the flour and stir just until combined (the dough will form large crumbs).
Press ¾ of the shortbread dough into the bottom of the baking pan. Return the remaining quarter of the dough to the mixing bowl. Refrigerate the baking pan.
To the reserved dough, add the reserved ¼ cup of flour, and mix on low speed until the mixture forms small crumbs.
In a large mixing bowl, combine the cranberries, sugar, cornstarch and orange zest. In a measuring cup, stir together the orange juice and vanilla extract. Add the juice mixture to the mixing bowl, and toss until the cranberries are coated.
Pour the cranberries over the shortbread crust. Sprinkle the crumb mixture evenly over the cranberries.
Bake for 45 to 55 minutes, until the crumb topping is lightly browned.
Let the cranberry bars cool to room temperature, then refrigerate until well chilled. Then cut into bars about 2 inches by 2 ½ inches.