Cranberry Pistachio Biscotti
Welcome to Day #3 of Christmas Week, a multi-blogger event co-hosted by Kim of Cravings of a Lunatic and Jen from Juanita's Cocina! Each day we will be celebrating the holidays with a different set of Christmas-themed treats, as well as a fabulous Christmas giveaway. We hope you enjoy this fabulous event. Tune in each day from Monday, December 9th and ending on Saturday, December 14th.
This is the second day I am participating in Christmas week. My dear friend Colleen was the inspiration behind today's post as she loves biscotti and makes it with me each year. Her pick this year was a Cranberry Pistachio Biscotti with a drizzle of white chocolate.
Biscotti is an elegant treat at Christmas time. One that mainly adults like to indulge in with a nice hot coffee. Biscotti can be eaten at anytime of day too, from breakfast to dessert. It makes for a pretty presentation on a cookie tray or all by itself.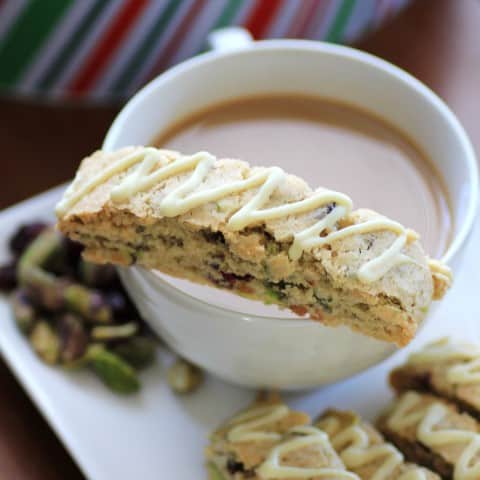 With a little snack of leftover cranberries and pistachios it makes the biscotti even better!!!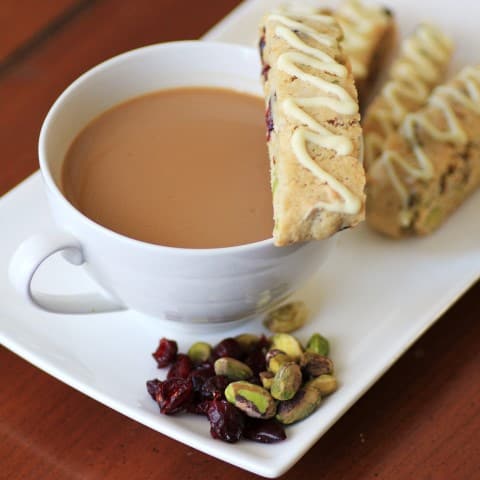 Yield: 3 dozen
Cranberry Pistachio Biscotti #ChristmasWeek #Freund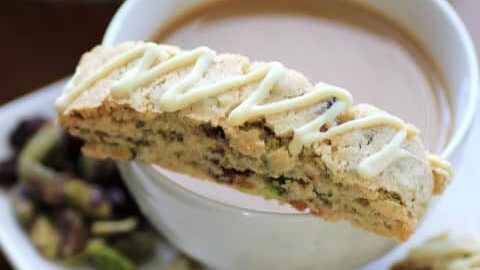 Cranberries and pistachios pair so nice together in this festive holiday cookie!
Total Time
1 hour
12 minutes
Ingredients
1/4 cup light olive oil
3/4 cup white sugar
2 tsp. vanilla extract
1/2 tsp. almond extract
2 eggs
1 3/4 cup flour
1/4 tsp. salt
1 tsp. baking powder
3/4 cup dried cranberries
3/4 cup shelled pistachios, coarsely chopped
1/2 cup shaved white chocolate
Instructions
Line a cookie sheet with parchment paper and preheat oven to 300F.
In a large bowl of a standup mixer with a paddle attachment add the oil and sugar and mix well. Add in the extracts and eggs and again mix well.
In another bowl, whisk together your dry ingredients, flour, salt and baking powder. Add it to the sugar, oil mixture and continue to mix until well blended. Add the cranberries and pistachio and mix well, the dough will be stiff.
Divide dough in half and make into two logs about 9x3" on the parchment paper. Dough can be handled much easier with wet hands so that it doesn't stick.
Bake for 30-40 min. or until very light brown. Let cool for 10 min. and then carefully cut into 3/4" slices with a serrated knife. Turn the cookies onto their sides on the same parchment paper and bake for 10-12 min. or until golden and cooked through. Let cool on racks.
Once cool, melt chocolate and pour into a plastic icing bag, cut off a small amount from the tip of the bag. Drizzle each biscotti with the melted chocolate.
Recipe can be easily doubled and they freeze well.
Recipe adapted from A Family Feast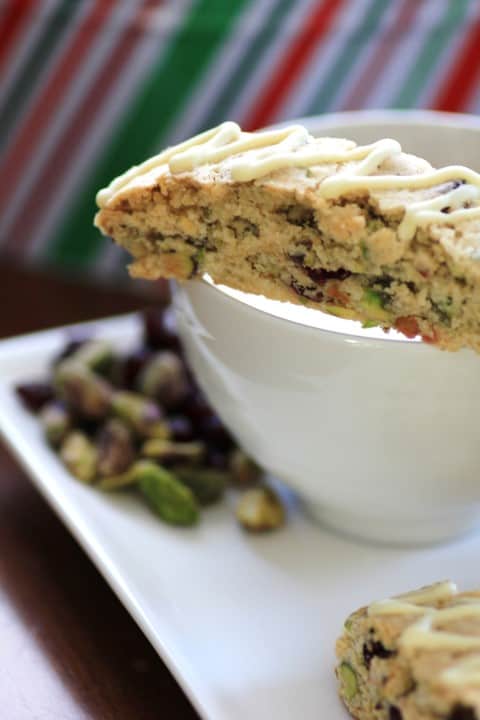 Visit all the other Christmas Week Peeps for more Holiday Baking Goodness:
Visit all the other Christmas Week Peeps for more Holiday Baking Goodness:
Now onto the giveaway, who doesn't love prizes!!!

Today's #ChristmasWeek giveaway comes courtesy of Freund Container & Supply. Freund Container & Supply has been helping build businesses since 1938 as the largest distributor of glass bottles, containers, and wholesale packaging supplies online. Freund offers over 5,000 items in stock every day, 98% same day shipping, and low-price guarantees. Take a look at Freund's wide selection of jars, tins, bottles and vials for all your crafting and food related needs! To enter to win one of FIVE different Freund gift certificates, read the details and use the Rafflecopter below!
***This giveaway is for five (individually awarded) $100 gift certificates to Freund Container & Supply. Gift certificate is a one-time use certificate and must be used in its entirety; any leftover monies on the gift certificate will be forfeited. This giveaway is open to both US and Canadian residents. However, it should be noted that due to current International shipping rates, any Canadian winners will pay higher shipping costs for orders. ***
***Disclaimer: This giveaway is being provided by Freund Container & Supply. #ChristmasWeek bloggers have not received product or been compensated as a part of this giveaway.***