Day 5 of 5 Days of Spring Veggies and today is a yummy one!! I searched the aisles for things like fiddleheads (not available yet), artichokes (all were bad over the whole week), new onions (none), baby carrots (none) or anything that might have caught my eye that might be a new spring veggie. Not much luck yet but there will be veggies starting to trickle into our area. What did catch my eye was a big glorious bunch of fresh spinach. Spinach is a spring veggie!!! So I bought some not knowing what I was doing with it at all. Then it dawned on me, creamed spinach. Oh so yummy!! Then I thought of my new Epicure seasonings and thought that the Cheese, Chive and Bacon Dip mix would go perfectly in this and it sure does. Topped with a crispy piece of bacon, nothing is better for a special night or a Sunday dinner. The taste of the fresh spinach shines through. ENJOY!!!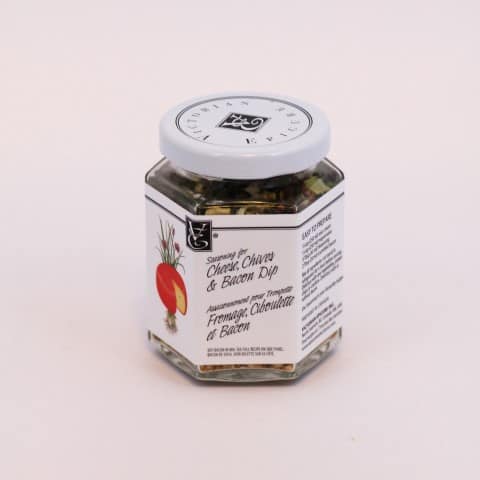 Oh, and it is lightened up just slightly with less salt and half and half cream. Epicure spices are very low in sodium but so full of flavor. If you omit the optional piece of bacon this dish is vegetarian as the bacon that is in the dip mix is soy. So everyone can enjoy!! This is a great way to get the kids to eat their spinach!!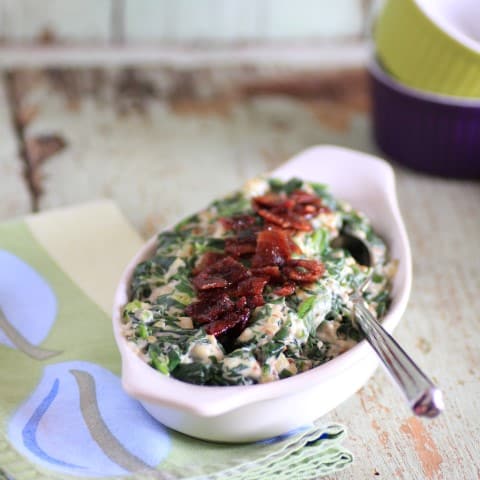 Creamed Spinach
A lightened up Creamed Spinach, but just oh so slightly, so that you will still love it!!
Ingredients
A large bunch of spinach
3 green onions, chopped
1 Tbsp. butter
1 Tbsp. flour
1 Tbsp. Epicure Cheese, Chive and Bacon Dip
1 cup half and half cream
Salt to taste
One slice bacon, crisped, optional
Instructions
Wash and pick through spinach removing any stems. Steam spinach in a large pot with a small amount of water until wilted but still bright green, 2-3 min. Drain and gently squeeze out any water. Coarsely chop. Set aside.
Meanwhile saute the green onions in a medium saucepan with the 1 Tbsp. butter. Add the flour and cook for 1 min. Slowly add the cream and let heat through. Add the Epicure dip and let simmer slightly to thicken. Add the spinach and toss to coat.
Serve in a serving dish topped with the crumbled crispy bacon.