Curried Cauliflower Soup
The Southern Vegetarian is our book review for today. Can it be? A Southern meal with no meat?? It sure can!! I love Meatless Monday or for that matter any day of the week. We try to incorporate a vegetarian meal at least once a week around here so this Curried Cauliflower Soup was perfect.
Vegetarian recipes opens up a whole world of variety in your menu!! This book gives you all the wonderful flavors of the south in many spectacular looking recipes.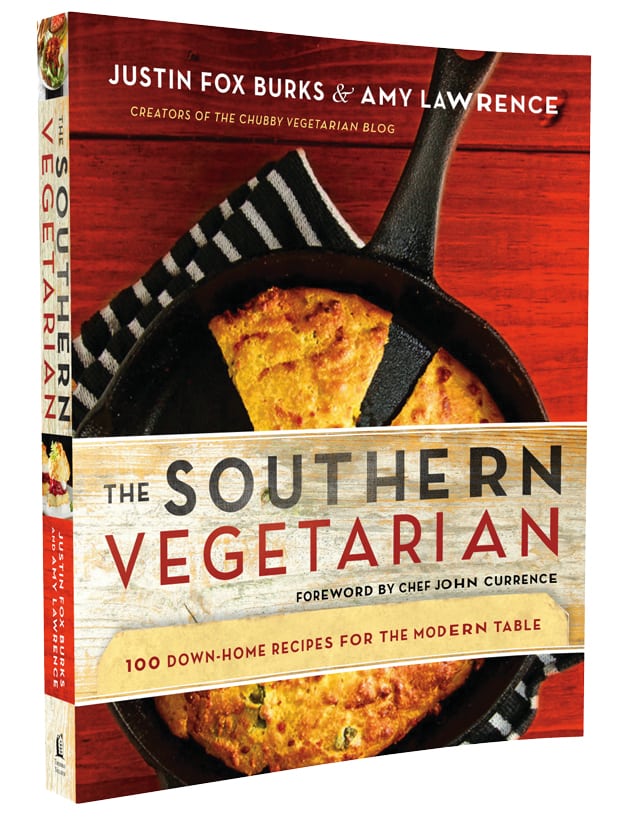 Justin and Amy Lawrence, a husband and wife team, from The Chubby Vegetarian, a wonderful blog have created this photo laden cookbook. Page after page of gorgeously photographed recipes await you!! As I said above you don't have to be a vegetarian to enjoy this cookbook. There are recipes like Apple, Cheddar and Thyme Galette, Oyster Mushroom Rockefeller, The Chubby Vegetarian Gumbo and Bourbon Pecan Tart to tempt your palate!! Full on Southern flair and hospitality shine through with this cookbook.
Flipping through the pages I came across what I thought to be a very different kind of southern recipe. One that incorporated Thai spices. On all of the recipes there is a paragraph or two explaining the origins of the recipe, which I find very helpful. This recipe, it explains, is served at Christmastime and has become part of their family tradition. We adore the flavors of Thai and went with this soup. It was fantastic, we did tone down the heat as it called for 2 Tbsp. red curry paste to 1 Tbsp., which I think would have been too much. Otherwise I kept to the exact ingredients. It was spicy and creamy and so full of flavor. A soup that I could make again and again and not tire of it, delicious!!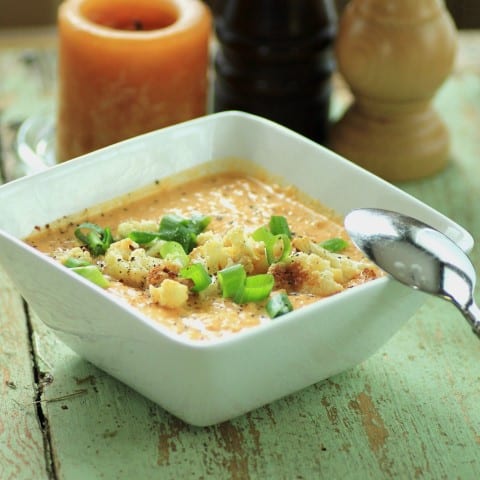 I hope you try this soup and check out more that The Southern Vegetarian Cookbook has to offer. ENJOY!!

Curried Cauliflower Soup
A spicy and delicious cauliflower soup!!
Author:
Justin and Amy Lawrence
Ingredients
1 large head cauliflower, broken into florets, stems chopped (4-5 cups)
3 Tbsp. canola oil, divided
1½ cup onions, diced
1-2 Tbsp. red curry paste
Zest of one lemon (about 1 tsp.)
½ cup white wine (like Pinot Grigio)
1½ cups vegetable stock
1 can light coconut milk
1 Tbsp. rice vinegar
½ tsp. cane sugar
Sea salt flakes and cracked black pepper
1 Tbsp. basil oil or chopped fresh basil
Thinly sliced hot peppers (optional)
¼ cup chopped green onions or chives (to garnish)
Instructions
Preheat oven to 375F. Toss the cauliflower in 2 Tbsp. of canola oil and spread onto a large baking sheet; roast until the tips of the cauliflower are golden brown, about 15 minutes (I found it took more like 30 min.). Remove the cauliflower from the oven.
In a large soup pot over medium heat, sweat the onion in the remaining 1 Tbsp. of canola oil until translucent, about 3 min. Add the curry paste and lemon zest. Raise the heat to medium-high and add the wine. Cook until most of the wine has evaporated.
Add all of the cauliflower stems and half of the florets to the pot, along with the vegetable stock, coconut milk, vinegar, and sugar. Using an immersion blender, blend the soup until smooth. Check for seasoning and add salt and pepper if needed. Ladle the soup into a bowl, top with ¼ cup of the roasted cauliflower florets, a drizzle of basil oil or fresh basil, hot peppers and a sprinkling of green onions or chives.
Since this isn't traditional southern cuisine I will be doing a second recipe from this book. Chicken-Fried Portobello with Mushroom and Shallot Gravy, stay tuned!!!