Curry Shrimp, Mango, Red Pepper and Onion Kabobs
I had an Epicure party and what fun was that and Had an idea to make Curry Shrimp, Mango, Red Pepper and Onion Kabobs!!! Had a great turn out and lots of yummy foods and dips to try. I was not familiar with Epicure until then but had heard amazing things about it.
For hosting the party, right off the start, the representative Barb Langille gave me a Mango Curry Dip. We had it for Super Bowl with veggies and dip and it was delish!!
From the second I saw this dip though my mind went right to creating these kabobs and they were so good. Ken was away so it was just Amber and me, so I didn't put them on the BBQ but used the grill pan with a lid and they turned out great. Easy peasy dinner that didn't take much time at all. It made enough so when Ken came home the next day he could devour a plate full of them.
Epicure
Hopefully, you look into Epicure. I can help you with any of your needs, as I am now an Independent Representative. I will be making these again for sure!! Enjoy!!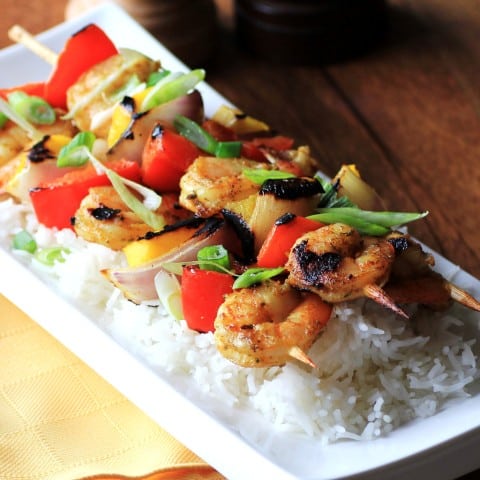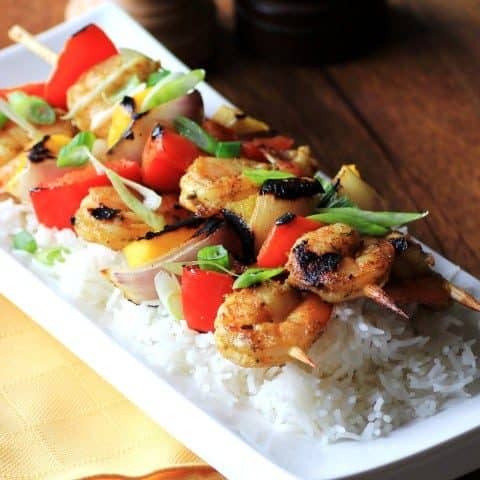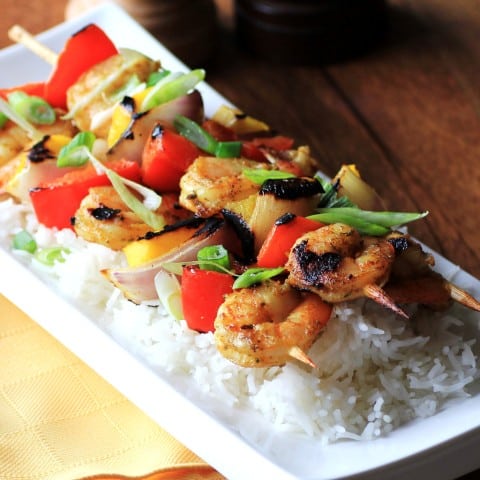 Curry Shrimp, Mango, Red Pepper and Onion Kabobs
Yield: 4 Servings
Prep Time: 20 minutes
Cook Time: 12 minutes
Total Time: 32 minutes
A delicious dinner awaits you with these easy kabobs!!
Ingredients
1 red pepper, cut into chunks
1 whole mango, cut into chunks
1/2 red onion, cut into chunks
400 gm. 31-40 count shrimp
1 1/2 Tbsp. Epicure Mango Curry Dip
3 Tbsp. olive oil
1 Tbsp. lemon juice
1/2 tsp. sugar
Basmati rice for 4 servings
Slice green onions for garnish
Instructions
Mix the curry dip with olive oil, lemon juice, and sugar in a medium bowl. Add the shrimp and toss to coat. Let marinate in the refrigerator for 30 min.
While skewering on the shrimp etc. cook the basmati rice and keep warm.
Using wooden skewers, cut to size if needed to fit into the grill pan, start to slide the ingredients onto the skewer in this order, red pepper, shrimp, mango, red onion. Repeat ending with a shrimp.
Using a nonstick grill pan sprayed with a small amount of cooking spray and heated over medium heat start to grill the shrimp. Place a lid on top, askew to help them cook evenly.
Cook for 10-12 min. until the shrimp are done. Serve over basmati rice and garnish with green onions.
Nutrition Information:
Yield: 4
Serving Size: 1
Amount Per Serving:
Calories: 507
Total Fat: 17g
Saturated Fat: 3g
Trans Fat: 0g
Unsaturated Fat: 13g
Cholesterol: 127mg
Sodium: 583mg
Carbohydrates: 65g
Fiber: 3g
Sugar: 15g
Protein: 24g
Recipe calculation was provided by Nutritionix and is estimation only. If you need nutritional calculations for medical reasons, please use a source that you trust.