Dairyland Cream of Wheat
Disclosure: I was compensated for this post. All opinions and experiences are my own.
I have a great breakfast post for you today inspired by Dairyland, one of my all time favorite breakfasts! This Dairyland Cream of Wheat is the perfect way to celebrate Dairyland's 100th anniversary. Dairyland is proud to be partnering with Breakfast Club of Canada to give back to kids across Western Canada. Until November 6th, when you purchase any Dairyland limited edition milk cartons, Dairyland will provide up to 12,000 breakfasts to kids through Breakfast Club of Canada. This is a real win, win!! You get an excellent source of protein and kids have a great breakfast!!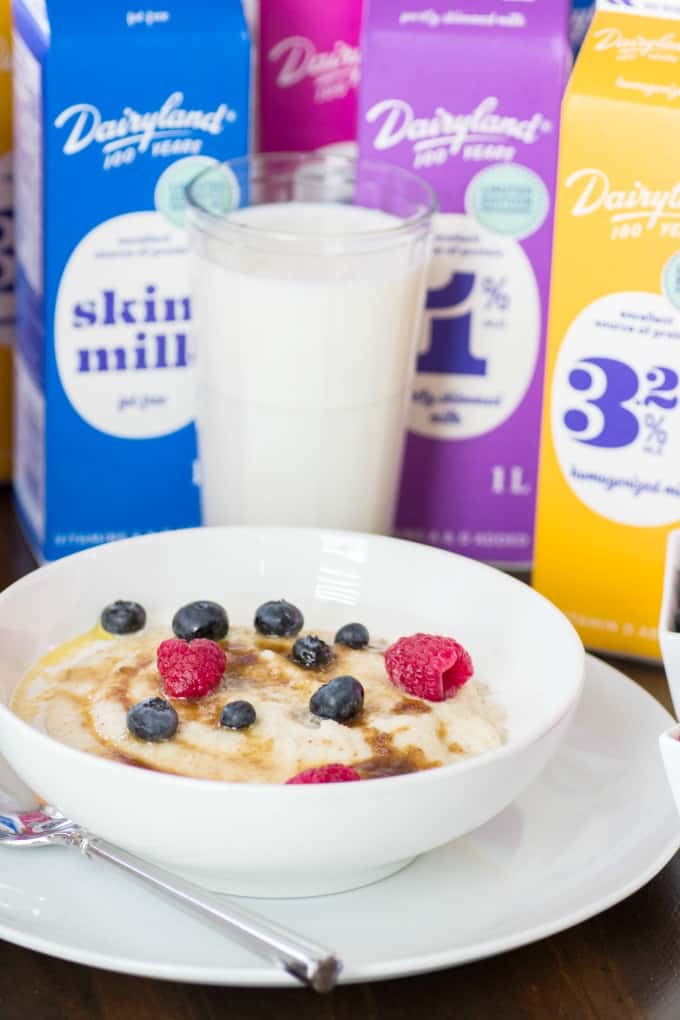 This Dairyland Cream of Wheat uses 1L of milk, providing 4 servings for a great fast breakfast that will last you right to lunch! My favorite toppings are what makes it even more delicious. I put a little pat of butter in the center followed by brown sugar and more milk. Topping off the bowl is some fresh berries. Your family will love diving into this breakfast on a cold day!
Mmmm, don't you just want to dive into that bowl of yummy hot porridge. We all thoroughly enjoyed a bowl of cream of wheat again!! For me milk is one of the great pleasures and a way I start off every day, along with the rest of my family.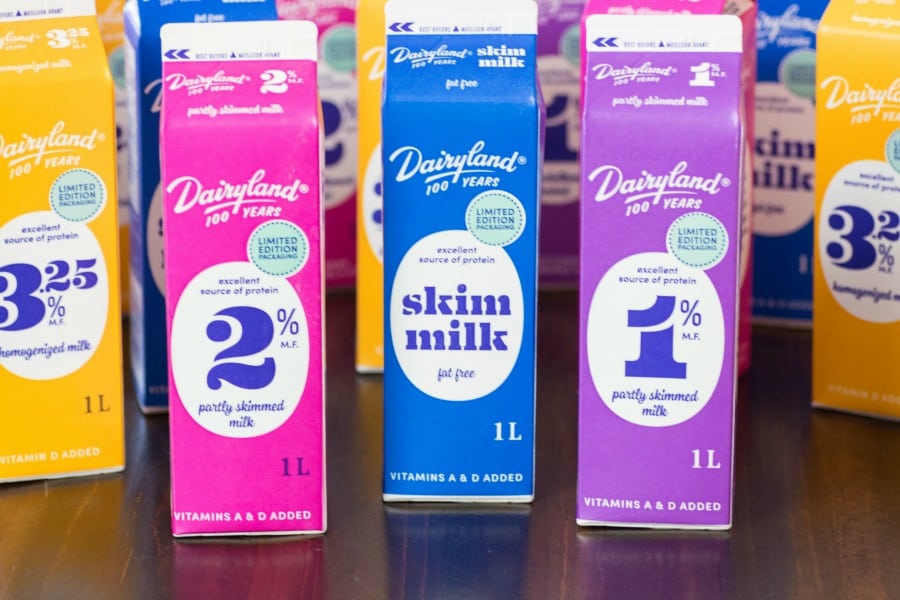 Help Dairyland give back
Dairyland has been providing fresh, local milk to Western Canadian families for 100 years!! There has been no change to Dairyland's commitment to delivering top-quality products. Maybe only the mode of transport from horse and wagon has changed.
To celebrate their 100th anniversary, Dairyland brought back classic vintage styles with a limited edition logo on their popular 1L and 2L milk cartons. The classic vintage packaging is a reminder of life's simple moments. Until November 6th, when you purchase any Dairyland limited edition milk cartons, Dairyland will provide up to 12,000 breakfasts to kids through Breakfast Club of Canada.
The Breakfast Club of Canada for 20 years have been feeding children a healthy morning meal. There are 380 clubs in Western Canada alone, but they also operate coast to coast and help feed 200 thousand students in 1,598 schools every day, that equals to 33 million breakfasts served per year! To learn more about Breakfast Club of Canada follow on Facebook, Twitter and Instagram.
Join the celebration using the hashtag #DairylandGivesBack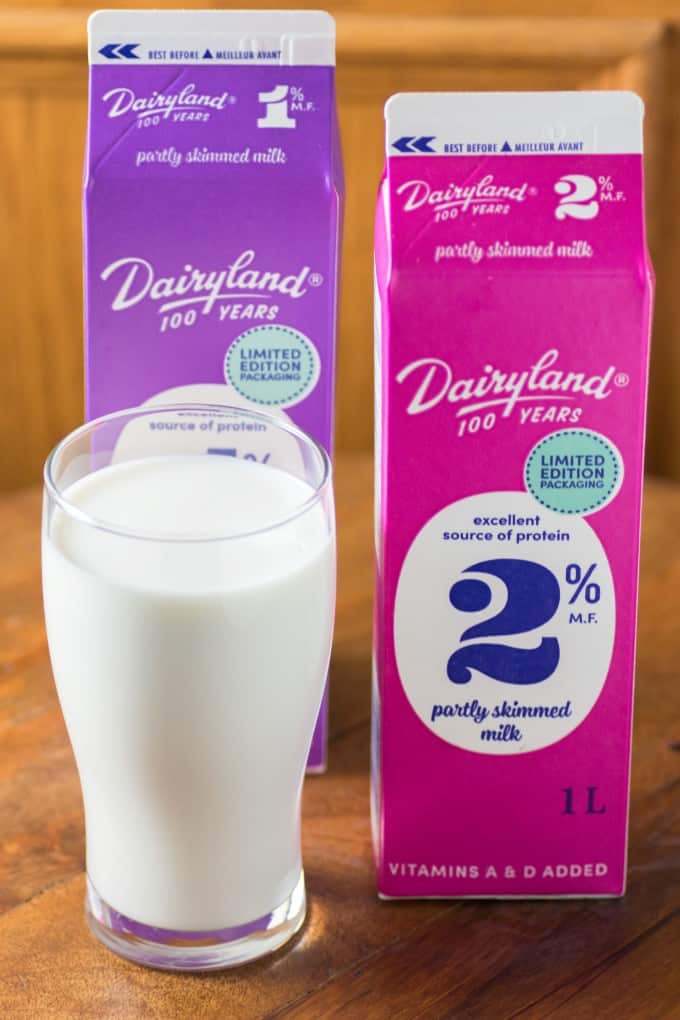 Dairyland is running a weekly contest where consumers can be in to win one of four prize packs valued at $1,000. Each prize pack includes a year's supply of Dairyland milk, a Dairyland apron, vintage Dairyland bottle, serving tray, cookies, cereal bowls, spoons, straws and a Dairyland tote.
Want to enter? Go to Dairyland.ca and a winner will be drawn each week until November 6th.
The contest is open to residents of B.C., AB, MB and SK who are of the age of majority in their province of residence. Limit of one (1) entry per person per week.
The Recipe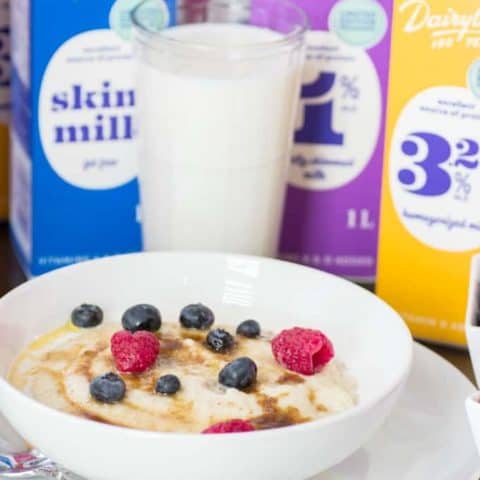 Dairyland Cream of Wheat
Yield: 4 servings
Prep Time: 5 minutes
Cook Time: 3 minutes
Total Time: 8 minutes
Dairyland Cream of Wheat is a delicious way to start your day and one that the whole family will love!!
Ingredients
1L (4 cups) Dairyland milk of your choice (we used 3.25%)
1/2 tsp. salt
3/4 cup cream of wheat
Toppings
Butter
Brown Sugar
Milk
Berries
Instructions
Bring Dairyland milk to a boil along with the salt. Add the cream of wheat slowly while stirring constantly. Bring back up to a boil and simmer for 3 min. stirring frequently.
Top your cereal how you like it and serve immediately.