David's Tea infused Creme Brulee
As I was saying yesterday how much I love these teas I am continuing with my second post on David's Teas today. One of my favorites is a tea called Forever Nuts, the scent of this tea alone gets you!! I was thinking of incorporating it into a dessert and man was that a good idea. Ken had made the Orange Creme Brulee earlier on so I asked him if he could make another for me and he did. I thought infusing the cream and milk with the tea to create David's Tea Infused Creme Brulee, I thought it would be great and it sure was. I have to say it is the best Creme Brulee I have ever had. Sweet and so full of the wonderful flavor that Forever Nuts has. A winner!!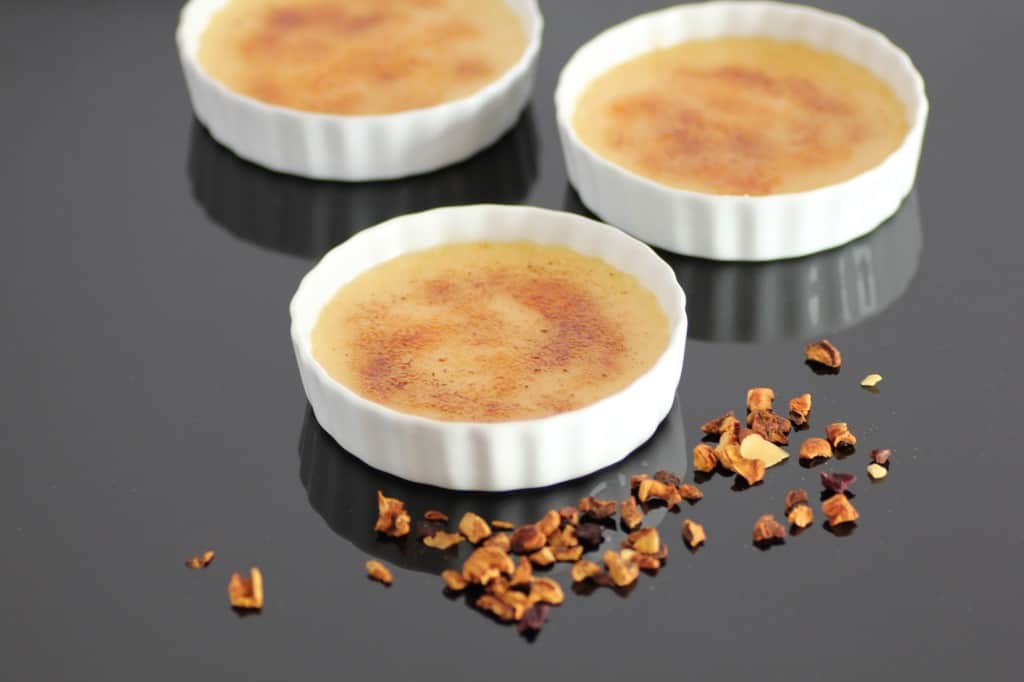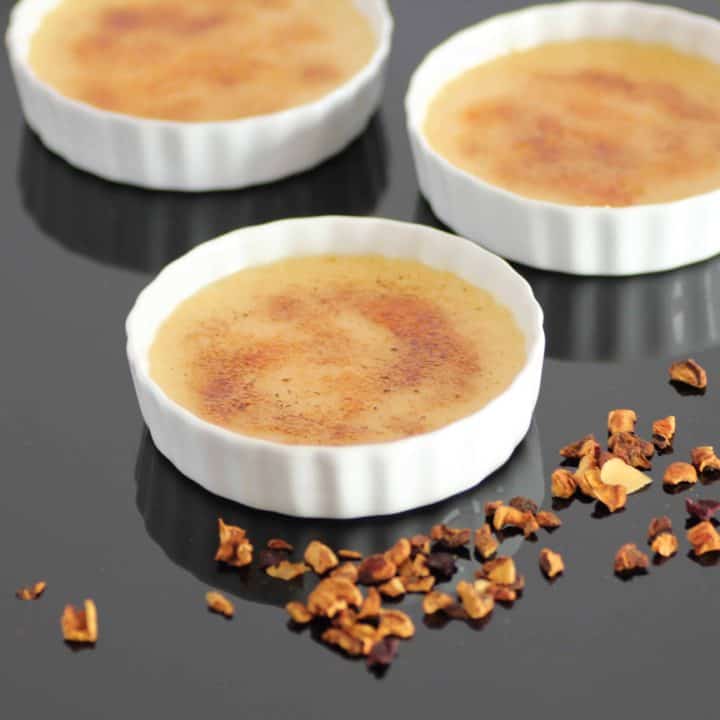 David's Tea infused Creme Brulee
Yield: 4 Servings
Prep Time: 5 minutes
Cook Time: 50 minutes
Inactive Time: 1 hour
Total Time: 1 hour 55 minutes
The best Creme Brulee ever!!
Ingredients
6 large egg yolks
1/2 cup plus 6 teaspoons sugar
1 1/3 cup whipping cream
2/3 cup whole milk
5 tsp. David's Tea Forever Nuts
1 1/2 Tbsp. Amaretto
Instructions
Preheat oven to 325 F. Lightly butter 4 ramekins. Beat egg yolks and 1/2 cup sugar in a medium bowl to blend. Bring cream, milk and tea to a simmer in a medium saucepan over medium high heat. Let steep 5 min. and then put the mixture through a sieve. Gradually whisk in the hot cream mixture into the yolk mixture. Stir in the Amaretto.
Divide the custard among the prepared dishes. Set in a large baking pan. Add enough hot water to the pan so that it comes halfway up the sides of the dish. Bake until just set in the middle about 35-40 min. Remove from the water. Cool and refrigerate until cold or overnight.
Preheat broiler or have ready a kitchen blow torch. Arrange the dishes on a baking sheet if broiling and sprinkle with 1 1/2 tsp. sugar on each custard. Broil until sugar browns or alternatively use the torch to brown the sugar. Watch them closely so as not to burn. Refrigerate for at least 1 hour or up to 6 hours.
Bon appetite!
Nutrition Information:
Yield: 4
Serving Size: 1
Amount Per Serving:
Calories: 502
Total Fat: 42g
Saturated Fat: 22g
Trans Fat: 1g
Unsaturated Fat: 17g
Cholesterol: 419mg
Sodium: 167mg
Carbohydrates: 15g
Fiber: 1g
Sugar: 13g
Protein: 15g
Recipe calculation was provided by Nutritionix and is estimation only. If you need nutritional calculations for medical reasons, please use a source that you trust.