David's Tea
I can't say enough about this company and if you know me personally you have probably already heard about David's Tea. You may have already experienced how absolutely divine they smell or been lucky enough to taste them as an iced tea. I came across one of their stores this summer when I was in Banff, Alberta. I was impressed the second I walked in with the sleek clean lines of the store and their amazing service.
Amber and Zack were with me and we ordered iced teas. The kid's loved them, it was like I had taken them to the best candy store ever!! They loved smelling the different blends and waited with anticipation to try the one they selected in an ice tea. The staff were amazingly friendly, a great experience.
Later on in our travels with Zack we took him up to Edmonton. We were shopping around West Edmonton Mall and Zack spotted David's Tea and instantly was pleading for us to go again. This is a kid that doesn't ask me for anything and completely goes with the flow. He was so excited to return, so off we went. Again the store is gorgeous with its simple lines and very friendly staff. We got to try smelling some different blends this time. I can't have caffeine so I stick with the herbals and so do the kids.
Amazing Selection
They have an amazing selection of those, which impresses me. When our iced tea was ready we went to retrieve them and the waiter said they were free??!!?? What?? I instantly look for a camera on me. He said he was in a good mood and thought he would treat us. Well, he couldn't have done that to anyone better than me. Number 1, a food blogger and number 2, when I love something everyone will know about it!! We stayed over at the hotel and the next day I went for an iced tea, of course.
Since that day I have not missed a day without having one of their iced teas now at home with this great system they have. All of us enjoy them so much. I drink them without a sweetener and so does Ken but Amber likes it a bit sweet. They blow my mind with all the flavor that is punched into them. I am a big lover of flavored water of any kind so this is so up my alley.
Canadian Eh!
So next I email them to tell them what a fabulous product they have and find out they are a Canadian company, out of Quebec. I am even more enthused. They were so kind to send me some samples for me to try also. I have come up with two recipes that I will do in a two-part post today and tomorrow. I have tried quite a few flavors now.
The ones that I purchased are Forever Nuts, an insanely good blend of apple, almond, cinnamon, and beetroot, this one is for an almond lover! The other one I purchased is Organic Kanpe Tea which is a heavenly blend of Hibiscus, mango, cinnamon, papaya, banana coconut and stevia. I absolutely love these two.
The samples that they so kindly sent are Oh Canada which is rooibos based and smells like maple syrup, it is divine!! Lastly is Jessie's Tea which is a blend of rooibos, coconut, and lavender and is named after country singer Jessie Farrell.
This is the one I used for our drink today. I purchased their fantastic iced tea set and will tell you how it works in the recipe below. Tomorrow I have infused one of the teas into a dessert. This one you will not want to miss!!!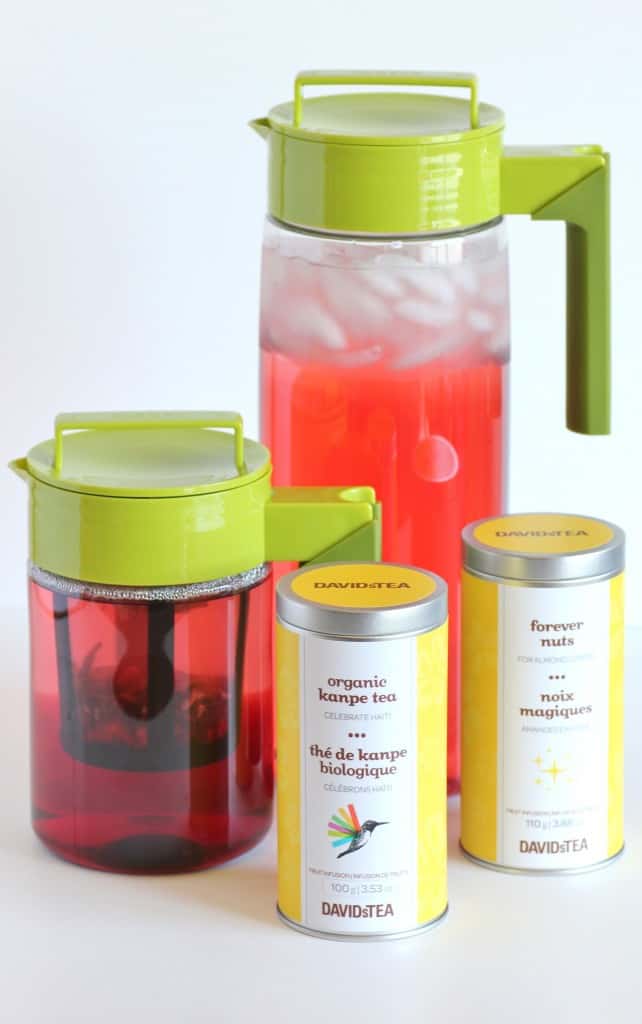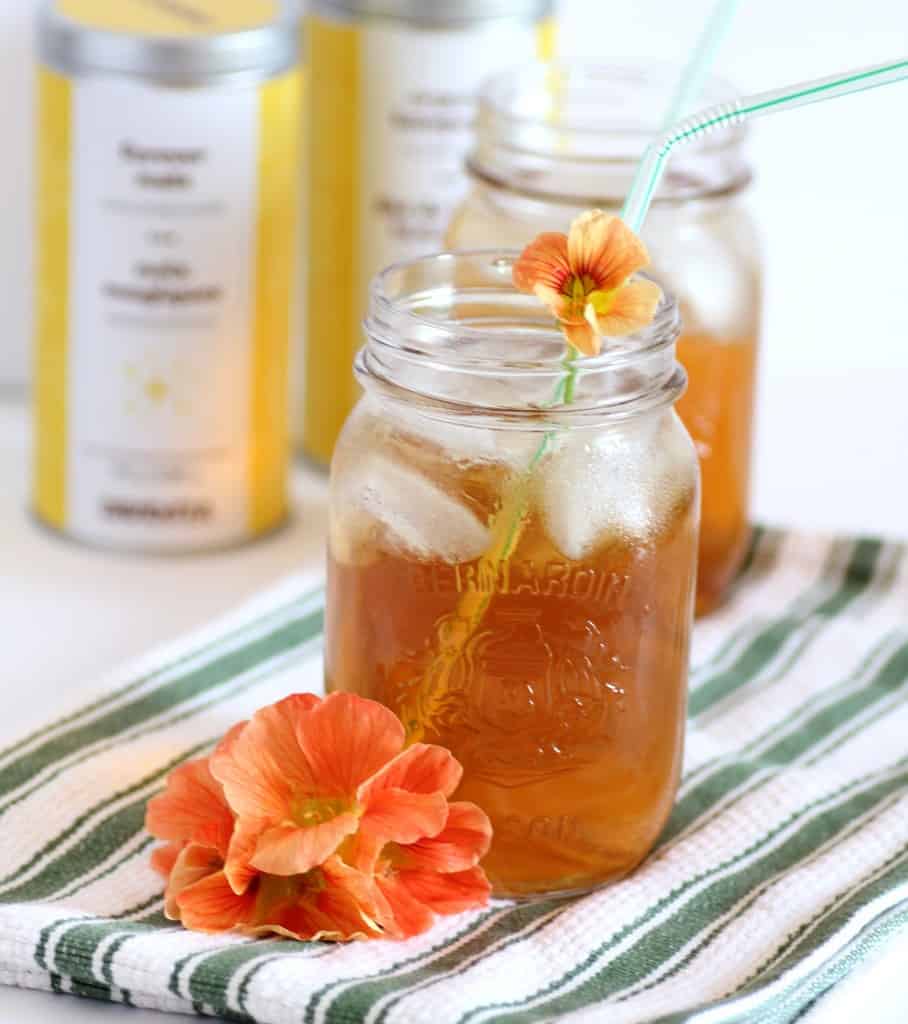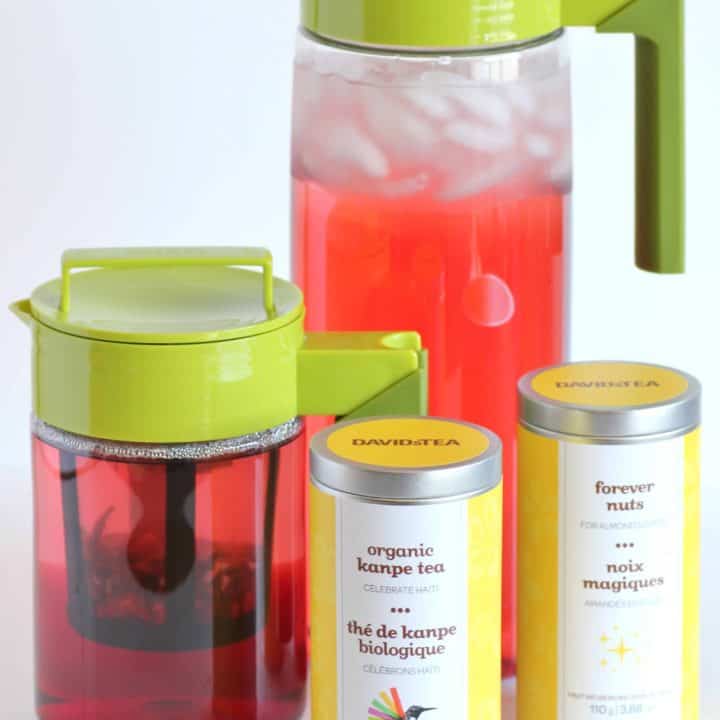 Jessie's Celebration Cake Iced Tea
Yield: 2 glasses plus iced tea left over
Prep Time: 3 minutes
Cook Time: 5 minutes
Total Time: 8 minutes
An amazing drink that tastes like a celebration.
Ingredients
8 tsp. of Jessie's Tea
2 oz. Cake vodka
Ice
Instructions
Fill the infuser with 8 tsp. of your choice of tea and pour in boiling water to the small container. Immerse the infuser in and let steep for a few minutes until desired strength. Fill the large container with ice up to the three quarter mark and pour the hot tea over the ice. Top with more water. There is still ice in the container the next day which amazes me. It keeps nice and cold in the refrigerator.
Fill two glasses with ice and pour in 1 oz. of cake vodka into each and top with the iced tea. Enjoy!!
Nutrition Information:
Yield: 2
Serving Size: 1
Amount Per Serving:
Calories: 160
Total Fat: 5g
Saturated Fat: 1g
Trans Fat: 0g
Unsaturated Fat: 4g
Cholesterol: 21mg
Sodium: 77mg
Carbohydrates: 16g
Fiber: 0g
Sugar: 12g
Protein: 1g
Recipe calculation was provided by Nutritionix and is estimation only. If you need nutritional calculations for medical reasons, please use a source that you trust
Come and shop their online store and receive 3 free samples or locate a store near you. Their website is www.davidstea.com