Quinoa and Kale Soup
Day 4 of 5 Days of Soup Quinoa and Kale Soup! Here are two of the most popular ingredients brought together in this amazing soup. A full blast of healthy!!! If you follow along here you know you get a wide variety of foods from vegan and vegetarian to full-on carnivore to decadent. Something for everyone. I love food, I love veggies and fruit and we all like to have variety.
Soups in this house are huge, there is not one that I put in front of Amber that she doesn't gobble down with enthusiasm. This soup was no exception. Full-on flavor, filling, and satisfying!!
I would love to share a big bowl of soup with you. So pull out the pot and try this one!!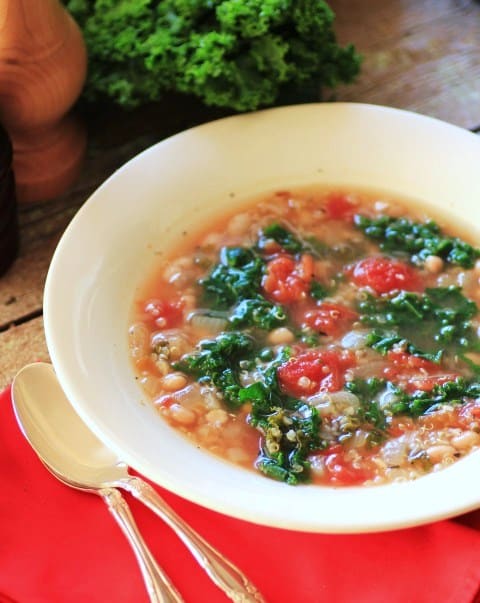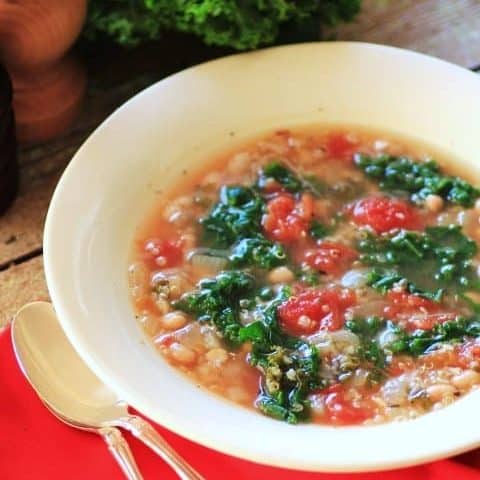 Day 4 of 5 Days of Soup-Quinoa and Kale Soup
Yield: 6 servings
Prep Time: 10 minutes
Cook Time: 25 minutes
Total Time: 35 minutes
Quinoa and Kale Soup is not only healthy but a delicious soup also. Very easy to make, you will have dinner on the table in just over half an hour!
Ingredients
1 Tbsp. olive oil
1 cup onion, diced
4 large cloves garlic, minced
1- 14 oz. can diced tomatoes
2-900 ml vegetable or chicken stock
1 tsp. rubbed Dalmation sage
1 tsp. thyme
Salt and pepper to taste
1-14 oz. can white beans, drained and rinsed
4 cups chopped Kale
1 cup cooked quinoa
Instructions
Heat the olive oil in a large pot and saute the onion and garlic until translucent. Add the tomatoes, chicken stock, sage, thyme, and salt and pepper. Simmer for 20 min.
Add the white beans and kale and simmer for 5 min. Add the cooked quinoa and heat through. Adjust seasonings and serve.
Nutrition Information:
Yield: 6
Serving Size: 1
Amount Per Serving:
Calories: 275
Total Fat: 5g
Saturated Fat: 1g
Trans Fat: 0g
Unsaturated Fat: 3g
Cholesterol: 1mg
Sodium: 461mg
Carbohydrates: 49g
Fiber: 14g
Sugar: 10g
Protein: 15g
Recipe calculation was provided by Nutritionix and is an estimation only. If you need nutritional calculations for medical reasons, please use a source that you trust.