We recently did a 2 week vacation in Europe and I thought I would show you some of the delicious meals we were able to enjoy. Dining in Edinburgh Scotland is the first of three that I will show you. I tried not to take a million pictures of everything we ate to make my family nuts. So for the most part these are the wonderful meals that I enjoyed. Our first stop was Edinburgh after a quick transfer through Amsterdam.
After some very needed sleep, we were out and about to start exploring, but sustenance is always necessary before you are on the go, as a tourist. Our first stop was The Huxley and it is just a few steps from the Waldorf Astoria -The Caledonian were we stayed. This was a great stop for a quick bite and they had some cool fare too. I really enjoyed the Vietnamese dog with crispy pork belly, pickled carrot and daikon, cucumber, and sriacha mayo, a unique hot dog that is for sure!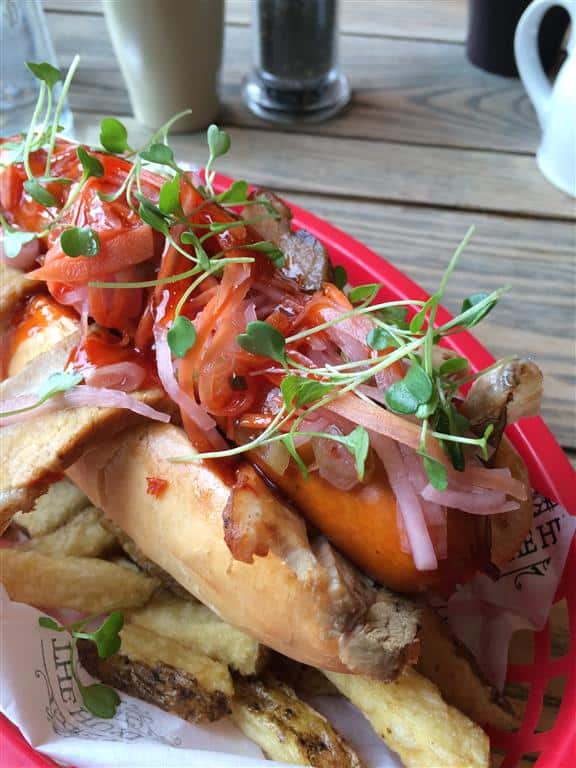 We had cocktails in the lounge at the Waldorf Astoria – The Caledonian a few times. The lounge was a amazing as it was the old train station. Amber wasn't used to ordering in Europe. She wanted a Sprite or 7-Up but you receive a sparkling lemonade, something we don't see at home here.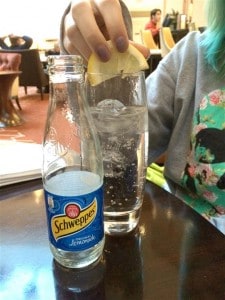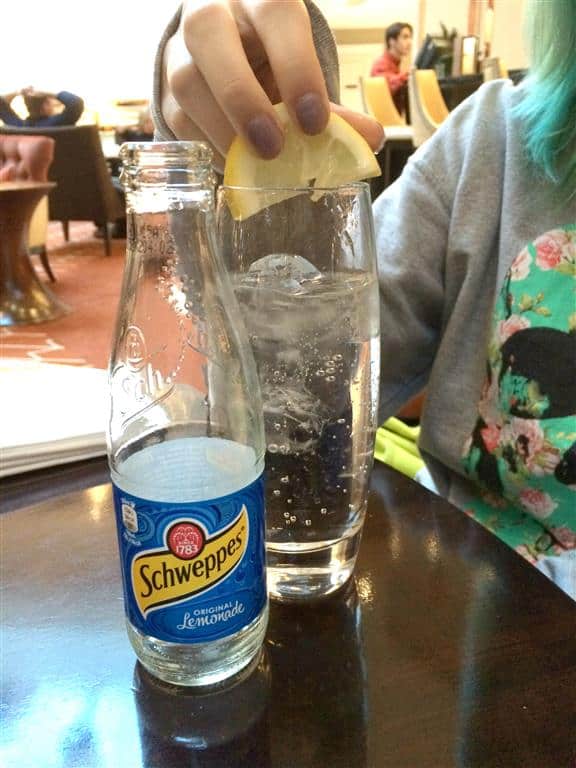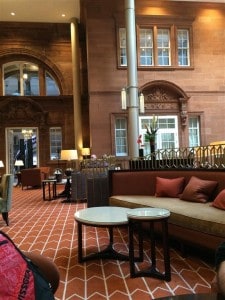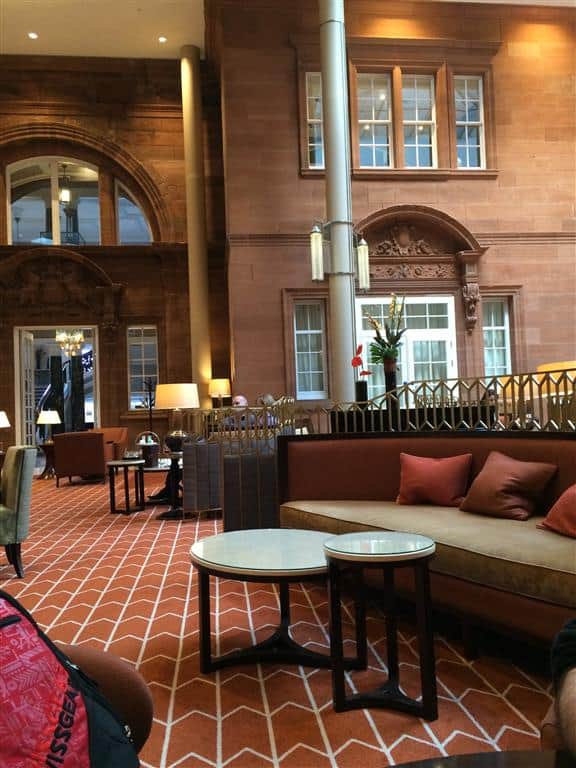 For our first night out the concierge recommended a little Italian restaurant not far again from our hotel. The weather was rainy and blustery so we were happy to have a short walk to La Piazza. I am a big seafood lover and ordered this Linguine Alla Taratina. It was very good but I think Amber's dessert, Crostata di Mele stole the show at this restaurant! It is a apple tart served with vanilla ice cream and she adored it. I didn't even get a taste!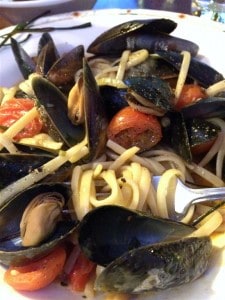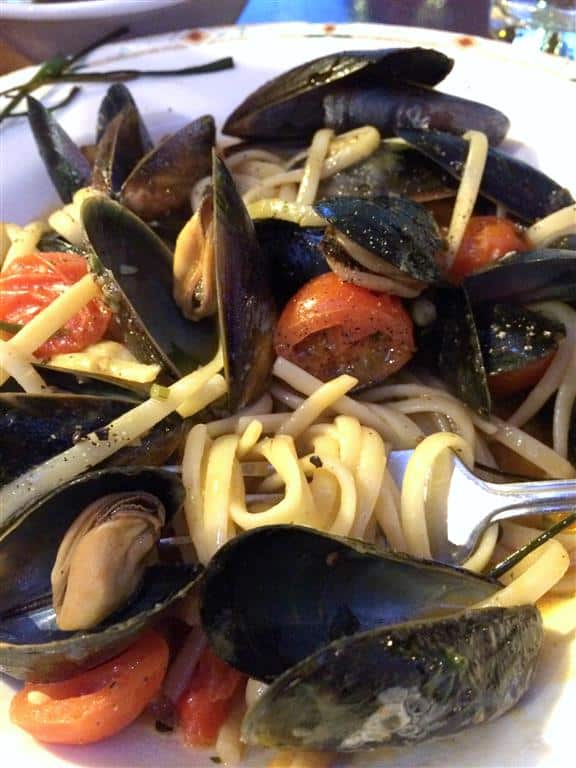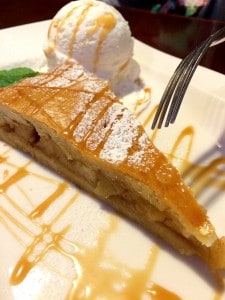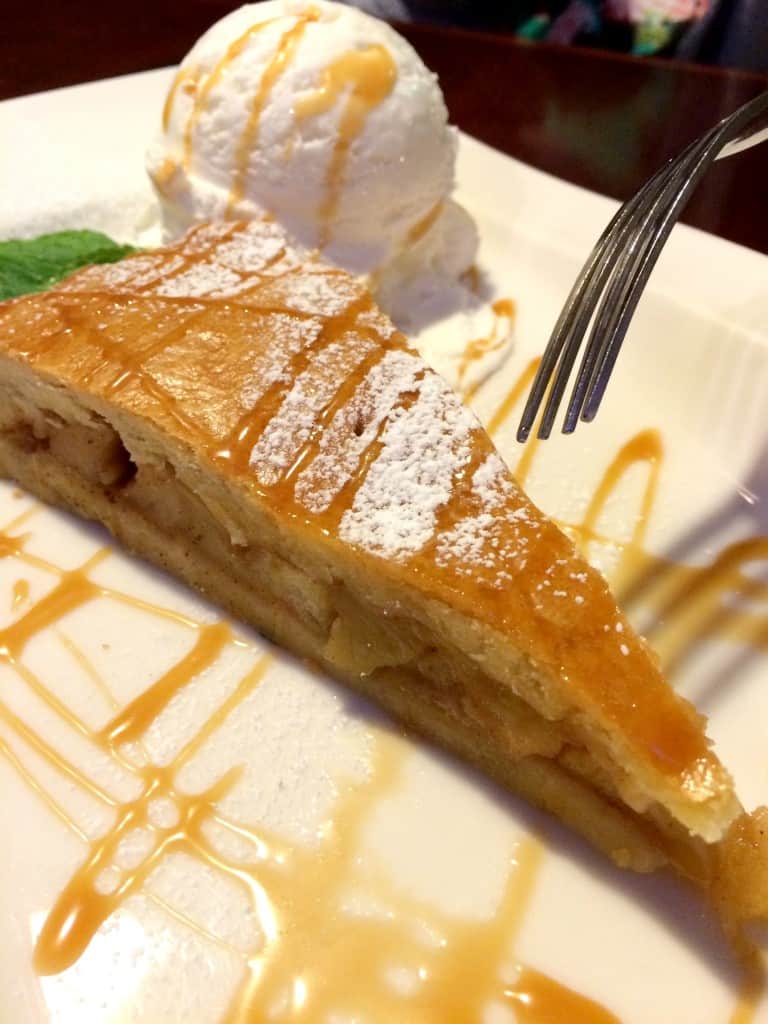 The next day we took our hop on, hop off bus tour to the Britannia, the royal yacht. The bus system in Edinburgh is so easy and very enjoyable with headphones and a commentary that explains all the sites as you are touring. Once aboard the ship I thought that we should have lunch so up we went to the tea room. Such a pretty room and it felt so special eating our lunch aboard the yacht, in the very place where the Queen, Prince Philip and all the family would have dined.
The gorgeous piano and fresh bouquet of flowers were so pretty and we were seated right next to them.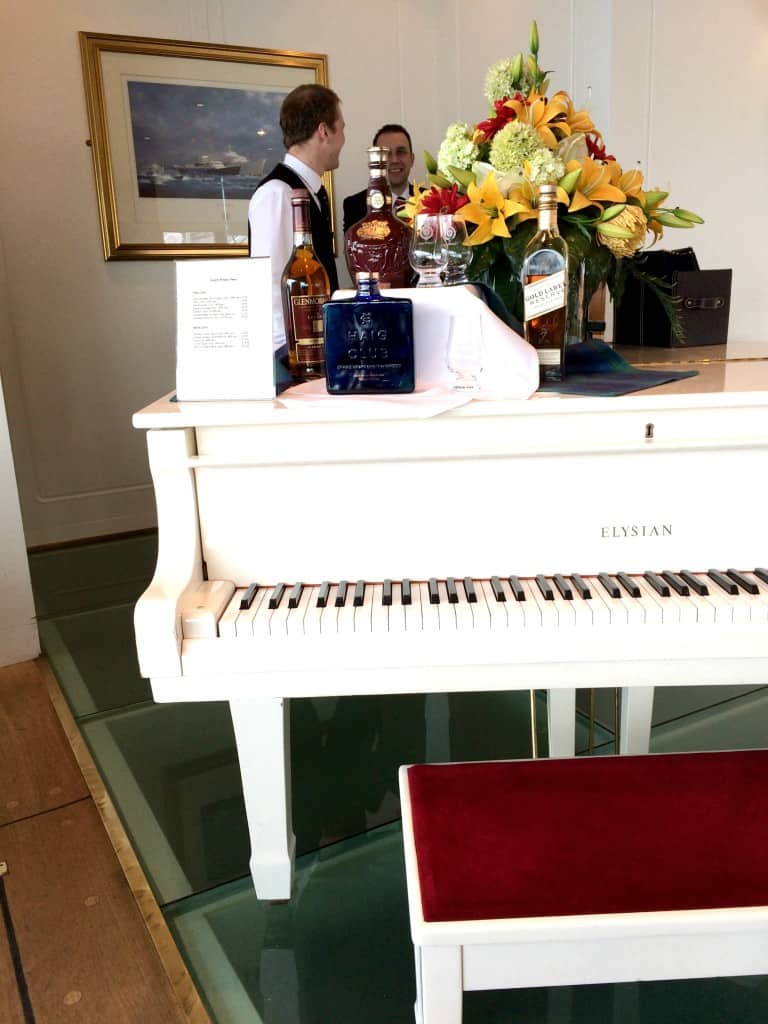 Amber fell in love with Irn Bru, an orange flavored pop that actually out sells Coca-Cola in Scotland we were told.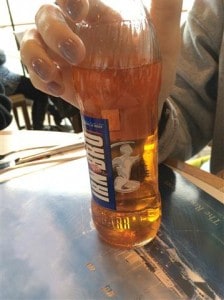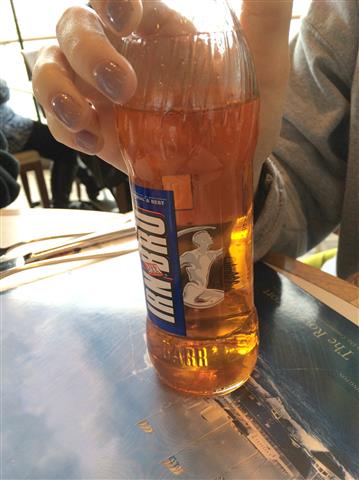 Lunch was mainly soup, salads and sandwiches and of course lots of tea to choose from and that was perfect for us all. I had the Lockerbie cheddar, mayonnaise with chutney, served on white bread with a small turnip soup, the daily soup option, (pictured). The sandwich was amazing and actually inspired these Cheese and Chutney Stuffed Creamer Potatoes. The soup I thought was so delicious, never would thought of a turnip soup but they made it fantastic. The soup and sandwich are served with home-made smoked paprika potato wedges and garlic mayonnaise. We are so used to ketchup with fries, I so enjoy the mayonnaise, it is like an aioli.
Ken indulged in chicken, cured bacon, horseradish and rocket on white bread with Cream of Cullen Skink Soup. The soup is traditional smoked haddock soup with potato and leeks. A specialty from the fishing village of Cullen in the North East of Scotland, (not pictured).
Amber stayed a little more on the familiar track with Ayrshire honey roasted ham, tomato and grainy mustard on white bread and a roasted red pepper and vine tomato with pesto soup (pictured).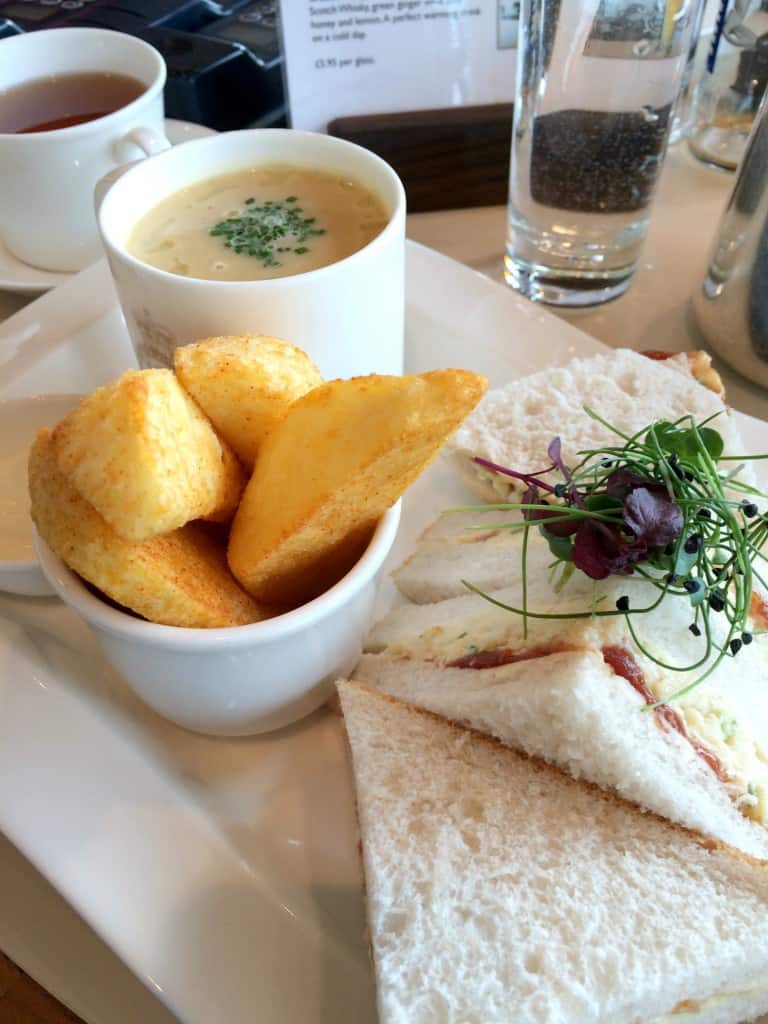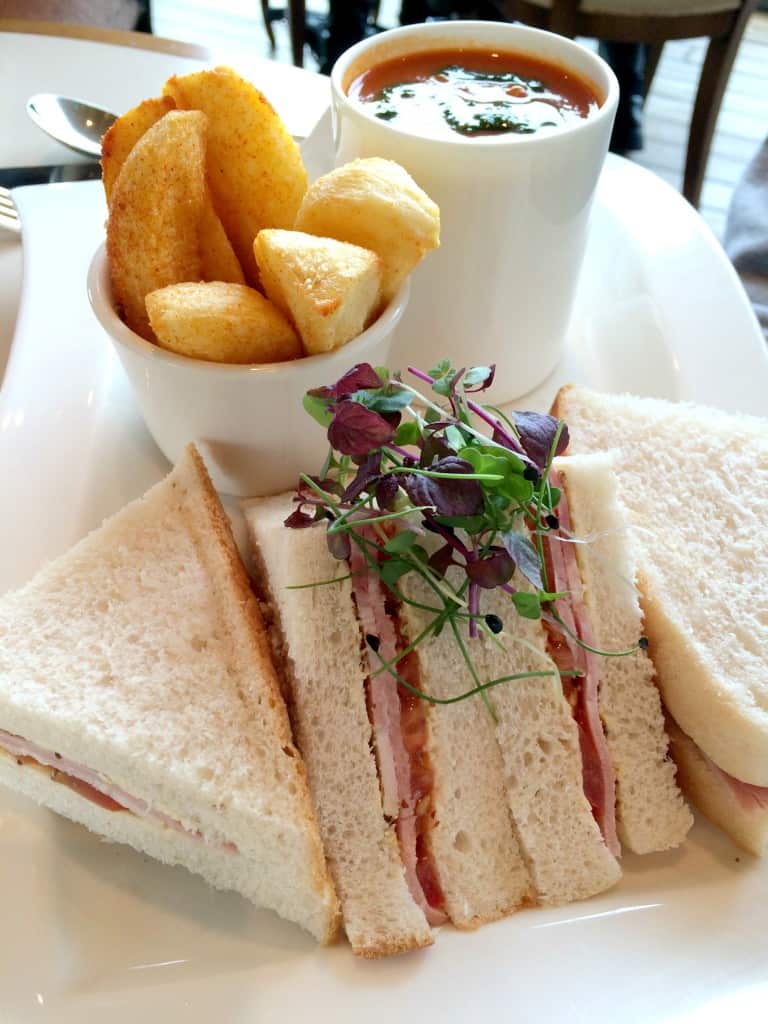 That night Amber really wanted curry so off we went to Kasturi Restaurant. This restaurant was even closer to our hotel and we had a feast!! We started with Popadams with Chutney Tray (not pictured). Popadams are made with a lentil dough and then rolled into a light as air flatbread that is sun dried. These are served with mint sauce, mango chutney and onion salad. After the appetizer we dove into different curries, Amber's favorite is butter chicken but they didn't have that exactly on the menu, but it is basically Chicken Tikka.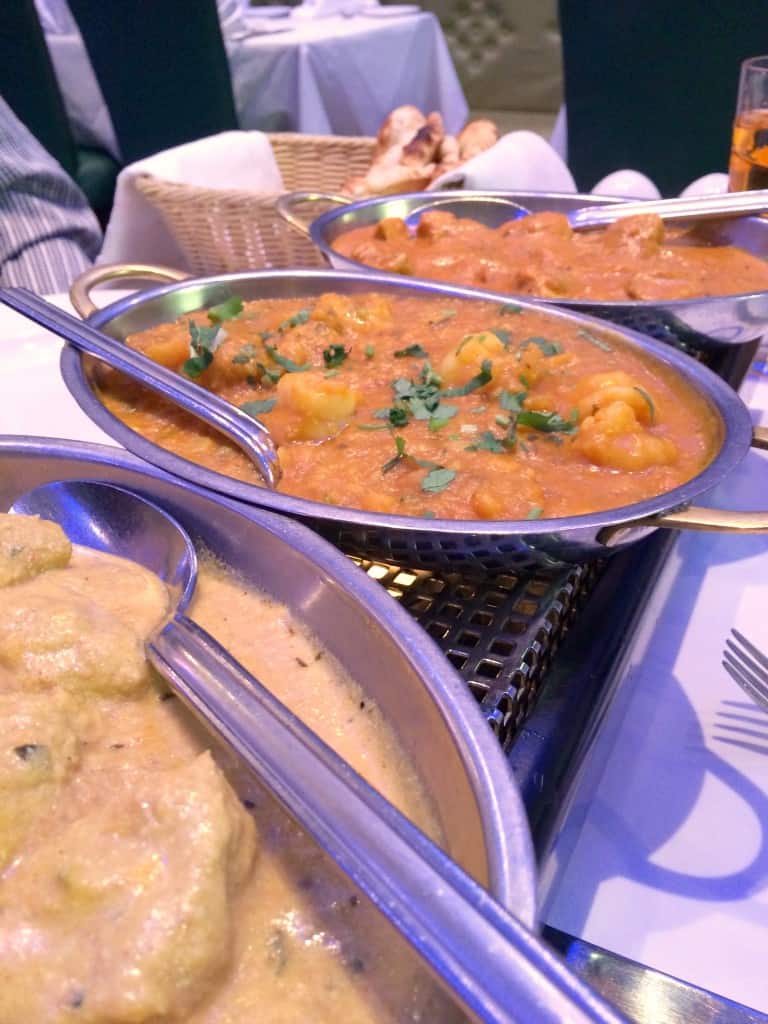 After the dinner they were very kind to take me back to the glassed in prep kitchen where they make their wonderful nan bread. It is an art and this chef was a master! And for dessert Amber had ice cream served in a cute little cow, there is still lots of kid in her!!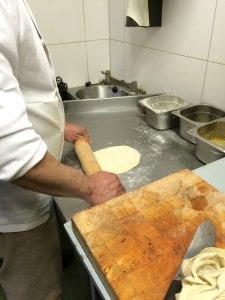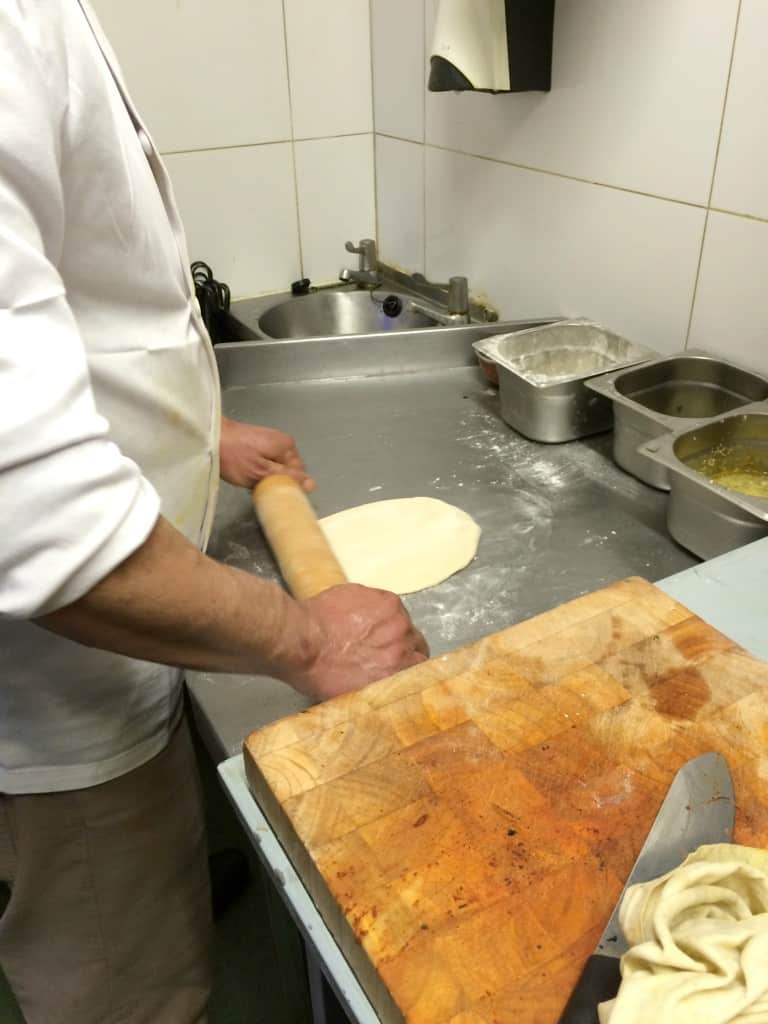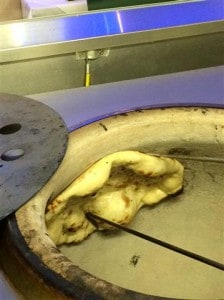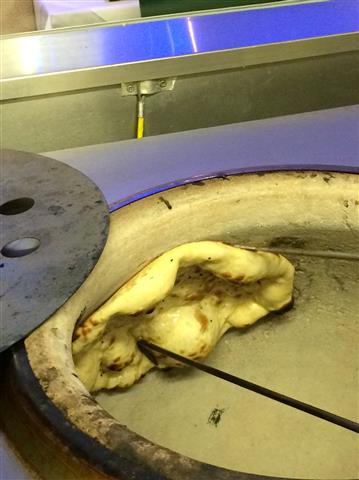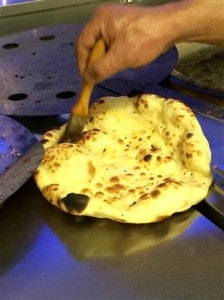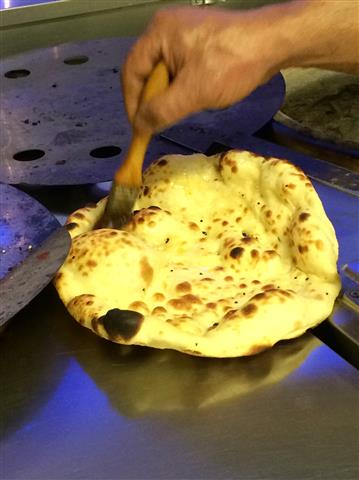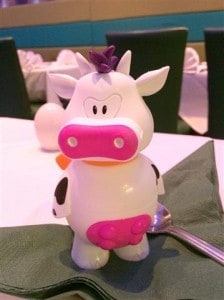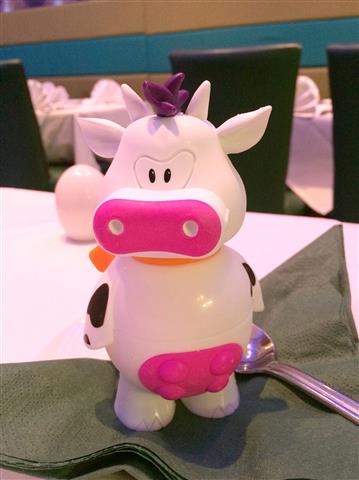 The following day we were off on a tour to St. Andrews, on the way up we stopped in lovely little fishing ports to have a poke around. One of the stops landed us at this little restaurant, Anstuther Fish Bar. It is touted as having the best fish and chips in Scotland and award winning. We weren't quite ready for lunch yet, so we all split one order. Could not pass this by. I have to say it was the best fish and chips I have ever had. Light and crispy, almost a tempura batter, simply amazing!!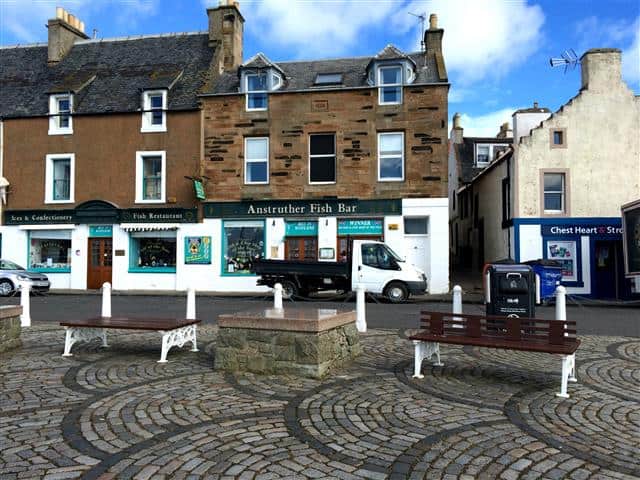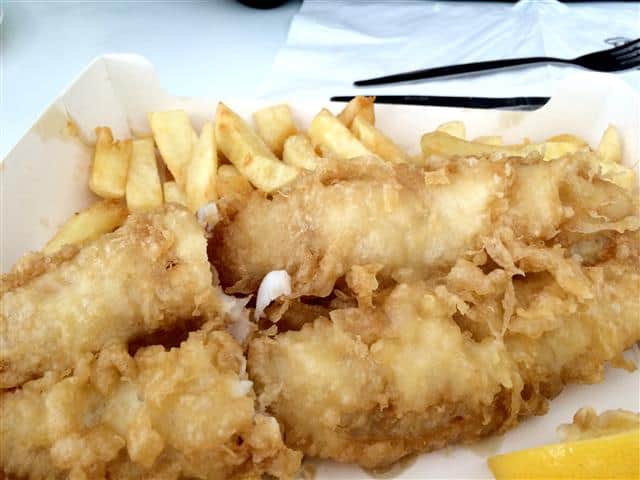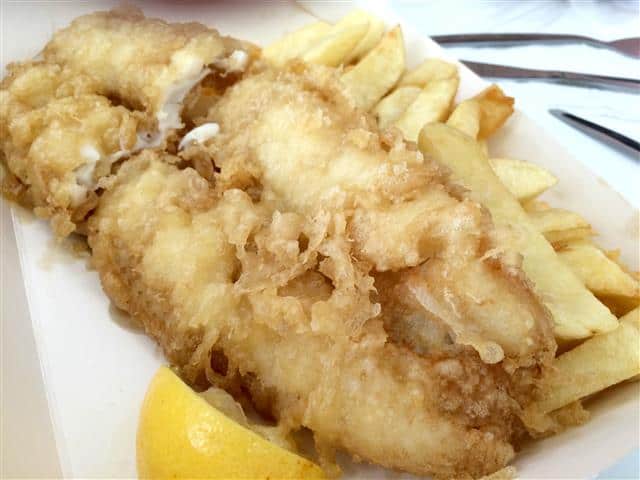 After this stop we were off to St. Andrews, home of golf, a top notch university (it is where William and Kate Middleton met) and more fine food. After strolling around the town shopping, we settled in for lunch at Forgan's Restaurant which I am sure is a big hit with the university crowd as they also have evening entertainment and fun events, plus great food. I loved the entrance so full of spring!!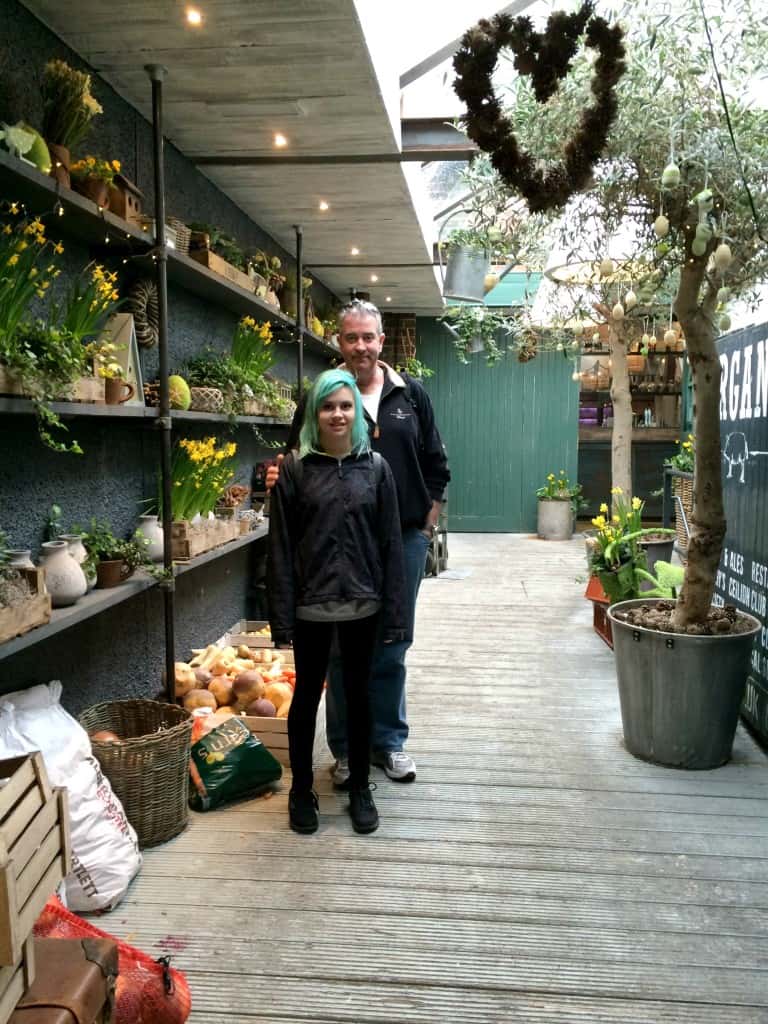 I wanted a lighter lunch and choose the seared tuna, with green beans, olives, tomatoes, with a sesame soy dressing. It was really fantastic, perfect lighter lunch. I am drooling thinking about it now.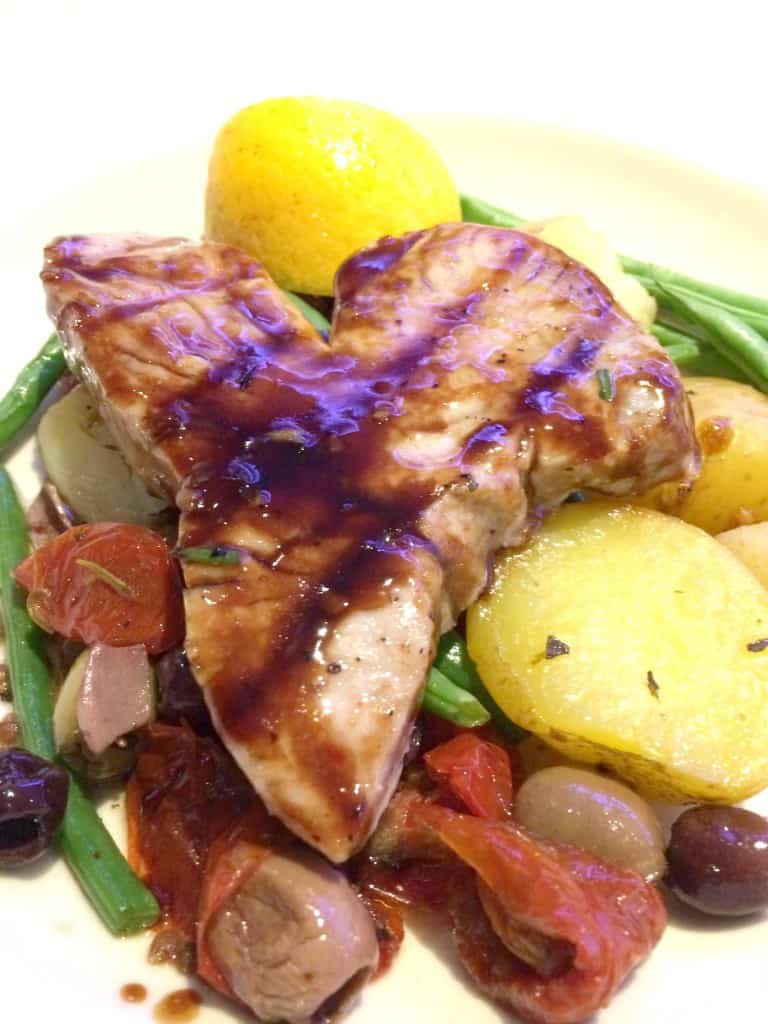 Ken indulged in a big lunch, I think bigger than he anticipated but what a gorgeous Beef Bourguignon with puff pastry. Served with roasted veggies and chips.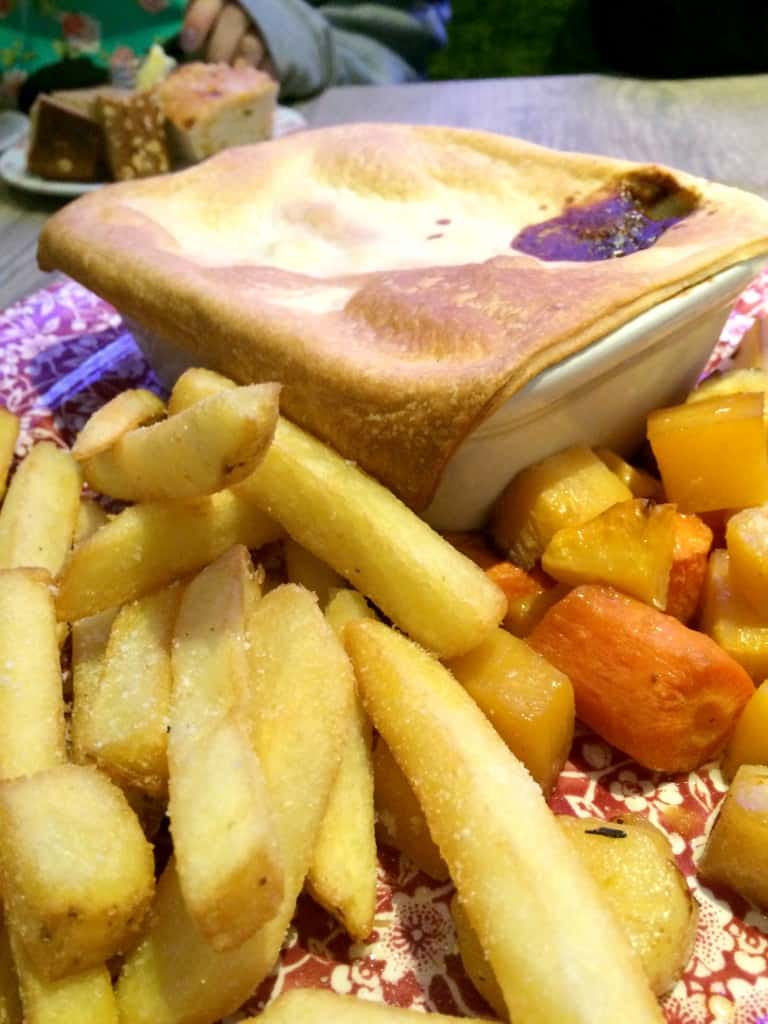 Well that was our dining for the most part in Edinburgh, the highlights anyway. Next we are off to London, stay tuned!!