Aaaaah, EARLS!! If you know my blog you know I love Earls Restaurants. They are very kind to me and always treating me to their new fare!! I have never ever been disappointed in Earls in anyway. I have loved their Tin Palace location from when it started over 25 years ago, parrots and all, (that was there decor of the day). When I first moved to Calgary I lived in that very neck of the woods in Mission and nursed at The Holy Cross Hospital.
Todays Earls is alive and vibrant with wonderful updated decor. See this review on opening night to see some of the restaurant. Their service is impeccable and the food amazing.
I was graciously invited to a bloggers luncheon but was unable to attend as I was sick. Cate Simpson their wonderful PR gal invited me to a separate luncheon with a guest. I was all in for that.
Even before our lunch started they were coming around with these little spoons of their new ribs. I had to sample one!!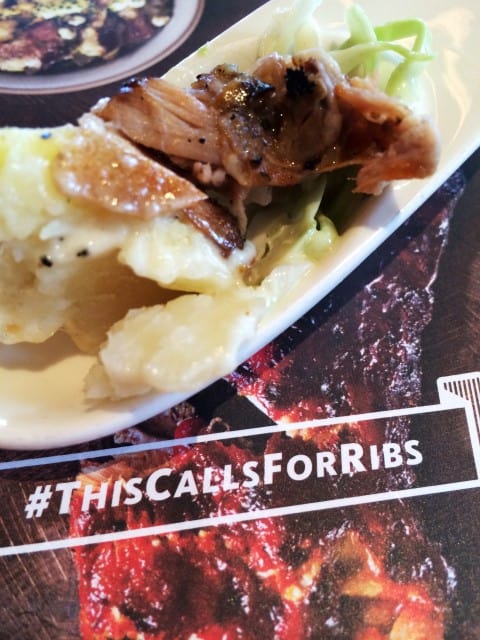 We started off with this amazing cocktail that I had never tried, it is called the Mad Hatter and is quite the show stopper with the dry ice in a tea pot. Someone was thinking creating this lovely libation!!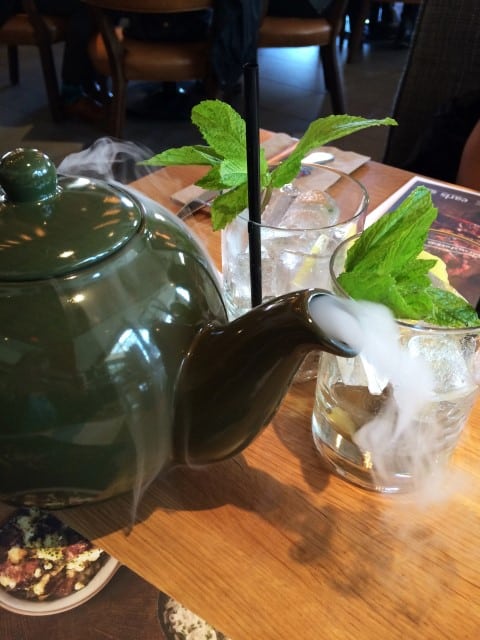 What I loved in this cocktail was the pear puree, delicious. It is potent but you would never know!!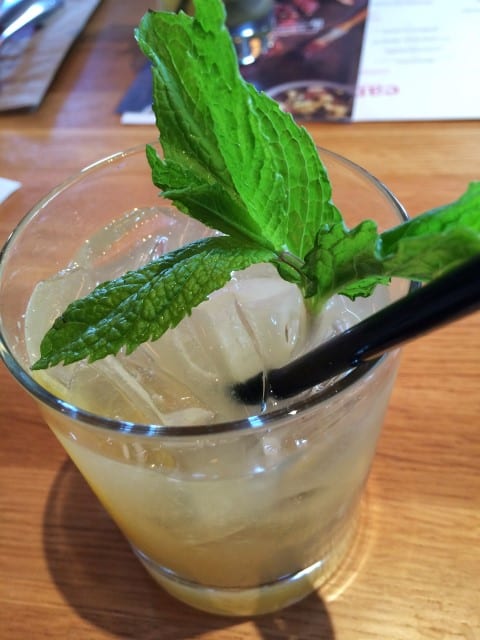 Then the food started coming out and didn't stop for a long time. What a great lunch, we started with these amazing Sushi Cones!! Not only are they delicious but gorgeous!!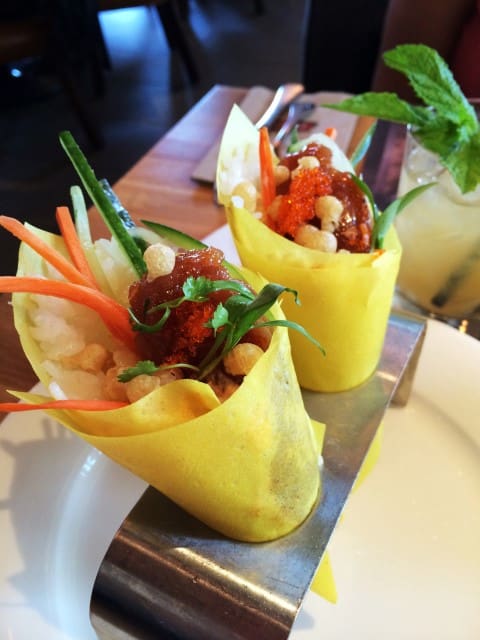 Next up were the Pork Sticky Buns, I think I was clapping when I saw these come to the table, I was so excited to have them again, scrumptious!!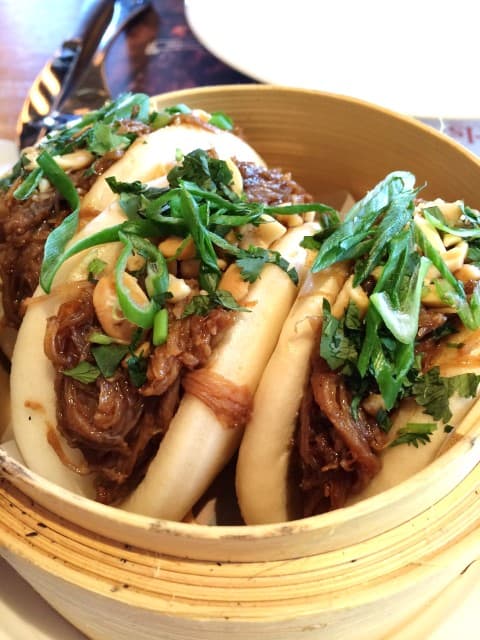 Next up was the Crispy Thai Prawns and I have found a new favorite. The prawns are crispy with a slight sweet sauce and then as you get further into the bowl the heat ramps up. I loved the cabbage and daikon radish in the bottom too, actually I loved everything about this dish!!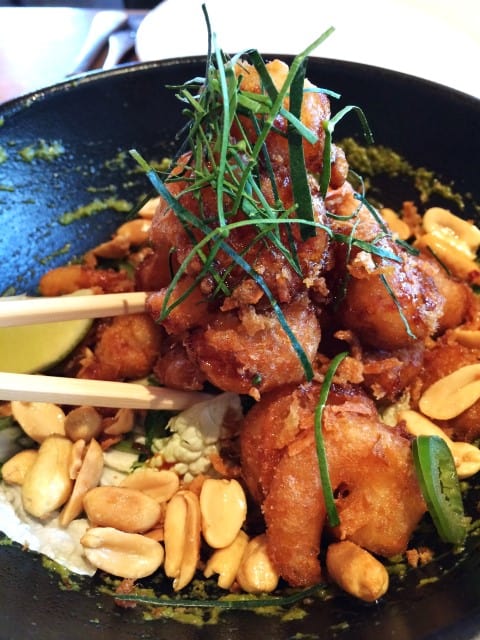 You would think we were full to the brim but oh no, there is still more to come and these ribs were out of this world. Slowly cooked in the oven, so they literally fell off the bone. They have an amazing deal on now for the spring/summer and a FULL rack of ribs, the most delicious potato salad I have ever had and coleslaw all for $25, amazingly good!!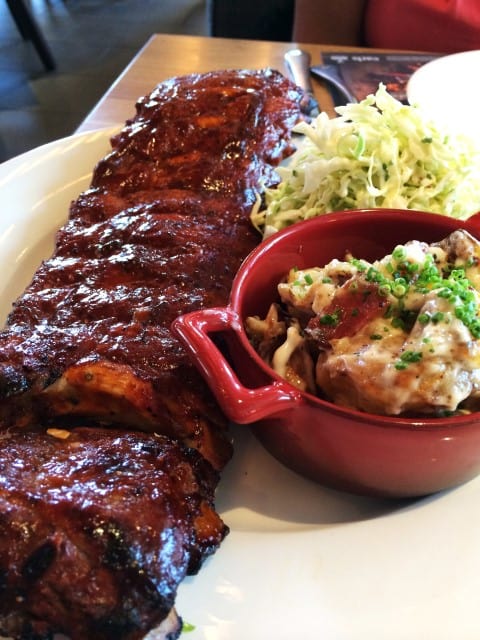 Earls has a decadent pumpkin pie for the fall but they wanted something for the spring/summer months, so they came up with this recipe for Key Lime Pie. Tart and delicious with Chantilly cream on top and the best crust ever!!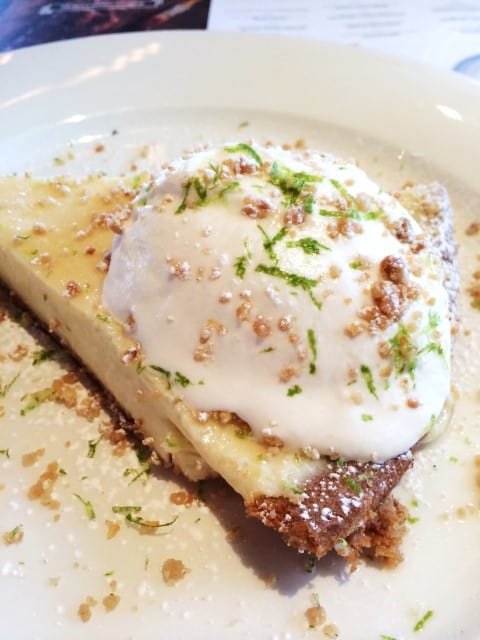 Find an Earls location in your area and enjoy their new menu, I sure did!! Again a warm and wonderful thank you to the lovely Cate Simpson for always thinking of me!!