Easy Slow Cooker Chili
Today I am bringing you a recipe that I did as a guest post over at Take a Bite Out of Boca, Easy Slow Cooker Chili. With the weather chilly outside you want a chili recipe that will warm you to your soul.
Well, this dish fits the bill for you then. Nothing complicated just great easy fare!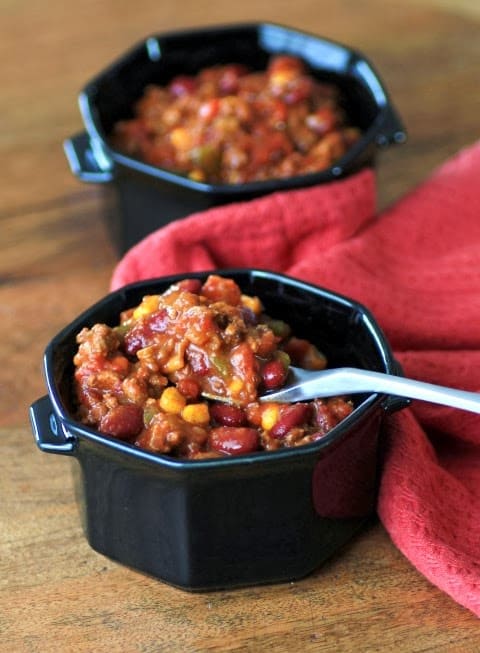 This is my original recipe that I have been making for years but instead of the stove top I put it all into the slow cooker. Easy to make and it will be deliciously simmering the day away filling your home with it's wonderful aromas.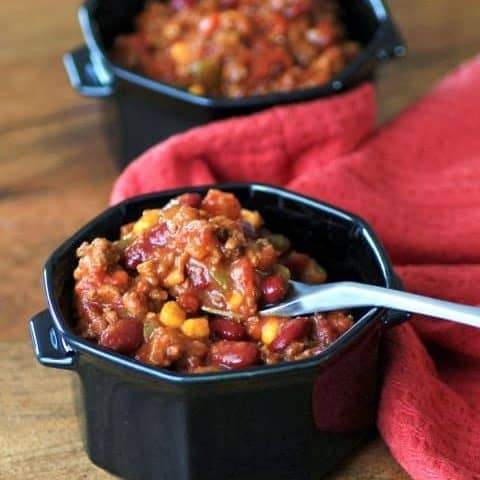 Easy Slow Cooker Chili
Yield: 8 servings
Prep Time: 20 minutes
Cook Time: 8 hours
Total Time: 8 hours 20 minutes
Ingredients
1 1/2 lbs. extra lean ground beef
2 Chorizo or Hot Italian sausage, removed from casings
2 cloves garlic, minced
1 large onion, chopped
1 green pepper, chopped
1 red pepper, chopped
1 tsp. smoked ancho chili powder
1 tsp. smoked sweet paprika
2 Tbsp. chili powder
1 tsp. cumin
Salt to taste
3 cans (540 ml. or 19 oz.) diced stewed tomatoes with chili seasonings
2 cans (415 ml or 14 oz.) kidney beans, rinsed and drained
1 cup frozen corn, thawed
Instructions
In a large skillet brown ground beef and chorizo sausage until cooked through. Place the meat into a large slow cooker. Brown the onion and garlic until the onion is translucent. Place it in the slow cooker. Add the remaining ingredients, except the kidney beans and the corn and stir well. Simmer on low for 6-8 hours. In the last 40 min. add the beans and corn and stir. Make sure it comes up to a simmer for 30 min. then serve with fresh bread or tortilla chips.