We are reviewing a slightly different cookbook today, one that is based on the histamine hypothesis as a way for you to understand your headaches.
My daughter suffers from migraines, so I personally wanted to look into this book. Some people who suffer from migraine, tension and cluster headaches find it hard to enjoy a high-quality life style.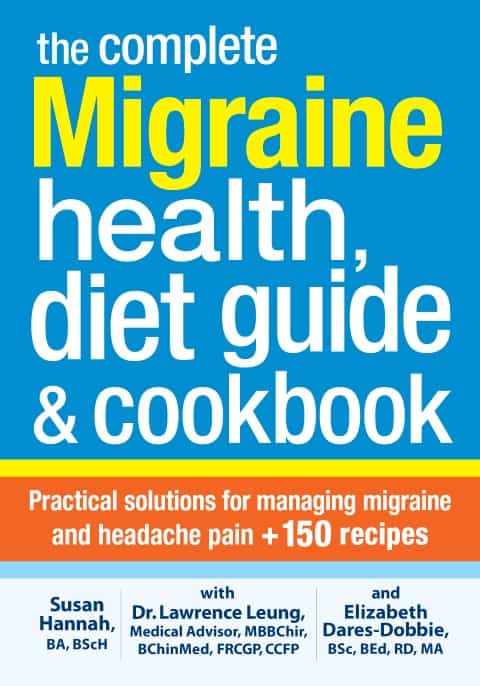 The authors bring to light that recent evidence-based research has shown that headaches are associated with high levels of histamines in the body, and this can be managed through diet and nutrition.
The book for the most part is a guide to support those who suffer with headaches through education, experience and skills. The later part of the book has recipes that are reduced in histamines. There is no way to completely eliminate histamines and everyone's response to them differs. The book offers meal plans for both men and women and throughout the recipes are tips to help you reduce histamines.
The recipe that we chose is a simple, easy and fabulously delicious fish fillet with a very flavorful corn and red pepper salsa. The freshness of the salsa pairs so lovely with the delicate fish.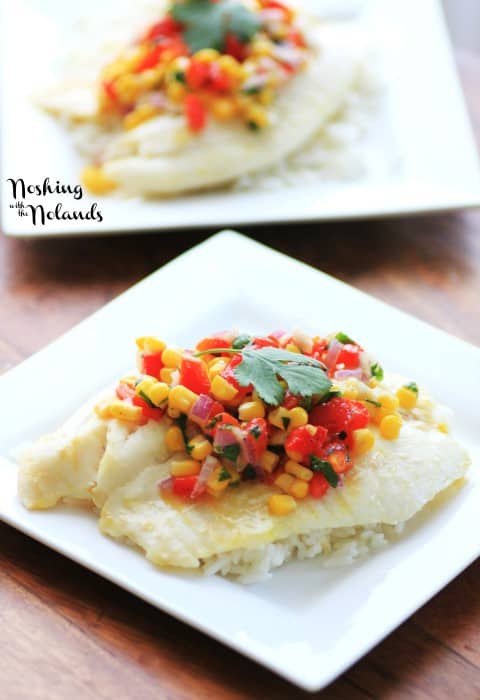 The book is a collaboration from three authors.
Susan Hannah, BA, BScH, former research associate at the Centre of Studies in Primary Care in the Department of Family Medicine at Queen's University, is an expert in medical writing.
Dr. Lawrence Leung, MBBCHir, BChinMed, FRCGP, CCFP, is an Associate Professor in the Departmen of Family Medicine at Queen's University. He is a published medical research scientist and practicing physician of Western and traditional Chinese medicine.
Elizabeth Dares-Dobbie, BSC, BEd, RD, MA, is a consulting dietitian at the Department of Family Medicine at Queen's University, where she enables long-term patients to change their diet and lifestyle to improve their quality of life.
If you suffer from headaches this book is a must read and could possibly change life. I hope your enjoy this recipe as much as we did.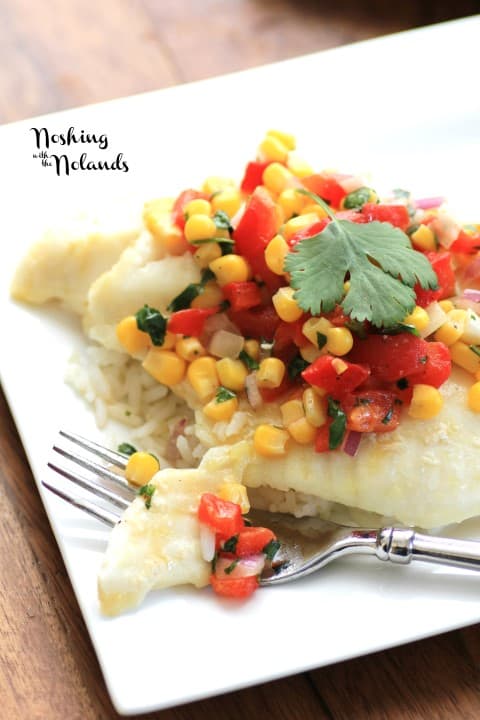 Fish Fillet with Corn and Red Pepper Salsa
A savory salsa adds zest and tang to perfectly cooked fish
Ingredients
1 large red bell pepper 1
11⁄2 cups corn kernels 375 mL
1⁄3 cup chopped red onions 75 mL
1⁄4 cup chopped fresh cilantro 60 mL
2 tbsp fresh lime or lemon juice 30 mL
3 tsp olive oil, divided 15 mL
2 tsp minced garlic, divided 10 mL
1 lb fish fillets 500 g
Instructions
• Preheat broiler
• Baking dish, sprayed with vegetable spray
Salsa: Broil red pepper for 15 to 20 minutes, turning occasionally, until charred on all sides. Remove pepper and set oven at 425°F (220°C). When pepper is cool, remove skin, seeds and stem. Chop and put in small bowl along with corn, onions, cilantro, lime juice,
tsp (10 mL) of olive oil and 1 tsp (5 mL) of the garlic; mix well.
Put fish in single layer in prepared baking dish and brush with remaining 1 tsp (5 mL) garlic and 1 tsp (5 mL) oil. Bake uncovered for 10 minutes per inch (2.5 cm) thickness of fish or until fish flakes easily when pierced with a fork. Serve with salsa.
Tips
After broiling bell pepper, put in small bowl and cover tightly with plastic wrap; this allows the skin to be removed easily.
Roasted corn gives an exceptional flavor in this recipe. Either barbecue or broil until just cooked and charred, along with pepper. Remove kernels with a sharp knife.
Lemon has low histamine levels. Occasional or small amounts are unlikely to trigger headaches.
Make Ahead
Prepare salsa earlier in the day and refrigerate.
Nutrients per serving
Calories 81
Fat 5 g
Carbohydrate 6 g
Protein 3 g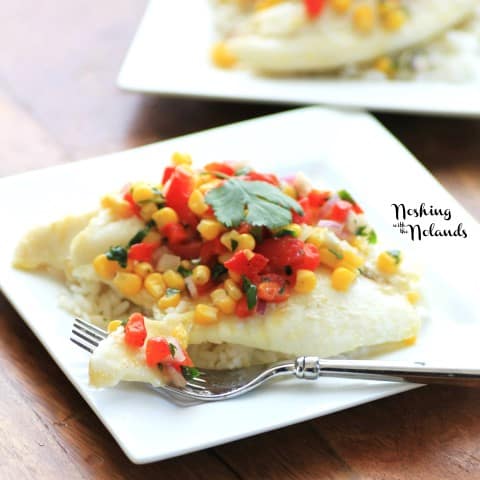 Recipe courtesy of The Complete Health, Diet Guide & Cookbook by Dr Lawrence Leung and Susan Hannah with Elizabeth Dares-Dobbes © 2014 www.robertrose.ca Reprinted with publisher permission.