Fort Myers Florida
When spring break travel comes to mind a lot of us think of warm destinations and in my mind Florida is top of the list. I have visited this state many times but have never taken in the wonderful Fort Myers Florida area. Fort Myers Florida and Fort Myers Beach Florida are located on the Gulf of Mexico side and are the gateway to southwest Florida. Visitors coming to this area have a lot to do or pretty much nothing at all depending on the kind of holiday they are seeking. Long relaxing days on the beaches or many activities await the traveller.
For us being from Canada and out west, Florida flights are not usually direct especially to this area, so we overnighted in Toronto. Westjet does supply many flights from our area to Fort Myers through a number of connections.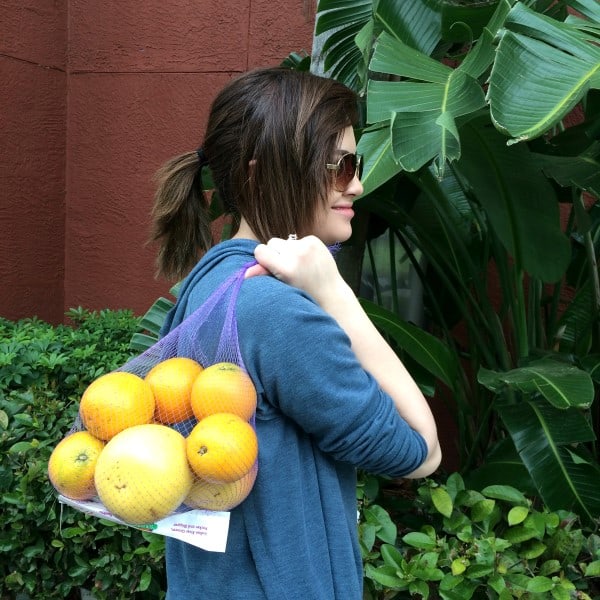 For us we like a mixture of both. Happy days abound exploring, dining and taking in the sites along with having a dip in the ocean too. Come on a journey with us and see a taste of Fort Myers.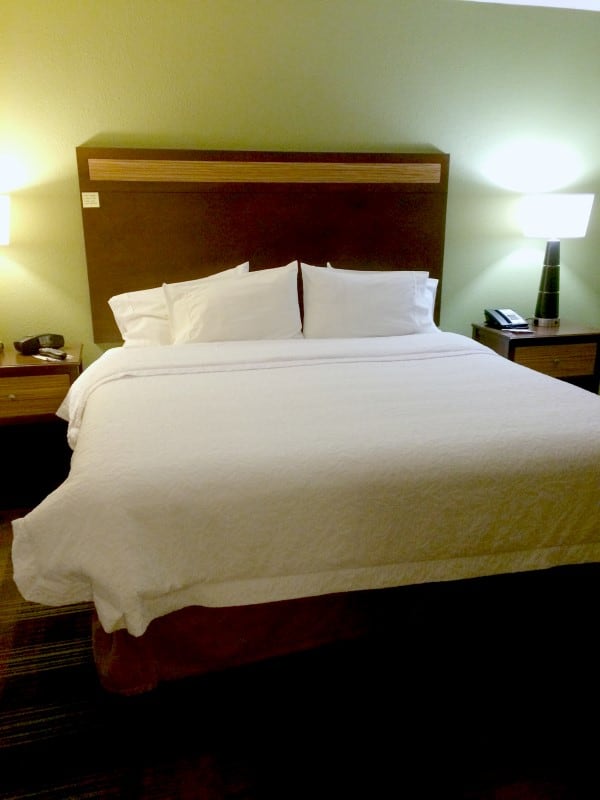 It was the Easter long weekend we arrived in Fort Myers. Prices are up for spring break so finding a hotel was a little bit more challenging. We were very happy with our choice of Hampton Inn & Suites Fort Myers Beach/Sanibel Gateway. We aquired a good deal using Expedia.ca, which I hadn't actually used before and it was easy and simple to book. The hotel was conveniently located between Sanibel Island and Fort Myers Beach.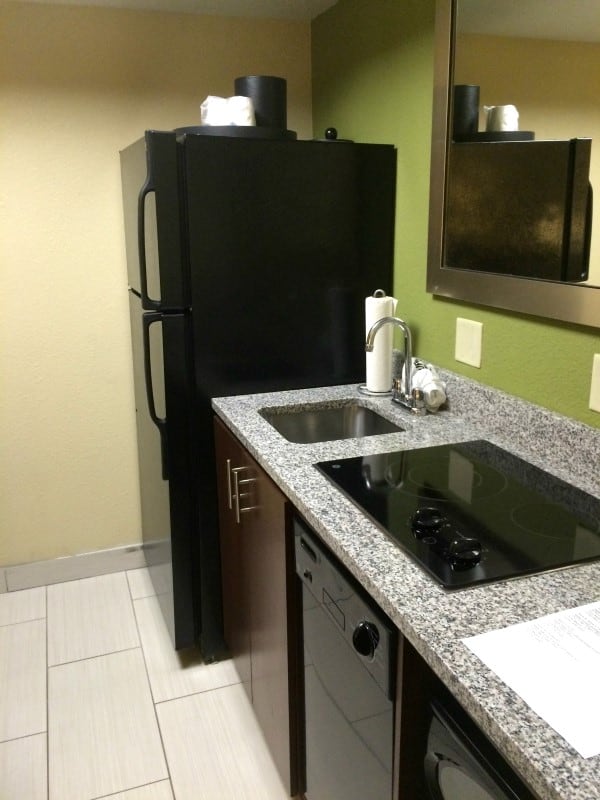 The room was very well appointed for the three of us, having a separate bedroom, living room and kitchen. Kitchenettes like this one come in so handy when you are travelling. Not to say we spend lots of time in our room but when we are there we can have a cold beverage and something to eat. A breakfast buffet was provided in the hotel lobby with loads of choices. It was nice to have the option to have it in your room or the general dining area.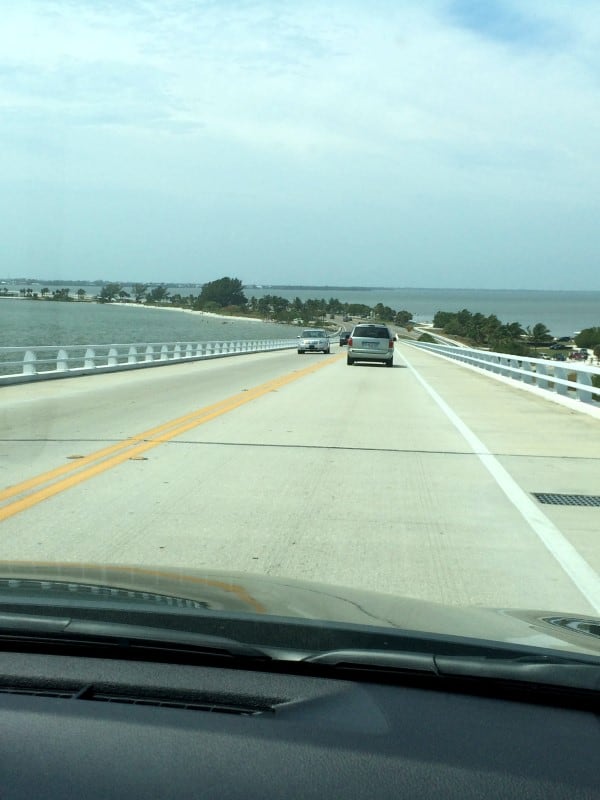 On our first day adventure we decided to head over to Sanibel Island for the day. Sanibel Island also has a sister island called Captiva. After a bit of a late start out first destination was going to be lunch.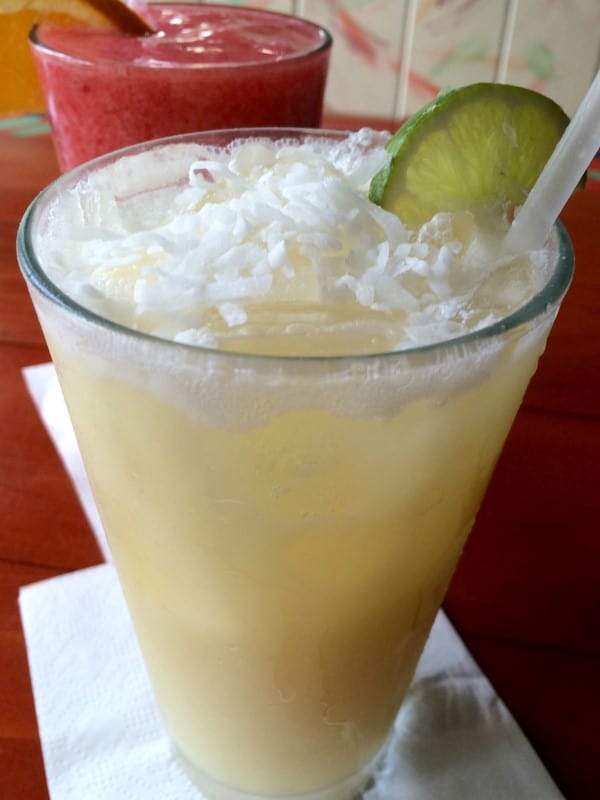 We stopped at a little restaurant for lunch called Sanibel Fish House Restaurant and our waitress Tara, recommended the Lime in the Coconut which is like a Pina Colada only better. She was right I loved it!! It is made with Jumbie Coconut Rum, Van Gogh Vanilla Vodka, coconut cream, juices and a splash of lime juice. I would go back again just for this!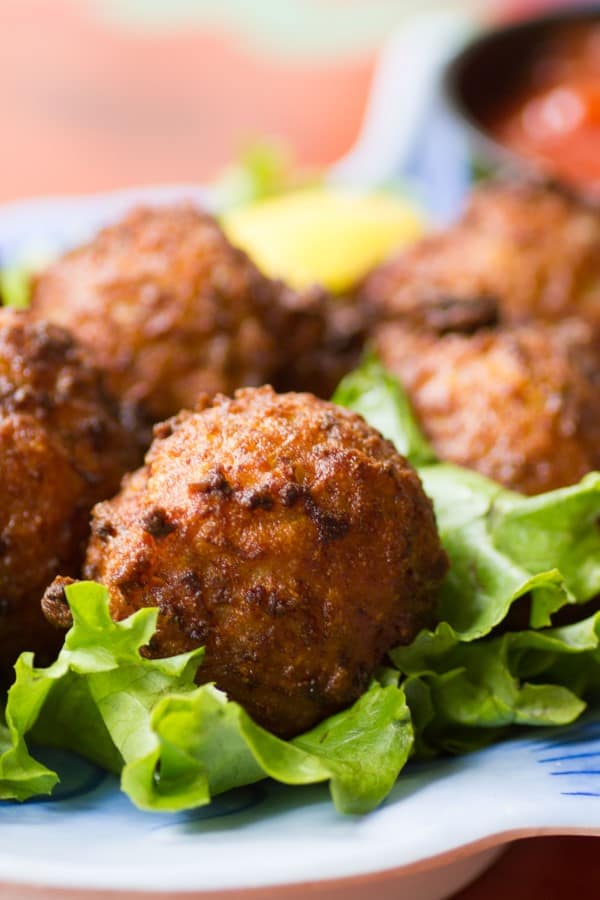 Have you ever had a Conch Fritter before? I have and they are wonderful. They are a true Bahamian recipe and that is the only place I have enjoyed them. I saw them on the menu and had to order them. They were perfectly fried to a gorgeous golden crispy finish.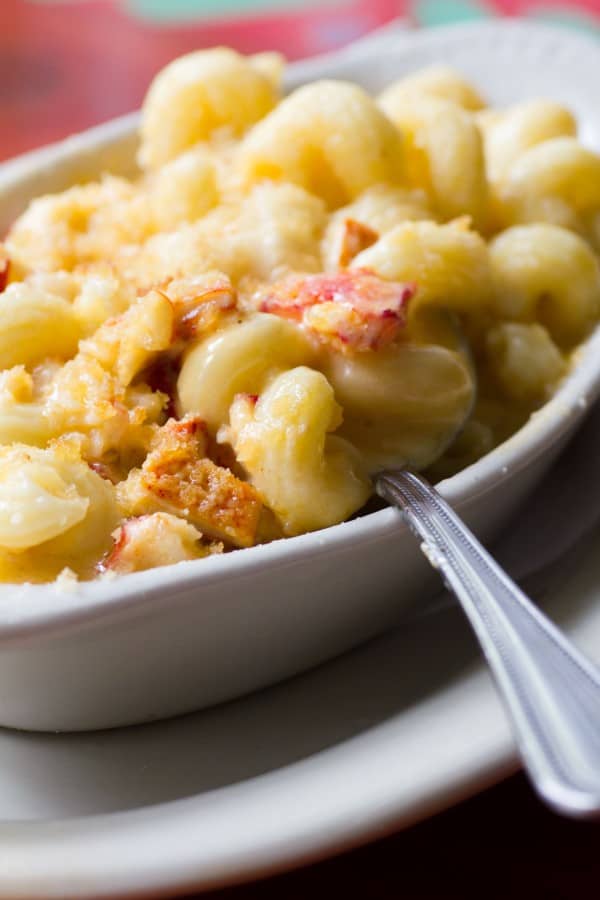 I had a Fish House Taco and Ken, the Crunchy Grouper Platter but it was Amber's Lobster Macaroni and Cheese that stole the show with three different kinds of cheeses. We all had to grab a taste of this one!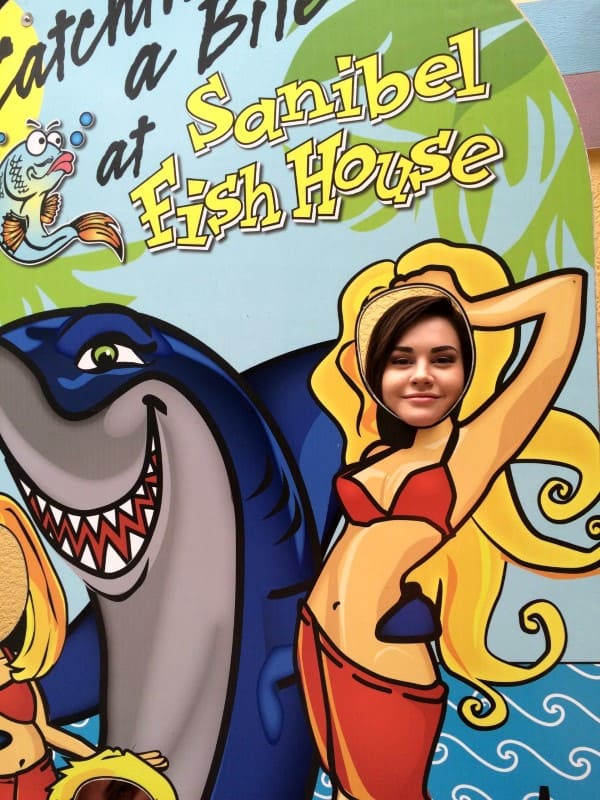 We had a few laughs outside with Amber the bathing beauty and shark boy!!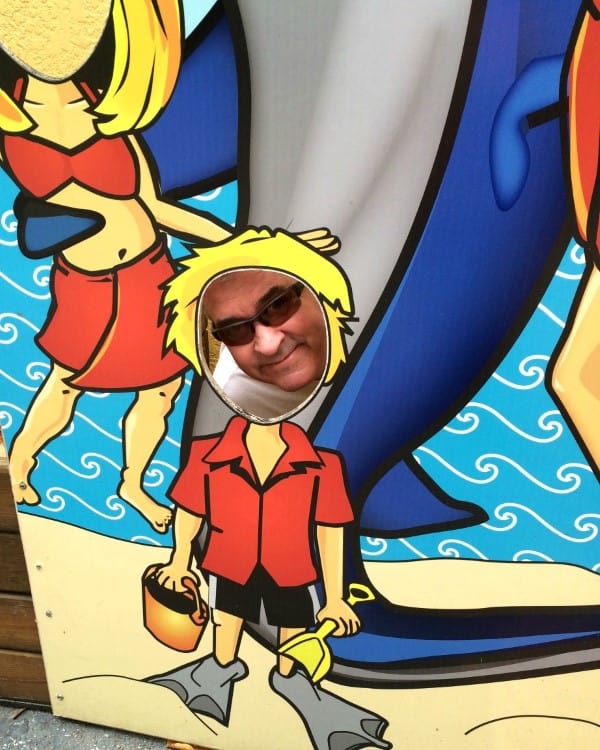 This little guy is having fun too!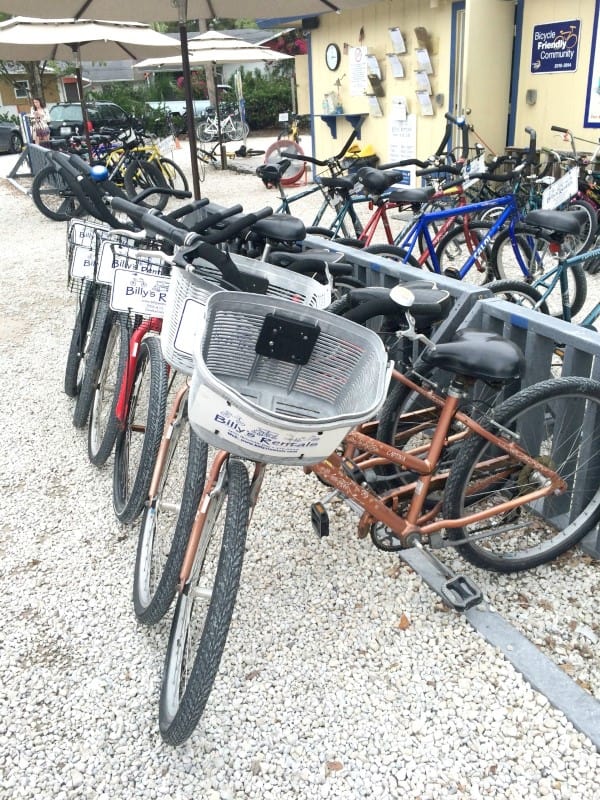 Besides great dining, Sanibel has many other great activities to offer. Almost everywhere we looked were bike rentals as the island has many trails that weave through its' rich ecosystem that are filled with mangrove forests and shallow sea grass beds that are home for lizards, crabs and fish.
For other adventures you can rent a canoe at Tarpon Bay and catch some of the 250 migratory birds, as well as alligators, manatees and sea turtles.
Our adventure was streaming through the many little boutique shops at Periwinkle Place which is located on the main strip. This gorgeous immaculately kept shopping area contains shops of arts and crafts, home decor, clothing stores and restaurants. It is where the original Chico's is located.
You can also continue on further to Captiva Islands where you can take in resorts, golf, cruises and more.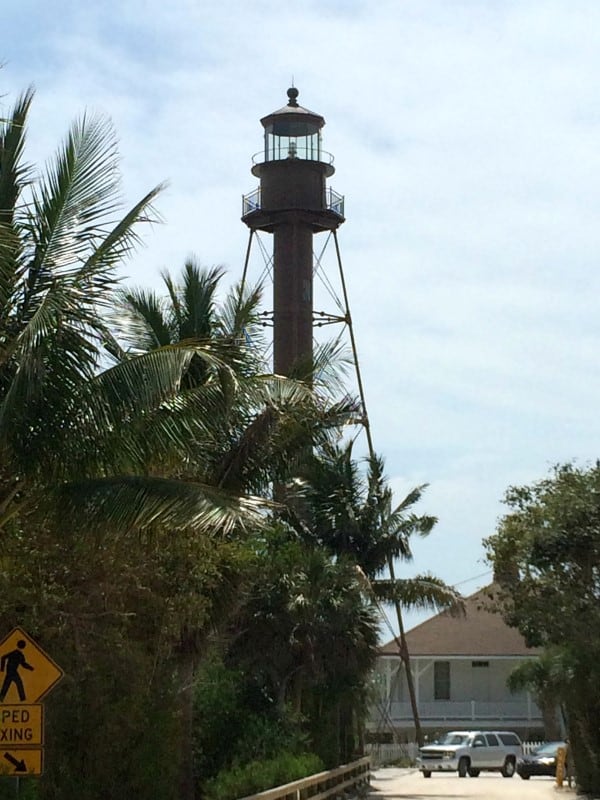 Before leaving Sanibel we had a little drive around and went down to the lighthouse. Along the way are small little inlets where happy people were wading in the water or catching a little piece of beach to call their own.
The lighthouse was constructed in 1884 and has continued to give regular and reliable service to travellers along the Florida west coast. Since 1950, the property at the lighthouse is a wildlife refuge.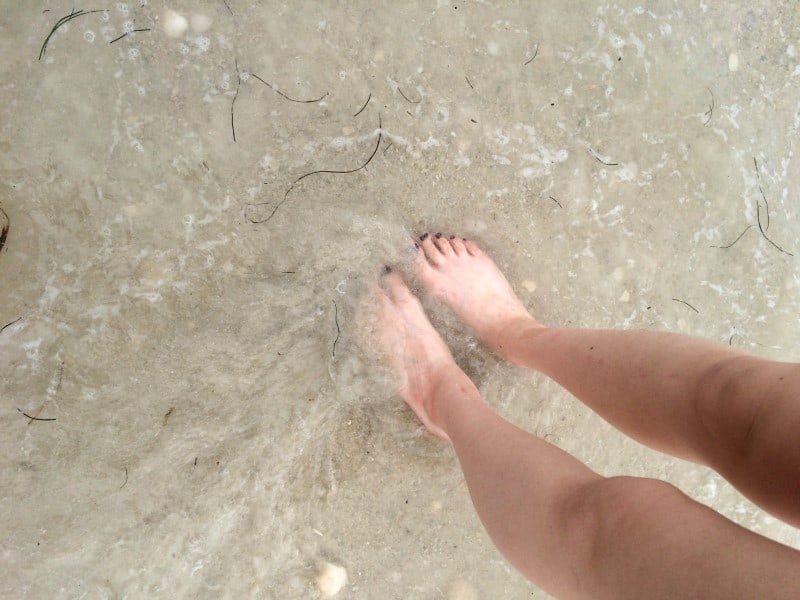 We stopped along the way home, as there are beaches all along the causeway. You have to dip your feet in the ocean as soon as you can in Florida!! While we were going home along the causeway it was very noticeable that one side was very windy with choppy seas. Taking advantage of that were kitesufers enjoying the fantastic winds, another great activity for the adventurous. The pelicans, gulls and seahawks were also enjoy the high breezes.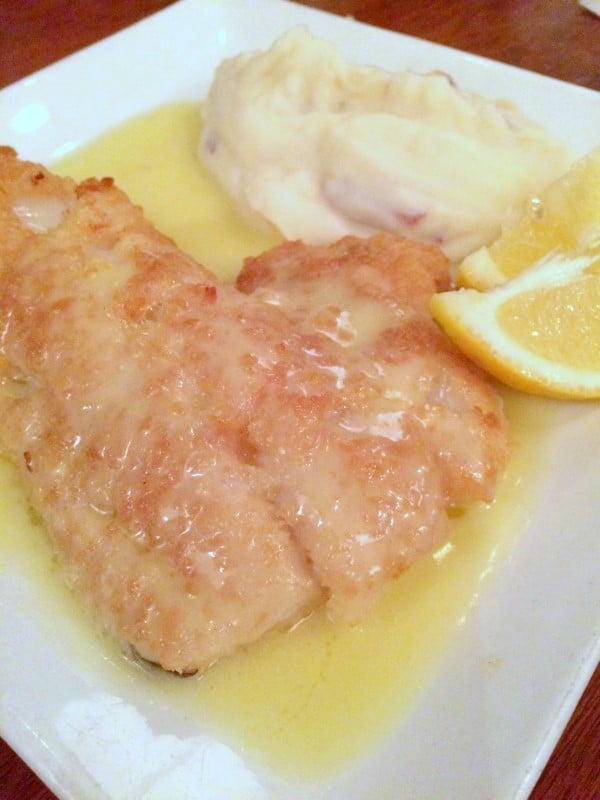 That night was Easter and we wanted something special. I have to say getting a late reservation in the Fort Myers Florida area seemed to be difficult. The latest I could get was 7:30 pm and we like to dine later on vacation but this could be due to the older generation likes to dine earlier and the restaurants in this area cater to that.
We decided to dine at University Grill that evening. We had an amazing meal and I think the star of the show was my astounding Boston Baked Haddock "Parker House" with lemon beurre blanc. The haddock with this sauce tasted like lobster, it was a very memorable meal.
Our server Amy was of the highest quality, very friendly and attentive, even though she must have been tired as they had served 800 people that day from 1-8 pm. She also recommended the restaurant that we dined at the next day.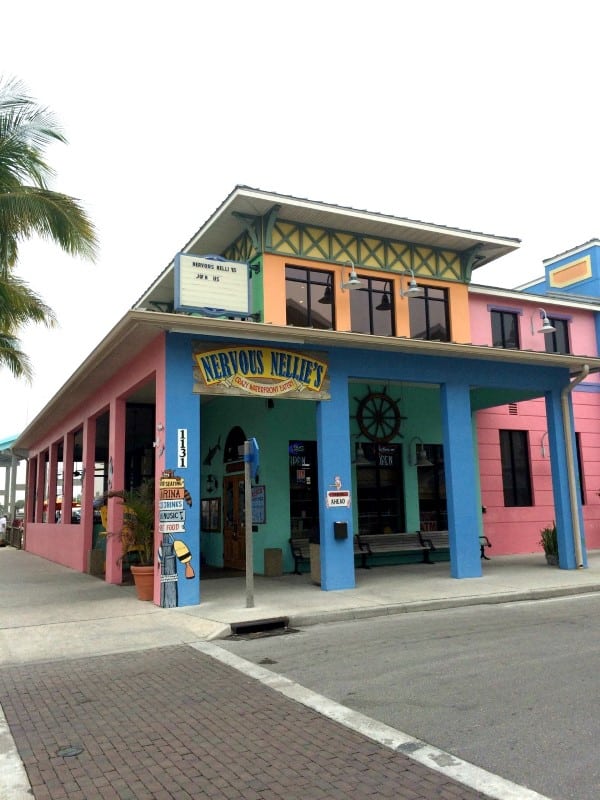 The next day we decided to venture over to Fort Myers Beach. There is only one access to the beach from the main land and that is over a bridge. It was a very busy day and we were in line for over an hour to get over the bridge. All that is happening in the world for spring break is at the beach. With the traffic the way it was, it was virtually impossible to find parking at the water's edge so I recommend to go early to catch a great spot for parking and for the beach.
We ventured over to Amy's suggestion, the waitress from the night before had said that she love to go to the marina and dine at Nervous Nellie's. Well were enamoured with the name and we were into watching some boats float by, the perfect location. It was a cloudy, kind of foggy day but still very warm and perfect for outdoor dining.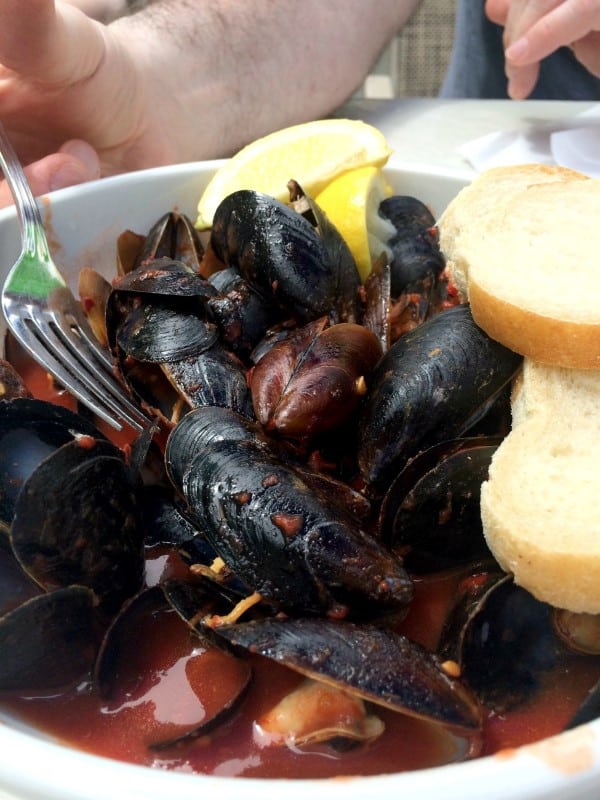 We got a big mess of spicy mussels to share and for me a big frozen margarita to wash them down with. Amber got a smoothie and Ken a beer. For the mains, I stuck with a big fruit and green salad and Amber the quesadilla.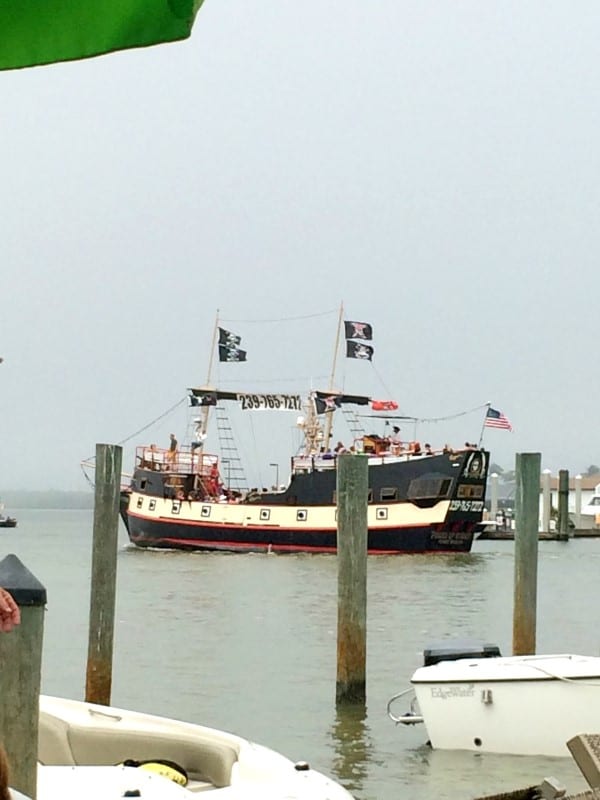 The boats sailed by as we dined and also a poor unfortunate man took a bit of dip into the water as he was trying to dock his boat, fortunately he was fine. There was lots of activity on the dock that day with kids jumping off a high section of the bridge, fishing and live music.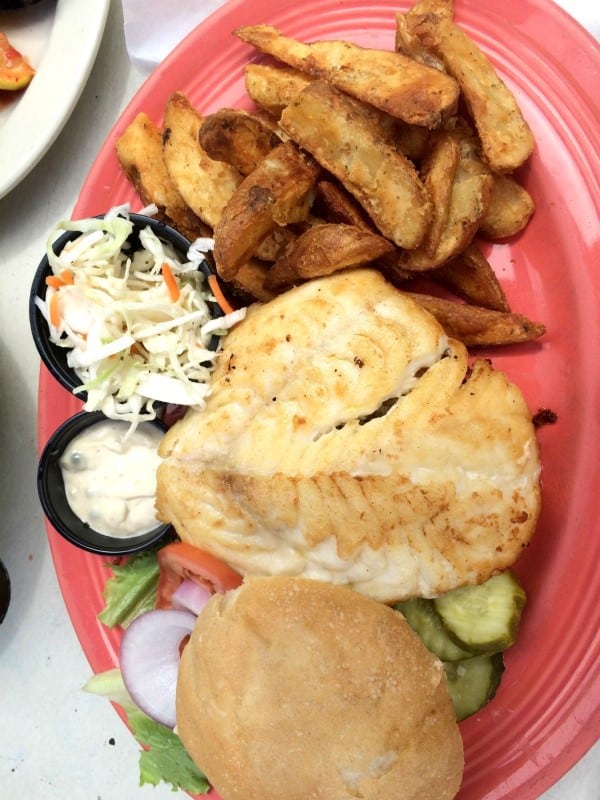 Nervous Nellie's menu selection is outlandish with just about everything you can think of. The waitress, also named Amy was a great help in whittling down the choices for us. Ken dove into a gorgeous looking grouper sandwich.
For the rest of the afternoon we popped in and out of shopping areas. There are outlet malls like Miromar outlets, Super Target, Super Walmart and a small outlet called Tanger Outlets, very close to our hotel that we did most of our shopping in.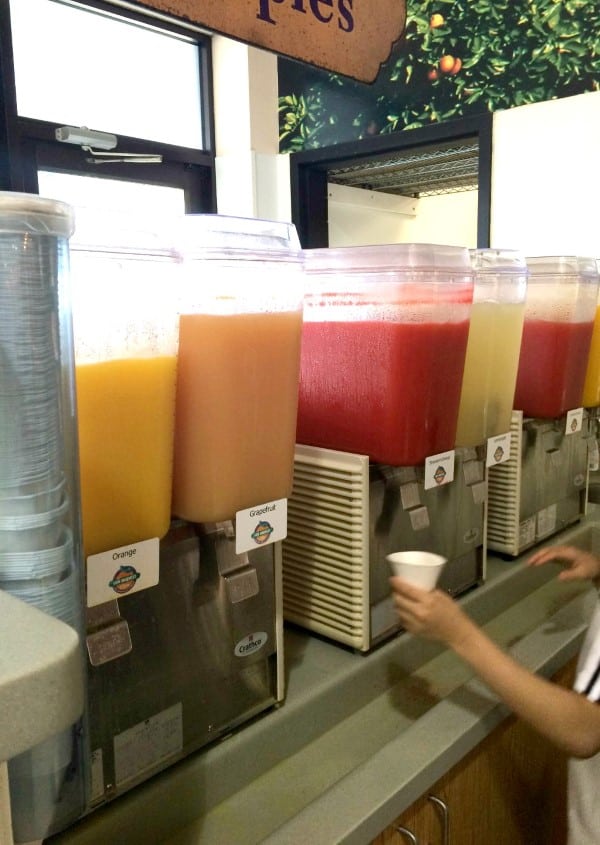 On our final day of our four night stay, we went to Sun Harvest Citrus where you see Amber carrying her wonderful free citrus bag at the beginning of the post. Look through the flyers and magazines in the local hotels for discounts and coupons, these will help you save money. The juice as the Sun Harvest is free too and a great treat for the kids. We purchased freshly squeezed lemonade, nothing beats homemade!!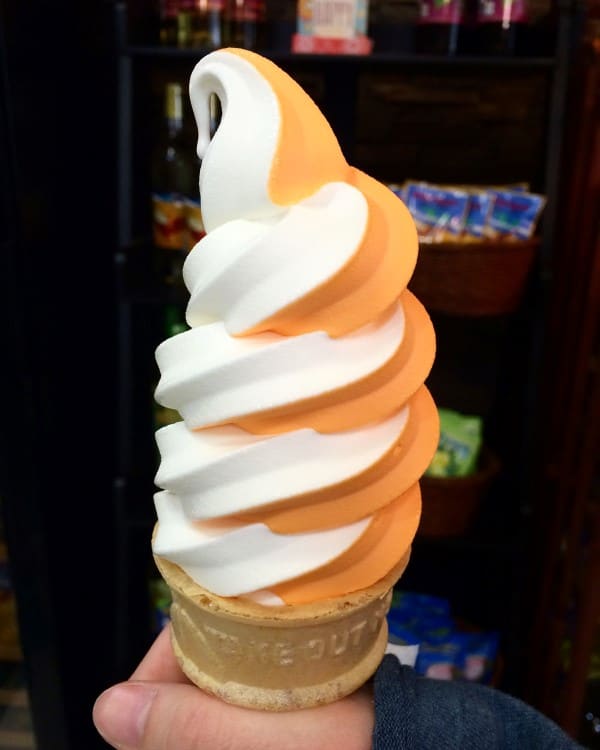 Not only does Sun Harvest Citrus have fresh citrus, juices, gifts, jams, jams, jellies, teas and more but they have delicious ice cream too. Look at this gorgeous cone, I know you want a lick!!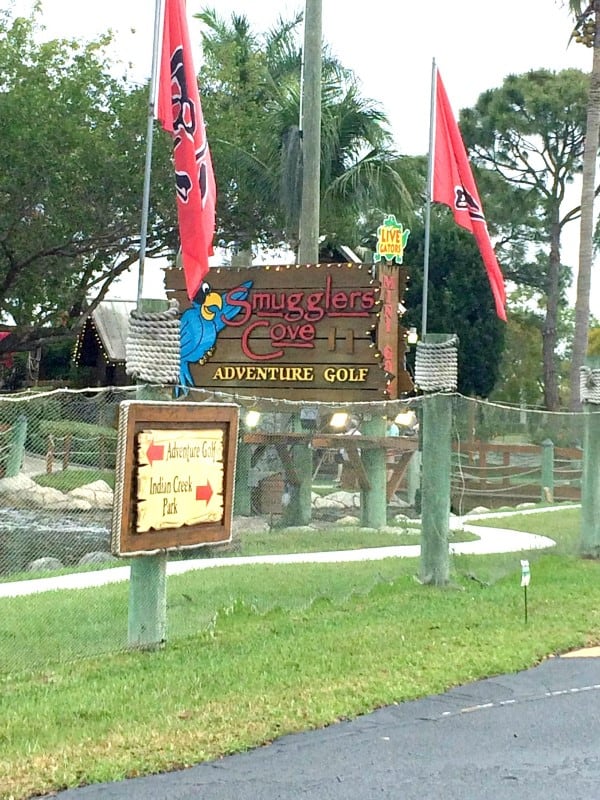 There are lots of activities for families to do such as Smugglers Cove Adventure Golf. This was one of the nicest courses I have ever seen. We also drove past Zoomers, which had go carts, bumper boats, mini golf and more.
Fort Myers Florida also has two other great attractions, the winter homes of Thomas Edison, Seminole Lodge and Henry Ford,The Mangoes. There is a historical museum and 21 acre botanical gardens on the property to explore.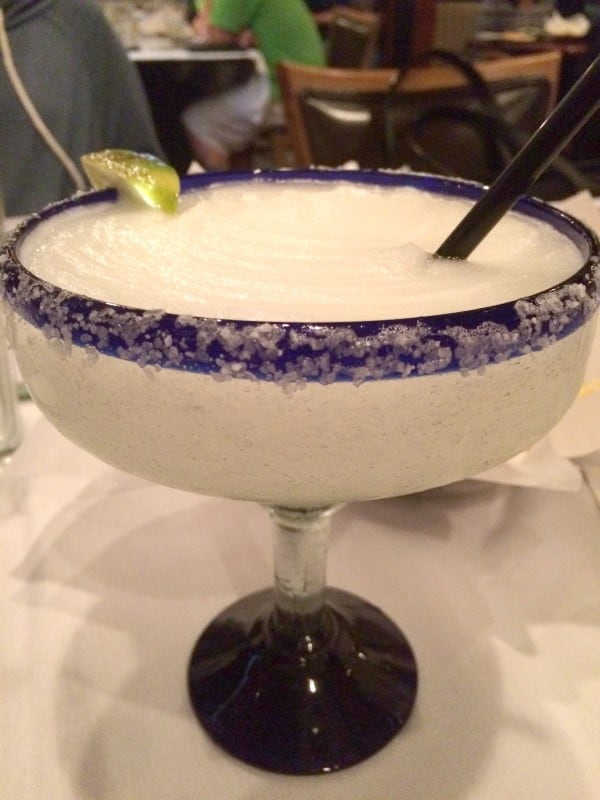 From my experience when it rains in Florida it comes down like cats and dogs and then is all over fairly quickly. Enough time for us to pop into a movie and see My Big Fat Greek Wedding 2. We should have gone for Greek food after that but at Bell Tower Shops (another great area to shop) we discovered this highly recommended Mexican restaurant, Cantina Laredo. They have the best margaritas north of the border!!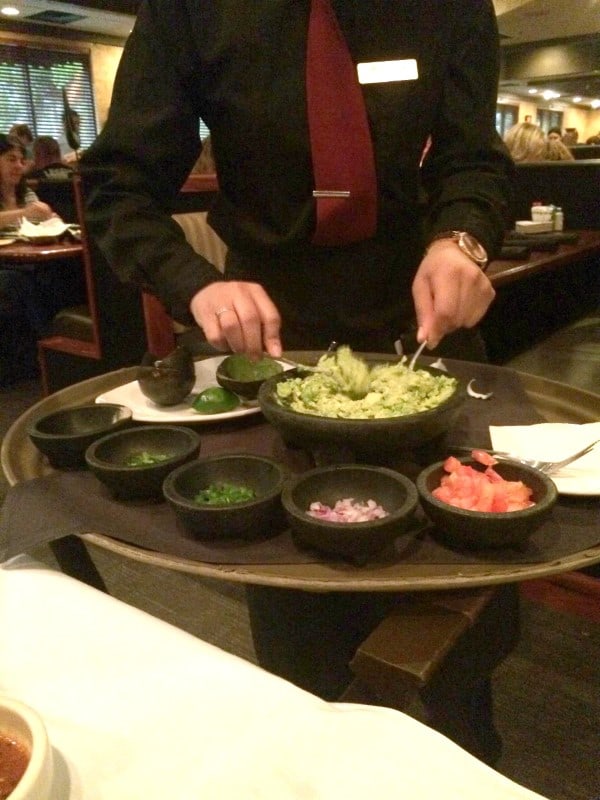 Sorry the pictures are pretty dark but you get the gist of table side fresh guacamole, truly awesome!!
Come and enjoy some Fort Myers Florida your way. Relax, explore, dine and play! Y0u can follow along with Visit Florida on Twitter, Facebook, Youtube, Pinterest and G+. Use the hashtag #LoveFL to follow along!