Fresh Vietnamese Summer Rolls
These Fresh Vietnamese Summer Rolls don't really depict summer to me as we have them all year round. Just like spring rolls aren't eaten just in the spring. This post first appeared over at Real Housemoms where also I'm a contributor. Today I wanted to share it with you here! Another name for these summer rolls is Vietnamese Spring Rolls.
They are not complicated to make and they are super healthy especially loading them with lots of fresh veggies. The peanut dipping sauce makes it fun for kids to enjoy also!!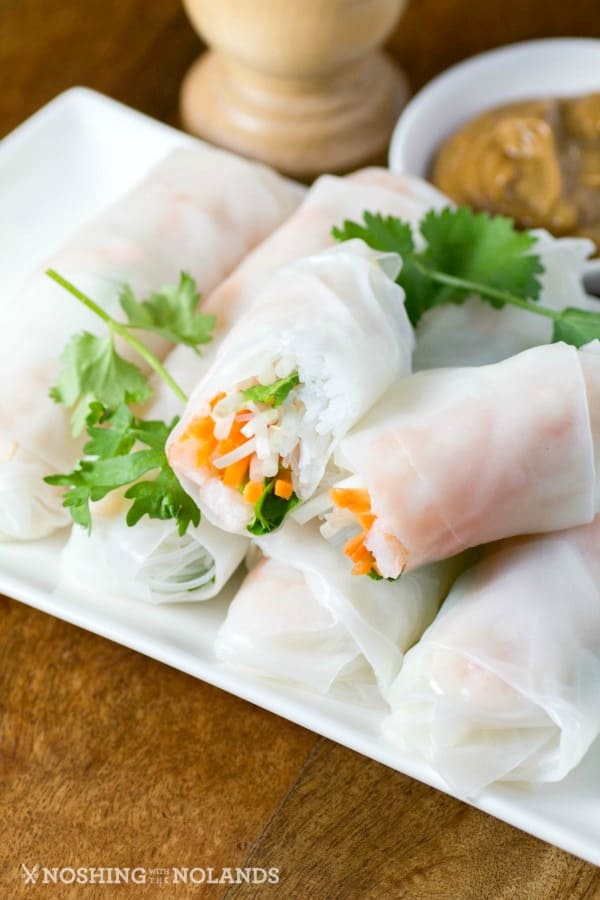 Fresh, fun and lively flavors make up these great rolls. They can be served easily as a make ahead appetizer or as part of a main course. They would go great with an Easy Vietnamese Pho for a delicious Asian dinner. Ken has made these many, many times and we love them. I am dying for them already again!!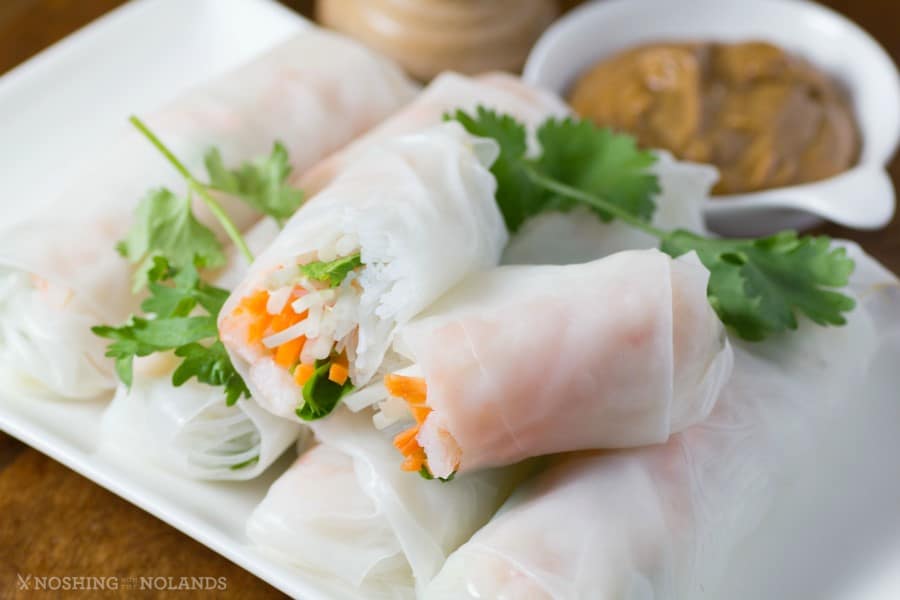 I do crave these a lot and get them from the store already made but they are no way close to this wonderful homemade recipe. They are always disappointing in comparison. Make some for your family today. They will love you for it!!
The Recipe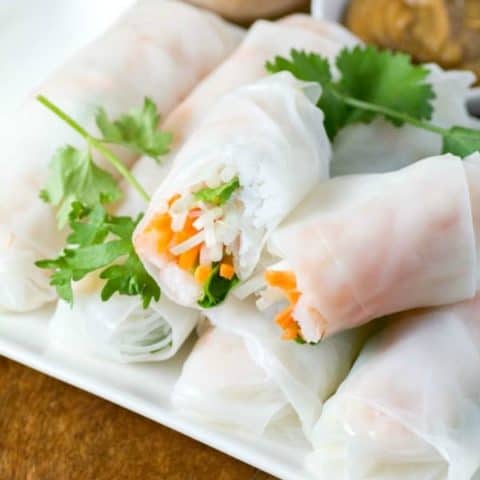 Fresh Vietnamese Summer Rolls
Yield: 10 rolls
Prep Time: 30 minutes
Total Time: 30 minutes
Ingredients
A dish containing 3 Tbsp. warm water (a pie plate works well)
10 rice paper wrappers
Julienned carrots, prepackaged, about equal to one carrot
1 small cucumber, julienned
Bean sprouts
1 oz. cooked rice vermicelli noodles
Fresh mint and cilantro
16 cooked shrimp, cut in half length-wise, chilled
Peanut Dipping Sauce
1/4 cup smooth peanut butter
2 1/2 Tbsp. Hoisin sauce
2 Tbsp. soy sauce
1 clove garlic, crushed
1 Tbsp. lime juice
3 Tbsp. warm water
Instructions
Whisk together the peanut dipping sauce ingredients and then set aside.
Have all your ingredients ready and out for easy assembly.
Working with one rice wrapper at a time, dip the wrapper into the water for 15-20 seconds. Don't let it get too soggy, you want it still slightly firm but pliable. Place it on a flat surface, it may stick slightly to wood. Pat the wrapper sightly dry. Place three halved shrimp lined up on the lower half of the wrapper, top with carrots, cucumber, bean sprouts, rice vermicelli, mint sprig and cilantro leaves.
Roll up the summer roll like a spring roll or burrito, folding in the bottom and sides and place on a serving dish. They may stick to each other slightly but usually pull apart fairly easily. They are best eaten the day of but will keep for lunch the next day if wrapped well with plastic wrap.
Serve with the peanut dipping sauce, hoisin and sriracha.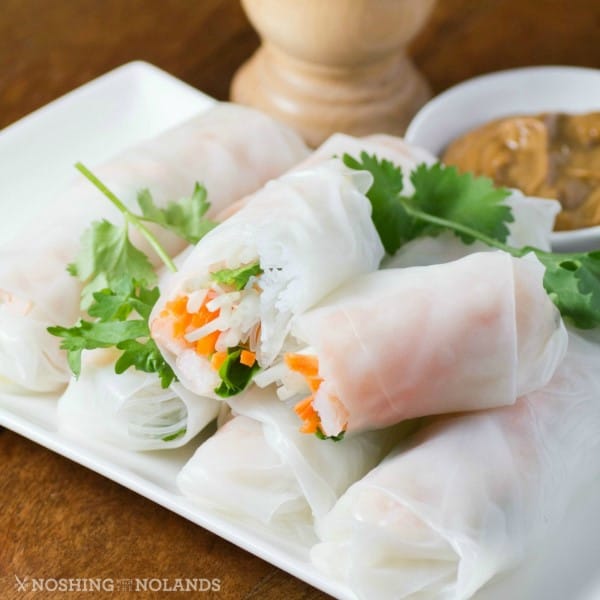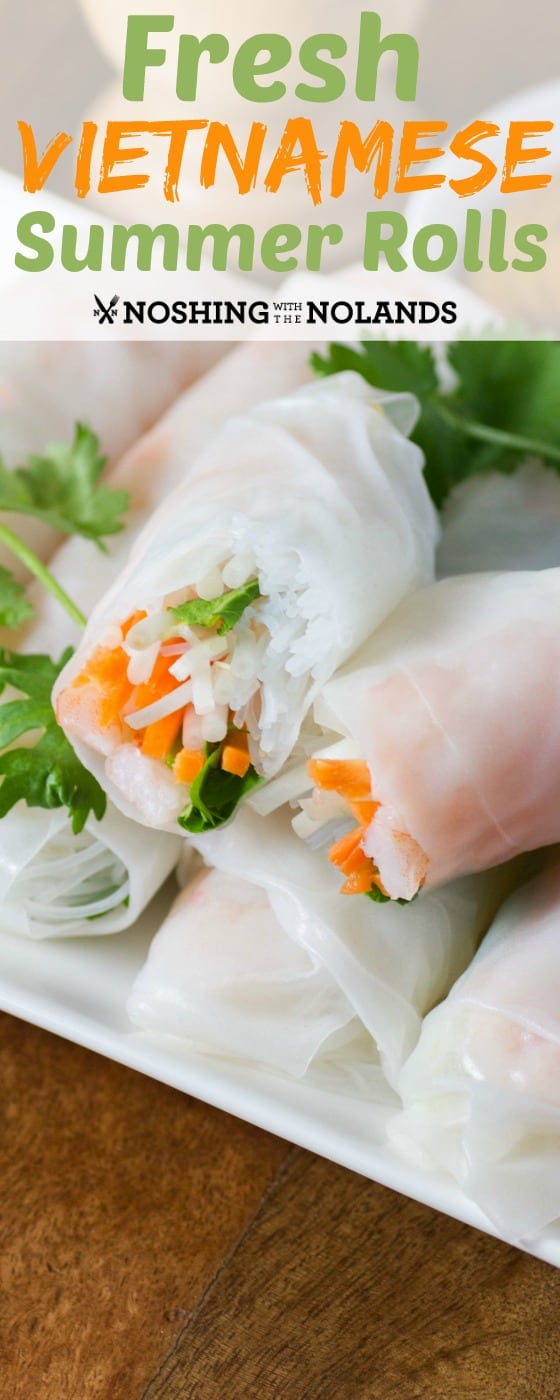 Here is the delicius Easy Vietamese Pho that would be wonderful with these Fresh Vietnamese Summer Rolls. The Pho recipe is super easy and so full of wondefully healthy ingredients also. It is one that we have made many times too!