Creamy goat's cheese polenta, topped with fresh seasonal vegetables – asparagus, sugar snap peas, and portobello mushrooms – all cooked up in garlic butter (my preferred ingredient to slather on the veg!).
I am so thrilled to have Becca here today while I am in Chicago for a very-needed break. Becca has my favorite vegetarian blog. Many, many amazing dishes that will have you never be missing or even thinking of meat. Come and have a look around on her site, Amuse Your Bouche, stay a while and drool through her amazing recipes one after another like, Creamy Spring Vegetable Soup or Yellow Thai Curry Coconut Fried Rice or Roasted Cauliflower and Chickpea Quinoa Salad with Jalapeno Lime Dressing just to name a couple. I now give you Becca!!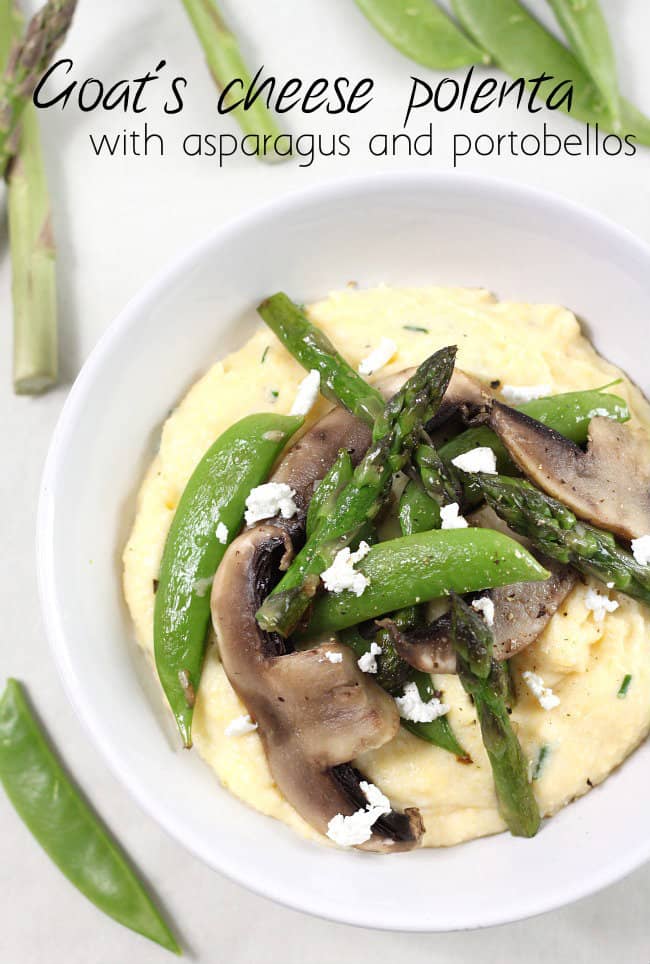 Hi! I'm Becca from Amuse Your Bouche, thanks for having me here today! I recently went away on my honeymoon and Tara was a great help to me while I was away (she guest-posted for me with her awesome Greek stuffed tomatoes), so I'm very happy to be able to return the favor!
If you've not stopped by my blog before, let me give you a quick summary of what it's all about: it's a light-hearted blog (i.e. I try to be funny sometimes, with varying degrees of success), full of simple vegetarian recipes that, more often than not, contain about twelve times the recommended daily allowance of cheese. So if you're a cheese-loving veggie like me, I'd love to see you stop by one day! And, since all my recipes are approved by my carnivorous husband, I guess you meat-eaters might find something you like too.
I've actually only cooked with polenta a couple of times. It never used to appeal to me too much – childhood memories of sloppy semolina sort of put me off trying it (whoever decided that semolina could be classed as a dessert?!). But I went to a cookery class the other week, during which we made polenta fries, and now I've been totally converted. After a bit of experimentation, I've decided that polenta actually makes a great quick meal – and talk about comfort food!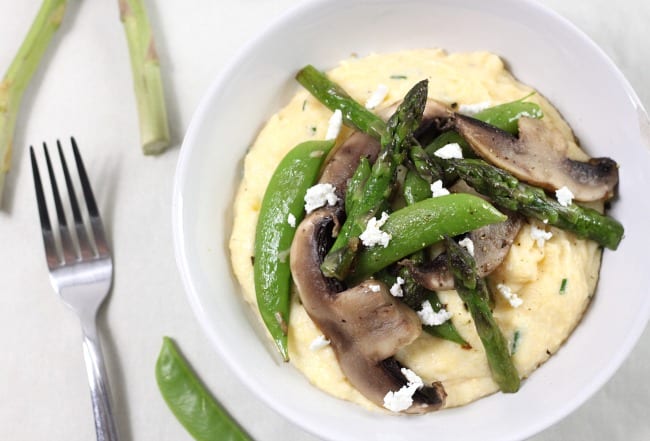 I'll admit, I'm still not 100% convinced about the texture of the polenta on its own, but once you add your crisp, garlicky vegetables, it just adds a wonderful heartiness to your dinner – a bit like mashed potato, but much, much quicker! If you use quick-cook polenta, it literally takes just a minute or two to cook. Plus, since it's made from corn, it's naturally gluten-free, so if you follow a gluten-free diet, polenta makes a great alternative to pasta when you fancy something that will stick to your ribs.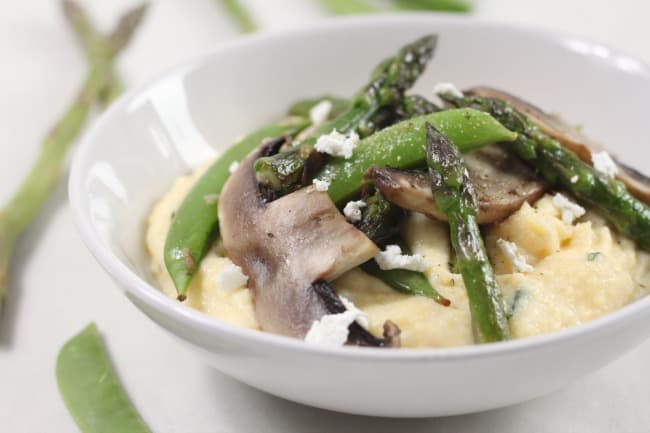 I also find it strangely comforting to eat dinner from a bowl. No? Just me?
Goat's cheese polenta with asparagus and portobellos
Serves 2-3
2tbsp butter, divided
100g sugar snap peas, trimmed
150g asparagus, trimmed and cut into 2-inch pieces
2 cloves garlic, minced
2 portobello mushrooms, sliced
150g quick-cook polenta
750ml hot vegetable stock
100g goat's cheese, roughly crumbled
2tbsp fresh chives, chopped
Black pepper
Melt half of the butter in a frying pan, and add the sugar snap peas, and asparagus. Cook over fairly low heat for a few minutes, and then add the garlic and sliced portobellos. Continue to cook for another 5 minutes or so, until the vegetables are just tender.
While the vegetables are cooking, prepare the polenta. Add the polenta to a pan with the stock, whisk thoroughly, and cook according to the instructions on the packet. My polenta cooked pretty much instantly without even putting it onto the hob, but you might need to put it over the heat for just a few minutes, whisking constantly.
When the polenta is no longer grainy, make sure it is at your desired consistency – if you would like it thicker, just whisk it over the heat for a minute or so, or if you would like it to be thinner, just add an extra dash of water. I personally think it's best served fairly thin so that it just falls off the spoon.
When the polenta is ready, add the remaining butter, goat's cheese, chives, and plenty of black pepper. Mix well until the goat's cheese has melted. Serve warm, topped with the vegetables and extra goat's cheese if desired.
If you want to prepare your polenta in advance, you can reheat it later, but it will probably need another dash of water since it thickens up a lot when cooled.