Green Bean and Feta Salad
This weekend I have a couple of cookbooks for you that will make great last minute stocking stuffers or presents for the foodie in your life. The first one is Mason Jar Salads and more by Julia Mirabella. From this great little cookbook of 50 Layered Lunches to Grab and Go I selected Green Bean and Feta Salad.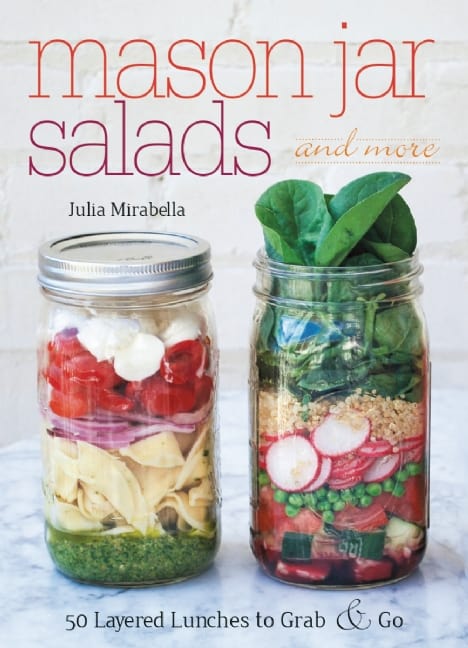 You can have these wonderful salads with no morning prep required. The Mason Jar Salads and more cookbook will show you how to create fun and easy layered lunches, snacks and more.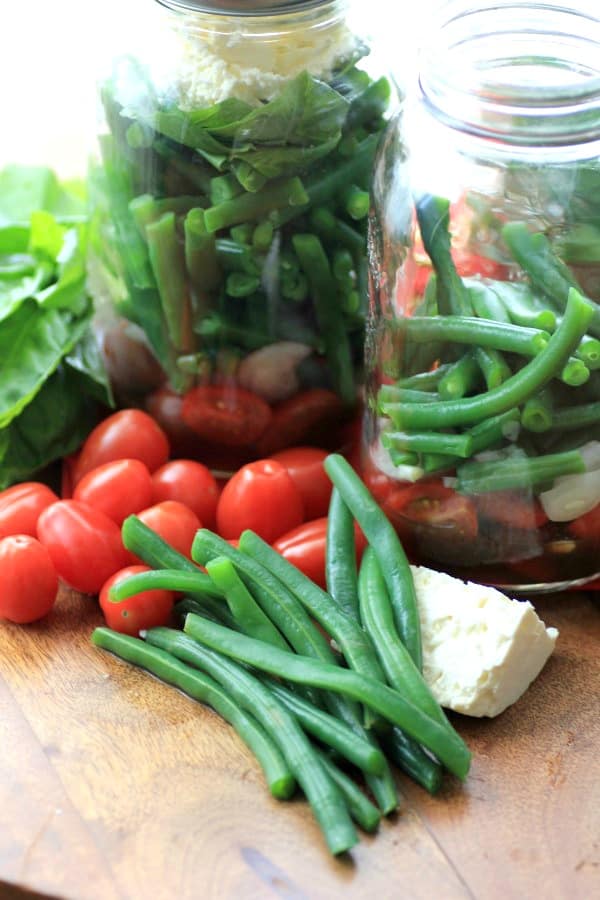 This is a great winter salad that will add some life back into your day. I could have a salad every single day in some form. Love the freshness. Packing veggies into a jar for a lunch is sheer brilliance. I made up three of these jars and absolutely loved them!!
Thanks to mason jars and a layering technique with the salad dressing on the bottom, you can make delicious dishes ahead of time. When you are running out the door you can have your lunch in tow.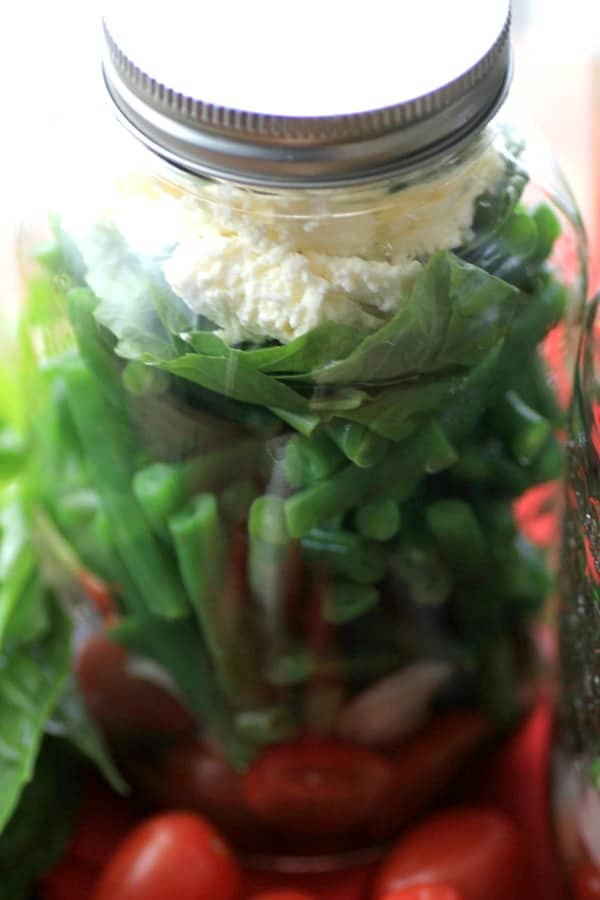 I love green beans and never seem to get enough of them. I love the crunch and squeak of a perfectly cooked green bean!
In this delightful cookbook there are 50 recipes to choose from. To start your day are breakfast smoothies like Peach and Strawberry Smoothie. To continue on with lunch are salads like Arugula, Pine Nut and Parmesan, or Kale and Avocado or Asian Greens or Caesar Salad. Then their are cooked meals like Asparagus Risotto or Chicken Tortilla Soup. The cookbook finshes off with salsa and dips, all brought to you in simple mason jars.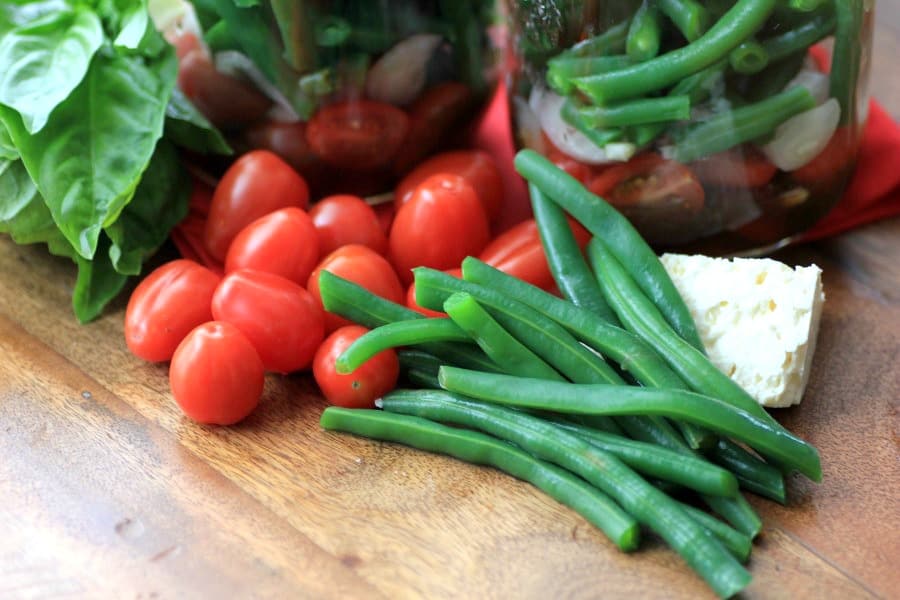 Julia Mirabella grew up in an Italian household that taught her to love cooking with fresh ingredients. Julia found that when starting her first job as an attorney she had less time and long hours. She found herself eating out every day for lunch and knew she had to make a change. So she started to make salads in Mason Jars as a way of eating better. You can follow her blog at My Food and Other Stuff. Julia resides in Washington, DC.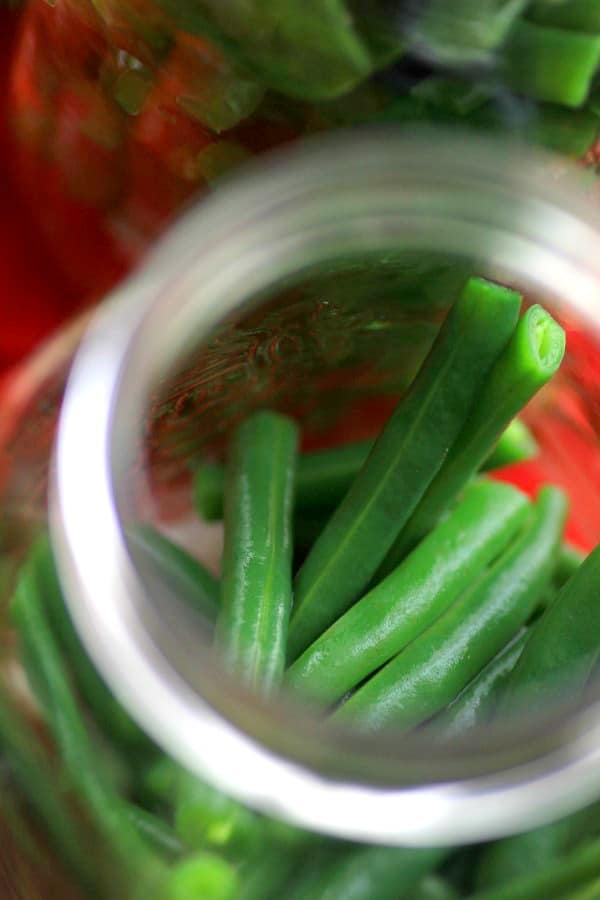 The Recipe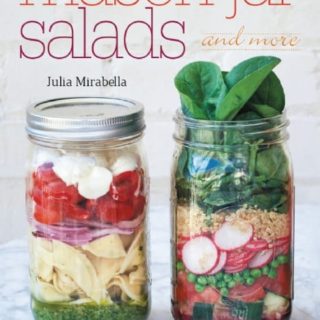 Green Bean and Feta Salad
Yield: 1-2
Prep Time: 10 minutes
Cook Time: 5 minutes
Total Time: 15 minutes
Brightly colored and with a satisfying crunch, green beans don't need much to improve them — as long as you don't overcook them! Steam or boil your green beans to get maximum flavor out of them.
Ingredients
3 cups green beans
2 1⁄2 tablespoons Balsamic Vinaigrette
3⁄4 cup halved cherry tomatoes
1⁄4 cup thinly sliced shallots
6 or 7 basil leaves
2 ounces crumbled feta cheese
1 quart-size Mason jar
Balsamic Vinaigrette
1 tablespoon balsamic vinegar
1 teaspoon honey
pinch of salt
freshly ground black pepper, to taste
3 tablespoons olive oil
Instructions
Trim the ends from the green beans; cut the beans in half crosswise. Bring a pot of water to a boil over high heat (don't salt the water), add the beans, and boil for 5 minutes. Transfer the beans to an ice-water bath for a minute to stop the cooking process and preserve their color. Drain.
When the green beans have cooled, layer the salad ingredients in the Mason jar, beginning with the vinaigrette and continuing with the tomatoes, shallots, cooked beans, basil leaves, and feta cheese. Seal and refrigerate until ready to use.
Balsamic Vinaigrette
Whisk together the vinegar, honey, salt, and pepper. Slowly add the olive oil, whisking, until the dressing thickens.