GREY GOOSE® Pour Masters Competition
I was cordially invited to an awesome event GREY GOOSE® Pour Masters Competition!! Annually GREY GOOSE® hosts a Pour Masters Competition. It kicked off in Calgary and then they travel to Vancouver, Toronto, and Montreal.
This is a competition were 12 bartenders in each city bring to the table their very best cocktails. In Calgary, the event was at The Living Room.
The winners from these four cities meet up with 5 other competitors in France at Grey Goose to find the ultimate winner whose cocktail will eventually be the toast at the next Oscars. Pretty exciting stuff!!!
It started off with Top French Mixologist, Ludovic Miazga who is the Global Ambassador for GREY GOOSE® showing the bartenders an array of fabulous cocktails.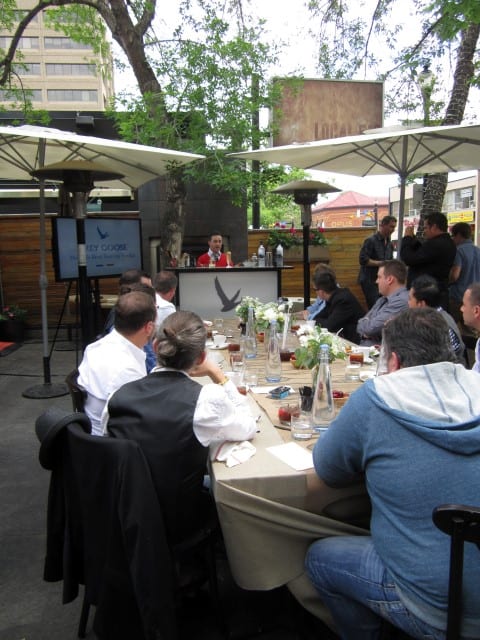 Some of Ludo's amazing creations!!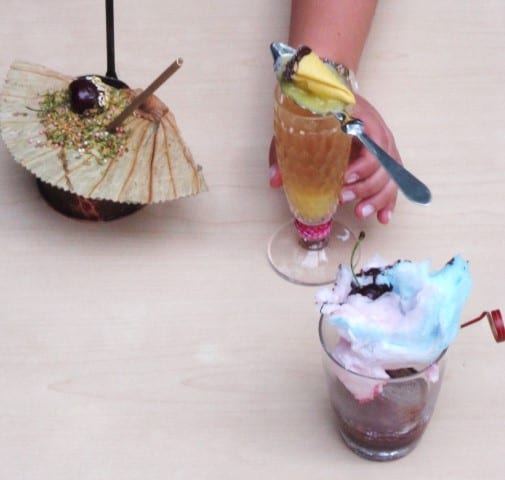 Here is the delicious sipper we were lucky enough to have called the GREY GOOSE® Cherry Fizz, with recipe included!!! Modeled by the lovely Colleen, who joined me as my guest.
GREY GOOSE® Pour Masters Competition
Yield: 1 Serving
Prep Time: 5 minutes
Total Time: 5 minutes
A delicious summer sipper!!
Ingredients
1 1/2 oz. Grey Goose Cherry Noir
1/2 oz. Freshly squeezed lemon juice
3/4 oz. simple syrup*
Top with club soda
Instructions
Fill the glass slightly above the rim with cubed ice.
Pour the first three ingredients in the order listed, to 1/2 " from the top of the highball glass and stir.
Top with soda. Garnish with a fresh black cherry.
*Dissolve 1/2 cup of sugar into 1/2 cup of boiling water and then let cool.
Nutrition Information:
Yield: 1
Serving Size: 1
Amount Per Serving:
Calories: 175
Total Fat: 9g
Saturated Fat: 3g
Trans Fat: 0g
Unsaturated Fat: 5g
Cholesterol: 39mg
Sodium: 36mg
Carbohydrates: 12g
Fiber: 0g
Sugar: 11g
Protein: 11g
Recipe calculation was provided by Nutritionix and is estimation only. If you need nutritional calculations for medical reasons, please use a source that you trust.
For the GREY GOOSE® competition this year, the 12 bartenders had to come up with a unique cocktail using GREY GOOSE® Cherry Noir. This vodka has been cultivated from the finest ripe black cherries. It combines the aroma of fresh cherries, sweet red fruits, dark fruit flavors, and layers of spice. Creating cocktails with this vodka is endless!!
The challengers also had to come up with a local ingredient and a French ingredient. The competition was on!!!!
Each contestant had 5 min. to speak about themselves, the establishment they work at and the inspiration behind their cocktail, while making their creation. Two cocktails were made for each.
One went to the three judges (Ludo Miazga, celebrity
mixologist Marian Beke, and Notable.ca's Daniel Sears) and the other went to be photographed and then passed down the table of bloggers for us to try.
Along with the cocktails they also passed around a charcuterie tray and a fresh fruit and dessert platter.
It was exciting to watch all of their cocktails being made and to see how very different they all were. The time came for the final judging and (drum roll please) the winner was announced.
The winner is Jimmy Nguyen from The Cube Lounge!!! He did an amazing cocktail using a cold brew coffee technique that combined Cherry Marnier, Tarragon, Gomme (sweetener), and fresh ground coffee, and of course GREY GOOSE® Cherry Noir. With his cocktail, he also served a cherry noir infused pate, stupendous!!
Click on the link to see Jimmy and his "Parasian" concoction.
While having only one winner there were two other mentions, Braden Astalos of Black Betty took second place for his Vanil Noir and Lee Peppinck of The Living Room followed close behind with third place for his Cherry Noir Sour.
Come and try this new vodka and become a mixologist on your own. ENJOY!!!