Grilled Asparagus Panzanella
Today we have Julie Wallace from The Texan New Yorker with a fresh spring dish for you. I love asparagus and grilling it, even better. I didn't have to look far on her site to be completely drooling when seeing this recipe, White and Dark Chocolate Pudding with NOLA Bourbon Sauce!!!
I would love for you to follow Julie on her tasty adventures on Facebook and Twitter.
I now give you the lovely Julie!!
Hello, Noshing with the Nolands readers! I am so excited and honored to be guest posting for Tara today! She asked me to do something Spring-y for today, and as I'm just as sick of this bitterly cold winter as you, I was happy to comply. Spring sounds like a fine idea (hint, hint Mr. Groundhog!).
Spring makes me think of two produce items in particular: rhubarb, and asparagus. Unfortunately, my area of the general northeast United States doesn't really get much rhubarb until late April/early May, so that was out. But the asparagus is blooming and looking gorgeous right now – so, easy decision made!
For whatever reason, lately I haven't been able to get the idea of panzanella out of my head. And even though it's more of a summery dish, I thought I could adapt it to a spring preparation – using grilled asparagus!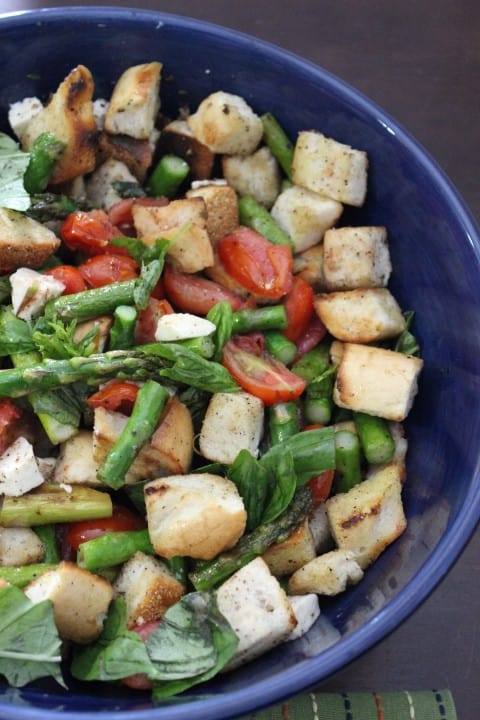 Well. This was amazingly delicious. My husband and I scarfed it for dinner one night. It sated my panzanella craving, and the grilled asparagus was a lovely addition. I did choose to lightly char the cherry tomatoes.
I think we would all agree that winter tomatoes need a little help in the flavor department, so I threw those on the grill too. It worked beautifully, but if the tomatoes are looking good in your area then of course feel free to leave them as is. I hope y'all enjoy this one. And thanks so much Tara for allowing me to take over your wonderful blog for a day!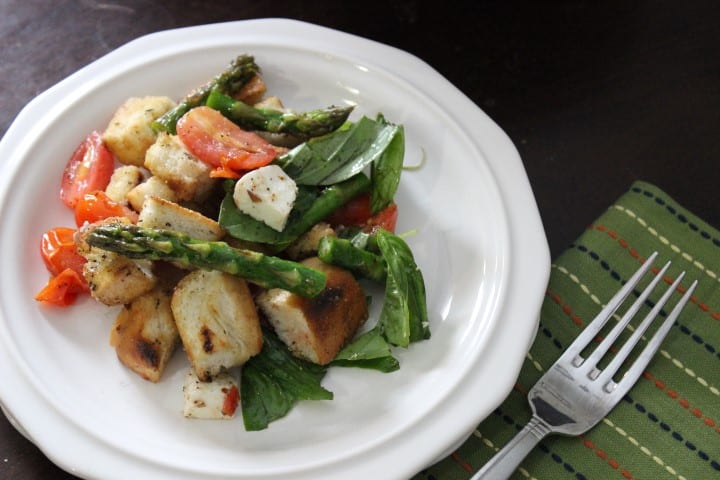 Source: adapted from Homemade with Love by Jennifer Perillo
Grilled Asparagus Panzanella Recipe
Ingredients:
2 cups cubed day-old baguette or Italian loaf
1 tsp dried Italian seasoning
2 tbs grated Parmesan cheese
Kosher salt and black pepper
2 tbs unsalted butter
3-4 tbs extra-virgin olive oil, plus more for grilling
2 tsp cider vinegar
1 tsp honey
1 bunch of asparagus, tough ends snapped off
1 pint cherry tomatoes
3 oz. fresh mozzarella, cut into small cubes
Handful of fresh basil leaves, torn
Directions:
Preheat a large skillet over medium heat. In a mixing bowl, add the bread cubes, Italian seasoning, Parmesan, plus salt and pepper to taste. Toss to combine. Melt the butter in the preheated skillet and add the bread cubes. Cook, turning occasionally, until golden all over and fairly crisped, 6-8 minutes. When they are done, add them to a large salad bowl. Set aside.
Make the dressing: in a small bowl, whisk together the olive oil, vinegar and honey. Season to taste with salt and pepper. Set aside.
Preheat an indoor or outdoor grill; half of the grill should be on medium heat, half on medium-high heat. Drizzle or wipe the grill with olive oil. Add the asparagus to the side heated on medium-high, and add the tomatoes to the half preheated to medium. Season both veggies with salt and pepper. Cook, turning occasionally with tongs, until cooked through and lightly charred, about 2-3 minutes for the tomatoes and 4-5 minutes for the asparagus. Remove the veggies to a bowl or plate when done.
Let them cool slightly, then chop the asparagus into bite-size pieces. Add to the bowl with the bread. Halve the cherry tomatoes, then add to the salad bowl.
Now add the mozzarella to the salad bowl. Pour the dressing over and toss well with tongs. Add the basil and lightly toss again. Serve immediately.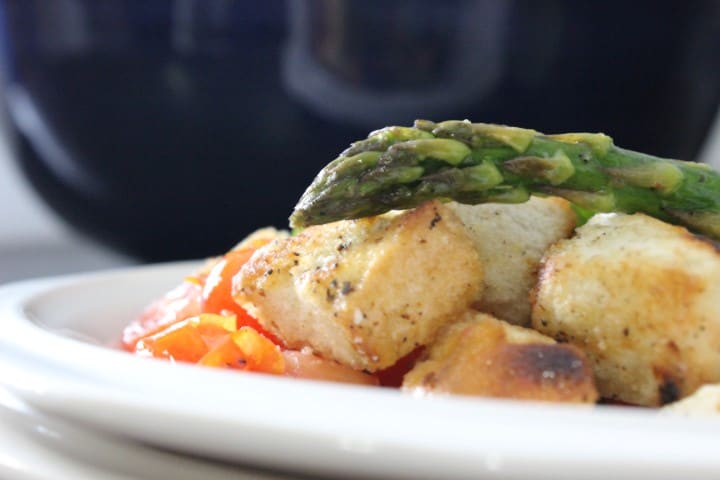 Link to credit the cookbook I used: http://www.amazon.com/Homemade-Love-Scratch-Cooking-Jennies/dp/0762447230
Book author's blog: http://injennieskitchen.com