Grilled Peach Shortcake
I love fruit in season and peaches are so fabulous when they are fresh, sweet, and juicy. Love them!! I have seen many recipes using grilled peaches and then came up with this Grilled Peach Shortcake.
You may think that is chocolate sauce drizzled on the peaches but not it is the balsamic reduction and it is fabulous!!! Grab some peaches and give this recipe a try. If you don't want to make your own cake the little cakes that you make strawberry shortcake would work great too!!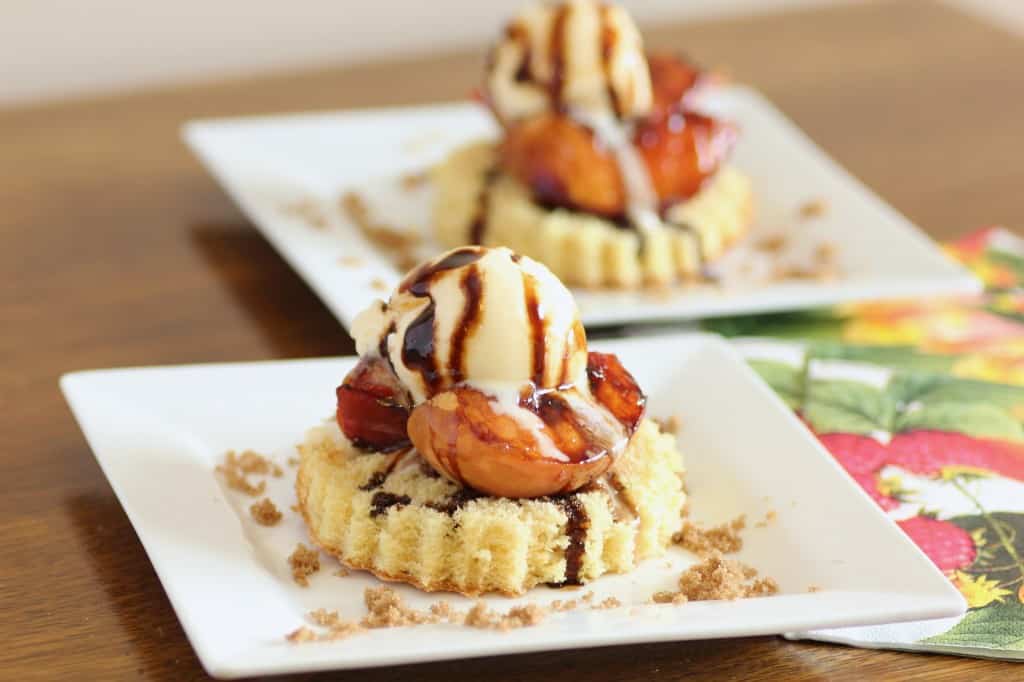 Recipe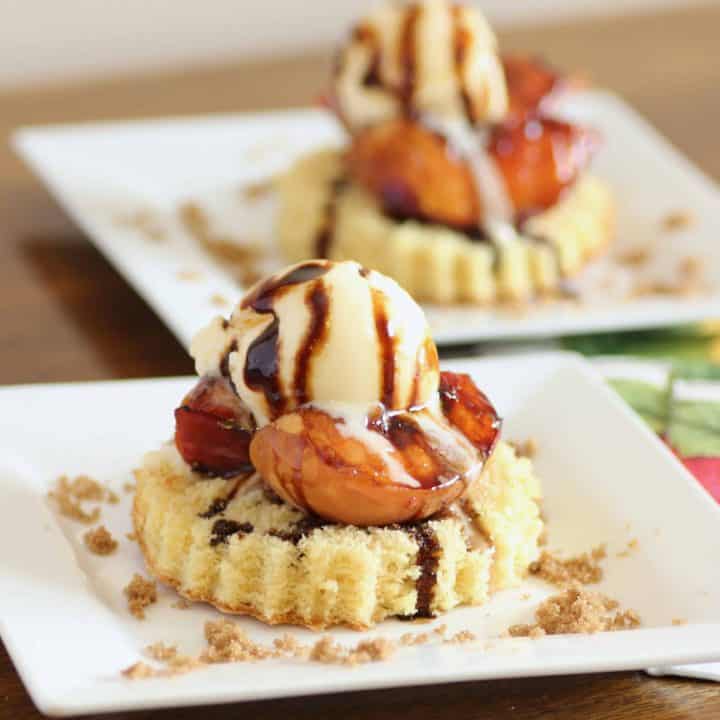 Grilled Peach Shortcake
Yield: 6 Servings
Prep Time: 10 minutes
Cook Time: 10 minutes
Inactive Time: 20 minutes
Total Time: 40 minutes
An unusual pairing makes a fabulous dessert!!
Ingredients
One white cake, 8" round sliced in half horizontally and cut into 4" circles, 6 pieces
3 peaches sliced in half and the pit removed
9 tsp. balsamic vinegar
18 tsp. brown sugar
Vanilla ice cream
Balsamic reduction for drizzle
Brown sugar for garnish
Instructions
Brush each half peach with 1/2 tsp. balsamic vinegar and sprinkle on 1 tsp. brown sugar. Let sit for 20 min. Meanwhile heat up the BBQ to medium heat. Place flat side down on the BBQ and brush 1/2 tsp. balsamic vinegar on the rounded side of each peach, sprinkle with 1 tsp. balsamic vinegar. When the peaches have nice grill marks turn them over and repeat the glaze with 1/2 balsamic vinegar and 1 tsp. brown sugar to each half.
Place the cake rounds on a plates. Slice the peaches in half and place the two slices of peach onto each cake. Place one scoop of vanilla ice cream on top of the peaches. Drizzle with the balsamic reduction and garnish the plate with a little brown sugar. Wow, are these good.
Nutrition Information:
Yield: 6
Serving Size: 1
Amount Per Serving:
Calories: 180
Total Fat: 4g
Saturated Fat: 2g
Trans Fat: 0g
Unsaturated Fat: 2g
Cholesterol: 10mg
Sodium: 64mg
Carbohydrates: 35g
Fiber: 2g
Sugar: 30g
Protein: 2g
Recipe calculation was provided by Nutritionix and is estimation only. If you need nutritional calculations for medical reasons, please use a source that you trust