Father's Day is coming up very soon and we want to celebrate dad in a big way on our site. Ken is a big part of our blog here, contributing lots of wonderful recipes. So when I was approached by GourmetGrillware to do a giveaway I jumped at the chance. I am thrilled to show you this amazing recipe for Grilled Wild Scallops done on our new grillware right on the BBQ!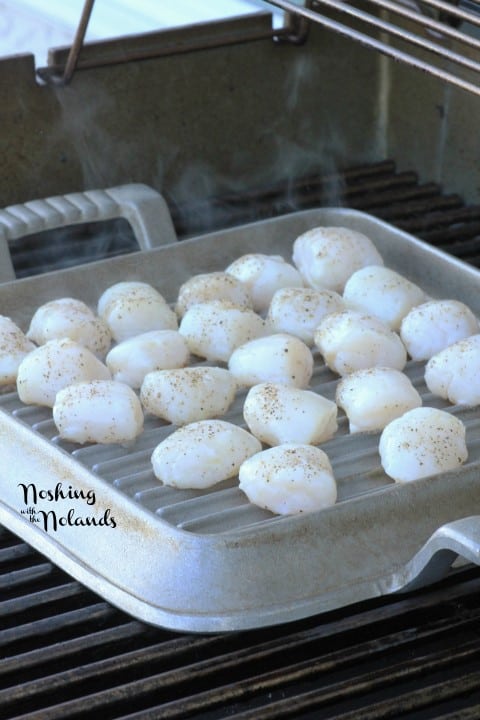 Ken received an early Father's Day gift with this beautiful grill pan for his new BBQ. He was excited to try it out so I went to the grill master Bobby Flay to see if he could help me out with a delicious recipe. I adapted this one that I am showing you today into something very simple and fresh that is easy to whip up and if dad is a seafood lover, you will be getting big hugs from him, in making his day just that much better.
GourmetGrillware" target="_blank">Gourmet Grillware products can not be put in the dishwasher, but with a light coating of oil before use, they cleaned up like a dream. I don't put things like this in my dishwasher anyway so that is not a big deal. They are also not microwave safe but you wouldn't be able to fit this in your microwave anyway.
What is lovely is that many of their pieces can go right from the BBQ to the table. Their dishes are beautiful, and never need polishing!!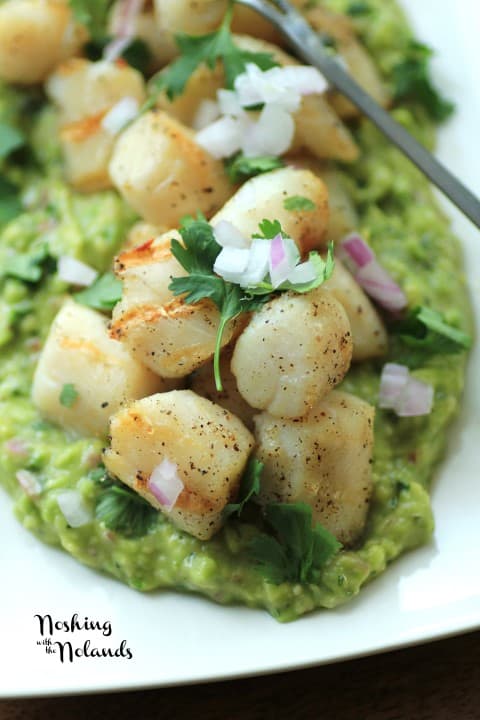 Scallops are a treat here, something that I have grown to like but have been Ken's favorite for a long time. These were so tender and delicious and paired so lovely with the citrus avocado puree.
Using this grill pan was a real joy. You can't do scallops this size on the BBQ without the fear of losing so many through the grill or that they cook unevenly as they don't lie flat. The square griller gives uniform heat and it is easy to maneuver with the handle.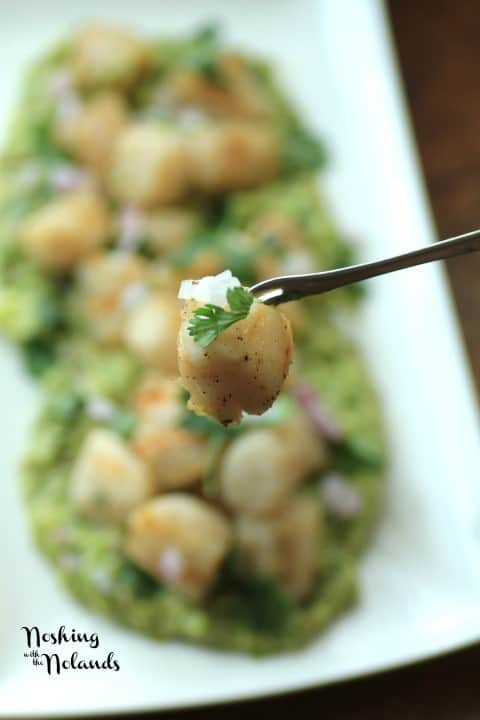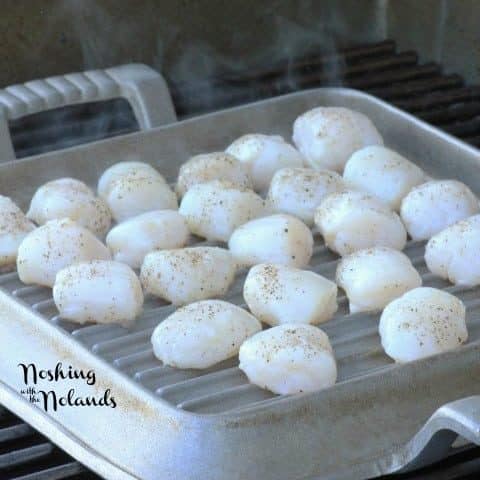 Grilled Wild Scallops with Avocado Puree for #Gourmet Grillware #Giveaway
Yield: 3-4
Prep Time: 10 minutes
Cook Time: 6 minutes
Total Time: 16 minutes
A scrumptious treat for dad for Father's Day using Gourmet Grillware
Ingredients
20 medium wild scallops
Olive oil
Salt and pepper
Avocado puree
1 ripe avocado, peeled and chopped
3 Tbsp. red onion, chopped, divided
2 limes juiced
3 Tbsp. olive oil
1/4 cup fresh cilantro, chopped, more for garnish
Salt and pepper
Instructions
Combine in a food processor the avocado, 2 Tbsp. red onion, lime juice, olive oil, 1/4 cup cilantro and salt and pepper to taste. Puree until still chunky.
Oil your grill pan and oil each side of the scallops, season with salt and pepper. Heat the grill pan on the grill on medium high. Grill the scallops until golden brown, 2-3 min. per side.
Serve the scallops over the pureed avocado and garnish with the 1 Tbsp. red onion and some chopped cilantro.
Recipe adapted from
Bobby Flay from the Food Network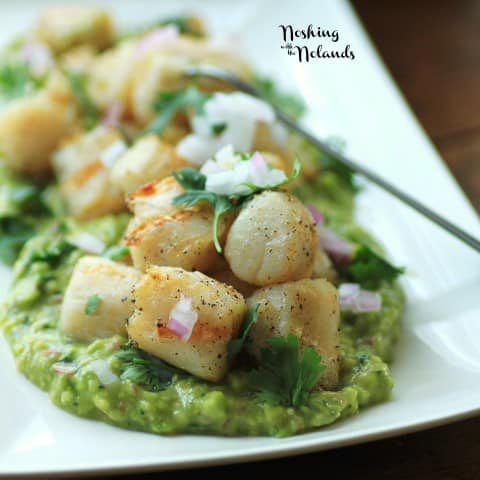 The best part of this is the fabulous giveaway I have for you. Look at this gorgeous prize pack!! So come and enter and win all these gorgeous pieces for dad!!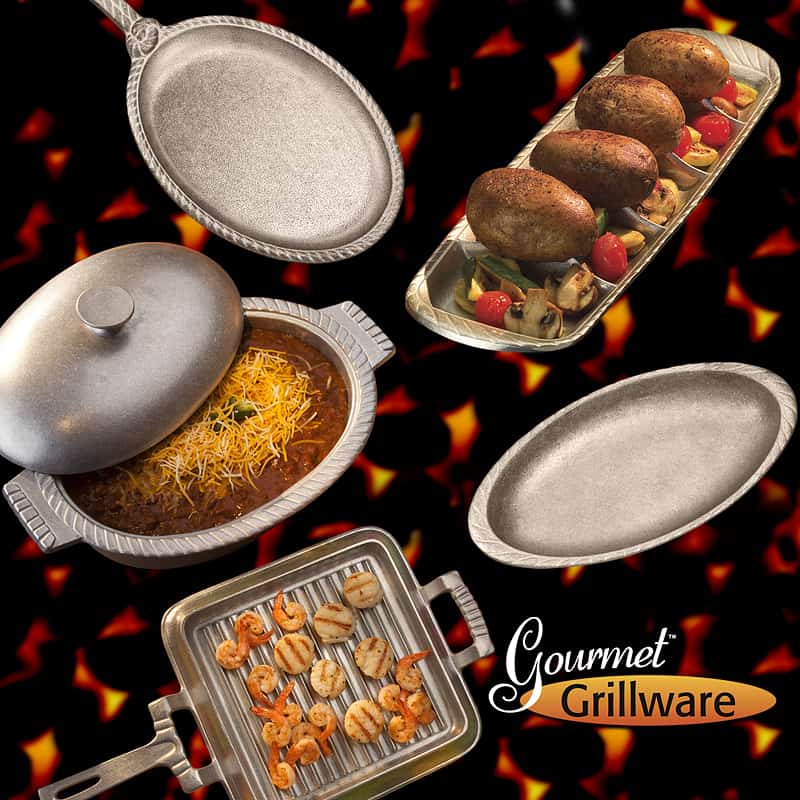 Square Griller w/Handle $71.50
Sizzle Platter $35.75
Chili Pot $100.00 MSRP
Veggie Griller $50.00
13" Au Gratin $42.75
Total $300 in Gourmet Grillware items!
This giveaway will be open until June 16th, 2014 at 9:59 pm MST. At that time a winner will be chosen at random and they will be contacted via email. If the winner does not respond within 48 hours, another will be chosen in the same manner. This giveaway is open to US residents only.
Noshing With The Nolands received no monetary compensation for this event, nor are we responsible for the delivery of the prize.I was gifted a grill pan in exchange for this review and giveaway. Prize delivery is the sole responsibility of Gourmet Grillware. Our opinions in this post are are own.