The Guild – Oliver & Bonacini
There is a new baby for Oliver & Bonacini and it is not in their home town of Toronto but right here in Calgary. The Guild – Oliver & Bonacini is their newest adventure and brings local produce and the best beef, game and fowl Alberta has to offer. At the helm is executive chef Ryan O'Flynn, creating exceptional meals and a gorgeous dining experience.
Michael Bonacini is the partner and founder of Oliver & Bonacini. They already have 8 successful high end restaurants before venturing out west to open The Guild. Bonacini also appears as a judge on CTV's MasterChef Canada. I watch and enjoy that show religiously!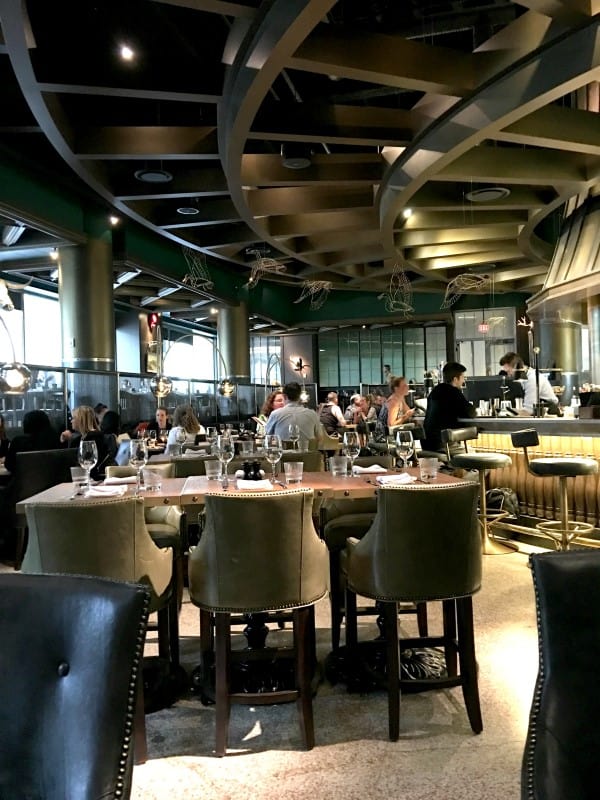 On the managerial side is the very personable Tiago Oliveira, whom I have had the pleasure of working with before. The restaurant is a huge endeavour taking up a large chunk of the Hudson's Bay building in downtown Calgary.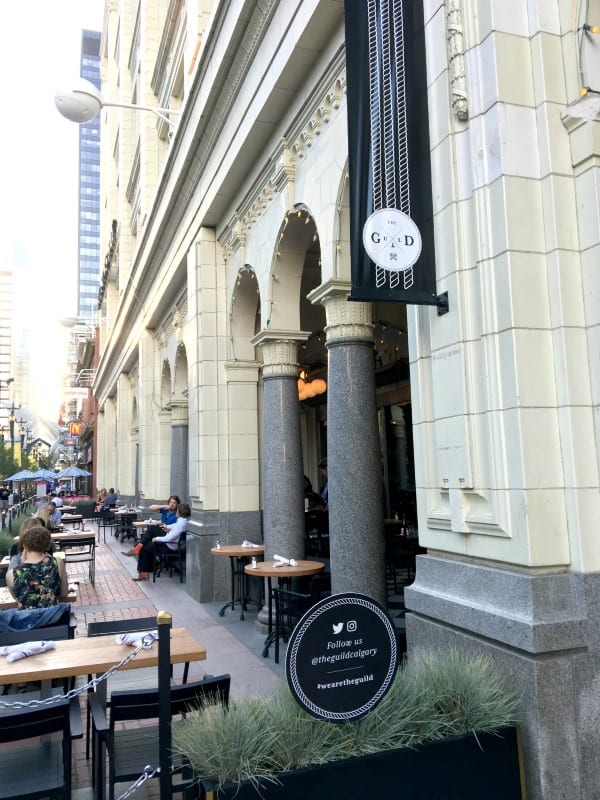 It boasts one of the largest outdoor patios in Calgary. With very enjoyable people watching, as it sits on Steven Avenue Mall. The restaurant is two floors with a private club to be opening in September downstairs. Also a private dining room is on schedule for opening soon on an upper floor.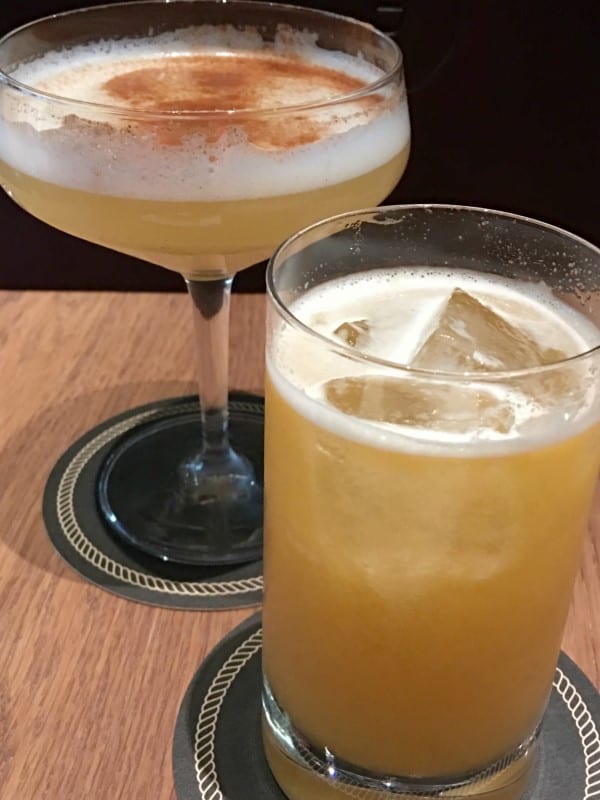 We started off our evening with two great cocktails! Pictured in the rear is the Bottomless Havana which consists of Beefeater gin, pineapple juice, chamomile, cinnamon, and lemon zest. This was Ken's selection. I was in the mood for bourbon so choose the Buffalo Soldier. This libation intrigued me with Buffalo Trace bourbon, Chartreuse, chocolate bitters, yams, lemon, and apple juice. Both were fantastic and interesting choices.
THE MENU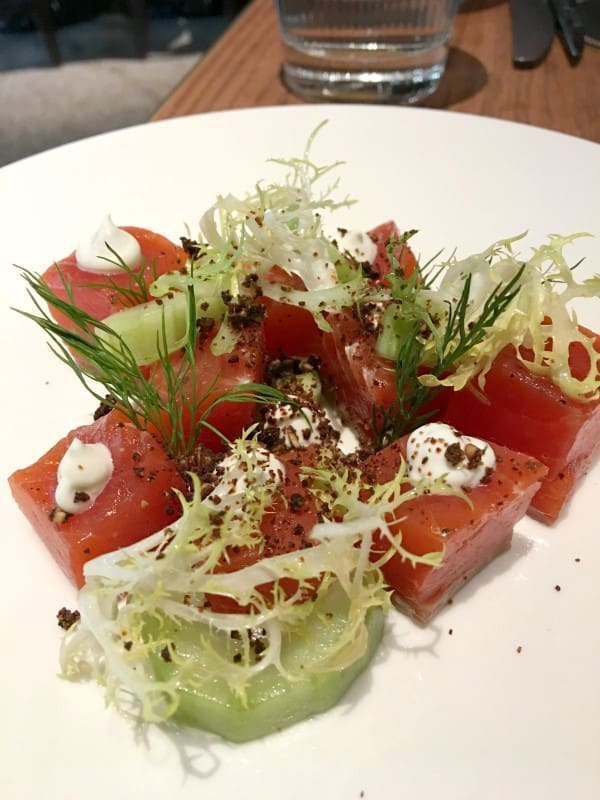 Their menu has a bite for everyone, it is diversified and adventurous. We started with the Gin and Tonic Salmon which is organic salmon, Irish soda bread, cucumber, crème fraîche, and tonic gel. The salmon has a unique texture and was amazingly fantastic and fresh.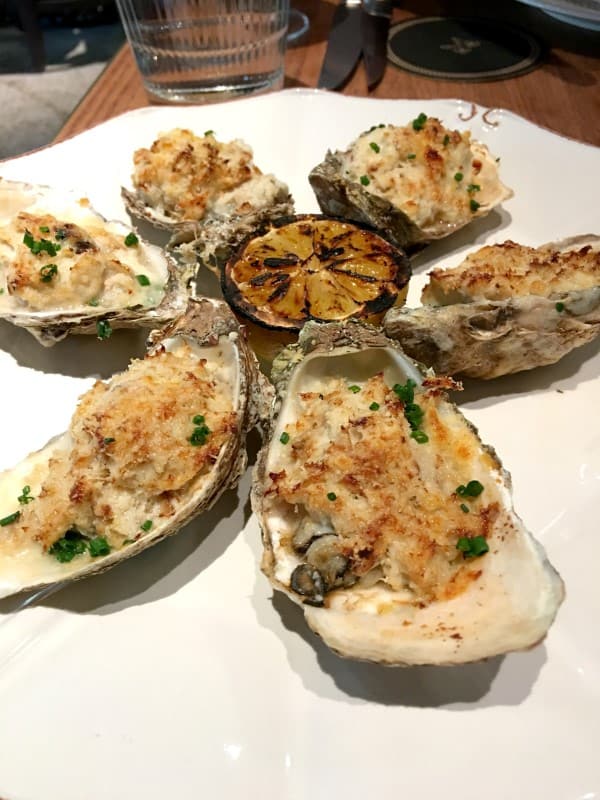 Even more impressive were the Arnold Bennett Oysters! A gorgeous half dozen broiled Canadian oysters, with smoked haddock, crème fraîche, and Parmigiano-Reggiano. The smoked haddock made this appetizer and brought it to a whole new level.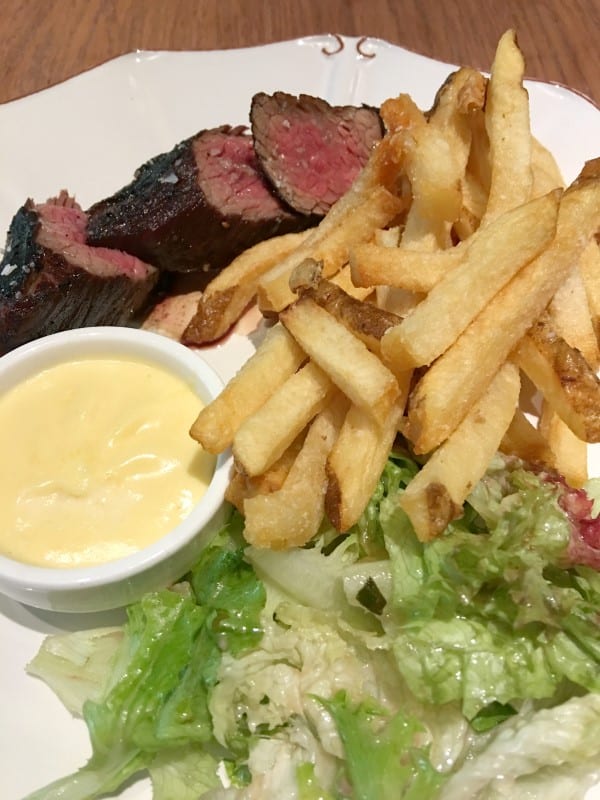 My selection was the Beretta Farms Steak Frites Bearnaise. The charcoal-grilled steak was done to perfection. The house-cut chips, crispy and salted spot on!! Also served was a simple green salad and a fluffy classic Béarnaise. The Bearnaise had the tarragon infused as opposed to seeing it in the sauce.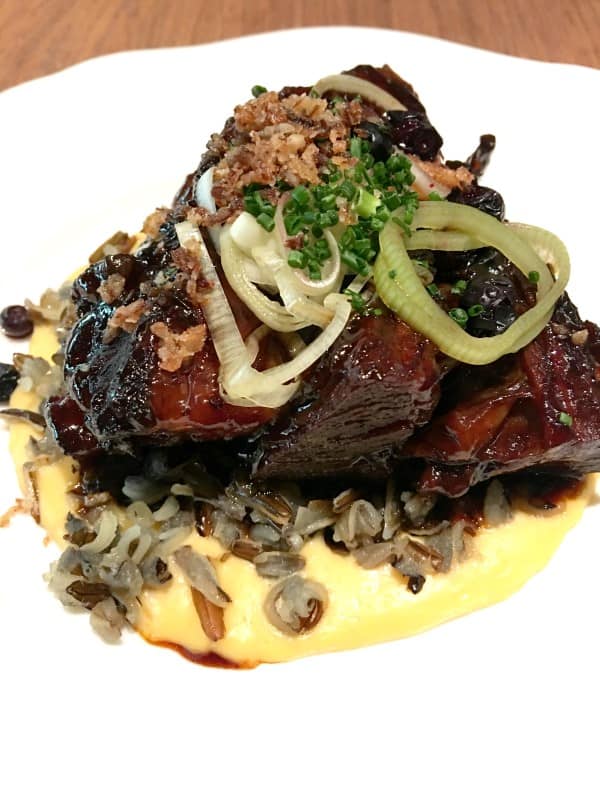 Ken's choice was the Braised Jacob's Ladder Bison served with Saskatoon-style wild rice, Prairie corn (done like a polenta), and pickled leeks. This is a fatty cut of bison of course being the brisket. So beware of the fat content. The meat itself is fall apart delicious!
The sous chef came out to discuss the menu with us and we learned a lot about the local meat they are using in the restaurant.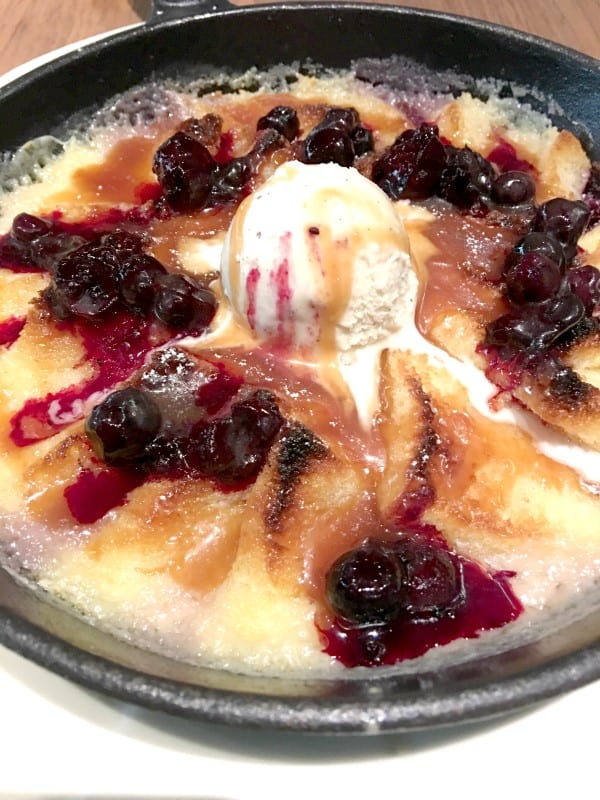 There was literally no room left for dessert but there was insistence that we try a little dessert. I caved very easy at this especially when served something like Crown Royal Whisky Bread Pudding served with saskatoon berries, custard ice cream, and Crown Royal caramel. Not a crumb was left!! This was an exemplary example of a fine bread pudding and probably the best I have ever had!!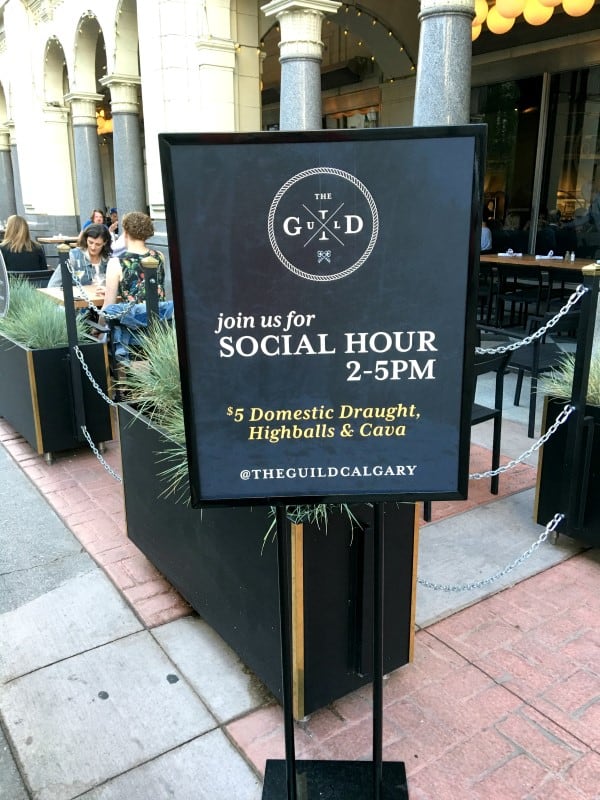 Come down for social hour 2-5 pm and stay for dinner. You can follow The Guild on Twitter, Facebook and Instagram to see the latest happenings!!