Hapa Izakaya Restaurant
I was kindly invited down to Hapa Izakaya Restaurant, here is Calgary for a meal to see their main menu after enjoying their first birthday bash so much!! A fellow blogger from Houston was up in Calgary working and we set to hook up again, this time at Hapa Izakaya for a meal. Michele is from the very delicious blog Flavor Mosaic! We hooked up once before when she was in town and it was great to reconnect again over some deletacble sushi!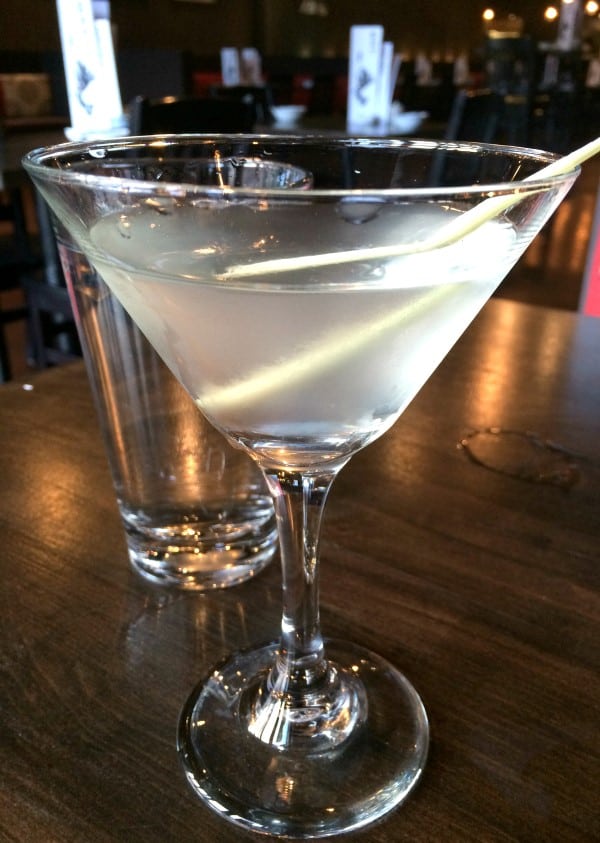 The last time I was at Hapa Izakaya I really enjoyed the Hello Kitty cocktail and the Darjeeling Cooler. They know how to make delicious and original cocktails using the finest of ingredients and giving them a lovely Japanese flair. For this occasion I choose the Pear Saketini. A perfect fall cocktail made of Moonstone Pear Infused Sake, Absolut Pears Vodka, Triple Sec, and fresh lemongrass. It was powerful and perfect for me and I enjoyed sipping on it for the whole meal. I am a martini gal through and through.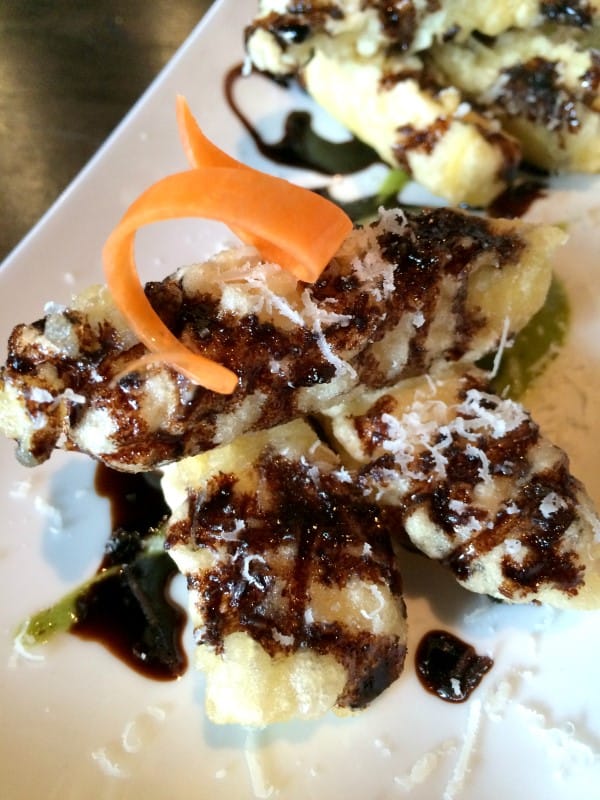 At their Calgary location, Hapa has an Italian infusion in quiet a lot of their dishes. A great example of that is their crispy and creamy Polenta Fries, which we started with. They are made with polenta tempura, soy balsamic reduction, parmigiano reggiano, and arugula gel. I love these for something completely different. Could have eaten the plate myself easily. I loved the marriage of Japanese and Italian ingredients in this dish, very successful!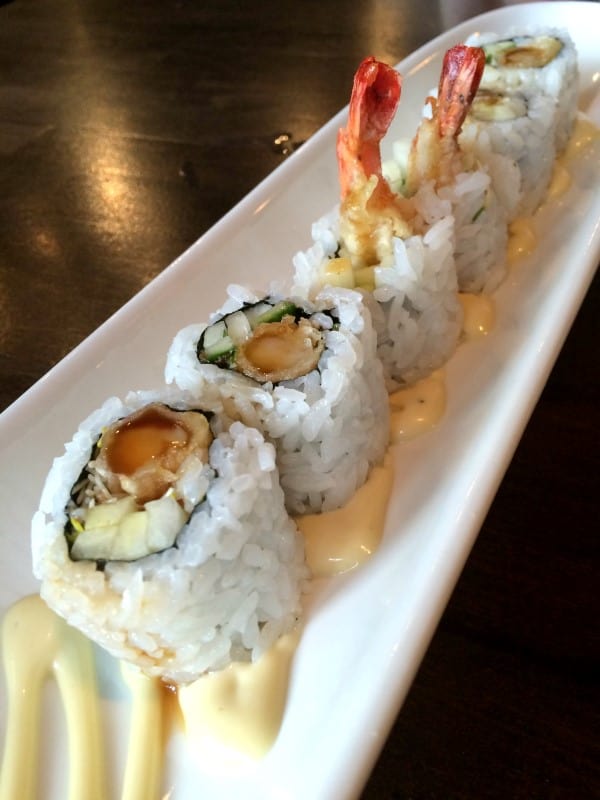 Very traditional is a Dynamite Roll and if they are made well like these, they are a sure fire winner! Made with fresh and delicious ingredients like tempura prawn, cucumber, kaiware, wasabi mayo, and teriyaki sauce, served on a bed of creamy amazing sauce, I think these were Michele's favorite.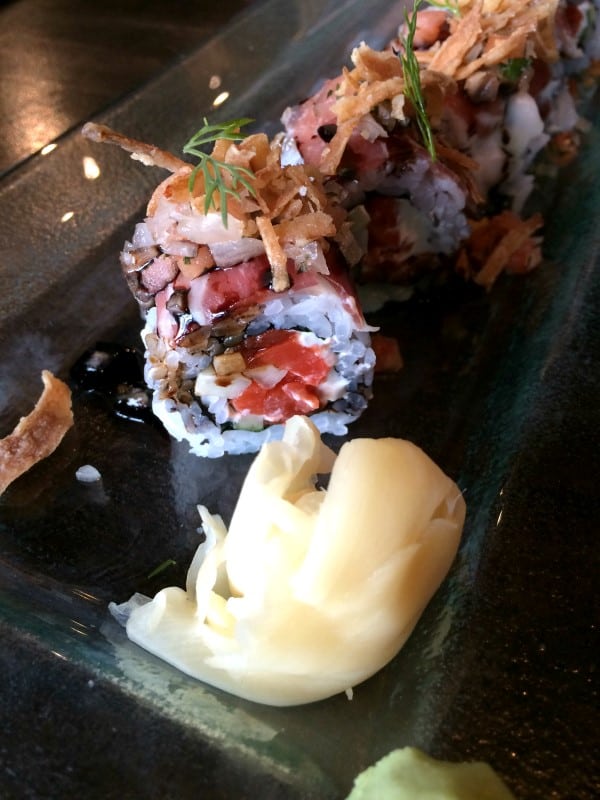 A Gravalax Roll would be a must have if I was dining with my daughter. I also enjoy smoked salmon, and I love that we have a little Italy again here with a topping of prosciutto and drool worthy crispy fried onions! The roll also consists cream cheese, cucumber, teriyaki balsamic sauce, and dill, a gorgeous combination of flavors.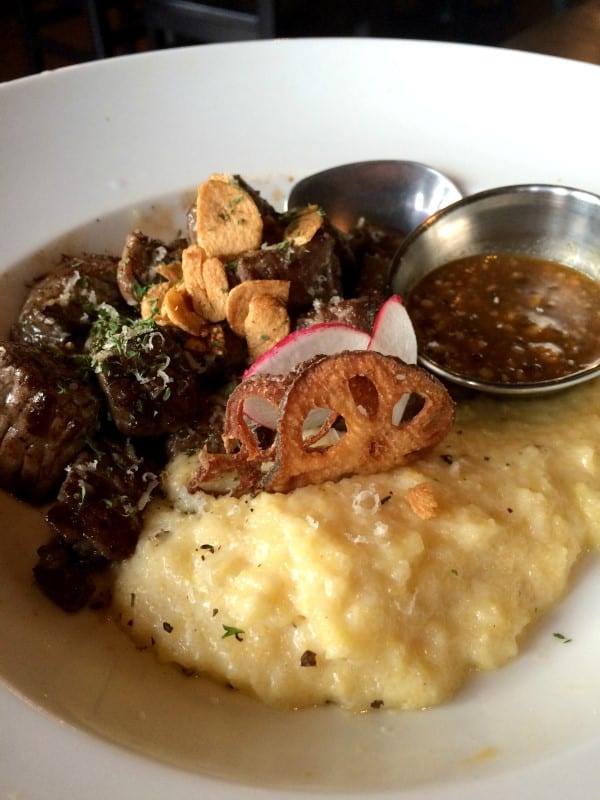 Also we wanted to try the Wagu Steak Bites, which is sautéed cubes of Alberta Brant Lake wagyu beef chuck steak, maple polenta, fermented serrano sauce, and parmigiano reggiano. A magnificent dish beautifully presented and thoroughly enjoyed. I adored the creaminess of the polenta with the perfectly seared wagyu beef. I love that they are supporting Alberta Beef too with this dish and that we are eating local!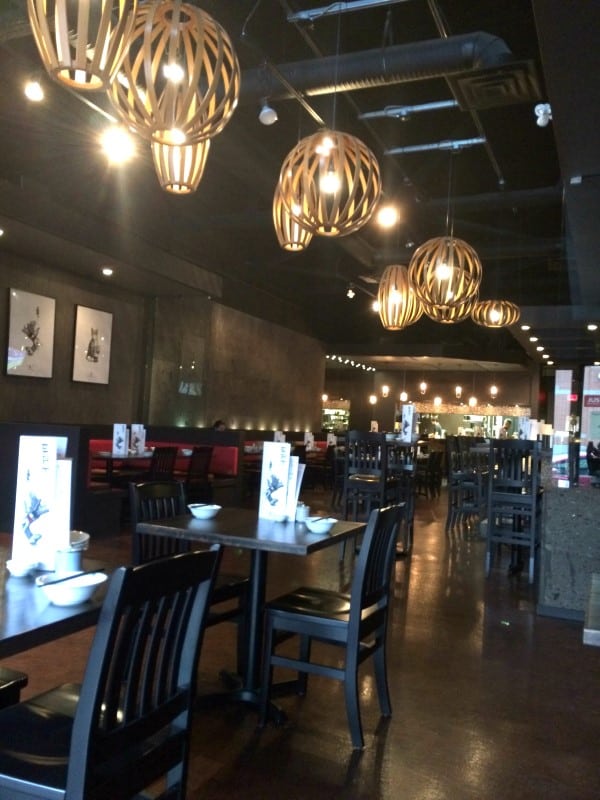 The atmosphere at Hapa Izakaya is sleek and inviting. There are numerous tables and they are nicely spaced out. We dined on a Monday night which for a sushi restaurant is quiet but most of them are closed on a Monday so it was nice to have that option open to us. My husband and daughter had a craving for sushi also that night but there is very little open in our neck of the woods, so it is nice to have this option now on Mondays!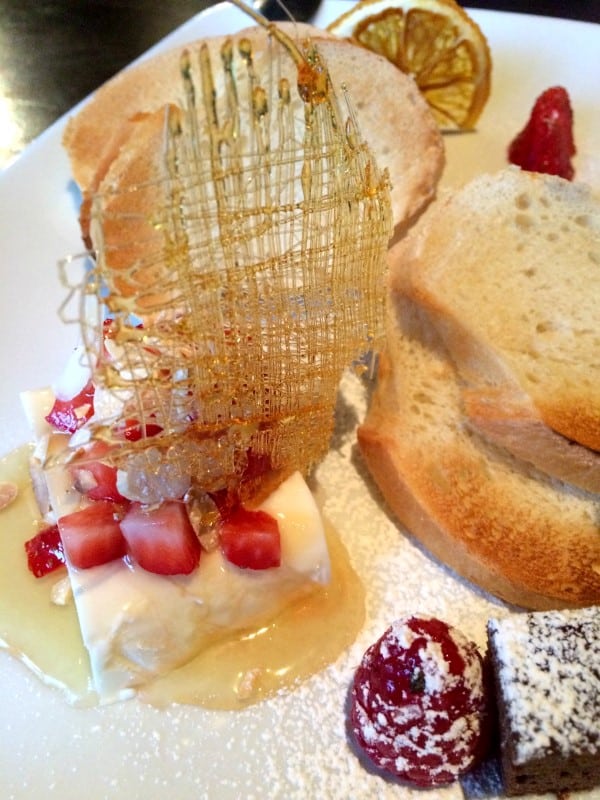 Desserts are sometimes forgotten in a Japanese restaurant or are very simple. This amazing creation is called Cheese Tofu but is actually mascarpone with strawberries and honey. It is gorgeously presented and a perfect ending to a delicious meal.
I would like to thank Hapa Izakaya for their gracious service and stupendous meal. I would also like to thank Michele for dining with me and I can't wait until your next visit to our fine city.
To see Hapa Izakaya's full menu and to find all of their locations come HERE!