Happy 100th Birthday Hellmann's Mayonnaise
Happy 100th Birthday Hellmann's Mayonnaise, WOW!! That is an amazing accomplishment to have a company that has been around for 100 years!! But when you think about how great their mayonnaise is, there is no wonder why!!
To celebrate their 100 years, Hellmann's has updated some of their popular recipes to become even healthier and tastier!! Adding kale instead of romaine is a brilliant idea.
We made this updated 2013 recipe for the company and everyone enjoyed it so much!! It is simple, easy, delicious, and healthy, you can't beat that for wholesome goodness.
Hellmann's writes:
Did you know?
The original Hellmann's mayonnaise recipe was founded on simple ingredients like eggs, oil, and vinegar and this commitment still exists today. Since Canada's Food Guide recommends eating a small amount (30-45 mL or 2-3 tbsp) of unsaturated fat each day, mayonnaise is a perfect option for your salads.
Replacing romaine lettuce with the nutritious leafy green, kale is an easy and delicious way to get more fiber, calcium, and Vitamin A.
Look how gorgeous this salad looks. It makes you want to dive right in!!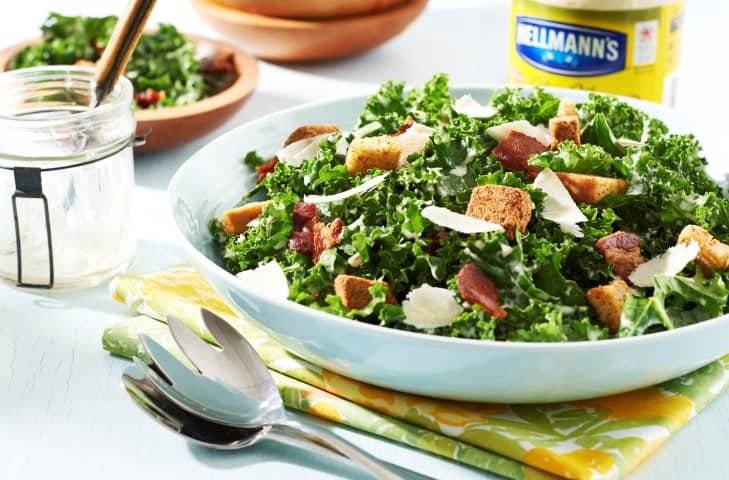 We hadn't tried their olive oil mayonnaise yet but it is a new love in our household!! Perfect for the many summer salads that are just waiting to be served at your next picnic or BBQ!!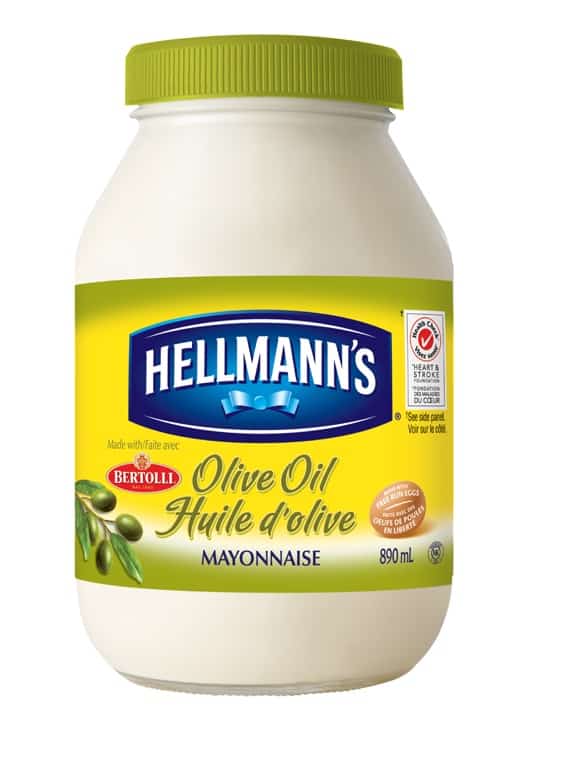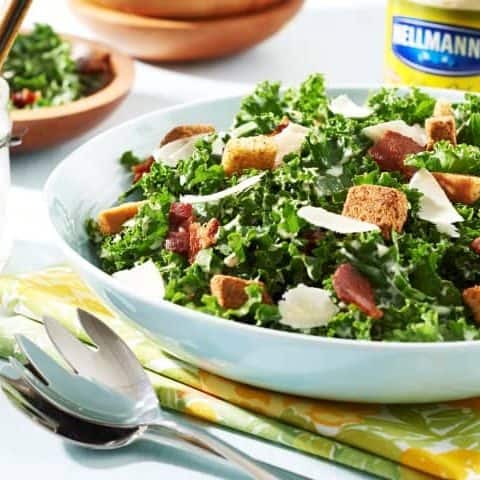 Happy 100th Birthday Hellmann's Mayonnaise
Yield: 4 Servings
Prep Time: 10 minutes
Total Time: 10 minutes
A nutritious and delicious Caesar salad!!
Ingredients
½ cup (125 mL) Hellmann's Olive Oil mayonnaise
¼ cup (60 mL) fresh grated Parmesan
cheese
2 tbsp (30 mL) lemon juice
2 tbsp (30 mL) Dijon mustard
1 garlic clove, minced
¼ tsp (1 mL) pepper
¼ cup (50 mL) Extra Parmesan for garnish
1 bunch leafy kale, stems removed and
broken into in bite size pieces
(about 12 cups/2.5L)
1 cup (250 mL) whole grain croutons
4 slices cooked bacon, roughly chopped
(optional)1 tsp (5 mL) ancho chili powder
Instructions
In a bowl, whisk together, mayonnaise, Parmesan, lemon juice, Dijon, garlic, and pepper
In a large salad serving bowl, toss kale with dressing about 30 minutes before ready to eat.
Top with croutons, bacon, and extra Parmesan just before serving.
Nutrition Information:
Yield: 4
Serving Size: 1
Amount Per Serving:
Calories: 191
Total Fat: 8g
Saturated Fat: 3g
Trans Fat: 0g
Unsaturated Fat: 5g
Cholesterol: 20mg
Sodium: 436mg
Carbohydrates: 22g
Fiber: 2g
Sugar: 15g
Protein: 7g
Recipe calculation was provided by Nutritionix and is estimation only. If you need nutritional calculations for medical reasons, please use a source that you trust.
Next time I am going to try it with the ancho chili powder, it will be amazing, I just know it!!
Hellmann's has some great tips for you also!!
Tip: Top with grilled chicken, salmon, or steak to make this a whole meal.
Tip: For a nice presentation idea, use a vegetable peeler to shave pieces
from the block of Parmesan over top of the salad.
Tip: To make your own croutons, use ends of whole grain bread or baguette and cut into cubes. Toss with a little oil, salt and pepper and bake on a parchment-­‐lined rimmed baking sheet in a 350F (180°C) oven, stirring occasionally, until toasted and golden, about 15 minutes. Store in an airtight container for up to one week.