I have a confession to make, I am terrible at roasting a chicken. This Herbs de Provence Roast Chicken turned out great. Usually, it is not cooked properly and always takes additional time, lots of additional time.
It turns out in the end but my family is starving at that point. What I usually do is stuff some fruit (orange, apple), onion and herbs inside and lay it on root vegetables. Well gone are those days now as I have a new way to roast chicken and it is fabulous!!!
It's All About The Flavor!
I came across a wonderful store here in town called Blue Door Oil and Vinegar. They have a huge variety of over 50 quality olive oils and fine aged balsamic vinegar to choose from. These are a must in my kitchen!! Upon entering their store you are enthralled immediately with all the little stainless steel vats holding their wonderful oils and vinegar.
All of them are for sampling. They give you a little cup and some bread and off you go to find your favorites.
The owner Bruce was kind enough to give me some samples to work with. The first oil I decided to work with was Organic Herbs De Provence Infused Olive Oil. A simple application on the chicken and a homemade Herbs De Provence and we had the most delicious and easy roast chicken ever.
We all loved it!! Wonderful crispy skin with the gorgeous flavors of Provence. I won't roast a chicken how I used to again!! Cutting up the chicken, dinner is in no time and the house smelled heavenly.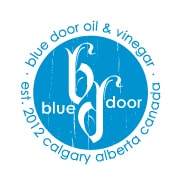 You have to try this one!! Visit Blue Door Oil and Vinegar today or order it to be shipped, you will be so very happy. You can also follow them on Facebook or Twitter.
Now here is the fabulous chicken you have been waiting for. Of course, you can buy Herbs De Provence all ready mixed up but it was fun to create!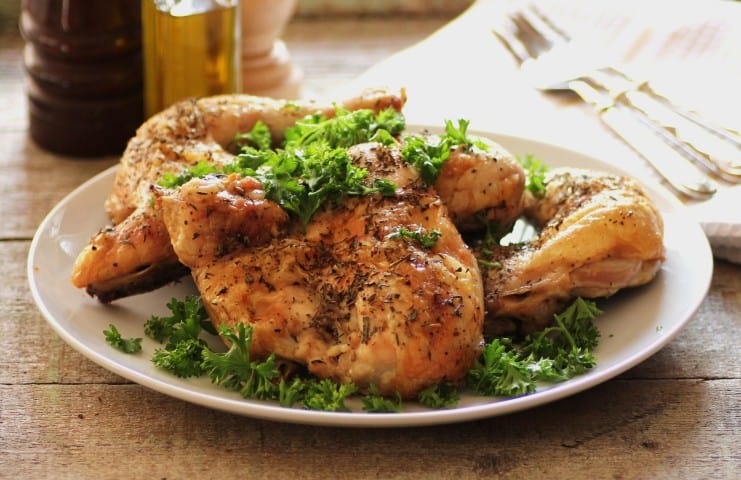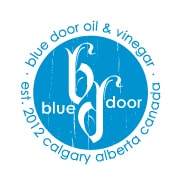 Herbs de Provence Chicken
Yield: 4 Servings
Prep Time: 10 minutes
Cook Time: 45 minutes
Total Time: 55 minutes
The best roast chicken ever!!
Ingredients
1 whole chicken, cut up
1/4 tsp. lavender
1/2 tsp. each basil, tarragon, thyme, Dalmation Sage, Oregano
French sea salt to taste
Fresh ground pepper to taste
1 1/2 Tbsp. Herbs De Provence Infused Olive Oil
Instructions
Preheat oven to 425F. Finely break up the lavender if large and mix with the basil, tarragon, thyme, sage, and oregano. Set aside.
Clean chicken and dry with paper towels. Rub chicken with the olive oil and then with the herbs. Salt and pepper to taste.
Place chicken on a broiler pan and bake for 30-45 min. until the chicken is done to 160-165F.
Let rest for 5 min. and serve with your favorites sides.
Nutrition Information:
Yield: 4
Serving Size: 1
Amount Per Serving:
Calories: 395
Total Fat: 24g
Saturated Fat: 6g
Trans Fat: 0g
Unsaturated Fat: 15g
Cholesterol: 132mg
Sodium: 269mg
Carbohydrates: 2g
Fiber: 1g
Sugar: 0g
Protein: 41g
Recipe calculation was provided by Nutritionix and is estimation only. If you need nutritional calculations for medical reasons, please use a source that you trust