Hi Mountain's Sausage Kits – Spicy Beer Bratwurst
I was given these kits from Hi Mountain's Seasoning to sample. I was really happy to receive them and excited to try them out. Record scratch…..what a minute I don't have a food grinder or sausage stuffer. I rectified that situation quickly with KitchenAid. Here is the post explaining it all and how fantastic the KitchenAid food grinder and sausage stuffer worked for us. You will also find a delicious recipe for Sausage Stuffed Delicata Squash there too.
These kits come with all you need, seasonings, cure, casings, easy-to-follow instructions and will season 24 lbs. of meat. Yup, that is right 24 lbs. of meat. That is a lot of sausage folks!! We started off with six pounds for our little family. I knew hubby would be intrigued with this whole thing so he was the one that actually made them, with the help of myself and our daughter. It was a fun family thing to do and we all enjoyed ourselves and giggled a bit at the sausage being stuffed. You do need two people when the stuffing part is in action. One putting the all ready ground meat into the top of the now empty grinder and pushing it through with a plunger. The other person on the other end holding the sausage casing and filling and twisting when appropriate.
Here is the meat after it went through the grinder and and was spiced and ready to go.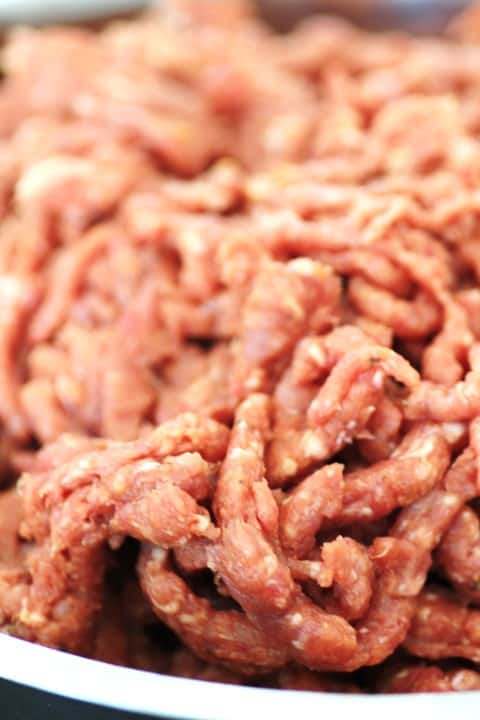 You then end up with gorgeous looking sausage.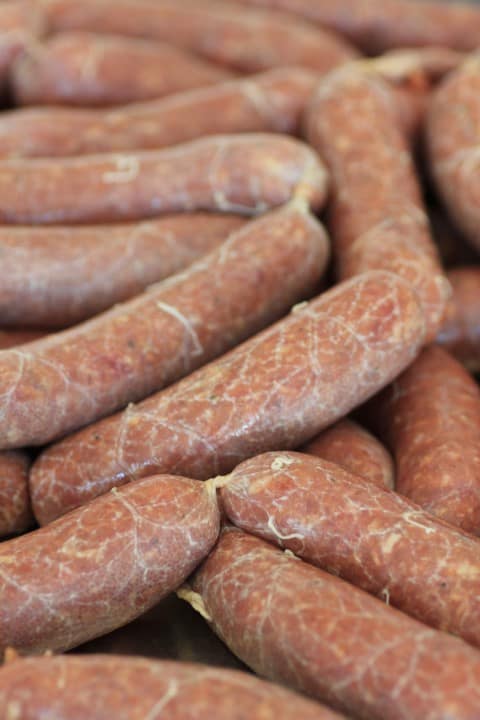 These are spicy and go great in recipes or cooked on their own. We loved the flavor of the beer with the spice. They live up to their name of Spicy Beer Bratwurst, not for the faint of heart. We pan fried them so we could try them quickly.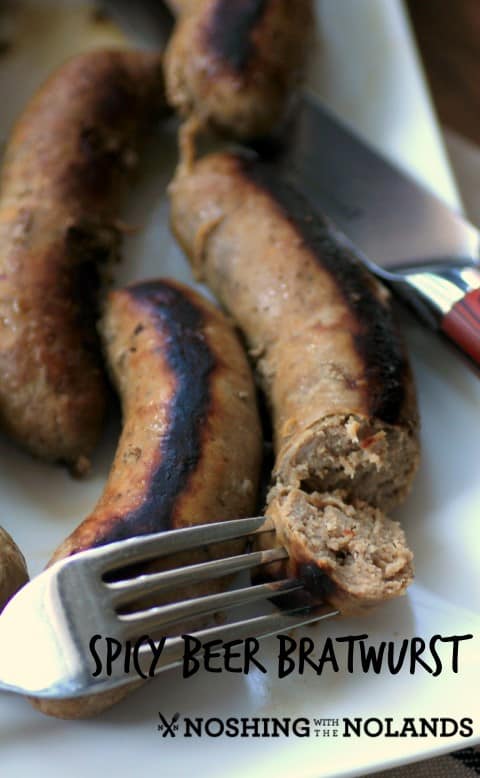 Hi Mountain has loads of sausage kits, very impressive!! Plus tons of other products like jerk kits, bacon cure, rubs, seasoning, marinades, dip mixes and dressings, brine kits and so much more. Here is a review on their brown sugar brine mix, YUM!! Come and see all that they have to offer. I can't wait until we try the garlic pepper bratwurst sausage kit!!