Holiday Cookie Bars
It is that time of year to be baking, that is for sure. I do tons of it for the holidays. Some cookies are intricate and time consuming and other like this one is a "piece of cake".
One staple you need is a good cooking spray for all your pans and sheets. Something that lets the food shine! I was given this wonderful 100% Grapeseed Oil from Pompeian to try. At first we were using it for things like fried eggs and stirfrys, which worked great. Then I went onto my baking and used it for this recipe.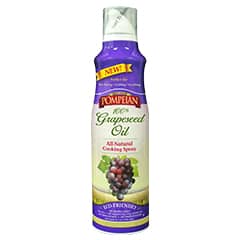 I like using a cooking spray as it is quick and easy. Pompeian Grapeseed Oil has no propellants, trans fat, cholesterol, CFC's or preservatives. It has a nice light and pleasant taste and is naturally gluten free.
I liked to use it just straight and also with parchment paper as in this recipe. The parchment allows you to easily lift the bars out of the dish. The oil allows for no sticking at all.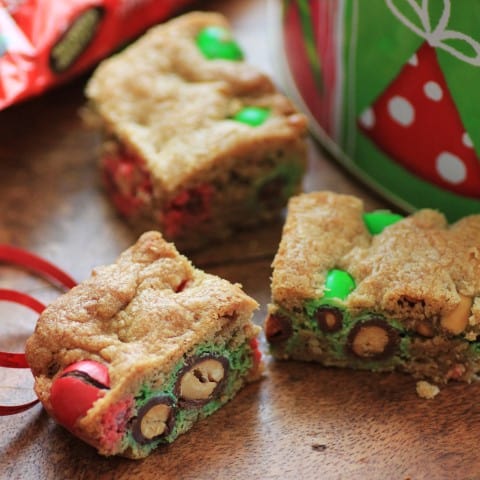 We love the chocolate, cookie and peanutty flavors of these easy bars.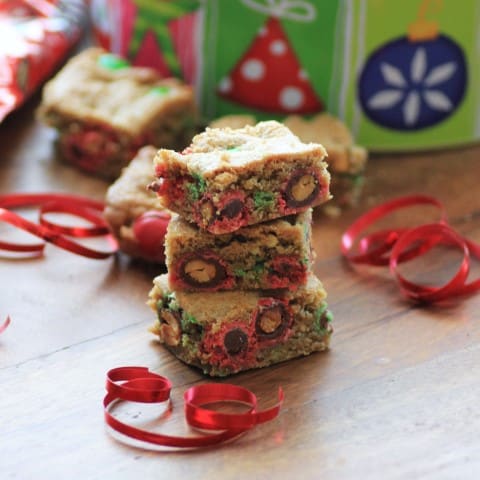 Holiday Cookie Bars
An easy and festive cookie bar for the holidays!!
Ingredients
1 cup whole wheat flour
1½ cups white flour
Pinch of salt
½ tsp. baking soda
¾ cup butter
1 cup brown sugar
½ cup white sugar
2 eggs
1 Tbsp. vanilla extract
½ cup crunchy peanut butter
357 gm. bag of holiday mix peanut M & M's
Pompeian Grapeseed Oil
Instructions
Whisk flour, salt and baking soda together and set aside. Cream butter and sugars together until fluffy. Add eggs one at a time mixing well. Add vanilla and mix in. Add flour mixture and mix until combined. Stir in the peanut butter. Add the M & M's and carefully fold into the dough.
Lightly spray a 9 x 13" pan with the grapeseed oil and place a sheet of parchment in with the sides hanging over slightly. The oil while help the paper stay in place and the overhang of the parchment will let you pull the bars out easily. Lightly spray the parchment with oil. Place the dough into the prepared pan and even out.
Bake at 350F for 25- 30 min. Let cool and then lift out using the parchment. Cut into squares.
Adapted from A Full Measure of Happiness.