Holiday Side Dish Ebook- Free
This Holiday Side Dish Ebook – Free might just save you some stress this holiday season! Hey lets face it the holidays can be stressful, especially if you are the one that is hosting a feast of the the holidays. This little Ebook is just what the stressed out home cook needs to make everything seem a little less worrisome!
This book contains 10 of the best side dishes of the year from the All Free Copy Cat website. These recipes are tried, they will make you a star in the eyes of your guest this holiday season! From outstanding seasonal soups to flavorful casseroles this little Ebook is one that you can ill afford to be without this season.
Even the kids are going to love the tastes of the season with these fabulous recipes. There is something for everyone here, and the great parts is that all you have to do is pick the one or two,, or even three dishes that you want to serve and like magic your dinner is planned and ready for you to make!
Outstanding side dishes can really make your holiday dinner celebration special. This is also perfect if you have been asked to bring a side dish to a dinner celebration!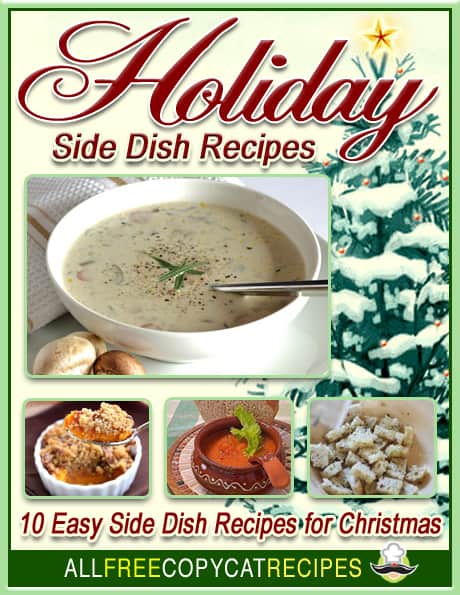 Here is a fabulous little book that I am honored to be in. One of the featured recipes is from yours truly! There is our beautiful Wild About Mushroom Soup on the front cover. This book is free for you to have, just click here to get your own free copy. Happy Holidays to all!!