Homemade Pasta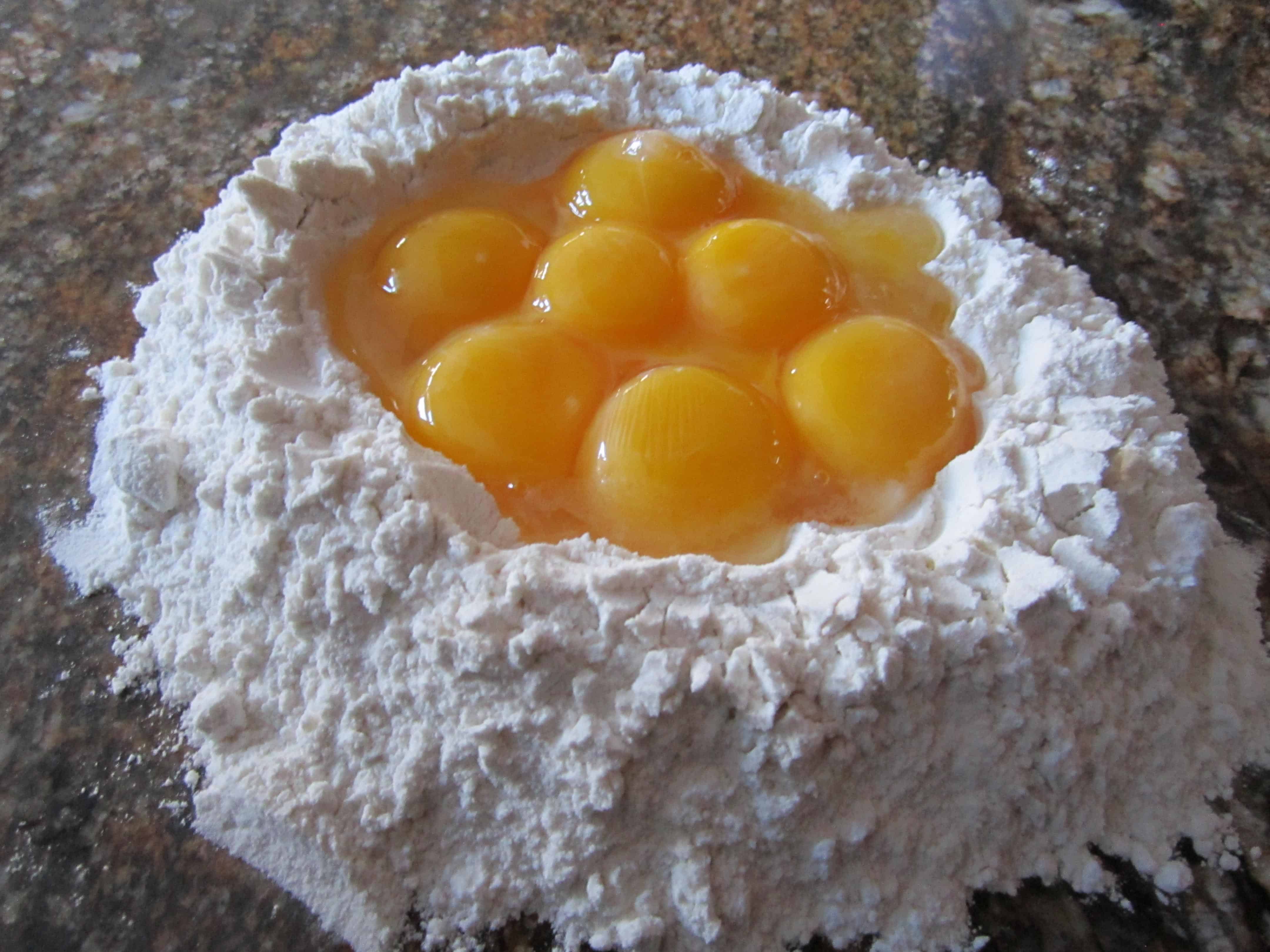 Today I was graced with Homemade Pasta as Ken and Amber decided to make this pasta. We had a lot of egg yolks left from a recipe that only used egg whites. The pasta turned out fabulous. I thought we would share with you the process.
They tried to stay to the traditional method as possible, starting with the eggs in the center of the flour and mixing with their fingers!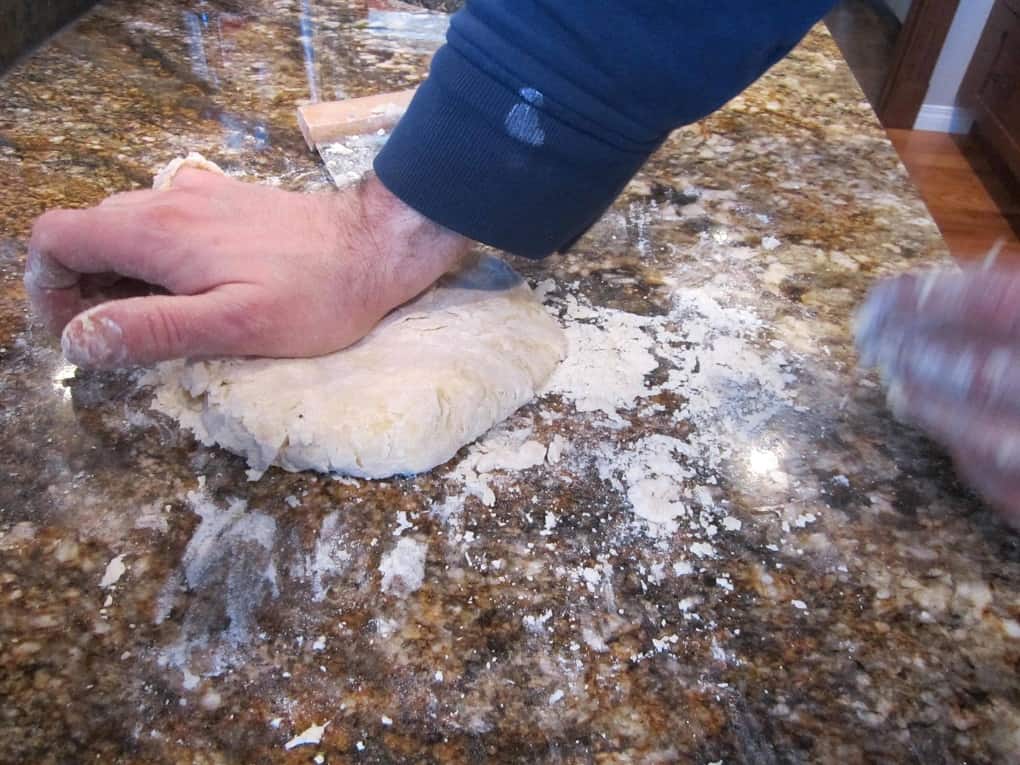 Ken kneaded the dough until it was silky and shiny. then with Amber's assistance, they ran it through our manual pasta roller. This process took some time to get the thickness just right before they cut the pasta dough into fettuccine.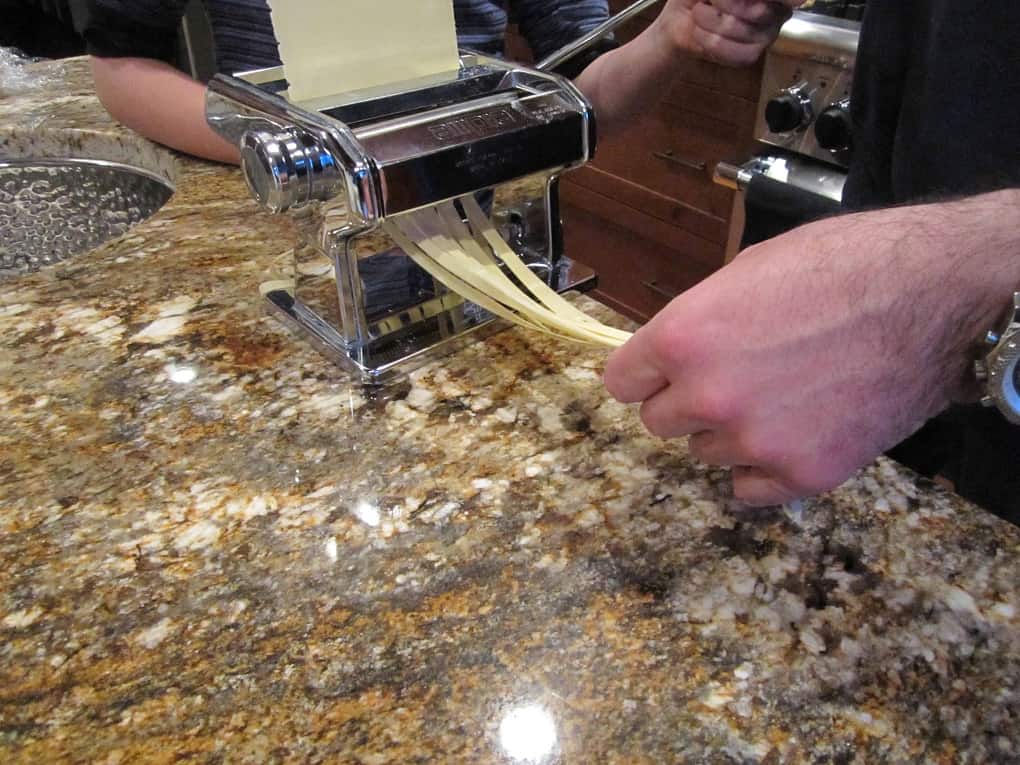 The end result was fabulous! I can't wait for them to get together again to create more lovely homemade pasta!!!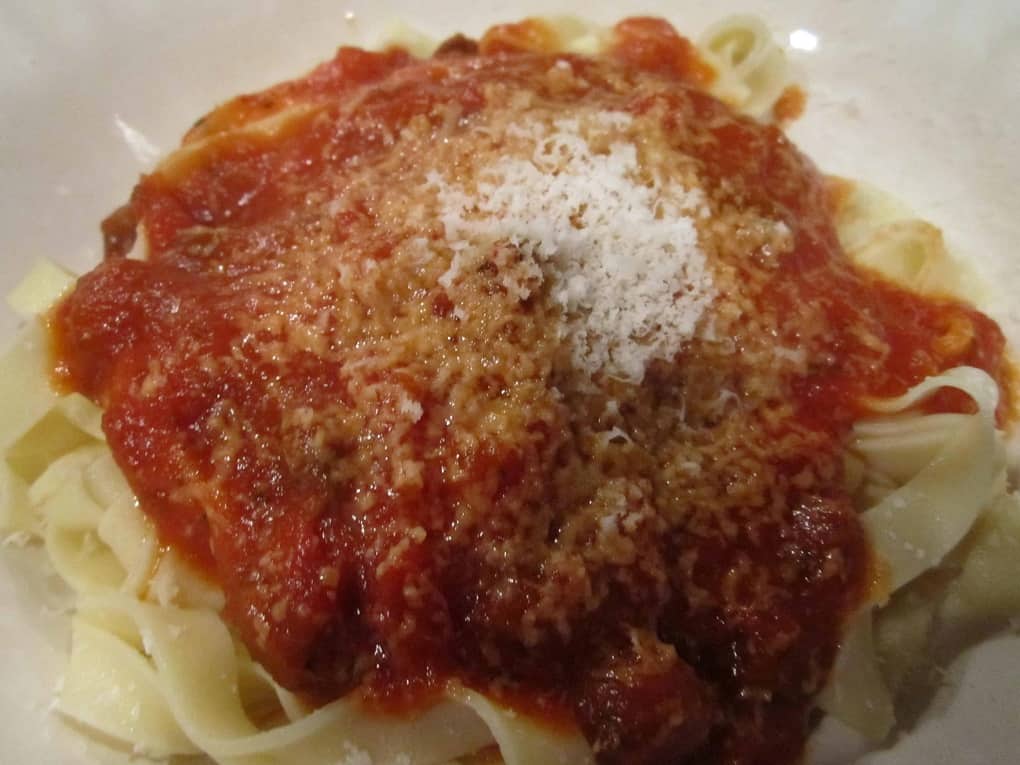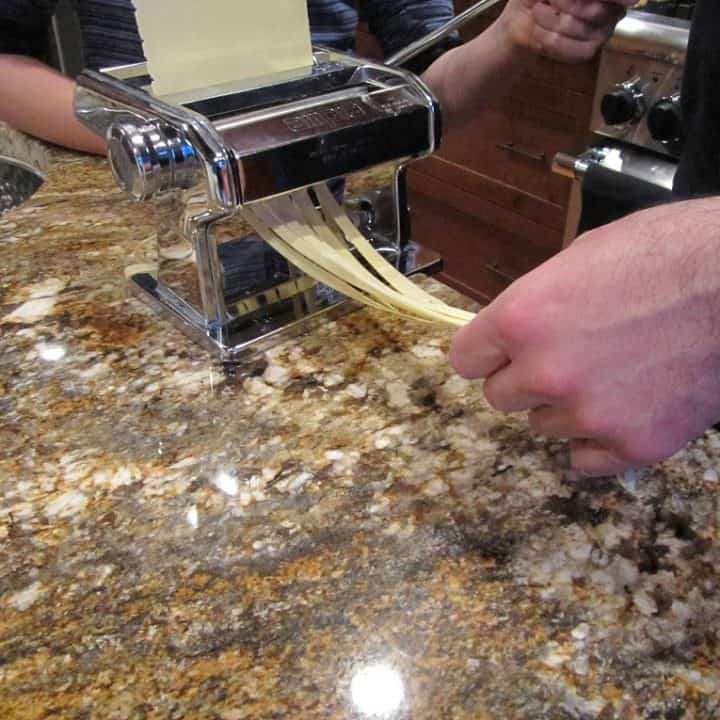 Homemade Pasta
Yield: 4 Servings
Prep Time: 45 minutes
Cook Time: 7 minutes
Additional Time: 1 hour
Total Time: 1 hour 52 minutes
Ken and Amber decided to make this pasta after having a lot of egg yolks left from a recipe that only used egg whites. The pasta turned out fabulous.
Ingredients
1 3/4 cup all-purpose flour
6 large egg yolks
1 large egg
2 tsp. olive oil
1 1/2 Tbsp. milk
Instructions
Mound flour on a clean counter and create a well in the center to house the eggs. Make sure the hole is big enough to keep all the eggs in without spilling.
Pour all ingredients into the well and using your fingers start to break up the yolks mixing the ingredients together.
Then start to mix in the flour using a circular motion, keeping the wet ingredients in the well. Continue until you start to get a paste that is too thick to stir and begin to form it into a ball, scraping with a pastry scraper when you need to keep the dough together and not sticking to the counter.
Start the process of kneading now, you can't over knead this dough. Don't fold over as you would bread but knead it bit by bit, kneading the dough with the heel of your hand.
Reforming into a ball each time. You need to continue until the dough reaches a silky smooth consistency. This may take 15-20 min. It also needs to snap back when pinched.
Once you have reached this point you can knead for another 5 min.
Now wrap in plastic wrap and let rest for an hour or up to one day in the refrigerator.
Slice off about a quarter of the dough and flatten it out on the counter with the palm of your hand and begin rolling it through the pasta maker on the widest setting.
Then sprinkle with flour fold in half and put the pasta through again. Repeating another 3-4 times, sprinkling with flour each time.
Continue to put the pasta through the machine adjusting for a thinner and thinner setting, until you have reached your desired thickness.
Roll the pasta through the desired cutter and cut pasta in half.
Layout on a slightly damp tea towel and repeat the process with the remaining dough.
Fill a large pot with water and season with salt and a Tbsp. olive oil and bring to a boil.
Put in pasta and cook to al dente, 6-8 min. Enjoy with your favorite sauce.
Nutrition Information:
Yield: 16
Serving Size: 1
Amount Per Serving:
Calories: 90
Total Fat: 3g
Saturated Fat: 1g
Trans Fat: 0g
Unsaturated Fat: 2g
Cholesterol: 93mg
Sodium: 33mg
Carbohydrates: 11g
Fiber: 0g
Sugar: 0g
Protein: 4g
Recipe calculation was provided by Nutritionix and is estimation only. If you need nutritional calculations for medical reasons, please use a source that you trust.