Honey-Mustard Grilled Chicken Sandwiches
Today as I am in full swing with some company and the Stampede, I give you Wendy from The Weekend Gourmet. I know Wendy through our #SundaySupper group and she has truly amazing recipes like these Honey-Mustard Grilled Chicken Sandwiches.
We have been eating her California Layered Pasta Salad now for days and I am making it again tomorrow. I will be sharing that with you soon.
Look at what Wendy has brought with her today. A two-handed sandwich that any cowboy would love to sink his teeth into!! I have to try this one for sure!!
I would be thrilled and you will be thrilled to follow Wendy on her great site!! Also to keep up with her many recipes you can follow on Facebook and Twitter. I now give you Wendy!!
The Weekend Gourmet
I'm Wendy from The Weekend Gourmet, and I'm so excited to share one of our favorite Summer grilling recipes with Tara's readers today! Summer here in Texas can be really hot, so we like to grill as much as possible.
We don't have an outdoor grill at the moment, so I use my well-seasoned cast-iron grill pan to get the grill marks that mean your food is caramelized outside and juicy inside.
As much as we love a beefy burger at my house, sometimes we want something a little lighter. That's when I grill up chicken sandwiches instead.
The ones I'm sharing today are one of our favorites, my Honey-Mustard Grilled Chicken Sandwiches with The Works.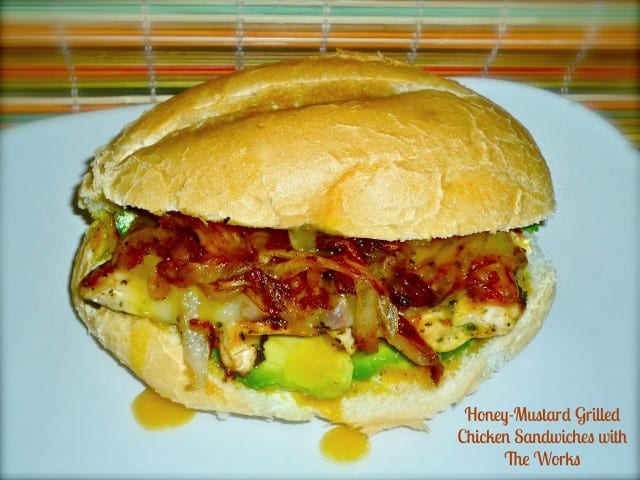 The Features!
This sandwich features herb-crusted grilled chicken breast, a delicious homemade honey mustard sauce, jack cheese, bacon, and caramelized onions…and a generous amount of sliced avocado too!
This sandwich can be a bit messy, but sometimes that's part of the fun! Just make sure to grab some extra napkins before you dig into this one.
Honey-Mustard Grilled Chicken Sandwiches with The Works
A Weekend Gourmet Original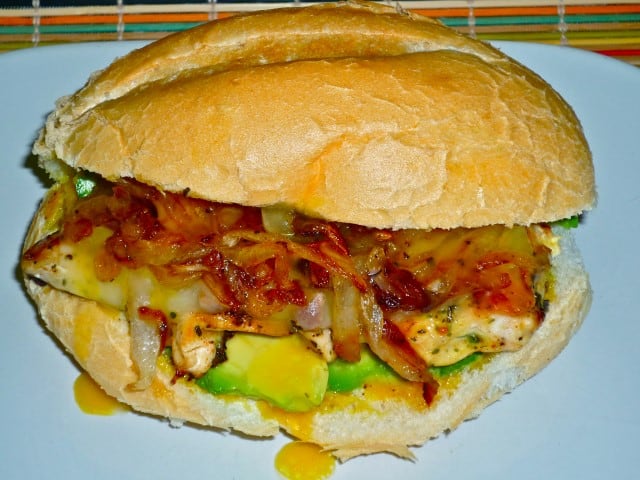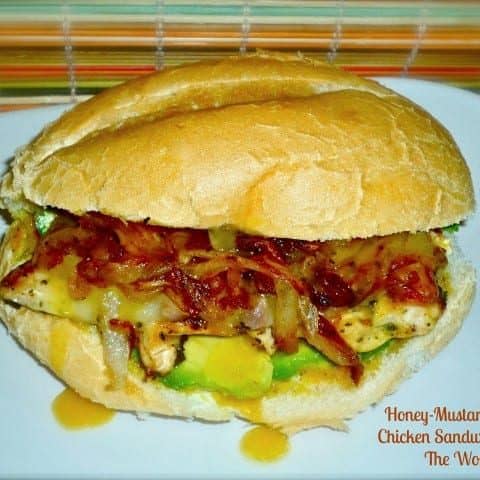 Honey-Mustard Grilled Chicken Sandwiches with The Works by The Weekend Gourmet
Yield: 4 Servings
Prep Time: 15 minutes
Cook Time: 35 minutes
Total Time: 50 minutes
An amazing go to sandwich for any cowboy!!!!
Ingredients
For the chicken and rub:
1 lb. boneless, skinless chicken breasts
1 tsp. sea salt
1 tsp. cumin
1 tsp. dried chives
1 tsp. dried cilantro
1 tsp. onion powder
Black pepper to taste
1 tbs. olive oil
For the honey mustard:
¼ cup mayo
¼ cup mustard
¼ cup honey
For the onions:
1 small yellow onion
1 tbs. olive oil
Salt and pepper to taste
For the sandwiches:
4 buns
4 slices jack cheese
4 slices cooked applewood bacon, crumbled
1 avocado, thinly sliced
Instructions
Make a rub for the chicken by combining the spices in a small bowl. Sprinkle the rub evenly onto both sides of the chicken breasts and let rest while you assemble the rest of the ingredients.
Make the caramelized onions by heating the olive oil in a small non-stick pan over med heat. Cut the onion in half, then into thin slices. Cook until golden-brown, stirring occasionally.
This takes about 15 minutes, which gives you a pocket of time to cook the bacon and make the honey mustard.
To make the honey mustard, add the honey, mustard, and mayo in a small bowl. Whisk well to combine, then set aside until you're ready to assemble the sandwiches.
Brush 1 tbs. olive oil on a cast-iron grill pan and set the heat to med-high. While the pan is heated, add the chicken. Cook until it's seared on both sides – this took me about 3 minutes per side.
Lower heat to medium and cook for approximately 5 minutes longer, depending on the thickness of your chicken.
Top each breast with ¼ of the reserved crumbled bacon and one slice of jack cheese. Cook until the cheese is melted.
To assemble the sandwiches, place a bit of the honey mustard on both sides of the buns. Place avocado slices on the bottom buns, then top with one of the pieces of cheese-bacon chicken.
Top each piece of chicken with ¼ of the caramelized onions and drizzle more of the honey mustard on top.
Nutrition Information:
Yield: 4
Serving Size: 1
Amount Per Serving:
Calories: 796
Total Fat: 44g
Saturated Fat: 12g
Trans Fat: 0g
Unsaturated Fat: 29g
Cholesterol: 141mg
Sodium: 1599mg
Carbohydrates: 49g
Fiber: 5g
Sugar: 22g
Protein: 52g
Recipe calculation was provided by Nutritionix and is estimation only. If you need nutritional calculations for medical reasons, please use a source that you trust.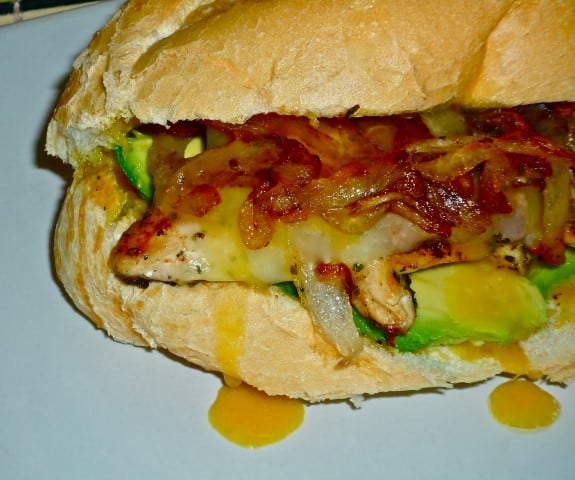 This is one tall sandwich…I find them easier to eat if I cut them in half with a large serrated bread knife before serving. The homemade honey mustard works really nicely with the seasoning in the homemade rub, and the avocado is a nice creamy addition.
And the bacon and onions? When is that combo ever a bad thing?!?!? This is one good sandwich…people of all ages seem to enjoy it whenever I serve it. I hope you'll give it a try the next time you fire up your grill!