How to Clean a Garbage Disposal
Garbage disposals can be really handy for getting rid of kitchen waste, but they have a tendency to get a bit smelly from time to time. Today I will show you How to Clean a Garbage Disposal easily and efficiently.
Because garbage disposals are located in sinks they're the ideal environment for smells and bacteria to grow. The sink is cool, dark, and moist and then you add in the food waste and it's the perfect breeding ground for smelly bacteria.
The good news is that it's not hard to clean a garbage disposal. The better news is that if it's cleaned regularly, you're less likely to get foul odors coming from it.
Check out some of our other how tos in How to Sharpen a Kitchen Sharpen a Kitchen Knife, How to Remove a Tomato Skin, and How to Remove Red Wine Stains plus so much more!!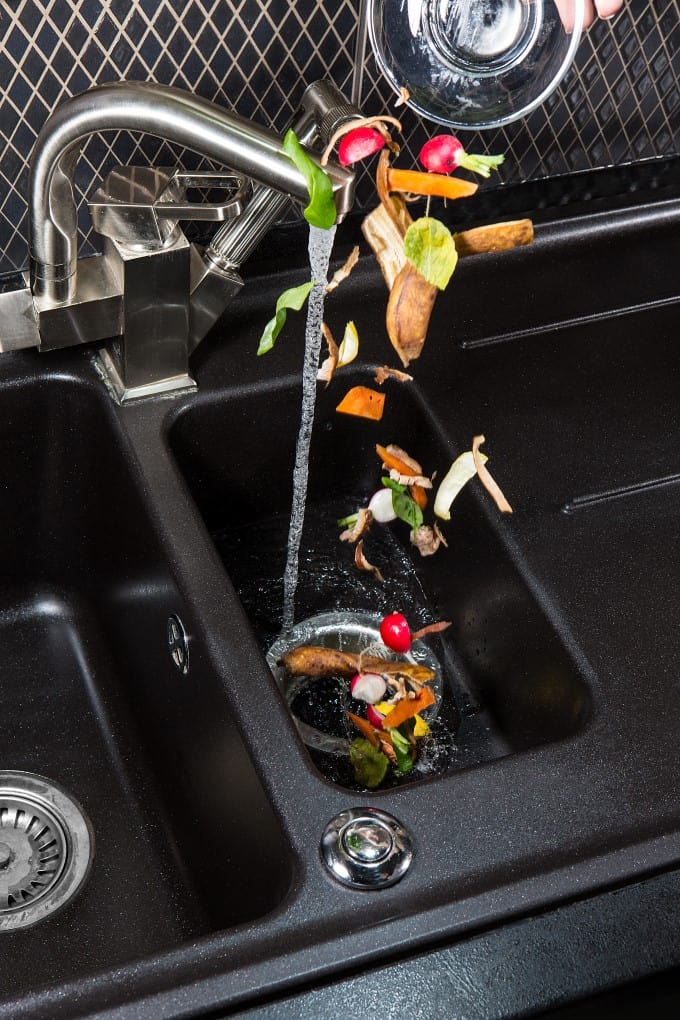 How Does a Garbage Disposal Work?
In order to know how to clean your garbage disposal, you should know the basics of how they work. A garbage disposal is mounted to the underside of the sink and collects food waste in a grinding chamber.
When you turn on the disposal, the impeller plate spins which forces the food against the wall where it is crushed into tiny pieces.
These tiny pieces are washed away and out of the disposal by the water that runs through it. There is often a connector line to the dishwasher at the top of the disposal.
You always need to run cold water while your garbage disposal is working and afterwards to let the waste wash away.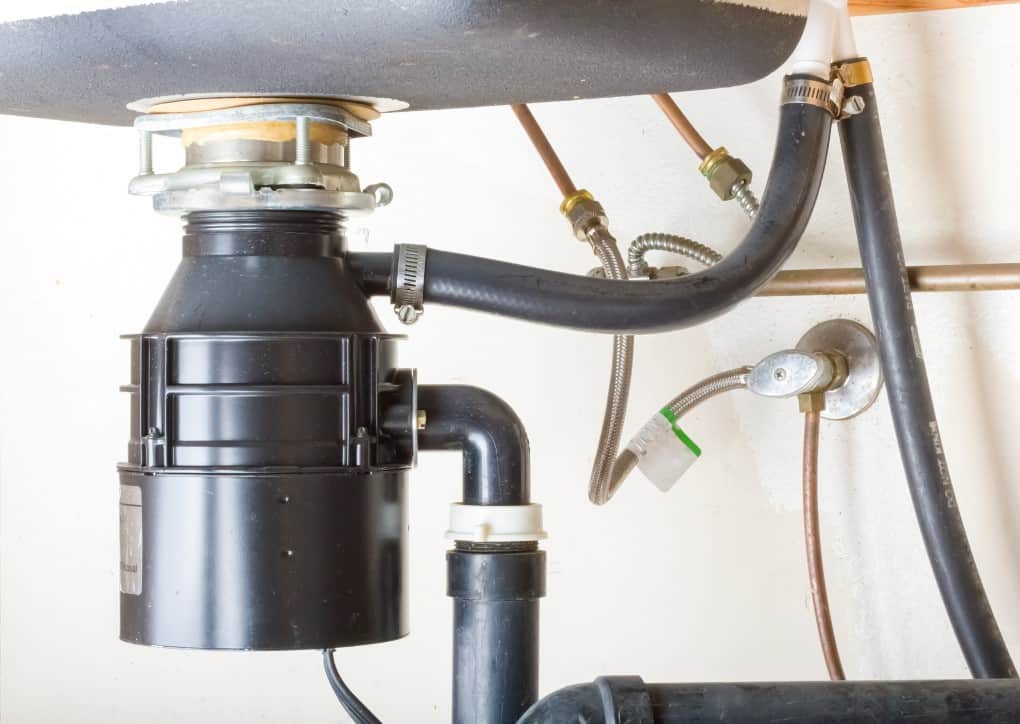 What Items Should I NOT Put Down My Garbage Disposal?
Some of the items are controversial of whether they are good or bad for your garburator. I will mention those in a bit. One of the big No Nos is CELERY!! With its long stringy fibers it gets tangled around the blades or can easily plug your pipes. This also applies to corn husks and asparagus so beware of them also.
This is from experience, never try to garburate celery, raw or cooked. It will end in an expensive plumber's visit to your home.
BONES and FRUIT PITS just don't break down well and even if they do they will get stuck in your pipes.
POTATO PEELS, ONION PEELS, PEARL ONIONS etc., if putting these down in large quantities you will end up clogging your pipes. The rule of thumb for me is small batches with lots of water if you want to run these through the garbage disposal.
GREASE is a big No No also and will surely coat your pipes and clog them up and make your disposal a greasy mess.
COFFEE GROUNDS, EGG SHELLS and PASTA are the controversial items. I put all of these down the garburator, again in small amounts and with lots of water to flush them through. These three can be your choice to do or not to do.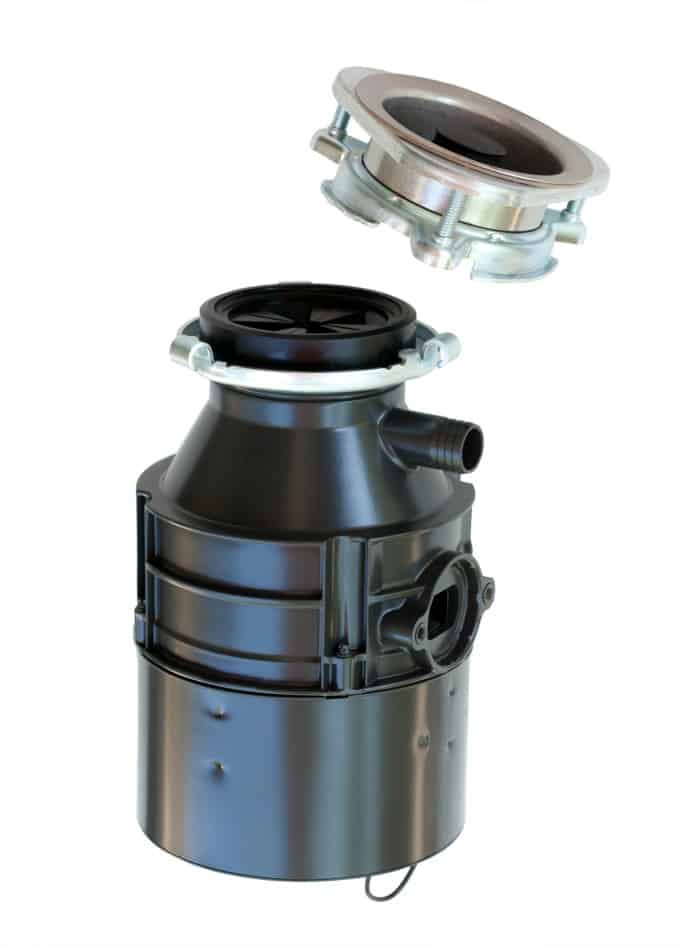 What is the Difference Between a Batch Feed and a Continuous Feed Garbage Disposal?
The difference between a batch feed and a continuous feed garbage disposal is that a batch feed is done simply in batches. There is a cover that goes on top of the hole of the disposal and that cover is turned to make the disposal work. There is no way fingers can accidentally be in the disposal and have the disposal turned on.
For instance, Insinkerator make a good product that we have been happy with throughout the years for a batch feed choice.
A continuous feed (which is more common) has a switch to turn the appliance on and off. With this type of appliance you can continuously be loading waste into the disposal.
Always make sure the garbage disposal switch is off when using a continuous feed appliance before putting your hands close to the garbage disposal (you can unplug it to be sure).
How do you clean a garbage disposal that smells?
If your garbage disposal smells, there are a couple of different ways to clean it – including commercially available cleaners.
Below is a good alternative that works equally well and uses things you already have in your kitchen.
Clean the visible parts of the disposal with a sponge or scrub brush and some dish soap. Make sure there aren't any bits of food trapped that could be causing a smell. You should be wiping it down after every use to be safe.
Once the outside of the disposal is clean, it's time to clean the inside. Take a cup full of ice cubes and put them down the disposal. Follow this with about a half cup of coarse rock salt. You can mix them up if the disposal is still off. Turn the garbage disposal back on and run the ice and salt through it.
Put a half cup of baking soda into the disposal and leave it to sit for between half an hour and an hour.
Pour half a cup of vinegar down the disposal. It should react slightly with the baking soda that's still there. You may see some foaming or bubbling come up out of the disposal. That's normal.
Finally, with the stopper in, fill about ¾ of the sink with water and let it run out all at once with the disposal running
Quick Trick
To help your garbage disposal smell nice, put citrus peels down (lemon work well, a large piece of lime will not break down well). Do this at any time you're enjoying fruit. A sliced lemon will do wonders as well and can help keep your disposal fresh between cleanings.
By cleaning your garbage disposal regularly, you'll not only avoid funky smells, but you'll also extend the life of your appliance. Therefore this will help avoid costly repair jobs or replacement of the unit.
For me personally, I could not live without this appliance. It is something that is used every single day, even with our compost collection.
It is such a quick and easy way to clean up the sink without making an additional mess; everything can go down the drain.