How to Clean Your Fridge
How to Clean Your Fridge!! The refrigerator is one of the underappreciated appliances in a kitchen. It gets used more than any other appliance – it's on 24 hours a day, 7 days a week. Yet it's something we dread cleaning and put off as long as possible.
Here's the thing though – cleaning the fridge, unless it's been seriously neglected, doesn't take nearly as long as we fear. To make it even easier, do it before you do your next big grocery shop – so the fridge is mostly empty.
Cleaning your fridge after the busy holiday season is a good idea too! Let me help you with some great cleaning tips!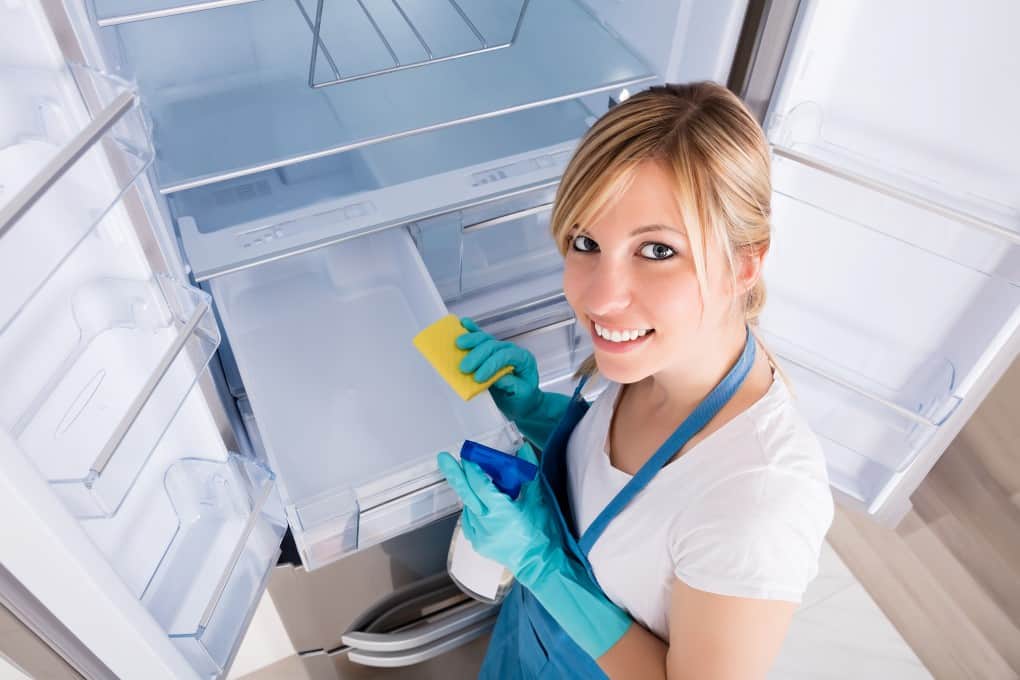 Helpful Items for This Post
This post contains affiliate links. As an Amazon Associate, I earn a small portion from qualifying purchases at no extra charge for you.
How Often Should You Clean Your Fridge?
How often you should clean your fridge is up for some debate. You should wipe up any spills as they happen with a dishcloth and warm water. Use hotter soapy water for tougher spills. That way they won't set and you won't have mold growing inside your fridge.
How often should you do a deep cleaning of your fridge though? Does it really need to be monthly as some of us were taught in home economics class?
Thankfully, the answer is no. A truly deep clean of the fridge where you take everything out, including the glass shelves and any other removable parts can be done seasonally.
Deep cleaning your fridge every three months will keep it clean and in good working order.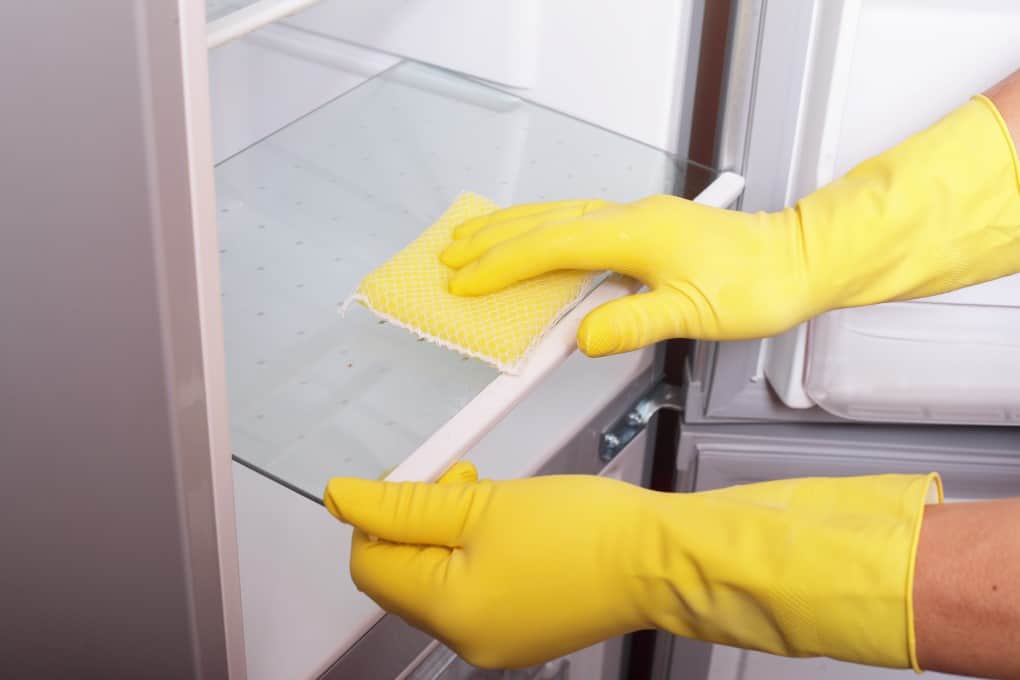 How Do You Clean a Refrigerator Without Turning It Off?
If your fridge doesn't have removable shelves and there are stains set onto them, you may not have a choice but to turn the power off to your fridge. The reason behind this is that it's easier to remove stains from room temperature shelves than cold ones.
If your shelves and drawers are removable (the crisper drawers almost always are) then you don't need to turn the fridge off – you can warm them up outside of the fridge.
First, remove everything from the fridge. If it's really warm in your kitchen, you will want to put meat and dairy into coolers but otherwise, you can put them in grocery bags on the floor of the kitchen. I've found that seeing the food out of the fridge helps me clean faster.
As you are removing items, check to see if they're sticky. If they are, wipe them down with warm water. If they're still sticky, let them warm up a little and add a little dish soap to the water and re-wipe.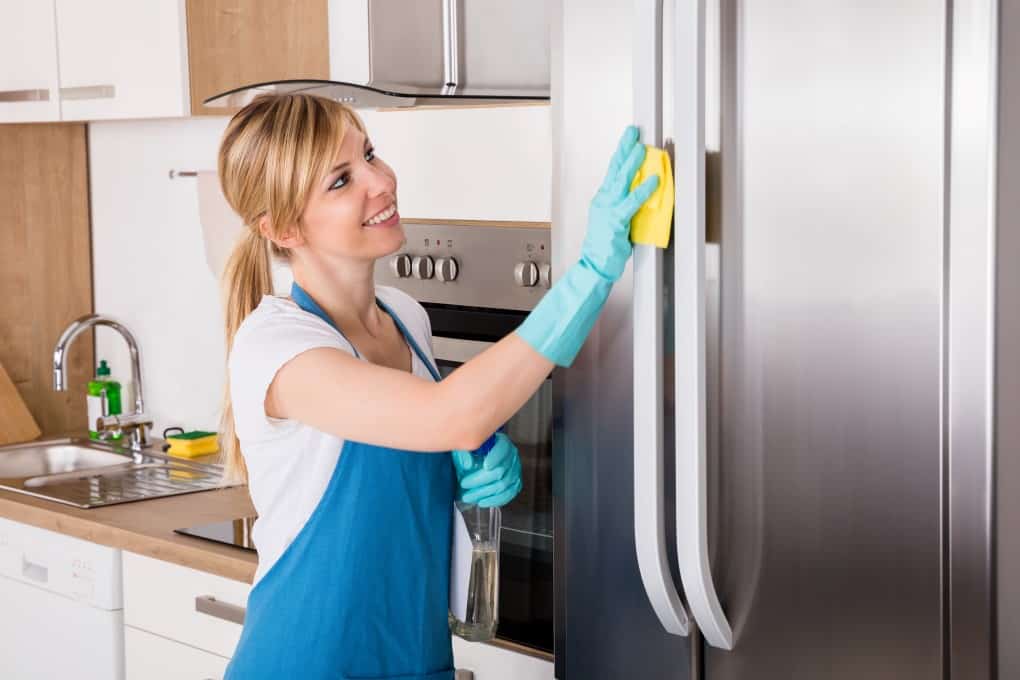 Starting at the Top
Start at the top of the fridge and remove all of the shelves and drawers that you can. Put them into a sink filled with hot water and dish soap. Then, using a 50-50 white vinegar and water mix, wipe the interior with your soapy cleaning solution.
You don't need a fancy all-purpose cleaner or anything to spray and wipe just good old soapy water.
Once you've cleaned the inside of the fridge, rinse the cloth and use plain water to wipe the inside. This will make sure the vinegar scent doesn't linger. Make sure you clean the door seals as well. They have a habit of collecting dirt and grime.
If there are one or two shelves that you can't remove, you can clean them as you would the back and sides of the fridge. If there are stubborn stains, you can use an all-purpose kitchen cleaner, but beware some may have strong scents.
Once the inside of the fridge is clean, tackle the drawers and shelves in the sink. You will likely need to do it in loads – a single crisper drawer can take up the whole sink at my house.
If you have glass shelves, be careful not to be too rough with them – a single chip and the whole shelf can shatter! Wash each shelf and drawer carefully and dry with a lint-free towel before replacing it in the fridge.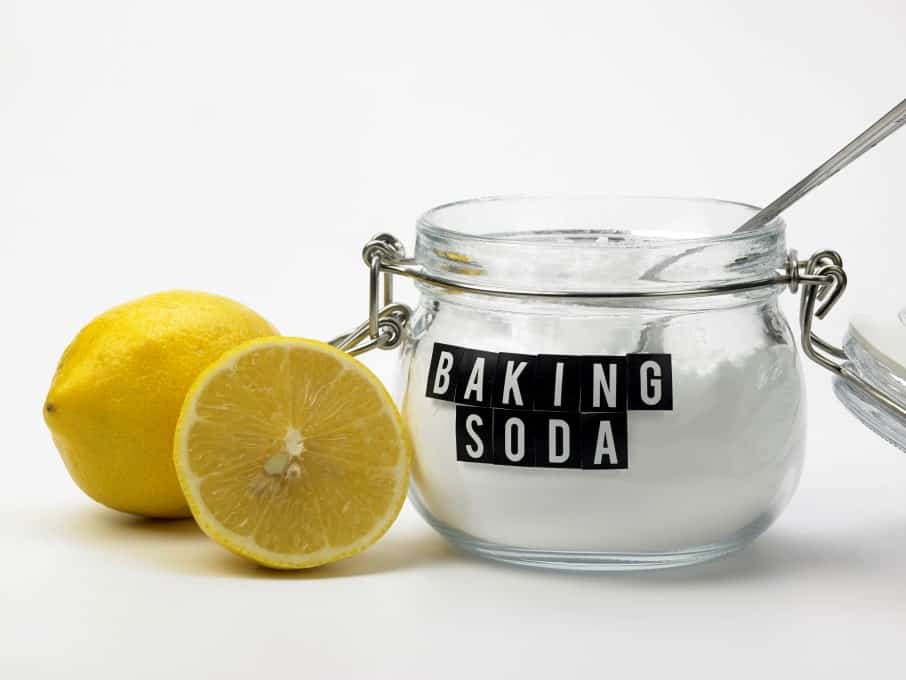 Keeping Odors to a Minimum
Take a new box of baking soda and open it. You can get the fancy fridge ones that have side vents if you want, but I've found that a regular box from the baking aisle works just as well.
Open the top and place it somewhere where it's less likely to get knocked over. I suggest the second shelf down, but it's up to you. Some people swear by a second box in the fridge door, but I find it takes up valuable condiment space.
Put back all the contents of the fridge – making sure that you check expiry dates carefully. Anything that's expired should be tossed out. Try to group like items together – so all of the salad dressings should be in the same spot. This will also help you avoid buying duplicates.
Close the fridge door once everything is back inside and try not to open it for a couple of hours so your fridge can get back down to temperature. Then all you have left to do is wipe down the outside of the fridge.
Stainless steel fridges are a little tougher to wipe down, but you can use the same technique you use on stainless steel fridges for other fridges so I'll give those instructions. You'll want 2 soft cloths, some warm water, and mild dish soap.
Wet one of the cloths with warm water and then wring it out so that most of the water is gone. Then add a drop of dish soap to the damp cloth. Wipe in the direction of the grain. Then once the entire fridge is done, repeat but without using any dish soap – just water.
Finally, use your dry cloth to buff the surface – again in the direction of the grain.
When Was the Last Time You Deep Cleaned Your Fridge?
Cleaning your fridge is one of those kitchen tasks that feels like it's invisible to others – much like cleaning your oven. However, by keeping your refrigerator clean, everyone will be able to find things faster, which definitely isn't invisible!
So, when was the last time you deep cleaned your fridge?