I don't know about you, but hard boiled eggs are one of my favorite sources of quick protein, that is why I wanted to show you How to Hard Boil Eggs. They're very portable, super easy to make, and you can batch cook them and use them for a week.
Hard boiled eggs are great on their own or as part of a salad, deviled eggs, egg salad, or an amazing side dish. The best part is that they work better with older eggs so that carton that's ready to expire? Yep, cook up a batch of hard boiled eggs and you're helping prevent food waste and making a yummy snack too.
This is because fresh eggs are very attached to the shell which makes them hard to peel. But a week or so in the fridge allows the eggs to take in air which makes the shell easier to remove.

How Long Does it Take to Hard Boil Eggs?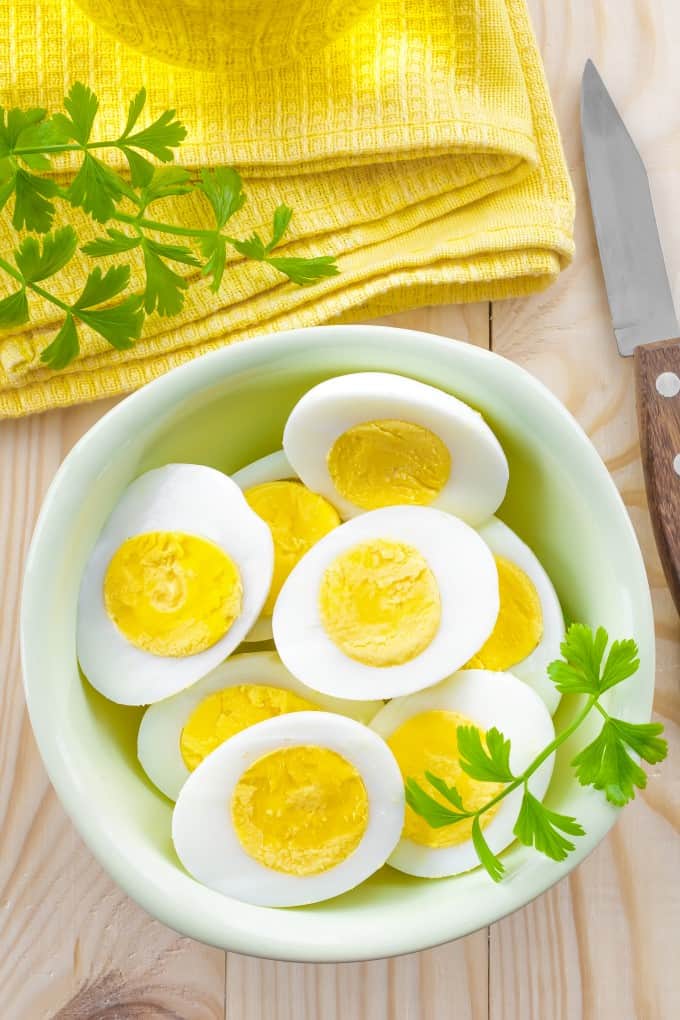 For large eggs the time spent in boiling water is 10 minutes. Medium eggs take about 9 minutes while extra-large eggs take 13 minutes. With time included to get the water to boiling and cooling the eggs, the total time is about 30 minutes start to finish.
How to Make Hard Boiled Eggs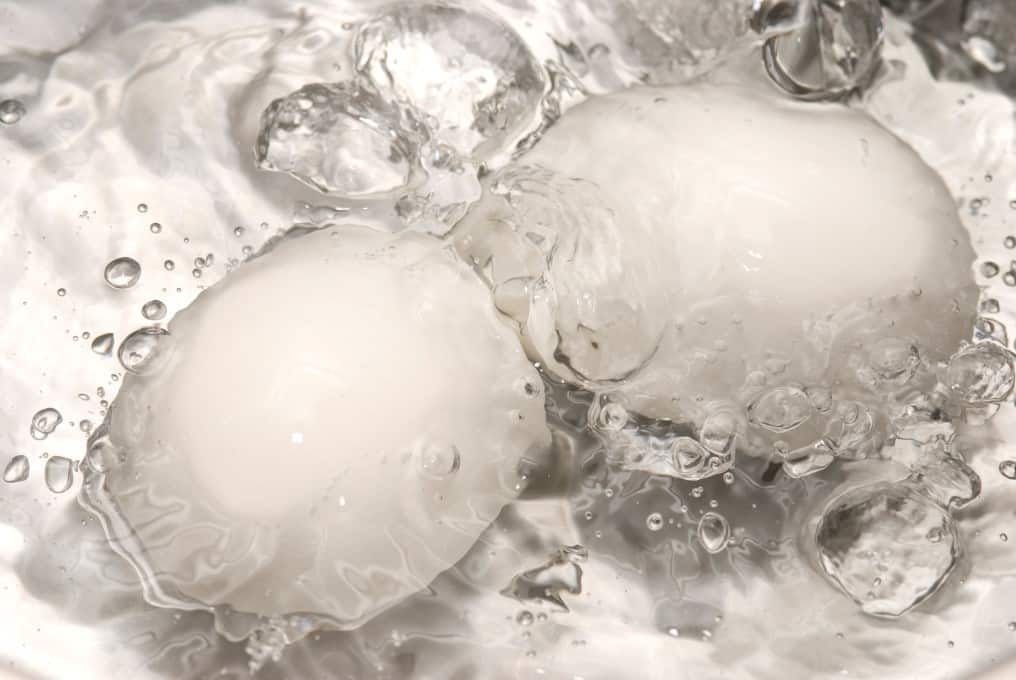 Stove Top Method
I find this method works well with older eggs but varies hugely between gas, electric and induction. You have to figure out your stove and how long to cook them for.
Using a pot big enough for the eggs to rest in a single layer, place eggs in pot.
Add cold water to cover the eggs by an inch.
Heat the eggs on the stove to boiling.
Remove pot from heat.
Cover pot and let stand for 10 minutes for large eggs (9 minutes for medium, 13 for extra-large)
Drain and place into a bowl of cold water to cool. I like to use ice water to speed up the cooling process. Alternatively, you can also run the eggs under cold water until they're cool. Cooling the eggs rapidly stops the green ring you sometimes see around the yolks of hard boiled eggs.
Refrigerate the eggs for up to a week. Remove shell only when eggs are to be used.
Pressure Cooker Method
This will give you a rough idea but always follow manufacturer's instructions. This is now my preferred way of hard boiling eggs, works perfectly every time. Your eggs do not need to be old; they can be as fresh as can be with great success.
Pour water in Pressure Cooker.
Secure the lid.
Select setting that is appropriate (manual) and set the cooking time to 5 minutes at High Pressure.
While cooking make an ice bath, prepare a large bowl filled with ice and water.
When cooking is finished, let the pressure release naturally for 5 minutes.
Open the pressure cooker and place the eggs directly into the ice bath to cool for 5 minutes.
Place into a bowl and refrigerate to completely cool. Again remove shells when ready to eat.
How to Peel Hard Boiled Eggs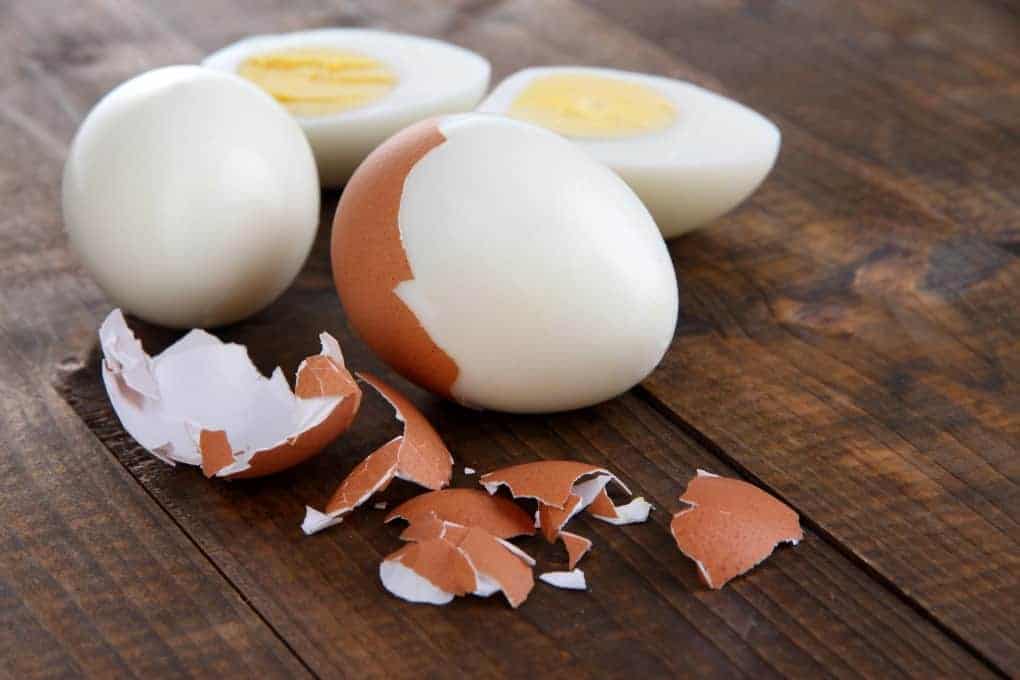 Hard boiled eggs that have been peeled need to be eaten the same day. To peel the shell off, first gently tap the egg on a hard surface until the shell is cracked all over. Then roll the egg between your palms very gently to loosen the shell.
Begin to peel pieces of the shell from the larger end of the egg. If the shell is being stubborn, hold it under cold running water or peel in a bowl of cold water.
Some Tips and Tricks
Take the eggs out of the refrigerator between 20 and 30 minutes before you want to start hard boiling them. This will remove the chill from the fridge and allow for more even cooking.
Don't try to cook more than a dozen eggs in a pot at a time. You can do one or a dozen with this method, but any extras should be done as a separate batch. Even in a large pot, cooking more than a dozen eggs causes them to cook unevenly so you'll end up with some less than solid yolks.
Never pierce the shell of an egg before hard boiling. You risk introducing bacteria into the egg via the needle. Piercing the shell also creates hairline fractures in the shell through which bacteria can enter once the egg is cooked.
The grayish green ring that you sometimes see around the yolk of a hard boiled egg is unsightly but harmless. It can mean that the egg was left cooking a little too long or that the water was too hot. Don't leave the eggs at a rolling boil as this will overcook the eggs. The green ring can also mean that the eggs took a little too long to cool. By following the directions above you should be able to avoid the green ring.
The other reason to make sure the pot comes off the heated element on the stove as soon as the water boils is for texture. Eggs hard boiled in constantly boiling water tend to have a more rubbery texture and can crack. Eggs cooked gently in hot, but not still boiling water have a more tender texture.
Microwave Caution
Never microwave an egg in a shell. The egg will likely explode all over your microwave due to the pressure building up from the steam inside. The only way I cook an egg in the microwave is in a microwave safe dish that has a lid.
Even the yolk of a cracked egg can explode causing a huge mess. I poke the yolk gently three times to help avoid an explosion. The yolk will still stay intact if you are wanting a soft egg. Nothing worse than having to clean egg off the inside of the microwave.
Raw or Hard Boiled Eggs?
If you've got both hard boiled and uncooked eggs in your fridge, it can be hard to tell the difference. The easiest way to tell the difference is to spin the egg on your counter. If the egg spins around smoothly, it's hard boiled. If it wobbles and spins unevenly, it's raw.
By following the simple steps above, you too can cook perfect hard boiled eggs to enjoy! Hard boiled eggs are a great grab and go snack for you and the kids. You can slice them to use on top of salads for some extra protein too. Learning to hard boil eggs isn't hard, but you do need to keep an eye on the timer so you don't overcook them. What's your favorite thing to do with hard boiled eggs?