How to Organize Your Kitchen
The kitchen is often one of the most highly trafficked area of a house. Making sure that your kitchen is functional and organized properly can make your life so much easier. It is also so much easier to keep it clean too! Learn How to Organize Your Kitchen right here!
Organizing your kitchen is a great way to ensure that your family life flows easier when it comes to meal preparation and ease of access.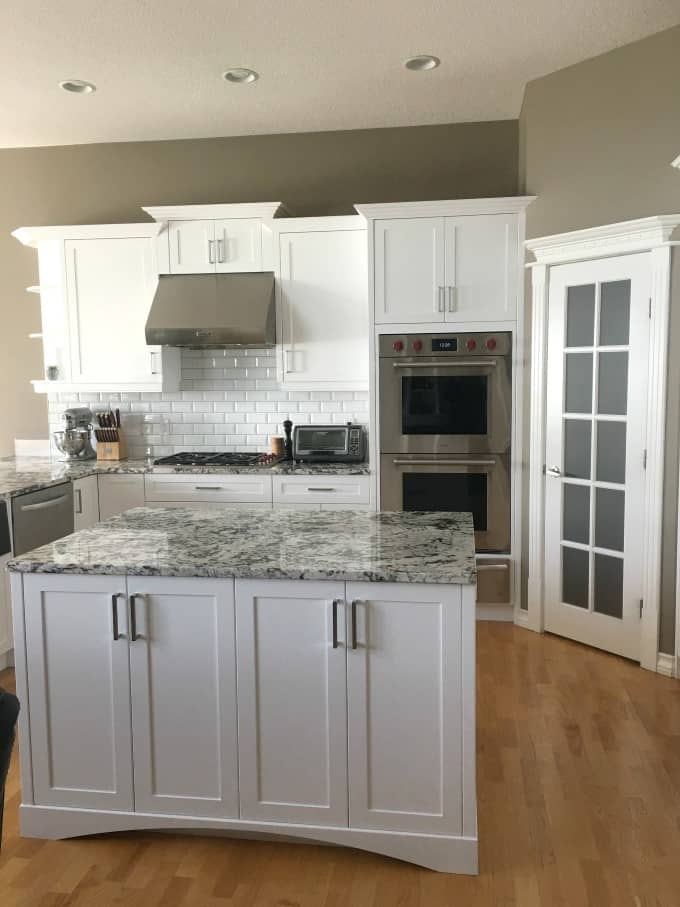 Empty Cupboards
Pull everything out of each cupboard and go through it. Donate or discard things that you don't often use, broken or damaged items or things you have multiples of.
Make sure to take the time to do this with each drawer and cupboard. The end game is to ensure that you only keep the things that you know you need and get rid of the things that have no use to you.
This will help to create more space for the important things.
Group Items Together
Things like your baking items, your cookware and your utensils should be separated into groups and stored where it most makes sense.
If there are pieces that you only use occasionally those can be put away somewhere that isn't as easy to access. For example, cookware and bakeware can be kept central to where you do most of your food prep.
Ensuring that you set your kitchen up in a functional manner will reduce the time spent trying to find items you need.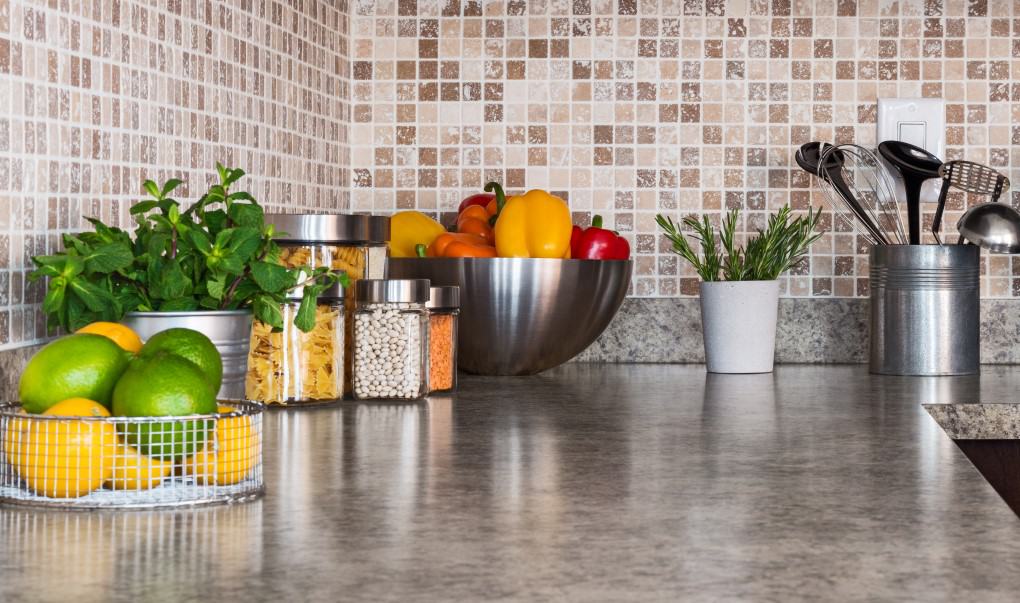 Store in Clear or Open Containers
Using containers is an amazing way to streamline the inside of your cupboards.
Store things like gravy mixes, hot cereal packets, and sauce mixes in small clear containers to avoid them becoming a mess inside the cupboards. I also utilize small rectangle planters to store these items so they are easy to access.
Clear containers on the countertop with lentils, beans, and pasta can be attractive and also help you with storage.
Store Containers and Lids
Make sure that all food storage containers have lids and are stored with them so they all stay together. This can also be done with the lids for your pans and pots. A wire rack is an extremely functional way to store these items in your cupboards.
This also stands for plastic containers. Going through these and organizing lids and containers that match will save you time and frustration later. I do this cupboard frequently as somehow a lid or the container go missing. Recycle what is no longer working for you.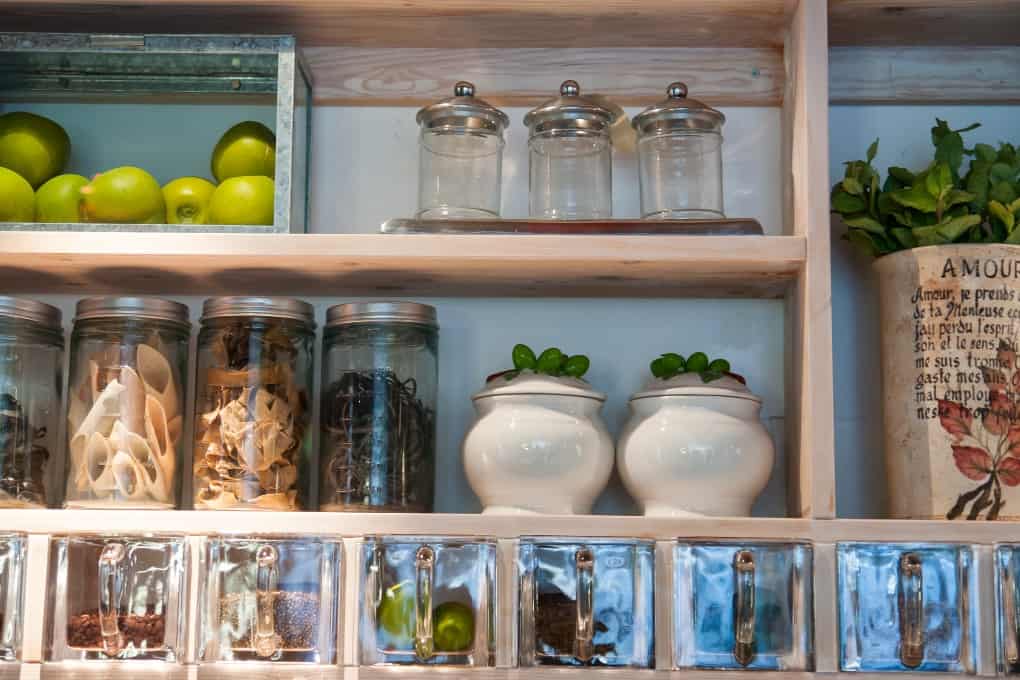 Make Good Use of Space
Vertical space in your kitchen can sometimes feel like a waste. Place hooks underneath cabinets to hang mugs to save space.
Hang hooks on the inside of cupboard or pantry doors to hold things like oven mitts, measuring cups or other kitchen gadgets. There are many creative ways to take advantage of the space your kitchen has. You can even consider using a ceiling rack to hang pots and pans up.
Any space you use to hang something will considerably free up the inside of your cupboards.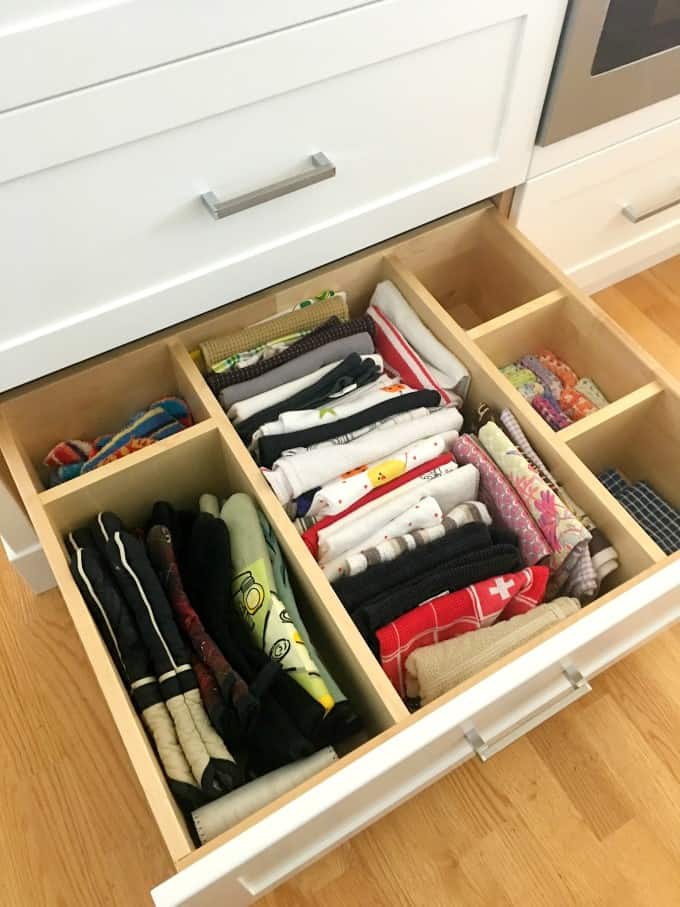 Do some Research and Shopping
There are many companies out there that will help you get organized in a pantry, cupboard, under the sink or corner cupboard. There are great ideas at your local hardware store or big box stores. We had our pantry redesigned by Shelf Genie.
We also had custom drawers done by Kniss Custom Woodwork and they are a dream come true for me.
If you don't have the budget for custom work there are lots of gadgets out there to help make your kitchen more usable. There are many ways to ensure that your kitchen is properly organized.
Make sure to take inventory of your kitchen and discard things that are broken or no longer used. Also, group items together to make good use of your space. In no time your kitchen will be functioning like a well-oiled machine and you will feel less stress around mealtimes when it is done.
Also if you are thinking of a renovation check out our post for Kitchen Renovation Design Ideas and Tips from Our Kitchen Renovation.