I was asked if I would like to interview Corbin Tomaszeski from Dinner Party Wars, Restaurant Makeover and Restaurant Takeover to name a few of his shows, I jumped at the chance. I am a big fan and have watched all of his shows. I love his simply delicious recipes and his ease of cooking, he always seems like a genuine nice guy on TV too, never pretentious, funny and enjoyable to watch.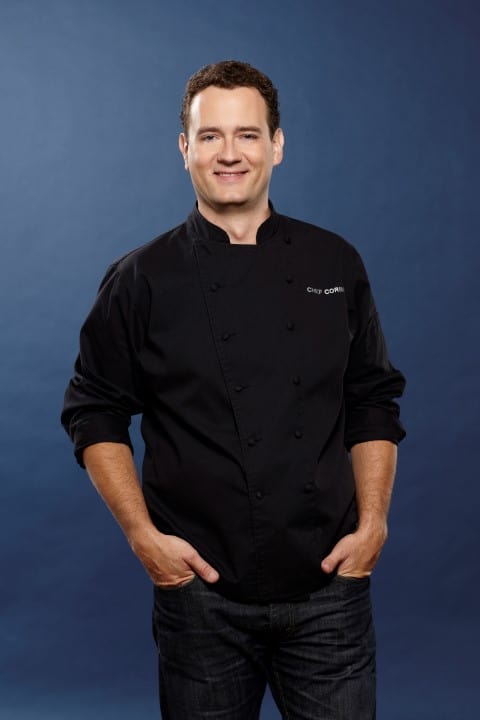 Here is my interview with Chef Corbin.
I read that you grew up on a farm in Alberta. What were your early influences in becoming a chef?
Chef Corbin: I grew up an hour and a bit southwest of Edmonton, west of Leduc. My early influences would have come from the accessibility of food and the procurement of where your ingredients come from. I have a full appreciation of fresh ingredients. You know when you ask people where does beef come from they say the supermarket, I knew it came from the back pasture. I knew that potatoes came from the ground we hoed, I hated doing that as a kid but you did it because you had to. I also learned at a very early age with my mother and grandmother, all those kind of meal type preparations, that when you prepared food people always came, there was always a gathering around the food.
I am a big fan of all your programs Dinner Party Wars, Restaurant Makeover etc. What celebrity chef do you look up to?
Chef Corbin: Hmmm, celebrity chef that I look up to, oh that is a good one. Probably a good influence or somebody that I enjoyed watching when I was younger or starting off with my career, was Jamie Oliver. His philosophy on the locality of food and the freshness and quality of healthier ingredients. One of my biggest beefs is all these prepared foods that are out now, that are in the market that make everybody's life easier and so unhealthy. You can fill your body with these cheap and inexpensive products, what is it doing to you in the long run? People gain weight and it is frustrating because we never ate like that on the farm. The only preserves we ate we did on our own. You know canning, freezing that type of thing, nothing ever out of a box.
I also read you really enjoy making soups. Homemade soups are a huge hit in this household and are always served for every holiday too! What are some of your favorites you make your family?
Chef Corbin: I think it depends on the time of year, so right now, being spring, I love spring pea, asparagus, leek and potato, you know something that is a little bit lighter, not those heavy types of stews. Broths are great this time of year. Soups that show case vibrancy, colours and flavors.
This sort of leads into your partnership with Weight Watchers, can you tell me about that?
Chef Corbin: That partnership that came to be, was the fact that from being a chef and knowing where your ingredients come from and creating homemade type dishes and recipes at home for people and it is something restaurants strive for everyday and for people to come to appreciate that. I was already falling in line with what the philosophy of what Weight Watchers is, where it is a life style of eating fresh, great quality, simple ingredients that everybody can do. If you can find those power foods that fall in line with that you can eat unlimited amounts of these certain foods and not gain weight.
How long have you been with Weight Watchers?
Chef Corbin: I did the simple step program in December and then I actually joined the program in January and I thought I lead a pretty healthy lifestyle, I indulged once in awhile, I am a tall slender guy but being on the program I have paid closer attention to what I eat. I read labels now, I look at the contents of fats and sodium and fiber, something that chefs don't normally do. Ironically, I have lost 16+ pounds, I am not sure where is all was but pants fit a little bit better, shirts are a little looser. It was not difficult, I didn't deprive myself of anything, I didn't starve myself. You know you can tell those people that are on a diet, they are the bitchiest people around and they are depriving and missing things in their life and they get that instant gratification where they loose the weight and then gain all the weight back and ten fold. What is great with Weight Watchers is that it sets the tone for a lifestyle of eating and it is attainable and easy and uncomplicated and it really focuses on the right foods to eat at the right time and still being able to indulge in your favorites. You can have dessert, you can have a glass of wine, you can have a beer if you are going to out to the bar. Paying attention and tracking with their points system, you are allowed a certain number of points based on your gender, your age, your weight and so forth. If anything it forces you to pay attention to what you are putting into your body. When you start to feel better, I found this, that you pay even more attention to become healthier, without depriving yourself flavor. A lot of people think that dieting is depriving yourself and it is dull, tasteless and you eat like a bird, totally untrue. An example is salad dressing, I don't put oil in my dressings, I don't need it, I use fresh citrus, like lemon or lime, orange or grapefruit. I will then put in wasabi, chilies, fresh herbs like mint or basil. These type of things really elevate a dish and they don't drown your salad. I find a lot of salad dressings mask flavors. It is so easy to take a mason jar and load it with ingredients and use it on your salad or a quick stir-fry.
What's on your plate for the rest of 2014?
Chef Corbin: Working with Weight Watchers and developing exciting recipes. That healthy eating is fun and easy, to make foods from scratch. I just started a new venture with kids in schools to eat healthier. I am also working with Uncle Bens with cooking with kids in the kitchen. It all speaks to me what food is all about, healthy, fresh, tons of flavor and uncomplicated recipes.
We then went on to talk about healthy eating with Corbin's three boys who are 10 and 2, twin boys. We discussed that eating healthy starts at a young age. To get your kids in the kitchen, first starts at the grocery store learning about ingredients. Corbin was kind enough to share with us one of his recipes. A delicious flank steak recipe that is much lighter than our Ginger Beef that we have in restaurants here in Calgary, which is usually deep fried strips of beef. Chef Corbin's version uses fresh spices to create flavour and honey to add sweetness and banishes the deep frying in favor of marinating. A great spring/summer dish with grilled beef and fresh colourful stir-fried veggies.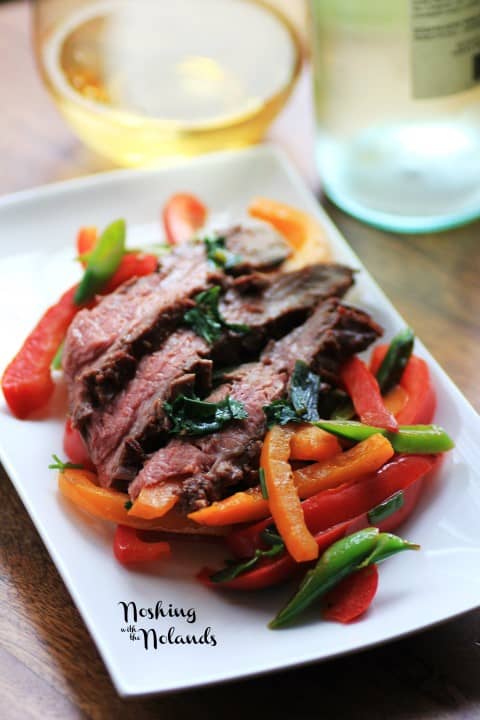 Ginger Beef made healthy and delicious.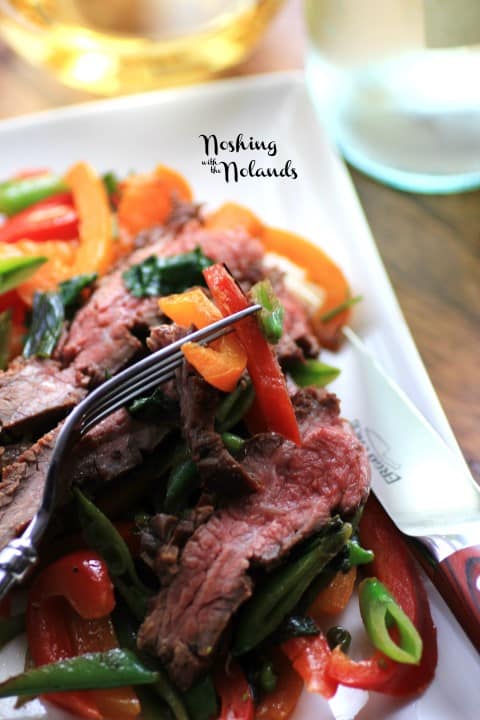 Interview with Corbin Tomaszeski
Delicious Asian stir-fry is the bed for wonderfully flavorful ginger flank steak.
Ingredients
Steak Marinade
1/4 cup reduced sodium soy sauce
2 cloves garlic, minced
2 small bird's eye chilis - seeded and sliced thin
1 tsp. honey
1 Tbsp. sesame oil
2 1/2 Tbsp. grated ginger root
1/2 tsp. five spice powder
Steak
1 lb. whole flank steak
1 tsp. canola
Snap Pea and Pepper Stir-Fry
1 Tbsp. canola oil
2 cups julienne snap peas
1 whole red pepper cut julienne
1/4 cup 1" pieces of green onion
Pinch of salt and pepper
1 clove garlic minced
1 whole yellow or orange pepper cut julienne
1/4 cup chopped fresh cilantro
Instructions
With a small paring knife, lightly score the flank steak on both sides. Place the scored whole flank steak and marinade ingredients into a large sealable plastic bag and seal it tightly. Gently turn the bag to combine the marinade ingredients with the raw steak. Place the marinated steak into the refrigerator and marinate up to 4 hours.
Preheat your indoor or outdoor grill to high heat. Lightly oil the clean grill surface with the canola oil. Place the whole marinated flank steak onto the pre-heated grill. Grill the steak on each side for approximately 4 minutes, be sure to rotate the steak once at at 90-degrees to have even grill marks on the steak. Once the steak is grilled, remove it from the grill and allow it to rest for a minimum of 5-7 minutes. While your steak is resting, prepare the stir-fry.
Pre-heat a large skillet or wok over high heat. Place the canola oil and garlic into the hot pan and cook for a few seconds. Add the cut peas, peppers and green onions and toss gently- continue to cook over high heat for 3-4 minutes. Add the chopped fresh cilantro and season with salt and pepper. Remove the stir-fry from the heat.
With a sharp knife, cut the steak into thin slices. To ensure tender slices, cut the steak against the grain. Serve the sliced beef with your snap pea and pepper stir-fry.