Jerk Chicken Salad
We have started our 1st day of 5 Days of Dinner Salads. They will be slightly interrupted by a few other events but will be coming to you over the next week. First up is Jerk Chicken Salad.
I wanted to feel some of the Caribbean in these last few days of winter and I love all the fresh-tasting ingredients in this salad paired with the spicy heat of Jerk Chicken.
The rub isn't too spicy though so if you wanted to amp it up you certainly can. It makes enough for at least two meals, so pack some away to have again. Amber is getting used to spice now so she can handle a bit but not too much.
We have made this salad a few times now and it is a big hit in this household. I love dinner salads they are a quick and healthy meal and two pieces of protein can go a long way.
Two chicken breasts, two steaks, etc. can easily feed a family of four, so it is inexpensive too!!
Enjoy the 5 Days of Dinner Salads!!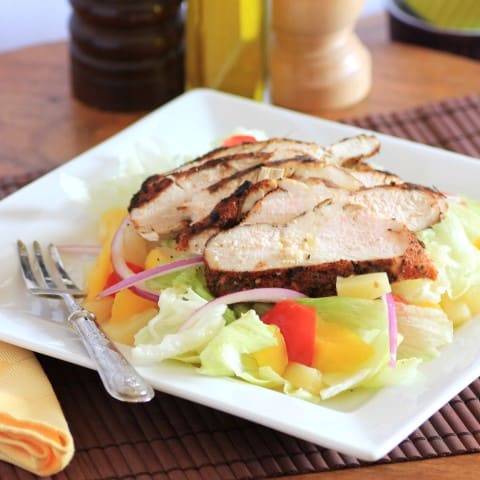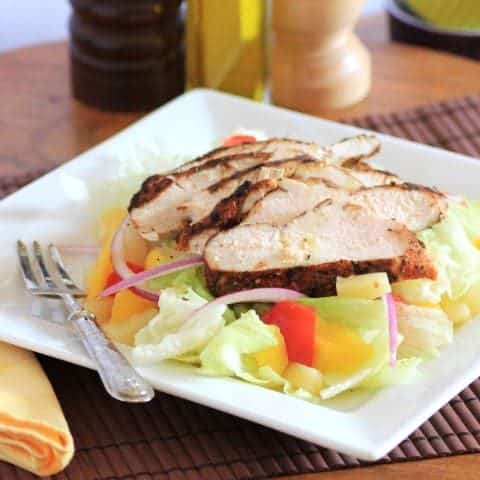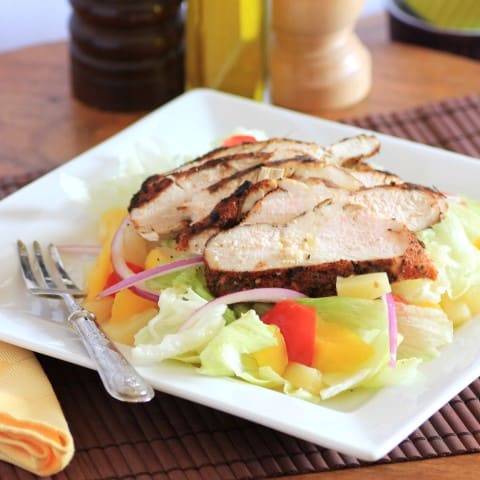 Jerk Chicken Salad
Yield: 4 Servings
Prep Time: 20 minutes
Cook Time: 15 minutes
Total Time: 35 minutes
A healthy and flavorful dinner salad.
Ingredients
Jamaican Jerk Rub
1 1/2 tsp. ground allspice
1 1/2 tsp. ground thyme
1 tsp. curry powder
1/2 tsp. smoked paprika
1 tsp. sugar
3/4 tsp. freshly ground black pepper
1 tsp. cayenne
1/4 tsp. freshly grated nutmeg
1/4 tsp. ground cinnamon
1/8 tsp. cloves
Salad Dressing
2 Tbsp. white balsamic vinegar
4 Tbsp. olive oil
2 Tbsp. pineapple juice
1 Tbsp. honey
1 tsp. Dijon mustard
Salt and pepper to taste
Salad
2 large chicken breasts
1/4 red onion, sliced
1/2-1 whole head of Iceberg lettuce
1 tomato, large dice
8 oz. pineapple tidbits, drained reserving 2 Tbsp. juice for the dressing
1 mango, diced
Instructions
For the rub, mix all the ingredients together. Between two pieces of wax paper and using a meat mallet, flatten out the chicken breasts slightly, to about 3/4".
Now rub the chicken breasts with about 1/2 the spice rub. Store the rest of the spice in an airtight container. You can also use this spice on shrimp or pork.
Refrigerate chicken for 15 min. while you make the salad.
Place all the dressing ingredients in a jar and shake well, set aside.
Wash and tear lettuce into a bowl and toss with all the other ingredients. Set aside.
In a grill pan on medium heat cook the chicken breasts until they are safely cooked through but still juicy about 15 min. It all depends on the thickness of the breast.
Remove chicken to a board and let rest for a few minutes.
Serve salad on each plate and top with the dressing. Slice the chicken and divide among four plates.
Jamaican Jerk Rub adapted from Food.com